Artists
Luchita Hurtado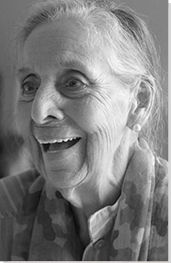 Born: October 28, 1920 - Maiquetía, Venezuela

"From the beginning, painting has been a most integral part of my life. I make clothes, I cook meals, I've raised children, I write poetry, and I keep a journal of my dreams as well as my days, but most important, I paint and consider myself a painter."
Summary of Luchita Hurtado
Luchita Hurtado stands as an advocate for living by intuition and allowing life to happen rather than trying to control it at every juncture. As such, when asked if recognition came too late having her first major retrospective at age 98, she replied that no, it came just at the right moment. Prior to widespread international visibility, Hurtado navigated three marriages and raised four sons alongside working tirelessly as a creative freelancer as well as an artist to support her family. She also moved in the same professional and friendship circles as some of the most famous artists of the twentieth century. However, she did not show her paintings to anyone outside of her family until she became a member of "Los Angeles Council of Women Artists" well into middle age.

She had some exhibitions following the encouragement of this new network during the 1970s and 80s, but remained shy of the attention that came with being an artist. Recently discovered and reclaimed by art history, true to character and the essence of her long career, Hurtado continues to speak only sparsely about her reasons to paint fruit, feathers, and her memorable "I AM" portraits. She accepts "feelings" (all too often quashed or relegated by intellect) and furthermore, gives emotion power and legitimacy. In turn, she requests that the viewer also allows fluidity and mystery to prevail when looking at her pictures.
Key Ideas
A deep and penetrating sense of interconnectivity between Hurtado and the surrounding natural world lies at the heart of her practice. Indeed, it is her instance that everything is part of one inter-dependent whole that has over the years led to mounting environmental concern. She now writes protest slogans on her paintings such as "no place to hide", and endeavors to help sustain this planet.
Hurtado is spectacularly and unapologetically driven by her senses. She speaks of her highly sensitive sense of smell and remembers her very first taste of mango and grapes experienced as a child. In the same way that the artist has attempted to accurately depict the illusive forces of fire and light, she also effectively makes visible the otherwise invisible memories of the senses in her work. Fruit is a helpful symbol in the artist's enticing sensual language.
Hurtado was a central figure in the art world of New York in the latter half of the twentieth century. She was associated with many significant figures including
Isamu Noguchi
,
Wolfgang Paalen
, and Lee Mullican, but typically as a humble friend or an equal lover. She became a key figure in the "Los Angeles Council of Women Artists" alongside
Judy Chicago
but she refused an invitation to join the
Guerrilla Girls
, as even the name of the organization sounded too harsh to her. Hurtado has never needed nor wanted to force herself anywhere, her practice like her personality is un-invasive.
Indeed the career of Hurtado sits well alongside the swathe of female artists - including
Hilma af Klint
- recently discovered and celebrated in part because they did not seek or push for recognition nor did they dedicate time to self-promotion. There is instead an acceptance and trust that the time for their art (and its appreciation) would come. This worldview aligns more harmoniously with nature, and like the slow growth of a tree Hurtado has enjoyed a quieter and longer journey towards "success".
Stylistically, Hurtado's "Sky Skin" paintings recall the dreamy sky-scapes with unusually placed objects by
René Magritte
. Her abstracted and mesmerizing word pieces have much in common with the meditative visual poetry of
Agnes Martin
. Whilst, the aging artist's repeated drawings of birth recall similar crowning pictures by
Louise Bourgeois
. Bourgeois like Hurtado made birth paintings during her 90
th
decade and for both artists these series are revelatory of a profound respect for the birth to death cycle.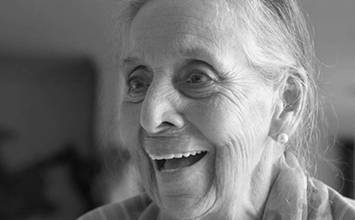 Luisa Amelia Garcia Rodriguez (now simply "Luchita") Hurtado was born just outside of Caracas, in the seaside town of Maiquetía, Venezuela, to father Pedro Jose Garcia and mother Teolinda Rodriguez. Luchita was the middle child, with a sister, Maria Cecilia, two years her senior, and a brother, Pedro Jose, two years her junior. She has fond memories of her early years in Venezuela, saying "I remember sitting in this stream on a very hot day, eating a mango and thinking to myself, 'Life cannot get better than this.' I was maybe eight years old."
Important Art by Luchita Hurtado

The below artworks are the most important by Luchita Hurtado - that both overview the major creative periods, and highlight the greatest achievements by the artist.


Artwork Images

Untitled (1938)

Artwork description & Analysis: This drawing shows a lit gas stove burner, as seen from directly above. The metal components are rendered in grey graphite pencil, with only the small central ring of flames in blue. Although the drawing has the appearance of being hastily sketched, due to the imprecise and uneven pencil strokes, the artist has also made an effort to shade the metal trivet on the right-hand side, to give it a more three-dimensional and curved appearance.

This drawing, executed by Hurtado at the age of just eighteen, is deceptively simple. In fact, looking back at this early work, we see the introduction of several central themes and interests that would go on to characterize the artist's oeuvre over the next eighty years. Firstly, the bird's-eye view perspective would go on to become a signature style for Hurtado. In later years she returned to this vantage point repeatedly and most notably in her "I am" paintings of the late 1960s and 1970s (in which she painted her own body and closet floor).

Secondly, the early drawing, shows that the artist is interested in her own distinctly personal experience, and more specifically in a domestic and female experience. Here we see a section of Hurtado's oven, the appliance that she was constantly using to prepare food for her children. In many interviews, Hurtado has remarked upon the challenges she faced in juggling her role as a wife and mother along with her role as an artist, and we see in this drawing, as well as in her "I am paintings", references to the dual aspects of her identity (domestic responsibility and artistic aspirations).

Thirdly, this drawing represents an early attempt at capturing light (the blue ring of flame) on paper, through the use of color. Hurtado recalls, "I was really interested in fire. I remember being very intrigued, and loving those gas stoves, the old black ones, you know, with the ring of fire? I did a whole series of paintings of them." She would return to the challenge of painting fire in her "I am" paintings when depicting the flames of matches held in her hands. Also, later in the 1970s she attempted to depict pure light, most notably in her colorful Moth Lights series. Here she attempted to "paint light" on canvas so convincingly that it might attract moths.

Graphite and coloured pencil on paper


Artwork Images

Untitled (1942)

Artwork description & Analysis: This painting, which is Hurtado's first known work on canvas, depicts two tan-colored deer (represented as mere silhouettes) standing by a shimmering silver lake that occupies the bottom-right corner of the image. One deer is standing in profile, while the other, facing the viewer head-on, is bent downward with its front legs spread wide, drinking from the lake. The dark background contains the silhouette of reddish-black peaks, which appear to be desert sand dunes, under a black and turquoise night sky. Half of a white circle, presumably the moon, peeks out from behind the central peak of the landscape and mirrors the curvature and shimmer of the lake. Culture writer Tess Thackara asserts that this "soulful" work points toward Hurtado's connection with the Mexican Surrealists. The mystical image also references prehistoric cave paintings, like those discovered at Lascaux and Altamira, where Hurtado would later go camping in the late 1950s with her third husband Lee Mullican and their children. However, she painted this work in 1942, before having visited the caves. The composition was a sort of experiment for the artist, who thought that animals look quite funny when stooping down to drink. As is typical for Hurtado, there is often a very simple starting point for her work and always an appreciation staying lighthearted and keeping oneself amused. Later, looking back at the work, she felt so proud of the composition that she decided to recreate it in 1981.

Oil on canvas


Artwork Images

Untitled (1950)

Artwork description & Analysis: This work is comprised of abstract geometric lines and shapes, using only five colors in flat, monochromatic sections: black, white, red, orange, and pink. A sense of texture is created by the way the ink puddles around the wax crayon.

Many of Hurtado's works from the 1940s through the early 1960s experimented with geometric abstraction in this way, and utilized bright colors. This particular piece, executed while she was living in Mexico, includes a fair amount of pink. Hurtado explains that she has generally avoided using pink in her art, as it reminds her of being forced to wear pink dresses in church when she was young, however she experimented with using the color while living in Mexico.

The influence of Dynaton artists (most notably, Hurtado's husband at the time, Wolfgang Paalen, and his friend Lee Mullican, who would soon become Hurtado's third husband) is apparent in Hurtado's works of this period. Much like in this work by Hurtado, Dynaton artists frequently produced boldly colored abstract patterns that appear to be woven together.

Hurtado recalls that she made a great deal of these crayon and ink pieces. It was a vast series that was all completed late at night once her children were sleeping, and as such the materials and scale (much smaller than her paintings on canvas) lend themselves to a slightly restricted practice. In this respect we are reminded of the career and words of Nancy Spero, who also worked late at night whilst her sons were sleeping. Spero produced very dark paintings during this time, and Hurtado's are angular. There is the sense that the combination of being a parent of young dependent children and being an artist brings struggle through which one must persevere to emerge stronger.

Wax, crayon, ink, and watercolor on board
More Luchita Hurtado Artwork and Analysis:
Influences and Connections
Influences on Artist
Artists, Friends, Movements
Influenced by Artist
Artists, Friends, Movements

Interactive chart with Luchita Hurtado's main influences, and the people and ideas that the artist influenced in turn.
View Influences Chart

Artists

Personal Contacts

| | |
| --- | --- |
| | Giles Healey |
| | Sheila Healey |
| | Ailes Gilmour |
| | Isamu Noguchi |
| | Ann Alpert Matta |

Movements

Influences on Artist

Luchita Hurtado
Years Worked: 1938 - present
Influenced by Artist

Artists

| | |
| --- | --- |
| | Wolfgang Paalen |
| | Lee Mullican |
| | Matt Mullican |
| | Agnes Martin |
| | Vija Clemins |

Personal Contacts

| | |
| --- | --- |
| | Giles Healey |
| | Sheila Healey |
| | Isamu Noguchi |
| | Ailes Gilmour |
| | Ann Alpert Matta |

Movements
If you see an error or typo, please:
tell us
Cite this page

Content compiled and written by Alexandra Duncan
Edited and revised, with Synopsis and Key Ideas added by Rebecca Baillie
" Artist Overview and Analysis". [Internet]. . TheArtStory.org
Content compiled and written by Alexandra Duncan
Edited and revised, with Synopsis and Key Ideas added by Rebecca Baillie
Available from:
First published on 09 Dec 2019. Updated and modified regularly.


[Accessed ]