Artists
Jack Goldstein
Born: September 27, 1945 - Montreal, Canada
Died: March 14, 2003 - San Bernadino, California

"It is only through distance that we can understand the world."
Summary of Jack Goldstein
Emerging from the critique of Minimalism and Pop Art forged by Conceptual Art, Jack Goldstein's provocative and challenging work ranged over performance, film, painting, and writing. Part of the Pictures Generation artists who came onto the scene in the late 1970s, Goldstein embraced a critical Postmodernism that questioned the role of authorship and originality and that strove to reveal the underlying, often ideological, ways in which images are made and circulated in mass culture.

While gaining some notoriety and success during his lifetime, the art world acclaim did not last, but his influence was widely felt by his peers, including several among the Pictures Generation artists, and younger, post-Conceptual painters and filmmakers such as Ashley Bickerton and Douglas Gordon. More sustained recognition from curators and scholars came in the early 2000s just before his death, and such focus has revealed how experimental and consequential his work has proven to be.
Key Ideas
Though trained in traditional techniques, Jack Goldstein's tutelage under the Conceptual artist
John Baldessari
at Cal Arts in the early 1970s was consequential for his "Post-Studio" practice. Instead of creating original images in traditional processes, Goldstein used appropriated, or repurposed, images from mass culture in order to critique visual culture and how we interact with it.
Goldstein exploited the medium of film - using Hollywood-style techniques and effects and hiring actors and stuntmen - to expose our usually unthinking relationship with what we see on the screen and how we psychologically experience imagery.
Though painting was much maligned in the early day's of Postmodernism's theorization in the 1980s, Goldstein, along with other Post-Conceptual painters like
David Salle
, engaged the tradition of painting to question ideas of creative originality and to interrogate how images are made and read. As with his moving image work, Goldstein used painting to expose its inner-workings and critique society's image consumption.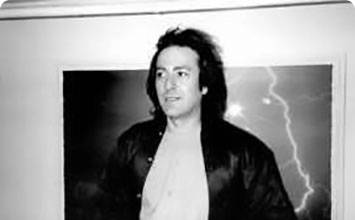 Jack Goldstein was born in Montreal in 1945 to English and Canadian Jewish parents. He grew up in an abusive household, where his father regularly beat him and his mother. When his family moved to a Jewish neighborhood in Montreal, he felt like an outsider because he had not had a Bar Mitzvah, an important rite of passage in a young Jewish boy's life. In the face of this violence and trauma, Goldstein never learned to fight and avoided confrontation, cementing his reputation as a "timid and sensitive kid," in his words.
Important Art by Jack Goldstein

The below artworks are the most important by Jack Goldstein - that both overview the major creative periods, and highlight the greatest achievements by the artist.


Artwork Images

Metro-Goldwyn-Mayer (1975)

Artwork description & Analysis: In Metro-Goldwyn-Mayer, Jack Goldstein loops the familiar roaring lion that introduced films produced by the Hollywood film studio; the lion, isolated and framed by the curled golden film reels, is set against a bright red background. In Goldstein's film the lion roars repeatedly, no longer introducing a film, but rather becoming trapped in its own two minute cycle of repetition. Goldstein leaves the film studio's original Latin motto above the lion's head, Ars Gratia Artis, which translates to "Art for art's sake" and which takes on an ironic cast given the deliberately self-referential nature of his work.

Metro-Goldwyn-Mayer was exhibited in Pictures, the important 1977 exhibition curated by art historian Douglas Crimp at Artists' Space in New York. Like many artworks produced by artists associated with the Pictures Generation, Goldstein's film serves to disrupt our relationship to familiar images and signs. For instance, through its repetition of the lion segment that preceded so many films, Metro-Goldwyn-Mayer shows that the footage of the lion roaring plays both forward and backward. As artist Jordan Kantor describes, "This attempt to pass off 'backward' for 'forward' - a quirk of the source material underscored by Goldstein's manipulation - stands as a particularly compelling visual analogy for the cyclical nature of history and exploitation, as well as for the endless diet of recycled stories Hollywood dishes out." This visual device, produced in the edit, and exposed by Goldstein through its isolation and repetition serves to demystify one of the many methods employed to make moving images so compelling. Another artist Jennifer Bolande has described how Metro-Goldwyn-Mayer made the familiar film segment "become suspect." One of the most important uses of the simple, found footage in Metro-Goldwyn-Mayer provided an astute criticism of our relationship to, and tendency to accept, the images that surround us.

2-minute 16 mm film


Artwork Images

A Suite of Nine 7-Inch Records with Sound Effects (1976)

Artwork description & Analysis: In this suite of audio works, Jack Goldstein appropriated sound effects and transferred them to nine separate 45rpm 7-inch vinyl records. Some of the sounds include A German Shepard (on red vinyl), The Tornado (on purple vinyl), Three Felled Trees (on green vinyl), and The Dying Wind (on clear vinyl), among others. In appropriating the sounds instead of recording them himself, Goldstein seeks to question the role of authorship and originality in the art making process. Goldstein, though, did purposefully choose the color of the vinyl records because of the associations with the particular sounds, hence the trees on green vinyl and the wind on clear vinyl.

In many ways, Goldstein transforms the sounds into images, into narratives. Friend and artist Jennifer Bolande recalls listening to the records for the first time: "Next he put on Three Felled Trees, a green record. You hear some chopping, then a tree falling. Then some more chopping, then another tree falls. Chop, chop. Chop, chop, then the record ends. In order to hear the final tree fall, you have to turn the record over. The interrelatedness of expectation, imaginative space and physical space was extraordinary, a kind of spectacle unfolding within my own mind." Bolande also spoke of the importance of the distance of the sounds; for instance, the dog barking sounds like it comes from several yards over, and she remembered Goldstein saying, "Distance equals control." As in his films, Goldstein manipulates familiar sounds so that we might notice them for the first time, but creating the distance is crucial, for to be critical, one must have distance.

Vinyl records and cardboard boxes, Edition of 100


Artwork Images

Two Fencers (1976)

Artwork description & Analysis: First performed in Geneva in 1976, Goldstein's performance calls to mind a cinematic image staged in real life. Two fencers duel under a controlled spotlight that isolates the men against a dark background. During the fight, the sound of a swashbuckling fight, reminiscent of a Hollywood movie soundtrack, can be heard. Once one of the fencers appears to have killed the other, the lights go down, but the sound of the fight keeps playing at a lower volume for a further seven minutes. As with much of his work, Goldstein does not participate in the work, preferring instead to distance himself and, therefore, ideas of authorship as well.

In staging the tableaux, Goldstein reveals the tensions in how we view film. Writer Vera Dika explains, "This strategy allows us to contemplate the machine-made movement, the spectral body in a series of consecutive poses, the Hollywood musical score, and the move memories that float through our consciousness, now defamilarized in a stage performance to show us the 'cinematic' as a specific kind of experience." Here Goldstein sets up an image in a highly restrained manner, limiting what he shows, and separates the relationship between image and sound. Like other Pictures Generation artists he tests our relationship to familiar imagery and asserts the dominance of visual culture in our production of memory and relationship to our everyday lives.

Performance
More Jack Goldstein Artwork and Analysis:
Influences and Connections
Influences on Artist
Artists, Friends, Movements
Influenced by Artist
Artists, Friends, Movements

Interactive chart with Jack Goldstein's main influences, and the people and ideas that the artist influenced in turn.
View Influences Chart

| | | | | |
| --- | --- | --- | --- | --- |
| Artists | | Personal Contacts | | Movements |

Influences on Artist

Jack Goldstein
Years Worked: 1972 - 2003
Influenced by Artist

| | | | | |
| --- | --- | --- | --- | --- |
| Artists | | Personal Contacts | | Movements |
If you see an error or typo, please:
tell us
Cite this page

Content compiled and written by Claire Hope
Edited and published by The Art Story Contributors
" Artist Overview and Analysis". [Internet]. . TheArtStory.org
Content compiled and written by Claire Hope
Edited and published by The Art Story Contributors
Available from:
First published on 12 May 2019. Updated and modified regularly.


[Accessed ]