Artists
Margaret Bourke-White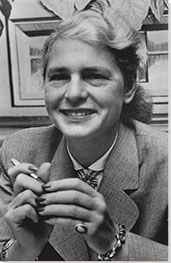 Born: June14, 1904 - New York, New York
Died: August 27, 1971 - Stamford, Connecticut

"Nothing attracts me like a closed door. I cannot let my camera rest till I have pried it open, and I wanted to be first."

Summary of Margaret Bourke-White
Following a highly successful early career in architectural and industrial photography, Bourke-White gained international recognition, not so much for her commercial work and/or her art photography, but more for her Photojournalism which came to the public's attention through her long association with LIFE magazine. Emerging as one of, if not the, most respected news photographer of her generation, Bourke-White was an intrepid adventurer who placed herself at the very center of some of the twentieth century's most significant and challenging historical events. She helped chronical the effects of the Great Depression, became the only Western photographer to witness the German invasion of Russia, and claimed the honor of being the first accredited female American WWII photographer. As part of the General Patton cavalcade, meanwhile, she witnessed the liberation of Nazi death camps, including Buchenwald, before attending the creation of Pakistan and the dawning of apartheid in South Africa. Finally, she undertook an end-of-career expedition into the then unknown territories of South Korea. Complementing her early art photography, Bourke-White proved adept at capturing more human moments in the lives of the powerful and the meek in a body of work that ranged from the most uncompromising to the most personal.
Key Ideas
In her early career, Bourke-White was associated with the emergence of
Precisionism
. Taking its influence from
Cubism
,
Futurism
and
Orphism
, Precisionism (and though not a manifesto-led movement as such) was drawn to skylines, buildings, factories, machinery and industrial landscapes. As the name suggests, Precisionism tended to approach the world with a precise objectivity, though much of Bourke-White's early work drew praise for creative framing techniques that brought out the inherent beauty in industrial and architectural structures.
Bourke-White's international success coincided with the rise of the photo magazine, of which LIFE was arguably the best known. The photo magazine placed great emphasis on the photo-essay which covered issues of national and international significance. Giving equal weighting to image and text, the photo-essay offered an immediacy that proved hugely popular with the public.
Given that her images were often planned and considered in their composition, it is in many cases more accurate to describe Bourke-White as a
Documentary Photographer
. Nevertheless, she, in the enduring spirit of all photojournalist, was engaged in exposing social and/or humanitarian injustices, be those on a domestic or international scale.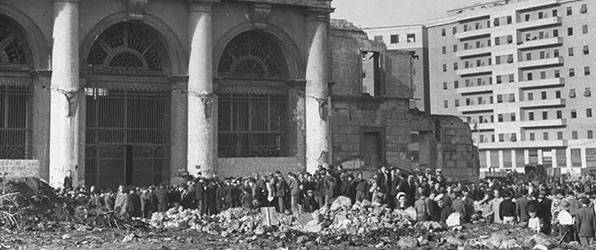 Margaret Bourke-White, the second of three children, was born to Minnie Bourke and Joseph White. Her father was Jewish but the couple chose to raise their children in their mother's Christian faith. It was a decision that would have a profound impact on Margaret who struggled with her "secret" Jewish heritage into adult life.
| | | |
| --- | --- | --- |
| Margaret Bourke-White's childhood, life, career, and various anecdotes | | Read Margaret Bourke-White's Biography |
Important Art by Margaret Bourke-White

The below artworks are the most important by Margaret Bourke-White - that both overview the major creative periods, and highlight the greatest achievements by the artist.


Artwork Images

Slag Train, Otis Steel Co. (1930)

Artwork description & Analysis: This photograph shows an interior view of the Otis Steel Company in Cleveland Ohio factory where slag is being captured and placed on a train to be removed from the facility. (In the process of making steel, slag is the material left over after the metal has been separated from its original raw ore form.)

While Bourke-White began her career taking photographs of buildings for architects, she quickly moved onto industrial photographs. This work is an important example of her most famous series on this subject, that of the inner workings of the Otis Steel Company. Still establishing herself, Bourke-White had to work hard to convince the company's head Elroy Kulas to allow a woman access to his sites. Historian Vicki Goldberg describes how once inside she received complaints from the night supervisor who stated that she was distracting everyone, "crawling all over the place [...] and the men are stumbling around gawking up at her. Someone is going to get hurt, and besides, they're not getting any work done". In an act of the determination Bourke-White would display throughout her life, she refused to give up and went back to the factory wearing jeans and as Goldberg continued, "sometimes she crept so close to the flame that the varnish on her camera blistered and her face turned red as if from sunburn. Nothing stopped her....". Many years later she said of this project: "I feel that my experimental work at Otis Steel was more important to me than any other single thing in my photographic development".

Though Bourke-White managed to both capture the gritty reality and intensity of what it was like in a factory, she simultaneously made industrial machinery and processes come alive through artistically composed and framed images that celebrated the inherent beauty in these objects. It was through these works indeed that she became associated with the early 20th century art movement Precisionism that included artists such as Charles Demuth and Charles Sheeler. Her industrial images brought her to the attention of Henry Luce who would launch her career in photojournalism.

Gelatin silver print - Collection of Howard Greenburg Gallery, New York


Artwork Images

Chrysler Building, New York City (1931)

Artwork description & Analysis: As its title confirms, this photograph is of the iconic Chrysler Building in New York City. Framed at an oblique angle, Bourke-White captures the uppermost point of the building as if the viewer is staring up at it.

In the winter of 1929-30, Bourke-White was assigned the job of photographing every phase in the building's construction process. It was thought to be the tallest in the world but, according to historian Vicki Goldberg, some "skeptics said the steel tower atop it was nothing but an ornament added to bring it to record height [and] Margaret's photographs were meant to prove that the tower was integral to the architecture". Working in freezing winds, Bourke-White positioned herself on a swaying tower some eight hundred feet above street level in order to get the desired shots. An adventure seeker from an early age, Bourke-White warmed to the challenges of the project and speaking of it stated that "with three men holding the tripod so the camera would not fly into the street and endanger pedestrians ... my camera cloth whipping and stinging my eyes as I focused ... I tried to get the feel of the tower's sway in my body so I could make exposures during that fleeting instant ... when ... the tower was at the quietest part of its sway".

In this image, we see the finished tower, captured in such a way as to highlight the extent of its architectural design and it is a truly modern photograph. The building became personal for Bourke-White who so admired it that it affected her decision to move to New York. She rented a studio in the building and, according to Goldberg, she would have lived there as well except personal residences were not allowed except for the building's janitor and while she tried to apply for the position (of janitor) it was already filled.

Gelatin silver print - Collection of LIFE Gallery of Photography

The Louisville Flood (1937, printed c. 1970)

Artwork description & Analysis: Bourke-White began her career in the early 1930s, and in 1937 when the Ohio River flooded Louisville Kentucky, she was sent to the area as a staff photographer for LIFE magazine. Documenting what was one of the largest natural disasters in the history of the United States, Bourke-White's image offered a commentary on perceived racial and economic inequities. This photograph shows African-Americans queuing outside a flood relief agency in front of a billboard, produced by National Association of Manufacturers, that depicts a cheerful white middle-class family in their car. The billboard's heading "World's Highest Standard of Living," and the slogan "There's no way like the American Way," can be treated with ironic skepticism given the reality that is playing out in front of the "myth".

Ranking alongside the likes of Arthur Rothstein and work of the FSA photographers (who documented the devastation of the Dust Bowl earlier in the decade), The Louisville Flood photograph has taken on iconic status in the field of American, and international photojournalism. Confirming, the legacy of this work, the Whitney Museum of American Art exhibits the image with the following caption: "as a powerful depiction of the gap between the propagandist representation of American life and the economic hardship faced by minorities and the poor, Bourke-White's image has had a long afterlife in the history of photography".

Gelatin silver print - Collection of Whitney Museum of American Art, New York
More Margaret Bourke-White Artwork and Analysis:
Influences and Connections
Influences on Artist
Artists, Friends, Movements
Influenced by Artist
Artists, Friends, Movements

Interactive chart with Margaret Bourke-White's main influences, and the people and ideas that the artist influenced in turn.
View Influences Chart


Influences on Artist

Margaret Bourke-White
Years Worked: 1922 - 1960
Influenced by Artist

Artists

| | |
| --- | --- |
| | Lynsey Addario |
| | Diane Arbus |
| | Oscar Graubner |
| | Mary Ellen Mark |
| | Susan Meiselas |

Personal Contacts

| | |
| --- | --- |
| | John Shaw Billings |
| | Erskine Caldwell |
| | Ralph Ingersoll |
| | Parker Lloyd-Smith |
| | Henry Luce |

Movements

| | |
| --- | --- |
| | Modern Photography |
| | Precisionism |
| | Photojournalism |
If you see an error or typo, please:
tell us
Cite this page

Content compiled and written by Jessica DiPalma
Edited and published by The Art Story Contributors
" Artist Overview and Analysis". [Internet]. . TheArtStory.org
Content compiled and written by Jessica DiPalma
Edited and published by The Art Story Contributors
Available from:
First published on 06 Jan 2020. Updated and modified regularly.


[Accessed ]