Artists
Gordon Parks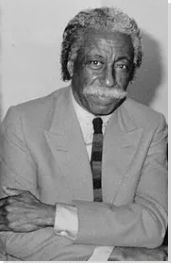 Born: November 30, 1912 - Fort Scott, Kansas
Died: March 7, 2006 - Manhattan, New York

"I saw that the camera could be a weapon against poverty, against racism, against all sort s of social wrongs. I knew at that point I had to have a camera."
Summary of Gordon Parks
Gordon Parks is a photographer known for documenting the African American experience of racism and poverty from 1940s to 1970s. He said, "my purpose has been to communicate to somehow evoke the same response from a seamstress in Harlem or a housewife in Paris." Foremost a storyteller with a camera and a pen, his early work for the Farm Security Administration (FSA) and Standard Oil honed his documentary skills, enabling him to narrate a humanist view of African-American lives. Parks' sensitivity, yet versatility in capturing hard-hitting news, feature stories, life on the street, individual portraits, and fashion collections made him indispensable to his editors and readers at Life magazine, enabling him to represent a more complex view of reality and communicate difficult truths to a mainstream audience.

Parallel to his professional ascent at the most prestigious illustrated magazine of the era, Parks' career was defined by a series of barriers overcome. Parks' race and even his status as a trailblazer enabled him to enter the hidden worlds of the poor, marginalized, and the oppressed. He became Life magazine's "visual ambassador" straddled with the responsibility to maintain an equilibrium between journalistic ethics and the profound empathy for the individuals and communities he photographed.
Key Ideas
Parks narrated individual stories that had a universal, symbolic meaning. His photo essays relied on a compelling person or family to embody the subject matter of his assignment. Parks visualized the African-American experience through the fullest range of subjects and across differences of class, education, occupation, belief, language, environment, and attitude.
He was a cultural pioneer: the first African-American photographer to work for the FSA, Life magazine, and Vogue, and to direct a major Hollywood motion picture. More notable is the extraordinary access he was granted to inaccessible subcultures, which enabled Parks to explore the civil rights and Black Power movements, and the rising new generation of African-American leaders.
Working across photography's diverse fields, from advertising, fashion to documentary, Parks learned to use the camera "as a means of persuasion" - to borrow his own words - which very significantly engendered increasing trust and latitude from his editors during the 1960s. Parks worked hard to persuade his readers of the values of social justice.
With the film Shaft (1971), released by MGM, Parks provided the precise blueprint for the black action film genre called Blaxploitation. These films revolved around a sexy, omnipotent hero, modeled on the style of a Black James Bond.
Parks instinctively understood himself as an artist from an early age. He readily communicated the individual spirit and beauty, as well as the richness of the arts and culture as a photojournalist. Throughout his career, he worked as a musician and composer, a photographer, filmmaker, and painter; novelist, memoirist, and poet to transport his readers and viewers to a better sense of themselves.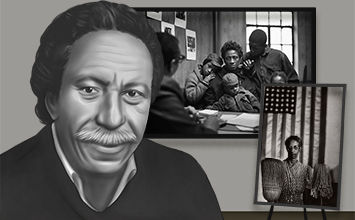 Gordon Rodger Alexander Buchanan Parks was born in 1912 in Fort Scott, Kansas to Sarah and Andrew Jackson Parks, a tenant farmer and odd jobs man. He was the youngest of fifteen children and attended a segregated elementary school. Parks then attended the integrated Mechanical Arts High School, since the town did not have enough money for a second high school to maintain segregation. This integrated school, however, continued segregation in the way it limited the activities of the black students; for example, they were not allowed to play sports, attend social events hosted by the school, and were discouraged from pursuing higher education. When Parks was eleven, three white bullies threw him into the Marmaton River hoping he would drown. He escaped by ducking underwater so they would not see him make it to land. Thus, and in numerous other ways, Parks experienced from an early age the systemic racism prevalent in American society.
Important Art by Gordon Parks

The below artworks are the most important by Gordon Parks - that both overview the major creative periods, and highlight the greatest achievements by the artist.

American Gothic (1942)

Artwork description & Analysis: American Gothic is a portrait of Ella Watson, who symbolizes the American black worker. Watson stands in the middle of the picture in front of the American flag that hangs down the wall behind her. She holds a broom in her right hand and a mop leans against the flag-covered wall behind her. She is dressed in her cleaning lady's uniform with her hair pulled back. Although Watson faces us, her gaze looks off to the side. She seems complacent, yet neither entirely tired nor inspired.

This photograph references the style and composition of the American artist Grant Wood's classic painting of the same title. Like Parks, Grant Wood was from the Midwest and had a particular interest in capturing the daily life of rural laborers. Wood's iconic painting American Gothic (1930) depicts a middle-aged couple (interpreted as either a farmer with his wife or daughter), standing in front of a house built in the Carpenter Gothic style. The farmer stands slightly in front of his wife and holds a pitchfork in his right hand. They both stand so prominently in the foreground that hardly any of the background is visible. Grant may have created American Gothic as an affirmative representation of traditional American values. Yet, the couple's stereotypical resemblance of Midwestern rural folks led art critics at the time to interpret it as a satirical commentary on small town culture.

While Wood's painting is meant to capture an authentic scene (although with a slight surreal quality) of the depression-era through the lens of a white American farm couple, Parks' recreation makes visible the often invisible labor performed by so many African-Americans in both rural and urban America. Parks undoubtedly had seen Wood's painting during one of his visits to the Art Institute of Chicago, when he lived in the city. Park's American Gothic "captures the essence of activism and humanitarianism in mid-twentieth century America." This photograph, one of Parks' most famous works, was not only an indictment of America, but even more so a challenge to the nation to live up to its magnificent creed "...that all men are created equal."

This early photograph was taken when Parks started working for the FSA. Roy Stryker, Parks' mentor at the time, encouraged him to continue working with Watson after seeing this photograph. Following Stryker's lead, Parks went on to create a series of photographs capturing her daily life - in church, at work, and in her home. The critic Lawrence W. Levine argues that the strength of the photograph, the reason it has had a lasting impact, is that it understands and honors the dualities of existence: "the victim and survivor, vulnerability and strength, exploitation and transcendence. And he captured these dualities in a format that allowed viewers to enter the process of investing the image with meaning." Paradoxically, Parks considers this image as over-done, feeling it was too forced and posed, thus undoing the narratives depicting Watson's every day struggle.

Gelatin Silver Print - The Gordon Parks Foundation


Artwork Images

In mortuary Red and Herbie Levy study wounds of Maurice Gaines, a buddy who was found dying one night on a Harlem Sidewalk (caption from LIFE) (1948)

Artwork description & Analysis: This scene of mourning revolves around the relationship between three young men, Red Jackson and Herbie Levy, and the victim, their friend Maurice Gaines. These two young men hover over the dead body of their friend, dressed in a suit with a flower on his lapel, as it lies in a decorated coffin on display at a mortuary. The scars on the victims' young face become apparent upon close inspection. The photograph is striking in how it candidly depicts these young men as children, trying to process the death of their friend. When Parks took the photograph, he did so in order to give the viewer a more complete picture of who Red Jackson and his friends were.

Red Jackson and Herbie Levy were members of the Harlem gang Parks photographed for a month in 1948. Red, on the left, was the leader of the group. Not only men caught up in violence and misgivings, Parks honored the full-scope narrative of Jackson and his comrades, including the quiet, contemplative moments of their day-to-day lives. While people were quick to dismiss men like Jackson, Parks hoped to create a sense of empathy between viewer and subject, bridging the differences of the "us vs. them" mentality that dominated race relations in the United States. As Jelani Cobb, staff writer of the New Yorker, explains, "Parks was visually articulating a premise fundamental to democracy: that one is able to see the humanity of one's fellow citizen."

Gelatin Silver Print - Life Magazine and The Gordon Parks Foundation


Artwork Images

James Galanos Fashion, Hollywood, California (1961)

Artwork description & Analysis: Parks photographed Gloria Vanderbilt, as she modeled a Galanos gown in an office environment. The blurred bright, artificial lights and background colors accentuate Vanderbilt's gracious movement through the space. She quickly glides across the picture plane, ignoring yet performing for the camera, showing off the expanse of the gown's skirt as it bellows behind her, as she walks tall with hands behind her back. Her lightness of spirit expresses the diaphanous quality of the dress's chiffon fabric. The use of artificial lights, dynamic poses and plush interiors as a framing device are qualities characteristic of Parks' fashion shoots.

Color first entered Parks photography through his photo essays and in instances when color dominated his subject matter, as in his photographs of Mobile, Alabama in 1956. Yet, it defined his fashion photography, as it went hand-in-hand with his inclination to take his models out on location - to the streets, into plush interiors, or everyday settings. Thus Park's fashion shoots introduced a new mode of covering prêt-à-porter for Life magazine.

Archival digital pigment print - The Gordon Parks Foundation
More Gordon Parks Artwork and Analysis:
Influences and Connections
Influences on Artist
Artists, Friends, Movements
Influenced by Artist
Artists, Friends, Movements

Interactive chart with Gordon Parks's main influences, and the people and ideas that the artist influenced in turn.
View Influences Chart

| | | | | |
| --- | --- | --- | --- | --- |
| Artists | | Personal Contacts | | Movements |

Influences on Artist

Gordon Parks
Years Worked: 1937 - 2006
Influenced by Artist

Artists

| | |
| --- | --- |
| | Spike Lee |
| | Carrie Mae Weems |
| | Mickalene Thomas |
| | LaToya Ruby Frazier |

Personal Contacts

Movements
If you see an error or typo, please:
tell us
Cite this page

Content compiled and written by Alden Burke
Edited and published by The Art Story Contributors
" Artist Overview and Analysis". [Internet]. . TheArtStory.org
Content compiled and written by Alden Burke
Edited and published by The Art Story Contributors
Available from:
First published on 25 Aug 2018. Updated and modified regularly.


[Accessed ]