Artists
Edith Rimmington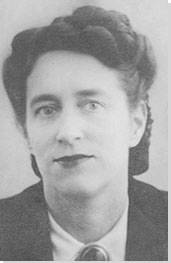 Born: 1902 - Leicester, England
Died: 1986 - Bexhill, Sussex in England

"As fantasy in the claws of the poet is released by the broken arm it becomes imprisoned in the ossiferous callous wherein lice build themselves a tomb in which to escape the magic of the marvellous."

Summary of Edith Rimmington
Edith Rimmington had a curious mind and a boundless imagination and as such became a highly respected and central member of the British Surrealist Group. Although less well known than its Parisian equivalent, Surrealists based in London and Birmingham aspired to the same principles, tirelessly investigating dreams and the subconscious. Indeed, from the beginning to the end of her career, Rimmington was profoundly influenced by Salvador Dalí. Having first encountered Dalí in 1936 at the International Exhibition of Surrealism, the image of the diving suit that the Spanish artist had worn to the opening then appeared repeatedly in Rimmington's paintings. Furthermore, Rimmington was attracted to images of the repugnant, as was Dalí, with the themes of death, decay, and re-birth being longstanding concerns for both. Later in life she painted less but continued to write poetry, practice automatic writing, and to take photographs of her natural surroundings. Alongside other artist contemporaries, she settled on the coast of Sussex, making a literal statement about living life on the edge.
Key Ideas
Many works by Rimmington reveal a tendency toward the darker depths of the imagination. She was deeply affected by the shocking images of maimed and wounded soldiers in World War II, and as such many of her works depict dismembered body parts and speak of the utter horrors of war. Steering away from fantasy, her work echoes dissent Surrealist ideology that had been theorised by Georges Bataille and Jacques André-Boiffard.
Indeed, her work often has an anatomical and biological quality of dissection to it. As animals appear as hybrids or in states of transformation, Rimmington makes reference to ideas of mimicry as discussed by the French intellectual Roger Caillois. In this respect her pictures successfully combine two great curiosities: art and science. At times, a work by Rimmington looks like a medical textbook illustration - albeit with a Surrealist twist.
Many of Rimmington's paintings feature claustrophobic interior spaces with unusual perspectives and a repeated checkered-floor motif. This links her work to an international cast of female Surrealists, including and in particular
Remedios Varo
and
Leonora Carrington
. Similar to the Yin Yang symbol's use of black and white to illustrate seeming contrast, checkered boards reinforce the important Surrealist notion of combining opposites. Furthermore, all three of these artists are drawn to a "she-bird" figure; again uniting the opposite desires to be at once earth and sky bound, and also illustrating a newfound and shared sense of freedom.
In later works when Rimmington focuses predominantly on photography she exposes the specifically British Surrealist interest in merging with the natural environment, and more specifically, with the sea. Dissolving boundaries between the animate and the inanimate, between the rock and the human, and between the sea and the shore, becomes a speciality of Rimmington. This is an interest intimately shared by fellow British Surrealists
Ithell Colquhoun
,
Eileen Agar
, and Emmy Bridgewater.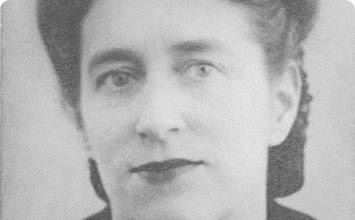 Edith Rimmington was born in 1902 in Leicester, a city in the East Midlands of England. Unfortunately there is very little information available on her childhood.
Important Art by Edith Rimmington

The below artworks are the most important by Edith Rimmington - that both overview the major creative periods, and highlight the greatest achievements by the artist.


Artwork Images

Eight Interpreters of the Dream (1940)

Artwork description & Analysis: In 1936, Rimmington attended the International Surrealist Exhibition in London. Here, the young and already highly influential Spanish artist, Salvador Dalí famously turned up in a diving suit and claimed he would be "diving into the human subconscious." This performative gesture and clear statement had a profound and lasting impact on Rimmington, who four years later, in this painting, featured eight diving suits hung out to dry in the arched niches of a classical colonnade. In place of diving helmets, however, Rimmington has included a series of severed sheep heads, which are scattered and propped up here and there. Indeed, as much as the hanging suits resemble diving attire, they also look like skinned animal carcasses strung up on meat hooks.

Intentionally flesh-colored, the suits also resemble decapitated bodies, or artificial limbs, and it is thus significant that the work was painted just a year after the start of WWII. However, the title of the work, along with Dalí's diving reference, opens the work up to deeper interpretation, linking it to the world of dreams and the subconscious mind, both of which were key subjects for the Surrealists. By painting headless bodies Rimmington separates body from mind, a reminder that the two can be read as distinct entities. The idealised, classical setting here reinforces the dream-like, otherworldly nature of the painting, and resembles the strictly composed architectural paintings by the forefather of Surrealism, Giorgio de Chirico.

French art historian and avid supporter of British Surrealism, Michel Remy has explored Rimmington's complex relationships with the human body, which, as he points out, she often depicts as disjointed, divided, or fragmented, as if "suspended in-between" states such as living/dead, imaginary/real. In doing so, she emphasises the blurred boundaries between the internal and external world of human existence, an idea that formed an integral aspect of Surrealist thought; poet André Breton aptly summarised it as "the liberation of the imagination."

Oil on canvas


Artwork Images

Sisters of Anarchy (1940)

Artwork description & Analysis: Two versions of the classical Greek statue Athena stand united in this mysterious, earth-toned, ruined interior. Whilst one version of Athena wears classical drapes, the other woman is unusually dressed in owl feathers. The owl costume infuses the more traditional and static image of woman with a new sense of wildness, freedom, and the potential to fly.

Like many artists working in the early to mid-20th century - in an attempt to instil a new sense of order amidst the socio-political chaos of war-torn European society - Rimmington explores classical mythology, depicting the goddess of wisdom, handicraft, and warfare. Like many of the Surrealists (including Max Ernst whose alter ego was also a bird called Loplop), Rimmington identified strongly with owls. She shares this interest with both Remedios Varo and Leonora Carrington. Varo painted Creation of Birds (1958), whereby a woman-owl sits at her desk painting a picture of a bird and then bringing it to life.

The title of the work, Sisters of Anarchy, well describes the two female figures standing so close together in solidarity. It also echoes the title of a sculpture by the Surrealist artist Eileen Agar, called Angel of Anarchy (1936-40). There may be a reference here in the term "sisters" to the allegiances formed between female artists involved in Surrealism; Rimmington did know Agar well, as well as Emmy Bridgewater. It is thought that the "anarchy" referenced in both Rimmington and Agar's titles relates to the Spanish anarchists who emerged during the Spanish civil war, a group which many Surrealists strongly supported.

Oil on canvas - Private Collection


Artwork Images

The Oneiroscopist (1942)

Artwork description & Analysis: Art historian Michel Remy has described this painting as "one of the icons of British Surrealism". An ominous bird-human hybrid figure sits surrounded by a heavily clouded seascape. The figure is blind and wears a diving suit with his helmet and diving equipment placed to the side. The title of this painting makes reference to the "work" performed by the fictional figure; he/she/it is an oneiroscopist, a person who specialises in studying and interpreting dreams. Indeed, it is likely that the diving suit again makes reference to Salvador Dalí.

It has also been suggested that this painting illustrates the position of the British Surrealist Group in relation to their French counter-parts. It was as if the British fraction of the movement was cast off and pushed into obscurity somewhat. Thus the bird-person sits in isolation with no supporters climbing the ladder to join. Still though, with eyes covered, the creature is a "seer" in the same vain as other Surrealists, always looking within for the answers, and unusually (as at once bird and diver) able to explore both the seas and the skies.

Indeed, Remy describes Rimmington's curious character in this painting with great empathy: "This person lives a strangely luminary life (filled with) anticipation ... immersion and emergence." We can imagine Rimmington's figures readying themselves to climb down the ladder and dive back into the heavy, dream filled clouds that lie below. Yet there is, as Remy points out, impossibility presented to us here; "the helmet is intended for the head, but it is incompatible with the beak, reinforced by the inability of the suit to pass over the beak." With two different feet and human hands, the unlikely nature of this character becomes even more apparent; the dream and the real, and the possible and the impossible are inextricably liked.

Oil on canvas - Private Collection
More Edith Rimmington Artwork and Analysis:
Influences and Connections
Influences on Artist
Artists, Friends, Movements
Influenced by Artist
Artists, Friends, Movements

Interactive chart with Edith Rimmington's main influences, and the people and ideas that the artist influenced in turn.
View Influences Chart

Artists

Personal Contacts

| | |
| --- | --- |
| | Emmy Bridgewater |
| | Eileen Agar |
| | Conroy Maddox |
| | Edward Burra |
| | John Banting |

Movements

Influences on Artist

Edith Rimmington
Years Worked: 1939 - 86
Influenced by Artist

| | | | | |
| --- | --- | --- | --- | --- |
| Artists | | Personal Contacts | | Movements |
If you see an error or typo, please:
tell us
Cite this page

Content compiled and written by Rosie Lesso
Edited and revised, with Synopsis and Key Ideas added by Rebecca Baillie
" Artist Overview and Analysis". [Internet]. . TheArtStory.org
Content compiled and written by Rosie Lesso
Edited and revised, with Synopsis and Key Ideas added by Rebecca Baillie
Available from:
First published on 07 Dec 2018. Updated and modified regularly.


[Accessed ]