Movements, Styles, and Tendencies
Metaphysical Painting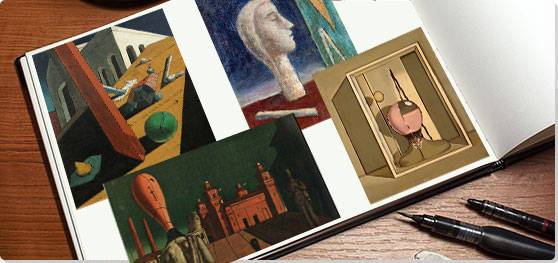 Metaphysical Painting
Started: 1910
Ended: 1920

Summary of Metaphysical Painting
In 1910, the Italian Giorgio de Chirico began to spearhead a new style of painting, inspired by those enigmatic moments of our lives when ordinary awareness becomes suspended and we feel as if we've stepped out of time. After meeting artist Carlo Carrà, the two evolved this type of work into a movement coined "Pittura Metafisica" or Metaphysical Painting. They, and a handful of other artists, strove to create compositions in which realistic depictions of contemporary settings were juxtaposed with an unusual iconography of their own unique design, giving viewers a sense of stepping into a dream. The movement was isolated in scope due to historical circumstances while Europe began the difficult recovery from World War I.
Key Ideas
In direct opposition to the progressive avant-garde of the early 20th century, Metaphysical Paintings featured a general mood of isolation and haunting mystery. In these fantastical worlds of the artists' own imaginations, art critic Hearne Pardee wrote, "Dynamic exuberance is replaced by methodical composition, as though fastidious fabrication could generate visions."
Metaphysical Painting was marked by the widely adopted inclusion of common motifs from everyday life such as statues, mannequins, fish, mirrors, and geometrical objects, only positioned within unordinary contexts. This added to the sense of ambiguity that de Chirico championed as giving the viewer a sense of stepping out of reality to see things in new ways absent of preconceived meaning.
In de Chirico's words, the Metaphysical painters were "painting that which could not be seen." This allusion to what lies beneath the conscious level of everyday life would attract the eye of the time's modern thinkers and philosophers such as
Andre Breton
and become a primary influence upon the emerging
Surrealist movement
.
Although short lived, the Metaphysical Painting movement was also a forebear to the
Interwar Classicism movement
, which was an artistic reaction to the emotional fallout of World War I. It called for a return to order via a backlash against contemporary genres and reclamation of classical art's tropes, styles and motifs.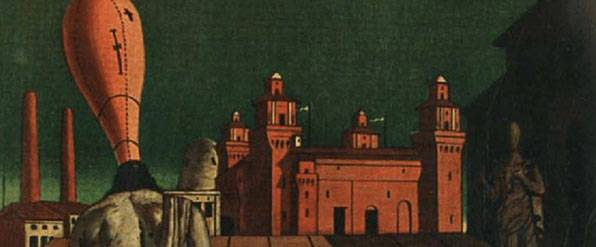 Detail of de Chirico's The Disquieting Muses (1947)
Founder of Metaphysical Painting Giorgio de Chirico is a true giant of avant-garde art. His works foreshadowed Surrealism, and he has even been credited with creating the first ever Conceptual painting, The Enigma of the Hour (1911), that aimed to translate thought into art years before the Patriarch of Conceptualism - Marcel Duchamp.
Important Art and Artists of Metaphysical Painting

The below artworks are the most important in Metaphysical Painting - that both overview the major ideas of the movement, and highlight the greatest achievements by each artist in Metaphysical Painting. Don't forget to visit the artist overview pages of the artists that interest you.


Artwork Images

The Enigma of an Autumn Afternoon (1910)

Artist: Giorgio de Chirico

Artwork description & Analysis: This painting depicts Florence's Piazza Santa Croce, nearly empty except for a single statue and a couple, depicted to the right of the pedestal, as the afternoon's golden light lengthens into shadow. A sailboat floats in the distant background.

While realistically depicted, the scene is a radical transformation of the actual plaza. The 19th century statue of the poet Dante with a heroic eagle at his feet is replaced with what art historian James Thall Soby described as "a mutilated classical figure whose Victorian origin is suggested...by the naturalistic tree trunk that supports it." Soby also noted how the church's elaborate façade "has been reduced to bare, arbitrary, structural essentials, as if the painter had stripped the church of its...ornament and envisioned it as a classical stage set." As a result, de Chirico convincingly creates a place that has never existed, imagined to create a sense of haunted isolation, the sense of a mystery. As art historian Adriano Altamira noted in "the so-called Italian Piazza de Chirico plays with the ambiguous presence of the statues that inhabit the monumental spaces of his cities, built like the wings of an entirely mental theatre: a theatre or architecture of the mind."

This work launched de Chirico's series of Italian piazzas, scenes that he called "memories of Italy," and his first Metaphysical works. He was later to credit Nietzsche by saying "I attempted to express the intense, mysterious feeling I had discovered in Nietzsche: the melancholy of lovely autumn afternoons in Italian cities," though the images also convey the philosopher's view of reality as an "eternal return." It was in this square where de Chirico experienced the revelation that kicked off his Metaphysical Painting of the enigmatic and in later years, he said of this painting, "every time I look at it I relive the moment once again."

When he moved to Paris, de Chirico brought this painting, along with The Enigma of the Oracle (1910), and both were exhibited in the 1912 Salon d'Automne. Celebrated by the art critic Guillaume Apollinaire, the works made de Chirico well known among the French avant-garde. His reputation was also established in Italy, when, subsequently, Ardengo Soffici, an Italian writer and critic, described his work as the "writing down of dreams," full of "infinite rows of arches and facades, of extended straight lines, of gigantic masses of simple colors," to create, "a sensation of vastness, of solitude, of immobility."

Oil on canvas - Peggy Guggenheim Collection

The Song of Love (1914)

Artist: Giorgio de Chirico

Artwork description & Analysis: This painting brings together startling juxtapositions of a red rubber surgical glove, a green ball, and the sculpted head of Apollo, the Greek god of art, within an almost schematic architectural scene. The contrast of the elements, as if trophies or artworks mounted to a wall, conveys not only a sense of surprise but also a sense of another reality looming beneath the surface. The painter used his traditional architectural motifs such as the dark arches opening in a classical façade, while the train depicted along the low horizon at left was a modern motif he returned to frequently.

Here de Chirico copied an academic plaster mold of Apollo from Salomon Reinach's archaeological book on ancient Greek sculpture, while the glove is thought to echo a work by Titian. However, the work notably draws upon one of the artist's earliest inspirations, Max Klinger's Paraphrase on the Finding of a Glove (1877-78), a series of ten etchings where as art critic James Thrall Soby wrote, "a glove plays an active symbolic part; its appearances and disappearances provide the tempestuous scenario of a love story," though as Soby further noted, "De Chirico's still-life drama has no traceable plot...its impacts derives from the mystery...of the various elements."

This was the work that Rene Magritte saw in 1919 and described as, "one of the most moving moments of my life: my eyes saw thought for the first time." It became the impetus for Magritte's subsequent artistic research and Surrealist development. De Chirico said his intent was to "express sensations hitherto unknown; strip art of routine, rule, and tendency towards aesthetic subjects or synthesis; expunge man as a point of reference, as a means of expressing a symbol, a sensation or a thought...This is the Nietzschean method," as he saw his art as the art of the future.

Oil on canvas - Metropolitan Museum of Art, New York

L'Ovale delle Apparizioni (The Oval of Apparition) (1918)

Artist: Carlo Carrà

Artwork description & Analysis: This oval painting depicts two mannequins and a fish standing motionless on a wooden floor, its diagonals drawing attention to the tall tower and apartment-like building dominating the skyline. The central figure's body, wearing a harlequin's costume, is made out of conical and geometric shapes, giving it a rounded robust appearance. The feminine figure to its right, her chest bare in a classical guise, its fabric fluted as if carved in marble, waits heavily, as she holds a small ball in her left hand. Perhaps most compelling are the featureless oval faces and heads framed with a shade of white that convey a sense of anonymity.

Carrà achieved early fame as a founding member of Italian Futurism, but in 1915 turned to studying the old masters, particularly Giotto and Uccello, in his search for a new artistic style. When he met de Chirico in 1917 in Ferrara, he was influenced by what Thrall Soby called his "enigmatic dislocations of surface reality," and also adopted de Chirico's iconography, as the fish here echoes de Chirico's Portrait of Guillaume Apollinaire (1914). By 1914 de Chirico had also begun painting mannequins, using them instead of statues or isolated figures, often set in claustrophobic settings. Carrà added his own elements to the mix, as he preferred using classical perspective, and also painted in a thick impasto that lent a sense of materiality and weight to his robust figures and setting. As art critic Paolo Baldacci wrote, "In the context of Metaphysical Painting, the work of Carlo Carrà and Giorgio Morandi gives a much greater sense of rigidity: a sense of stability, solidity, and faith in the reality of the world that their painting transmits to 20th-century Italian art."

Oil on canvas - Galleria Nazionale d'Arte Moderna, Rome
More Metaphysical Painting Artwork and Analysis:
If you see an error or typo, please:
tell us
Cite this page

Content compiled and written by Rebecca Seiferle
Edited and revised, with Synopsis and Key Ideas added by Kimberly Nichols
" Movement Overview and Analysis". [Internet]. . TheArtStory.org
Content compiled and written by Rebecca Seiferle
Edited and revised, with Synopsis and Key Ideas added by Kimberly Nichols
Available from:
First published on 02 Sep 2019. Updated and modified regularly.


[Accessed ]