"I don't make a lot of distinctions between things like landscape and figure painting, because to me the problems are inherently the same - lighting, color, structure and so on - certainly traditional and ordinary problems."
"The nerve of failure I think is paramount. Learning by mistakes, modifying, reconstituting, reorganizing."
"I don't like the term 'artist.' It's a term which I'm uncomfortable with, but I love the idea of being a cartoonist, a draftsman, a designer, a painter...."
"[P]ainting itself is a kind of miracle, because what you're doing is reducing a three-dimensional world of living, active organized chaos into this little, flat, unmoving, quiet, flat thing, which has to, in some ways, be able to speak to you."
"I think art is probably our saving grace. It can almost ignore our animal premise and spirits. It's worth investing in as many deeply involved people as we can muster because I think that's where our hopes lie: in giving us a life of pleasure, challenge, comfort, joyousness—all of the things that make us human and able to relate kindly to each other."
"His canvases are some of the most important paintings ever made in California, and they possess an enduring interest, combining nostalgia and optimism, loneliness and isolation"
Summary of Wayne Thiebaud
While rooted in the everyday, West Coast artist Wayne Thiebaud's compositions spring from his imagination and have a poetic, sometimes melancholic, quality about them. Thiebaud bucked artistic trends to create his own vision of American culture. Trained as a commercial artist and uninterested in the histrionics surrounding Abstract Expressionism, Thiebaud concentrated his attention on ordinary objects, thus garnering comparisons to Pop Art of the 1960s, yet Thiebaud brushed away such comparisons, saying he was "just an old-fashioned painter."

A popular teacher, Thiebaud was a generous mentor, and artists such as Mel Ramos, Fritz Scholder, and Faith Bromberg have spoken his praises. Further, Thiebaud's embrace of Americana - as seen through his bakery cases and landscapes - has endeared him to a wider audience that see something of themselves in his paintings.
Accomplishments
Thiebaud began his artistic path studying commercial art and illustration before turning to fine arts study, and this early training continues to inform his work. The linear, even illustrative, quality of his paintings suggest advertisements and commercial photographs. Thiebaud has always felt that the line between commercial and fine art is too rigidly drawn, and his work constantly transgresses that border.
While often associated with Pop Art because of a shared subject matter, Thiebaud is more often than not absorbed in traditional problems of painting - how to create depth without sacrificing the two-dimensionality of painting and how objects relate to one another. Through seemingly simple still lifes, Thiebaud evokes stories of plenty and loss, prompting an emotional response from the viewer that is absent in Pop Art.
Thiebaud has often spoken of the "Americanness" of his paintings. His depictions of cakes, pastries, everyday objects, and landscapes convey an earnestness and curiosity that can be traced back to the likes of Edward Hopper and earlier American art. While some have spoken of a melancholic, even sinister, mood in some of his paintings, they lack a biting critique, or rebuke, of American consumer culture and instead offer a meditation on it.
Important Art by Wayne Thiebaud
Progression of Art
Biography of Wayne Thiebaud
Childhood
Wayne Thiebaud was born in Mesa, Arizona in 1920. When he was only six months old, his family moved to Los Angeles, where he spent much of his early life in Long Beach, California. He also lived for a number of years on his uncle's ranch in Utah, as his large Mormon family retained roots in the Southwest.
During high school, Thiebaud developed an interest in stage design and lighting. Between the ages of 15 and 18, he worked part-time designing posters for a movie theater. He also worked at a cafe in Long Beach named "Mile High and Red Hot," where "Mile High" referred to an ice cream flavor and "Red Hot" to a hot dog. At 16, Thiebaud took a summer apprenticeship in the animation department of Walt Disney Studios. Here he drew thousands of individual frames of characters such as Goofy, Pinocchio, and Jiminy Cricket. The frames, which when shown in quick succession would give the impression of movement, were known as "in-betweens."
Education and Early Training
Although Thiebaud showed artistic talent from a young age, he was disinclined to pursue fine arts training due to the economy during the Depression. Instead, he studied commercial art at Long Beach Polytechnic High School and at the Frank Wiggins Trade School (now Los Angeles Trade-Technical College). He intended to learn sign painting, but once there he was encouraged to study commercial art and illustration.
World War II brought a temporary halt to Thiebaud's early career as a cartoonist and graphic designer, although his artistic skills did keep him out of combat. From 1942 to 1945, he served in the Army Air Force, assigned to the Special Services Department as an artist and cartoonist, and he was ultimately transferred to the First Air Force Motion Picture Unit, commanded by future president Ronald Reagan. During the war, he met his first wife Patricia Patterson, with whom he had two daughters. The first, Twinka, was born in 1945 and the second, Mallary Ann, in 1951.
After the war, Thiebaud returned to his work as a commercial artist. While working for Rexall drugstore chain, he met Robert Mallary, who encouraged Thiebaud to continue his education by studying fine art. At nearly 30 years old, Thiebaud enrolled at San Jose State College (now San Jose State University) before transferring to Sacramento State College (now California State University, Sacramento), where he earned his bachelor's and master's degrees.
While working towards a new career in fine art, Thiebaud supported his family through teaching, which he continued until the 1990s. Michael Tompkins, Thiebaud's student and assistant in the 1980s, said of his teaching style, "He preferred teaching undergraduates and 'raw beginners' .... He wanted people who were wide open. Without any irony, he told us his work was about scrambling around with the basic issues, like a baseball player who still goes to spring training each year to brush up on the basics." Thiebaud believed that in teaching, "you have to constantly rethink things."
Mature Period
From 1956-57, Thiebaud spent a sabbatical year in New York City, where he met Willem de Kooning, Franz Kline, Robert Rauschenberg, and Jasper Johns. It was at this time that Thiebaud began to explore a new style and subject matter - applying the bright colors and hyper-realistic shadows of commercial art to a series of paintings of cakes, pies, and candies in shop windows. With few galleries in Sacramento at this time, he exhibited in shops, restaurants and even the concession stand at a theater.
Although deeply inspired by his experience in New York, Thiebaud never felt part of the city's art scene - finding its seriousness off-putting. Nevertheless, it was here that the artist first received critical acclaim. In 1961, Thiebaud met New York art dealer Allan Stone, who, although initially unmoved by the slides he saw of Thiebaud's food paintings, agreed to represent him after making contact a year later. Stone became a close personal friend to Thiebaud as well as his exclusive dealer until the former's death. He said of the artist, "I have had the pleasure of friendship with a complex and talented man, a terrific teacher and cook, the best raconteur in the west with a spin serve, and a great painter whose magical touch is exceeded only by his genuine modesty and humility. Thiebaud's dedication to painting and his pursuit of excellence inspire all who are lucky enough to come in contact with him. He is a very special man."
In addition to exhibitions at Stone's gallery, Thiebaud's work was featured in two major group shows in 1962 - the Pasadena Art Museum's New Painting of Common Objects and the Sidney Janis Gallery's International Exhibition of the New Realists. In both, Thiebaud's paintings were shown alongside the work of Roy Lichtenstein and Andy Warhol - though the artist later expressed dislike for Warhol's "flat" and "mechanical" paintings. While most consider the Pasadena Art Museum's New Painting of Common Objects the first exhibition of Pop Art in America, Thiebaud does not now consider himself a Pop artist.
Late Period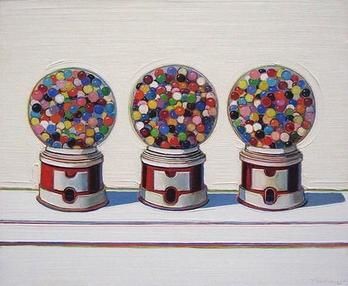 The artist's first marriage broke up in 1958, and he later married filmmaker Betty Jean Carr, with whom he had a son, Paul. Paul took over from Stone as Thiebaud's art dealer until he died in 2010. His daughter Twinka, from his first marriage, became a well-known artist's model, author, and painter.
In the mid-1960s, the artist made his first prints at Crown Point Press - a practice he would continue for the rest of his career. As a reaction perhaps to other artists beginning to adopt Pop Art motifs, Thiebaud turned first to portraiture and then to landscapes. Both display a characteristic style; his portraits are meticulously detailed but with a detached sense of solidity that renders his subjects more like objects than people, while the dramatic perspectives of his landscapes are such that they read almost as flat arrangements of color and form.
Beginning his landscapes in the 1970s, Thiebaud continued to produce these works for the next 20 years. Living now in California, he has recently painted a series of mountains; while the subject matter diverges from his earlier still lifes, Thiebaud still renders them with thick brush strokes of paint, reminiscent of the frosting of his earlier cakes.
Although Thiebaud is now in his nineties, he continues to paint twice a day. When he is not painting, he spends time with his wife and with friends such as fellow artist Fred Dalkey. Thiebaud is also a keen tennis player, often mixing his paints in the lids of tennis ball containers.
The Legacy of Wayne Thiebaud
Thiebaud's transition from commercial to fine art is an experience he shares with other post-war artists such as Willem de Kooning and Warhol. Speaking of his regard for commercial art and artists, he says, "Those wonderful people showed me what to do - sign painters, women's fashion illustrators. There's a lot of craft in it, and that's admirable. They would tell you very quickly: 'You've got to shape up! You can't do that lettering like that!' ... So I'd go back and do it again, do it again, do it again."
Notwithstanding this unique vision, a number of comparisons have been made between Thiebaud and his near contemporaries. His landscapes, streetscapes, and cityscapes are said to have been influenced by Richard Diebenkorn, while Sunset Streets (1985) and Flatland River (1997) are often compared to the work of Edward Hopper, who was also interested in scenes of everyday life in America. Sacramento painter and friend Fred Dalkey is drawn to the melancholic side of Thiebaud's paintings. As a teacher, Thiebaud mentored many artists over the years, most notably Pop artist Mel Ramos, feminist figurative painter Faith Bromberg, and Native American artist Fritz Scholder.
Influences and Connections
Influences on Artist

Influenced by Artist
Friends & Personal Connections
Robert Mallary
Movements & Ideas
Commercial art
Artists
Fred Dalkey
Friends & Personal Connections
Fritz Scholder

Faith Bromberg

Garry Hutton

Mel Ramos

Sharon Core
Useful Resources on Wayne Thiebaud
Books
The books and articles below constitute a bibliography of the sources used in the writing of this page. These also suggest some accessible resources for further research, especially ones that can be found and purchased via the internet.
artworks
Similar Art