Movements, Styles, and Tendencies
Modern Photography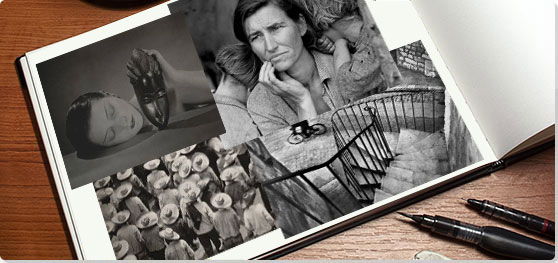 Modern Photography
Started: 1910
Ended: 1960

"Photographers must learn not to be ashamed to have their photographs look like photographs."

Synopsis
The birth of Modern Photography heralded a significant aesthetic change in photographic output as well as a shift in the way in which photography was produced, utilized and appreciated. Modern Photography encompassed trends in the medium from the early 1900s through to the 1960s. The move from early photography to Modern Photography is distinguished by a departure from the language and constraints of traditional art, such as painting, and this change in attitude was mirrored by changes in practice. Photographers started using the camera as a direct tool rather than manipulating images to conform to traditional notions of artistic beauty (a custom particularly associated with Pictorialism). In pioneering this move, modern photographers eventually disrupted the wider conventions of the art world by expanding both what was considered art and what was deemed an acceptable subject matter for it.
Although Modern Photography does not start until the beginning of the 20th century, earlier photographic innovations provide a technological and contextual framework for later developments and are important in understanding the stylistic changes of the period. Some of the key approaches of Modern Photography are unique to the medium whilst others align with wider art movements such as Dada and Surrealism. In contrast to earlier relationships between photography and artistic groups, which tended to be imitative, Modern Photography became fully embedded in these movements and provided a new and powerful medium for experimentation and expression.
Beginnings:
Although Nicephore Niepce is credited as the inventor of photography he experimented with early photography techniques throughout the 1820s (the earliest surviving photograph dates from around 1826), his photographs required an extremely long exposure time and the results were imperfect. Louis Daguerre refined Niepce's work during the 1830s resulting in the creation of the daguerreotype which only needed a few minutes of exposure and produced a sharp, clear image. The details of this process were released in 1839 and this date is considered to be the start of photography as a viable medium. Subsequent discoveries and developments, including those by Henry Fox Talbot, continued to make photography easier and more affordable.
If you see an error or typo, please:
tell us
Cite this page

Content compiled and written by Rebecca Seiferle
Edited and revised, with Synopsis and Key Ideas added by Kate Stephenson
" Movement Overview and Analysis". [Internet]. . TheArtStory.org
Content compiled and written by Rebecca Seiferle
Edited and revised, with Synopsis and Key Ideas added by Kate Stephenson
Available from:
[Accessed ]