Alfred H. Barr Jr. and Important Artists and Artworks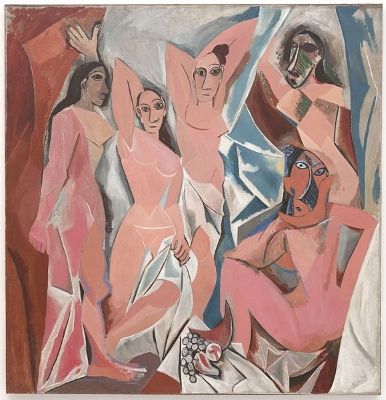 Les Demoiselles d'Avignon (1907)
In 1937, MoMA acquired Picasso's little-known painting Demoiselles d'Avignon and first exhibited it in 1939 with the opening of its new building. In announcing the acquisition in a January 1939 press release, Barr wrote, "Picassos Demoiselles d'Avignon is one of the very few paintings in the history of modern art which can justly be called epoch-making.... It is not primarily for its historic importance, however, that the Museum of Modern Art has acquired this extraordinary picture, for as a work of art the Demoiselles d'Avignon remains one of Picasso's most formidable achievements." In describing it as a transitional work between Picasso's Blue and Rose periods and his revolutionary Cubist paintings, Barr cites Picasso's assertive genius in making this painting and positions it as one of the most important paintings of the 20th century.

While other artists had seen the painting in Picasso's studio and it had been exhibited in 1916, the painting remained largely unknown until MoMA purchased it. The public response was not enthusiastic and outright suspicious. As one New York Times critic put it, "The average man can see no sense in Picasso's work. There must be a trick in it somewhere, if collectors are willing to pay thousands of dollars for one of these splotchy scrawls." Barr strove, though, to educate the museum's audiences to help them appreciate the important work.
Oil on canvas - The Museum of Modern Art, New York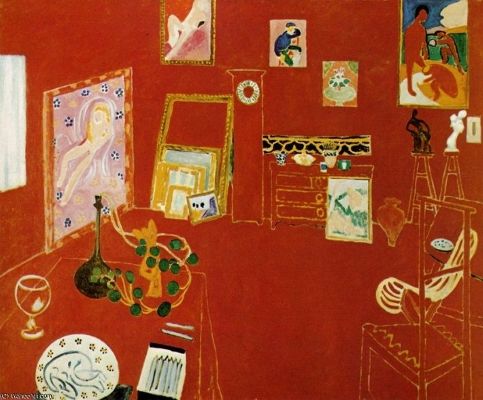 The Red Studio (1911)
Matisse's The Red Studio entered MoMA's collection in 1949. Barr had written about Matisse in 1931 in conjunction with an exhibition at the Museum, but it was his 1951 study of Matisse that not only cemented Matisse's reputation but also constituted a major art historical achievement. As later MoMA curator John Elderfield explained, Barr's monograph "brought the big guns of North American institutional scholarship - with its special access to artists, archives, galleries, collectors, and teams of researchers - to bear on a modern subject for the first time, to a deeply unsettling effect that continues to reverberate more than half a century later."

Barr's study provided an overview not only of Matisse's entire career but also his critical reception and added previously unknown documentation to Matisse's narrative. In grounding his study in meticulous research instead of unfounded opinion, Barr produced a tome not of art criticism but of art history, an approach to modern art that had not previously been undertaken.

While Barr's reading of Matisse developed over several decades, he saw Matisse's development in cycles, starting with orderly compositions in the late 19th century, moving into more lively Impressionist compositions, and then back to a more structured orderliness. Barr would slightly amend this schema, but as Elderfield remarks, "Barr's desire to over-classify did obfuscate at times, and his wish to counter the popular, light Matisse by emphasizing his favored austere artist created an implausible early dark period and disconnected the paintings of the First World War from his preceding as well as, more reasonably, succeeding production." Despite Barr's shortcomings, Matisse entered the modern lexicon alongside Picasso, and the many examples of his work in MoMA's collection would be crucial for the young, developing Abstract Expressionists like Mark Rothko, Jackson Pollock, and Elaine de Kooning.
Oil on canvas - The Museum of Modern Art, New York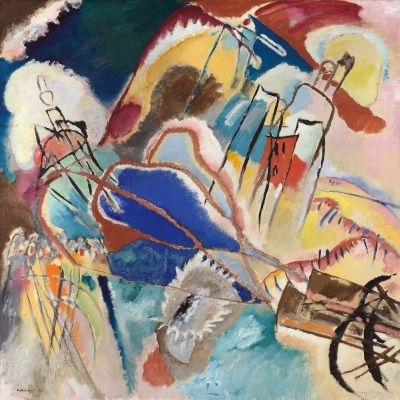 Improvisation no. 30 (Canons) (1913)
Barr discussed Kandinsky's work in his catalogue essay for the exhibition Cubism and Abstract Art. He positions him as having learned the lessons of Matisse and Gauguin and then as having outpaced them in his quest for abstraction. He pointed out that the artist's theory of art "was mystical, depending upon an awareness of the spiritual in the material, and an expression of this feeling through the material medium of paint." Barr revealed that Kandinsky's many improvised abstracts were the manifestation of a mind that knew no other way to express itself. While Kandinsky intended his Improvisations and Compositions to be pure abstract works, recognizable imagery emerges. In this case of Improvisation no. 30, one sees two canons in the bottom right corner. Kandinsky admitted their presence but insisted that they ended up there unconsciously. For this reason, Barr cites Kandinsky anticipating the later Surrealists who would embrace the unconscious in their automatic drawing process.

In writing about Kandinsky, one senses Barr's bias toward French art. In a backhanded compliment, Barr judged that Kandinsky's latest paintings "became more drily geometrical but in the last few years he has turned to more organic forms, perhaps under the influence of the younger Parisians, Miró and Arp, to whom he pointed the way twenty years before." Here, Kandinsky becomes less innovative as he began with Matisse and Gauguin and had to be shown the way back out by Miró and Arp.
Oil on canvas - The Art Institute of Chicago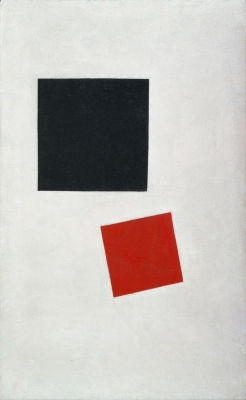 Painterly Realism of a Boy with a Knapsack - Color Masses in the Fourth Dimension (1915)
When Barr was organizing his groundbreaking Cubism and Abstract Art exhibition, he visited Europe in 1935 to acquire paintings that he could include in the show. While the Nazi's notorious Degenerate Art exhibition did not happen until 1937, in 1934 Hitler had already declared that there was no place for modern art in Germany and that modern artists were "incompetents, cheats, and madmen." Barr understood the situation well enough to know that much of the modern art made and residing in Germany was now in grave danger. While in Berlin that year, he was able to smuggle several works by Malevich out of Germany, two of which he rolled up in his umbrella.

Along with Kandinsky and others, Malevich was a pioneer of abstract, non-objective art, and according to Barr's friend and colleague Phillip Johnson, "...Malevich was to [Barr]...the greatest artist of the period." The Russian Suprematists and Constructivists, in Barr's view, were doing more to advance avant-garde notions into realms of everyday life, including architecture, photography, and typography. While Barr acknowledged that Malevich was sometimes influenced by aerial photographs of the city when making his compositions, Barr focused his analysis of Malevich on his use of pure geometric forms and its influence on other abstract artists in central Europe.
Oil on canvas - The Museum of Modern Art, New York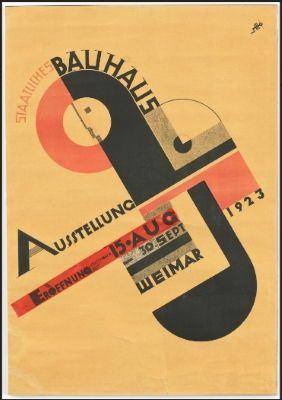 Staatliches Bauhaus Ausstellung (1923)
For Barr, the work of the Bauhaus artists in post-World War I Germany represented a monumental step in the evolution of modern art and informed his thinking not only about MoMA's departmental organization but many of its exhibitions as well. Joost Schmidt's poster, promoting the 1923 Bauhaus exhibition in Weimar, employs an asymmetrical layout that juxtaposes geometric shapes and innovative typographies.

The diagonal thrusts and tension of Schmidt's cover design is an apt reflection of what Barr identified as the school's "gradual emancipation...from [de] Stijl domination." In other words, the Bauhaus artists were not beholden to the strict aesthetic theories espoused by the De Stijl artists of using only horizontal and vertical lines; the Bauhaus artists instead engaged in more playful and dynamic compositions. In exhibitions on Machine Art and the Bauhaus throughout the 1930s, Barr focused the "geometric beauty, kinetic rhythms, beauty of material and surface, and visual complexity and function" in his appraisals of the Bauhaus experiments of integrating fine arts and applied arts.
Lithograph - The Museum of Modern Art, New York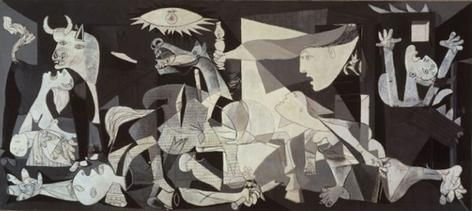 Guernica (1937)
There's no question that Picasso was, in Barr's eyes, the great master of the 20th century, and his Guernica is largely considered to be the artist's greatest triumph and his grandest political statement. Painted in the aftermath of the destruction of the eponymous Basque town by Nazi and Italian warplanes requested by Franco, the painting brought worldwide attention to the atrocities being committed during the Spanish Civil War. Barr wrote, Picasso "used modern techniques not merely to express his mastery of form or some personal and private emotion but to proclaim publicly through his art his horror and fury over the barbarous catastrophe which had destroyed his fellow men." Barr certainly had the capacity to empathize with Picasso's fury, having witnessed the Nazis ransack museums and galleries in Stuttgart just a few years prior.

Picasso lent Guernica to MoMA on permanent loan, with the stipulation that it be returned to Spain once Generalissimo Franco was no longer in power. The painting remained at MoMA for several decades and made an important impact on the burgeoning Abstract Expressionists who imbibed all the Modern offered. After some difficulties, MoMA returned the painting to Spain in 1975, following Franco's death.
Oil on canvas - Museo Reina Sofia, Madrid
City Square (1948)
In 1936, Barr purchased an early Giacometti sculpture, making it the first of his works to enter a museum collection, and Barr continued to add Giacometti's sculptures and drawings to the collection over the years. Writing of the Dadaist and Surrealist movements of the early 20th century, which included the works of Max Ernst, Man Ray, and Alberto Giacometti, Barr stated, "They turned...to primitive art as a revelation of unspoiled group expression and to the art of the insane and of children as the uninhibited expression of the individual." Barr considered Giacometti's bronze sculptures of jagged little pedestrians (as well as the artist's earlier work) to be profound in their childlike simplicity, and in their bizarre, Surrealist-like "attempt to recapture the atmosphere of dreams." Of course, Giacometti's Surrealism and his confrontation of existential themes such as death and loneliness took on new powers after the horrors of World War II.

Works such as City Square would become important touchstones for artists in New York City who were struggling to understand and deal with "postwar man." As author Mary Gabriel explains, "Though Giacometti had not intended to make a philosophical statement, his figures were the ultimate Existential works.... No sculptor had ever portrayed humankind in such a way, and no one - sculptor or painter - had portrayed the human figure in the wake of war as honestly as he did." Barr's keen eye not only elevated the artists he chose to include in MoMA's collection, it also in some ways shaped contemporary artistic production by introducing these artists to to future young, aspiring artists.
Bronze - The Museum of Modern Art, New York
Related Artists
Related Movements & Topics