Beginnings of Queer Art
Before 1861, the death penalty existed for people convicted of gay sexual acts in England and Wales. Laws were slightly more liberal in parts of Europe, but in United States, those found guilty of sodomy could be punished by mutilation in some states. Such consequences meant that any references to homosexuality in art had to be heavily hidden. British art critic Laura Cumming explains how desires in early art could be easily spotted by those in the know: "Bee-stung lips, bare breasts, togas slipping discreetly from shoulders and eyes half-closed in ecstasy. By invoking the classical tradition of same-sex love, artists could paint Sappho embracing Erinna and David strumming Jonathan's harp and speak surreptitiously to particular viewers."
A discussion of the queer experience in relation to art history can begin in 1870 when for the first time a paper by German psychiatrist Carl Friedrich Otto Westphal considered the experience of "contrary sexual feeling" in which two people were dealing with what would later come to be known as homosexuality. Michel Foucault describes this as the birth of the homosexual as an identity, rather than a set of conditions. He wrote in the History of Sexuality (1976), "The sodomite had been a temporary aberration; the homosexual was now a species," hinting at a future where the queer experience would become an important branch of Identity Politics.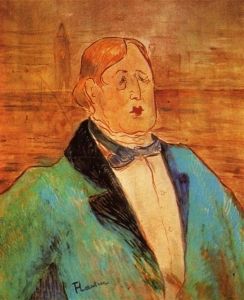 Two-and-a-half decades later, in 1895, the British author and playwright Oscar Wilde was sent to prison for two years after he was convicted of sodomy, and the trials helped shape an emergent identity of the homosexual artist. An examination of Henri de Toulouse-Lautrec's portrait shows that the queer experience is not limited to people from homosexual backgrounds. While the subject of the painting is a homosexual artist, Toulouse-Lautrec himself was not, but his disability and height made him an outsider who could sympathize with Wilde's position. Art historian Richard Meyer explains, "As Lautrec's portrait suggests, the dialogue between art and queer culture cannot be confined to homosexual artists. Shifting constructions of desire and deviance have shaped modern art in ways that extend beyond sexual biography or individual preference."
Coded art
Dismissive of the gay experience, history and criticism of the past deliberately concealed artists' sexuality. The Tate's Alex Pilcher writes, "Important biographical information about artists has too often been excised altogether, downplayed or else interpreted in terms that fit with a presumption of heterosexuality. The same-sex partner becomes the 'close friend.' The artistic comrade is made out as the heterosexual love interest....Be prepared to find gay artists diagnosed as 'celibate,' 'asexual,' or 'sexually confused.'"
A shift in culture began in the inter-war period as greater acceptance was seen in artistic urban centers. Paris and Berlin became home to literary groups where homosexuality was no longer seen as a sin. The roaring twenties saw speakeasies open in Harlem and Greenwich Village that welcomed gay and lesbian clients. Cafes and bars in Europe and Latin America, Granada, Moscow, Mexico City, and Warsaw became host to artistic groups which helped integrate gay men into mainstream cultural development.
Despite the increased openness of certain urban societies, the artists of the time learned to develop visual codes to signify queerness in clandestine ways, which were left open to viewers' interpretation. Art historian Andrew Graham-Dixon, for instance, said Jasper Johns' very famous monochrome encaustic White Flag (1955) was a statement about being a gay man in a restrictive American society. He wrote, "He was in a relationship with Robert Rauschenberg but if he admitted he was gay he could go to jail. With White Flag he was saying America 'was the land where...your voice cannot be heard. This is the America we live in; we live under a blanket. We have a cold war here. This is my America.'"
In 1962, the United States began to decriminalize sodomy, and in the United Kingdom by 1967 the new Sexual Offences Act meant consensual sex between men was no longer illegal. But societal pressures remained and many LGBTQ men and women faced intense pressure to remain "in the closets." Such pressures were exacerbated by actions of censorship such as the Hollywood Production Code which banned depictions of "sex perversion" from films made and distributed in the United States up until 1968.
Visibility
The Stonewall riots in 1969 changed everything. In the early hours of June 28, the New York City Police raided the Stonewall Inn, a gay club in Greenwich Village. This action sparked a riot that turned into six days of protests and violent clashes which became the catalyst for the gay rights movement in the United States and across the world. This pivotal movement saw a shift in gay liberation, and people were encouraged to "come out" of the closets. Artists were inspired to use their work to discuss their sexual identity and to document and celebrate depictions of the queer experience.
The first Pride Parade was held a year after the uprising, and marches are now held every year all over the world. Placards and posters became an important tool as gay activist art sought to change the world. One such sign proclaimed, "I am your worst fear. I am your worst fantasy," positioning homosexuality as a site of both anxiety and fascination.
The AIDS Crisis and Culture Wars in the 1980s
Gay identity became the site of a new battle in the 1980s with the onset of the AIDS crisis. The deadly disease ravaged the gay and arts communities. Many artists became activists, demanding that their plights be heard by the government and medical institutions alike. On both sides of the Atlantic, right wing journalists and tabloid newspapers whipped up anxiety about the transmission of HIV by scapegoating gay men.
Controversy then erupted in the United States when certain conservative elected officials objected that money from a National Endowment for the Arts grant went to Queer artists such as Robert Mapplethorpe and Karen Finley. Culture wars broke out as the conservative right attempted to eliminate funding of controversial art. US law prevented any federal money being used to "promote, encourage or condone homosexual activities," which also led to the defunding of AIDS programs. In 1987, the central government in the UK banned local councils from using public funds to "promote homosexuality" or a "pretended family relationship."
Queer theorist Paula Tredichler said the 1980s saw two epidemics of significance: "One epidemic was called AIDS, and it raised the stakes of homosexual visibility to a matter of life and death. The other was the word 'queer.' It spread from closets to the streets, from sensationalized exposes to countercultural magazines, from bars to zines, from alternative galleries and to the occasional museum. Naturally, the concept insinuated itself into the academy."
The term "queer" was re-appropriated as a matter of pride. Its spirit of social deviance and lack of clear definition enabled it to be used as an umbrella term, including all the groups referred to under the lesbian, gay, bisexual, transgender, queer or questioning, and intersex umbrella. As Alex Pilcher says: "The label has a history of being spoken in hatred - many of us remember being on the receiving end of it as a term of abuse - but from the mid 1980s onwards there has been a defiant move to reclaim the word."
Identity Politics
As right wing, conservative and religious groups tried to suppress the queer voice in public, a new anti-authoritarian political and cultural wave began. Identity Politics refers to the formation of social groups in which people of specific backgrounds united to fight for their specific interests and common causes without regard to wider political organizations. In gay communities, this meant people were encouraged to come out to their friends and families and make their voices heard by taking part in protests, marches, and direct action. The accompanying art was loud, confrontational and asked questions about what art should be and who should make it. Activist group the Gay Liberation Front proposed gay identity as a revolutionary form of social and sexual life that would reinvent traditional systems of sex and gender. More recently, however critics have questioned the validity of Identity Politics that casts the self or group as an identity defined by its opposition to an "other."
Feminism
Queer Art has had an important role in subverting repressive gender norms. The work of Claude Cahun, Gluck, and Catherine Opie can be seen to operate within a strongly feminist framework, as the artists seek to dismantle patriarchal notions of femininity. Judith Butler, leading feminist theorist, wrote, "A feminist view argues that gender should be overthrown, eliminated or rendered fatally ambitious precisely because it is always a sign of subordination for women." Queer Art then can be seen to dance along a parallel line as it works to dismantle oppressive patriarchal norms. The feminist movement also provided practical support to the Queer movement in the form of health activism, as the AIDS crisis saw important information about the disease and its transmission withheld from gay communities. As critic Catherine Lord says, "Much of the historical research, cultural analysis and legal defense that laid the groundwork for a sex-positive queer culture during the AIDS crisis was instigated by the queer leather community and pro-porn lesbians and feminists."
Queer Art: Concepts, Styles, and Trends
Painting
The raw expression invited by the medium of painting has allowed portraiture to become a space for the queer artist to explore notions of love and sexuality. From the covertly sexual works of John Singer Sargent to the more open and defiant male nudes of Larry Rivers, painting has provided a venue for the sensual element of the queer experience to be explored.
British painter David Hockney's images of men in showers and swimming pools show the celebration of gay love on canvas. Art historian Richard Meyer writes, "In responding to the academic requirement for life painting, Hockney insists on the importance of the artist's desire for the naked body he depicts. Far from a dispassionate study of the human figure as an ensemble of volumetric forms (it's only a sphere, a cylinder, a cone), Hockney proposes a necessary link between artistic achievement and sexual attraction."
Murals, Graffiti, and the Public Space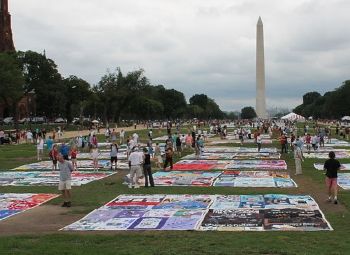 Sculpture provided a way for the queer experience to be literally brought out of the closet and into the street, as in the work of George Segal's Gay Liberation, which was installed across the street from the old Stonewall Inn in Greenwich Village. The AIDS Memorial Quilt is a still-growing piece of public art where people can commemorate via quilt squares loved ones lost to the disease. The Names Project, as it became known, was conceived by gay rights activist Cleve Jones in San Francisco. When it was first displayed for the first time on the National Mall in Washington, D.C., during the 1987 National March on Washington for Lesbian and Gay Rights, it covered a space larger than a football field. Today, more than 48,000 people have added panels honoring the names of their lost friends, and it has germinated into different incarnations around the world, won a Nobel Peace Prize nomination, and raised $3 million for AIDS service organizations.
In the face of centuries of repression, the public space became an important new venue for gay artists to display their work. Jenny Holzer would hang her photocopied Truism posters around New York in the late 1970s. A few years later Keith Haring would use advertising panels for his street art, and David Wojnarowicz spray-painted graffiti on the Chelsea piers in the early eighties. Artists proclaimed they would no longer be closeted, and the progressive city of New York provided the perfect gallery.
Activist artists aim to create art that is a form of political or social currency, actively addressing cultural power structures rather than representing them or simply describing them. By taking on the conservative right in the Culture Wars, queer artists had no choice but to become activists as they fought for knowledge, fairness, and representation. Feminist graffiti from the 1970s, as shown in Jill Posener's photographs, proved a vital influence for gay activism.
In London, Posener produced images of "refacings" of the spaces of public advertising that would go on to influence Queer Art. One advert, claiming, "We can improve your nightlife," had the witty missive spray-painted beneath: "Join Lesbians United." A Fiat ad claimed, "If this were a lady it would get its bottom pinched," to which Posener added, "If this woman were a car, she'd run you down."
Critic Catherine Lord explained, "With their cheap, sly, hit-and-run tactics, such activists refused the mass-media definition of 'success,' working their alterations on a precise and local level. The interventions nudged cultural politics out of the realm of...positive imaging of identity and turned subcultural representation into a matter of scanning between the lines and reading the writing on the wall."
And San Francisco, Los Angeles, and New York City have become huge urban canvases for self-labeled "queer street artists" like Jeremy Novy, Homo Riot, and Jilly Ballistic to fight homophobia by claiming a share of ownership in public space.
Photography
Photography has provided a fertile ground to subvert "normalized" notions of love and sexuality and to bring what has traditionally been considered "deviant" into the light, thus bestowing it new agency. Whether they are Annie Leibovitz's images of the dying Susan Sontag, or Catherine Opie's images of gay and lesbian domesticity, photography has proven a powerful medium to explore the queer experience. But it also found real power in subverting images from the AIDS crisis, during which the right-wing press would revel in publishing pictures of emaciated victims to point the blame at those it said were responsible for spreading the disease. Queer artists and photographers would reel against this, presenting their subjects in colorful, celebratory and defiant lights.
Other Visual Art
Other artists took on conventions and laws that prevented them from exhibiting more overt or graphic scenes in a public space by creating more subtle, coded works. Visual artist Félix González-Torres insisted on his right to place explicit sexual figuration in the public sphere. In his 1991 work Untitled (Portrait of Ross in LA), the artist poured an enormous pile of brightly colored candies into a corner and invited viewers to take pieces of the candy. The pile of candy weighed exactly 175 pounds - the "ideal" weight of his lover. Those that ate the sweets had been seduced into swallowing queer intimacy. It becomes a work of performance art, where the viewer unwittingly becomes the actor.
Later Developments - After Queer Art
In a 1991 essay, Judith Butler argued that homosexual identity can never become a stable entity. She wrote, "Conventionally, one comes out of the closet [...] so we are out of the closet, but into what? What new unbounded spatiality?...Curiously, it is the figure of the closet that produces this expectation, and which guarantees its dissatisfaction. For being 'out' always depends to some extent on being 'in;' it gains its meaning only within that polarity." Contemporary artists such as Keltie Ferris interrogate this identity that can only be measured against something it is not. In Gaydar (2014), Ferris offers no visual clues as to her sexuality, but the title acts as a rejoinder to society's fascination with her identity.
A queer reading of the work is made difficult in the light of recent approaches to criticism which have tried to divorce art from the personality of the artist. As Alex Pilcher explains, "The meanings of an artwork are no longer credited exclusively to the artist's intentions; the active role of the spectator and the context of viewing are now accorded more clout....When even erotic, figurative art is hard to characterize as queer without falling back on biographical data, abstraction tests queer art history to the limit."
The redefinition of the word "queer" has now reached a turning point, argue Richard Meyer and Catherine Lord. With its new-found acceptance, it now runs the risk of being recuperated as "little more than a lifestyle brand or niche market" - what was once deviant is now mainstream, thus destabilizing its future.
Key Artists
Cahun's photographs are renowned for blurring the lines between gender and sexuality, as illustrated in her Surrealist-inspired and non-gender specific photomontages and self-portraits.

Francis Bacon was an Irish-born, English painter and one of the 20th century's most celebrated and controversial existentialist artists.

David Hockney is an English painter, photographer, collagist and designer. Hockney's influence was particularly felt during the Pop art movement on the 1960s, yet his work has also suggested mixed media and expressionistic tendencies. Although based in London for most of his career, Hockney's most famous paintings occurred during an extended trip to Los Angeles, in which he painted a series of scenes inspired by swimming pools.

Robert Mapplethorpe was an American photographer known for his large-scale, highly stylized black and white portraits, photos of flowers and nude men. The frank, homosexual eroticism of some his work triggered a more general controversy about the public funding of artworks and censorship.

American sculptor and painter George Segal is best known for his life-size plaster cast figures, often in monochromatic white. He also worked with artists such as John Cage and Allan Kaprow at Rutgers University in the 1950s and 60s; Kaprow's famous "happenings" performances first took place on Segal's farm in New Jersey.

Wojnarowicz was a multimedia artist in the truest sense of the word, using his art to raise awareness for and to fight against the political, social, and legal injustices that occurred in response to the AIDS epidemic.

Catherine Opie's powerful and confrontational photographs investigat aspects of community, making portraits of many groups, including the LGBT community.
Do Not Miss
Beginning in the 1960s, artists of color, LGBTQ+ artists, and women have used their art to stage and display experiences of identity and community.

Performance is a genre in which art is presented "live," usually by the artist but sometimes with collaborators or performers. It has had a role in avant-garde art throughout the twentieth century, playing an important part in anarchic movements such as Futurism and Dada. It particularly flourished in the 1960s, when Performance artists became preoccupied with the body, but it continues to be an important aspect of art practice.

Postmodernism is a broad period of artmaking that occured after the period known as modernism - a period that was driven by a radical and forward thinking approach, ideas of technological positivity, and grand narratives of Western domination and progress. Neo-Dada and later Pop artists are considered the first postmodern movements.

List of artists and the analysis of the work by Lesbian, Gay, Bisexual, and Transgender identified artists, or works associated with LGBT+ topics.
Content compiled and written by Sarah Ingram
Edited and revised, with Summary and Accomplishments added by Valerie Hellstein
"Queer Art Movement Overview and Analysis". [Internet]. .
TheArtStory.org
Content compiled and written by Sarah Ingram
Edited and revised, with Summary and Accomplishments added by Valerie Hellstein
Available from:
First published on 23 Dec 2018. Updated and modified regularly
[Accessed ]