Movements, Styles, and Tendencies
Feminist Art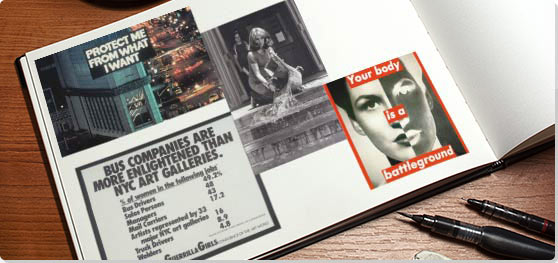 Feminist Art
Started: 1960s

"Because we are denied knowledge of our history, we are deprived of standing upon each other's shoulders and building upon each other's hard earned accomplishments. Instead we are condemned to repeat what others have done before us and thus we continually reinvent the wheel."

Synopsis
The Feminist art movement emerged in the late 1960s amidst the fervor of anti-war demonstrations and civil and queer rights movements. Hearkening back to the utopian ideals of early-20th-century modernist movements, Feminist artists sought to rewrite a falsely male-dominated art history as well as change the contemporary world around them through their art, focusing on intervening in the established art world and the art canon's legacy, as well as in everyday social interactions. As artist Suzanne Lacy declared, the goal of Feminist art was to "influence cultural attitudes and transform stereotypes." Feminist art created opportunities and spaces that previously did not exist for women and minority artists, as well as paved the path for the Identity art and Activist art of the 1980s.
Key Ideas
Feminist artists sought to create a dialogue between the viewer and the artwork through the inclusion of women's perspective. Art was not merely an object for aesthetic admiration, but could also incite the viewer to question the social and political landscape, and through this questioning, possibly affect the world and bring change toward equality.
Before feminism, the majority of women artists were invisible to the public eye. They were oftentimes denied exhibitions and gallery representation based on the sole fact of their gender. The art world was largely known, or promoted as, a boy's club, of which sects like the hard drinking, womanizing members of Abstract Expressionism were glamorized. To combat this, Feminist artists created alternative venues as well as worked to change established institutions' policies to promote women artists' visibility within the market.
Feminist artists often embraced alternative materials that were connected to the female gender to create their work, such as textiles, or other media previously little used by men such as performance and video, which did not have the same historically male-dominated precedent that painting and sculpture carried. By expressing themselves through these non-traditional means, women sought to expand the definition of fine art, and to incorporate a wider variety of artistic perspectives.
Beginnings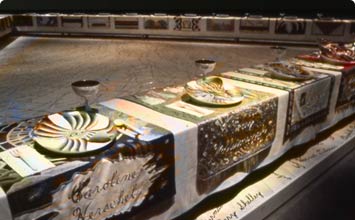 Feminist art production began in the late 1960s, during the "second-wave" of feminism in the United States and England, but was preceded by a long history of feminist activism. The "first wave" of feminism began in the mid-19th century with the women's suffrage movements and continued until women received the right to vote, in 1920. No feminist art was produced during this early period, but it laid the groundwork for the activism, and thus the art, of the 1960s and 1970s. Organized feminist activism effectively ceased between 1920 and the late 1960s, but women's concern about their role in society remained.
- - - - - - - - - - - - - - - - - - - - - - - - - - - - - - - - - - - - - - - - - - - - - - - -
Feminist Art Overview Continues

If you see an error or typo, please:
tell us
Cite this page

Content compiled and written by The Art Story Contributors
Edited and published by The Art Story Contributors
" Movement Overview and Analysis". [Internet]. . TheArtStory.org
Content compiled and written by The Art Story Contributors
Edited and published by The Art Story Contributors
Available from:
[Accessed ]