Progression of Art
1920
L'Enigme d'Isidore Ducasse (The Enigma of Isidore Ducasse)
This early, assisted readymade (a found object slightly altered) was created a year before Man Ray left for France. Marcel Duchamp's influence and assistance are evident in this Dada object, in which a sewing machine is wrapped in an army blanket, and tied with a string. The title comes from French poet Isidore Ducasse (1846-70) and the imagery comes from a quote in his book Les Chants de Maldoror (1869): 'Beautiful as the chance meeting, on a dissecting table, of a sewing machine and an umbrella'. Chance effects were important to the Dada artists, and the piece is very much in that spirit, but it also prefigures the Surrealists' interest in revealing the creative power of the unconscious. The original object was created and then dismantled after the photograph was taken. Ray did not reveal the 'enigma' under the felt and intended the photograph as a riddle for the viewers to solve with the title providing a hint.
Object wrapped in felt and string - National Gallery of Australia, Parkes (reconstructed in 1971)
1921
Le Cadeau (The Gift)
This piece was made in the afternoon on the opening day of Man Ray's first solo show in Paris. It was intended as a gift to the gallery owner, the poet Philippe Soupault, and Ray added it to the show at the last minute. But the object received much attention and disappeared at the end of the opening.

Another assisted readymade, Ray took a simple utilitarian object, an iron, and made it evoke different qualities by attaching the tacks. Hence the tacks, which cling and hold, contrast with the iron, which is meant to smoothly glide, and both are rendered useless.
Iron and tacks - The Museum of Modern Art, New York (replica of the lost original)
1922
Rayography (The Kiss)
This is one of Man Ray's earliest Rayograms, a process by which objects are laid directly on to a photo-sensitive paper then exposed to light. To create this particular picture, he transferred the silhouette of a pair of hands to the photographic paper then repeated the procedure with a pair of heads (his and his then lover's, Kiki de Montparnasse).

Rayograms gave Man Ray an opportunity to be in direct contact with his work and react to his creations immediately by adding one layer upon the next layer. He used inanimate objects as well as his own body to create his earlier pictures, and the pictures sometimes have an autobiographical quality, with many of his photographs portraying his lovers.
Gelatin silver print (photogram) - The Museum of Modern Art, New York
1923
Objet à détruire (Object to be Destroyed)
The piece was first intended as a silent witness in Ray's studio - watching him paint. He had the original idea that "a painter needs an audience, so I also clipped a photo of an eye to the metronome's swinging arm to create the illusion of being watched as I painted." Thus the sculpture served as a silent and constant observer of the artist working.

In the second, 1932 version, Ray substituted the eye of the photographer Lee Miller, his former lover, after she left him and married a successful Egyptian businessman. He wanted to attack Miller by "breaking her up" in his works that feature her, and thus this second version was accompanied by the following instructions: "Cut out the eye from a photograph of one who has been loved but is seen no more. Attach the eye to the pendulum of a metronome and regulate the weight to suit the tempo desired. Keep going to the limit of endurance. With a hammer well-aimed, try to destroy the whole at a single blow." It was later reconstructed, made into multiples, and renamed Indestructible Object.
Metronome with cutout photograph of eye on pendulum - The Museum of Modern Art, New York
1924
Le Violon d'Ingres (The Violin of Ingres)
Inspired by Jean-Auguste-Dominique Ingres's La Grande Baigneuse, Ray used Kiki de Montparnasse wearing a turban as a model for this piece. He transformed the female body into a musical instrument by painting sound-holes on her back, playing with the idea of objectification of an animate body. Throughout his career Man Ray was fascinated with juxtaposing an object with a female body.

Ingres's works were admired by many surrealist artists, including Ray, for his representation of distorted female figures. Ingres's well-known passion for the violin created the colloquialism in French, 'violon d'Ingres', meaning a hobby. Many describe Le Violon d'Ingres as a visual pun, depicting his muse, Kiki, as Ray's 'violon d'Ingres.'

This image is one of many of Man Ray's photographs that have gone on to have a rich afterlife in popular culture. F-holes have become a popular tattoo design amongst musicians, and fashion designers like Viktor and Rolf referenced the image to create their spring 2008 collection.
Gelatin silver print - J. Paul Getty Museum, Los Angeles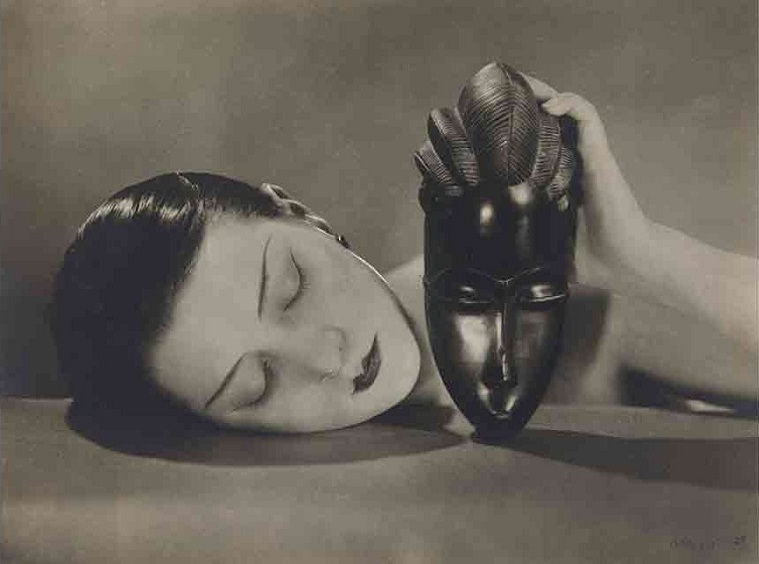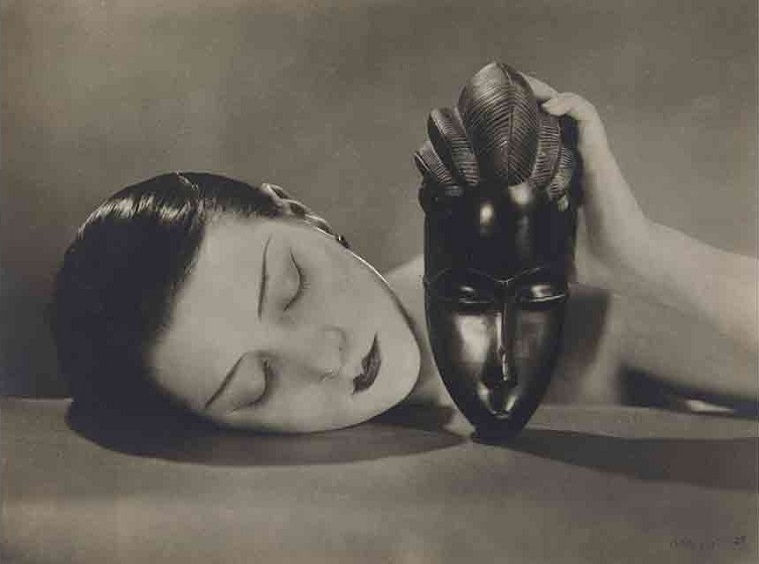 1926
Noire et Blanche (Black and White)
This photograph of Kiki de Montparnasse's head next to an African ceremonial mask bears a title that references both the black and white process of photography as well as skin color. It was created at a time when African art and culture was much in vogue. The oval faces of the two almost look identical in their serene expressions, but he contrasts her soft pale face with the shiny black mask. He simplifies the conflict of society into a problem of lighting and imagery in aesthetics - one oval next to another oval; one laying on its side contrasted with another that is erect; one lit from above and the other from the side.
Gelatin silver print - J. Paul Getty Museum, Los Angeles
1932
Les Larmes (Glass Tears)
Looking almost like a film still, this cropped photograph demonstrates Man Ray's interest in cinematic narrative. The model's eyes and mascara-coated lashes are looking upward, invoking the viewers to wonder where she's looking and what is the source of her distress. The piece was created soon after the artist's break-up with his assistant and lover, Lee Miller. Ray created multiple works in an attempt to "break her up" as a revenge on a lover who left him (similar to Indestructible Object).
Gelatin silver print - J. Paul Getty Museum, Los Angeles
1936
A l'heure de l'observatoire: Les Amoureux (Observatory Time: The Lovers)
One of Man Ray's most memorable paintings, Observatory Time, is featured in this black-and-white photograph, along with a nude. It includes a depiction of the lips of his departed lover, Lee Miller, floating in the sky above the Paris Observatory. In the photograph, the nude is lying on her side on a sofa underneath the painting, with a chessboard at her feet. Observatory Time hints at what the woman might be dreaming: a nightmare or an erotic fantasy. The lips in the picture were an inspiration for the logo of The Rocky Horror Picture Show, and many other pop culture iconic images. The chessboard appears in many of the artist's works - Duchamp, Picabia and Man Ray all loved playing chess. And Man Ray considered a grid of squares, "the basis for all art... it helps you to understand the structure, to master a sense of order." He also made chess set designs and photographs of chessboards, pieces and players.
Private Collection
Similar Art
Related Artists
Related Movements & Topics