Progression of Art
1950
Untitled
This work is an example of Nevelson's early, small-scale abstract constructions that relied on found materials selected for their visual or emotional appeal. In her search for new materials Nevelson was drawn to wood, as opposed to bronze or marble. This choice reflected her past; her father was a woodcutter and lumberyard owner, and the organic material was a common presence throughout her childhood. The assembled rectilinear wooden blocks of this work present a unified exploration of vertical and horizontal axes, in a visual experiment with constructed forms that influenced her subsequent wall sculptures. However, the format of this work is still that of a conventional sculpture presented on a base, much like traditional, old master sculptures. While many of her later works were painted in monochromatic black, white, or gold because of the personal symbolism of these colors, Nevelson painted this work a bright green that she chose not to reprise in later sculptures.
Painted wood 31 x 12 x 11.5 in. - n.a.
1958
Sky Cathedral
The larger than life-size Sky Cathedral is Nevelson's sculptural answer to the monumental Abstract Expressionist canvases of the predominantly male artists that commanded the attention of American art during the 1950s. To create this work, Nevelson salvaged small pieces of scrap wood from old buildings, then nailed and glued these pieces into box-like cubbies and arranged these into one of her earliest wall sculptures. While Sky Cathedral's rectangular, linear basis was informed by the innovations of the Cubists in the early-20th century, Nevelson formally balanced these with the curving forms of spindles, finials, and architectural moldings, in order to more accurately reflect the enormity and diversity of existence in New York City - her adopted home. She purposely chose wooden forms that were evocative of both the celestial realm as well as the architecture of the urban environment around her. The various boxes that make up the structure also work to contain the seeming chaos of the assemblage. The individual elements join together in the monumental composition to comprise a work that reflects Nevelson's experience in the world, as well as her beliefs in spirituality. Although she was raised in the Jewish faith, she studied a wide variety of religions at different times in her life, each affecting her overall spirituality - the compartments of the sculpture reflect her collection of religions. She purposely painted the entire sculpture black to obliterate the past histories of the pieces and unify the work in the black "silhouette, or essence, of the universe." Black was not a negation for Nevelson, but rather everything, a totality, as it contained all of the colors. Accordingly, she felt the black paint provided her works with an air of greatness and regal enormity. Both the palette and scale of the piece radically shifted the notion of what kind of work a woman artist could create. Sky Cathedral was part of the series of exhibitions in 1958 that marked Nevelson's rise to notoriety.
Painted wood 11' 3 1/2" x 10' 1/4" x 18"s - Museum of Modern Art, New York; Gift of Mr. and Mrs. Ben Mildwoff
1959-67
Bride and Disk and Groom and Disk (1959-67) from America-Dawn (1962) originally from Dawn's Wedding Feast (1959)
Nevelson chose to focus on her artistic career rather than her family, and that decision directly informed the installation she titled Dawn's Wedding Feast. Bride and Disk and Groom and Disk were originally part of that installation and collectively represent nearly ten years of Nevelson's sculptural practice. She used a process similar to that of Sky Cathedral to create all of the elements that made up this final installation. However, rather than paint the various sculptures black, she chose an all-white palette for the wedding-themed installation. During this period in her career Nevelson actually kept two separate studios, one for the creation of black sculptures and the other for white works. This separation illustrates just how deeply she believed in the fundamental duality and power of the two opposing tones. For Nevelson, white signified the "emotional promise" and "summoned the early morning," making the hue perfect for a work that examined weddings, a life-event that is typically laden with emotional promise. The disks attached to the columnar bride and groom sculptures - both key figures in a nuptial celebration - represent the sun and moon, both also present at the allegorical wedding feast at dawn. These key figures, as well as the installation as a whole, reflected both Nevelson's own escape from the constraints of her failed marriage in her 40s as well as her unwavering commitment to her artistic career, a new and different marriage. With the exhibition of Dawn's Wedding Feast, Nevelson effectively pioneered the idea of installation art, a format that was pivotal to the various postmodern art movements of the following decades.
Painted wood - The Art Institute of Chicago, Grant J. Pick Purchase Fund
1960
Royal Tide I
As in many of her works, Nevelson created Royal Tide I as part of a larger series of works, which were exhibited at the 1962 Venice Biennale. However, for this series Nevelson chose to use gold paint, instead of black or white, to provide a new unifying palette for the wooden detritus that she built into the sculptural wall. The gleaming gold extending from floor to ceiling lends Royal Tide I the feel of a sumptuous reliquary or gilded altarpiece, as if the abstractions of the sculpture were alchemically charmed in their transformation from ordinary castoffs to art object. It is quite telling that she labeled Royal Tide I and similar works as her "Baroque phase," effectively linking her modern abstract sculpture with the elaborate and ornate works of the 16th-century Baroque era. In contrast to her more organically arranged pieces, Nevelson organized the individual pieces of Royal Tide I within a matrix of regularly sized wooden boxes and imposed a unifying order throughout the work. The formal relation of these individual boxes and their contents to the whole wall reflects the meeting of opposites that Nevelson delighted in, imbuing both her artwork and her persona with a sense of the cultural clash she experienced as a child who left Tsarist Russia for America. The palette of Royal Tide I also reflects her childhood emigration, since, as Nevelson noted, America was often referred to as the land where the streets were paved with gold. The color of the paint also illustrates Nevelson's preoccupation with royalty; she viewed herself as possessing regal qualities, and this notion fueled one of three recurring themes (death, marriage, and royalty) throughout her work.
Painted wood 86x40x8 in. - Collection of Beverly and Peter Lipman
1968
Transparent Sculpture IV
After she achieved fame in the late 1950s and early 1960s, Nevelson abandoned her wooden found objects to explore unconventional materials like plastic, steel, fiberglass, and latex. Transparent Sculpture IV is one in a series of geometric, gridded works that resembled transparent, high-tech jewelry boxes or glittering futuristic palace maquettes in their repeated, clear structures. Although the cubic format is inherited from her earlier works, unlike her prior symbolic sculptures, the sole subject matter is the play of light within the crystalline forms. Despite the changing appearances of her work, Nevelson maintained a consistentinterest in experimenting with unconventional sculptural materials.

Governor Nelson Rockefeller commissioned the work to present to a New York-based preservation organization, a crucial step toward her later public installations. Nevelson worked with a commercial fabricator to create thirteen editions of the tabletop work, each self-contained within a clear Lucite vitrine. Although Transparent Sculpture IV is much smaller in scale than her earlier works, her use of an industrial fabricator and commercial materials represents an intermediate step in Nevelson's continued sculptural evolution. In the following years, she shifted her focus from these intimately-scaled works and moved toward enduring, monumental public sculptures.
Plastic 8x12 1/4x11 1/2 in. - Albright-Knox Art Gallery, Buffalo, New York, New York State Award, 1968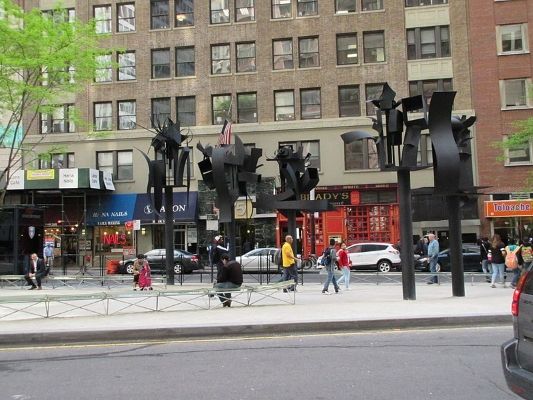 1978
Shadows and Flags
The Public Art Fund in New York City commissioned Shadows and Flags in the first public plaza to honor both a woman and an artist: The Louise Nevelson Plaza. Nevelson, who was in her 70s at the time, worked with the agency and envisioned a site-specific sculpture that would both reinvigorate the formerly empty lot and reflect her individual aesthetic. For this work, Nevelson wanted to create sculptures on stilts, or legs, so they would appear to float in the air like flags. To construct the installation, Nevelson was hoisted up in a crane and assembled the sculptures in mid-air from salvaged scrap steel and machine parts. She wanted to reflect the greatness of the location of New York City, so she utilized the grandiosity of black to abet the monumentality of the work, reflecting her continued interest in the darkest hue as the sum of all colors and a signifier of all potential experience. The formal relationship between the trees and the sculptures echoed the dynamism of organic life and the urban environment, with the sculptures branching out like trees atop their narrow bases. While her personal biography is less present in her later works, Nevelson worked to integrate her memories with the larger public and allowed her experience as an immigrant to reflect her vision of the greatness of New York City heralded in the lofty banners of Shadows and Flags. This work was one of 22 public commissions fulfilled by Nevelson, each created specifically for their location. Nevelson's involvement with public art into her 80s reflected her continued interest in the potential of modern art to engage and delight viewers, and allowed her ideas to confront the public outside the art institutions.
Cor-Ten steel, steel machine parts, black paint - Louise Nevelson Plaza, Downtown New York, NY between Maiden Lane and Liberty Street
Similar Art
Related Artists
Related Movements & Topics