"Some of us come on earth seeing - some of us come on earth seeing color."
"I only know thisthat you can't give advice to an artist."
"Art is everywhere, except it has to pass through a creative mind."
"I have never liked the middle ground - the most boring place in the world."
"Most artists create out of despair. The very nature of creation is not a performing glory on the outside, it's a painful, difficult search within."
"A white lace curtain on the window was for me as important as a great work of art. This gossamer quality, the reflection, the form, the movement. I learned more about art from that than I did in school."
"Women at that time were supposed to look pretty and throw little handkerchiefs around.. well, I couldn't play that role."
"I never feel age... If you have creative work, you don't have age or time."
Summary of Louise Nevelson
Louise Nevelson emerged in the art world amidst the dominance of the Abstract Expressionist movement. In her most iconic works, she utilized wooden objects that she gathered from urban debris piles to create her monumental installations - a process clearly influenced by the precedent of Marcel Duchamp's found object sculptures and readymades. Nevelson carefully arranged the objects in order to historicize the debris within the new, narrative context of her wall sculptures. The stories embodied within her works resulted from her cumulative experiences - as a Jewish child relocated to America from Russia, as an artist training in New York City and Germany, and as a hard-working, successful woman. Her innovative sculptural environments and success within the male-dominated realm of the New York gallery system inspired many younger artists, primarily those involved in installation art and the Feminist art movements.
Accomplishments
Although Nevelson's artistic subject matter included her personal feelings about an uprooted childhood, clashing cultures, and nature's divinity, the common thread of feminine biography dominated her output.
Nevelson purposefully selected wooden objects for their evocative potential to call to mind the forms of the city, nature, and the celestial bodies. While the individual pieces had an intimate scale, they became monumental when viewed holistically within the combined environment of the assemblage.
Although Nevelson found her fame creating wooden structures, in the 1960s and 1970s she explored industrial materials like plexiglass, aluminum, and steel. These new materials allowed her to expand the scale and complexity of her works, while also moving the sculptures out of galleries and museums and into public spaces.
Nevelson's dramatic sculptures paved the way for the dialogues of the Feminist art movement of the 1970s by breaking the taboo that only men's artwork could be large-scale. Her works initiated an era in which women's life history became suitable subject matter for monumental artistic representation.
Important Art by Louise Nevelson
Progression of Art
1950
Untitled
This work is an example of Nevelson's early, small-scale abstract constructions that relied on found materials selected for their visual or emotional appeal. In her search for new materials Nevelson was drawn to wood, as opposed to bronze or marble. This choice reflected her past; her father was a woodcutter and lumberyard owner, and the organic material was a common presence throughout her childhood. The assembled rectilinear wooden blocks of this work present a unified exploration of vertical and horizontal axes, in a visual experiment with constructed forms that influenced her subsequent wall sculptures. However, the format of this work is still that of a conventional sculpture presented on a base, much like traditional, old master sculptures. While many of her later works were painted in monochromatic black, white, or gold because of the personal symbolism of these colors, Nevelson painted this work a bright green that she chose not to reprise in later sculptures.
Painted wood 31 x 12 x 11.5 in. - n.a.
1958
Sky Cathedral
The larger than life-size Sky Cathedral is Nevelson's sculptural answer to the monumental Abstract Expressionist canvases of the predominantly male artists that commanded the attention of American art during the 1950s. To create this work, Nevelson salvaged small pieces of scrap wood from old buildings, then nailed and glued these pieces into box-like cubbies and arranged these into one of her earliest wall sculptures. While Sky Cathedral's rectangular, linear basis was informed by the innovations of the Cubists in the early-20th century, Nevelson formally balanced these with the curving forms of spindles, finials, and architectural moldings, in order to more accurately reflect the enormity and diversity of existence in New York City - her adopted home. She purposely chose wooden forms that were evocative of both the celestial realm as well as the architecture of the urban environment around her. The various boxes that make up the structure also work to contain the seeming chaos of the assemblage. The individual elements join together in the monumental composition to comprise a work that reflects Nevelson's experience in the world, as well as her beliefs in spirituality. Although she was raised in the Jewish faith, she studied a wide variety of religions at different times in her life, each affecting her overall spirituality - the compartments of the sculpture reflect her collection of religions. She purposely painted the entire sculpture black to obliterate the past histories of the pieces and unify the work in the black "silhouette, or essence, of the universe." Black was not a negation for Nevelson, but rather everything, a totality, as it contained all of the colors. Accordingly, she felt the black paint provided her works with an air of greatness and regal enormity. Both the palette and scale of the piece radically shifted the notion of what kind of work a woman artist could create. Sky Cathedral was part of the series of exhibitions in 1958 that marked Nevelson's rise to notoriety.
Painted wood 11' 3 1/2" x 10' 1/4" x 18"s - The Museum of Modern Art, New York; Gift of Mr. and Mrs. Ben Mildwoff
1959-67
Bride and Disk and Groom and Disk (1959-67) from America-Dawn (1962) originally from Dawn's Wedding Feast (1959)
Nevelson chose to focus on her artistic career rather than her family, and that decision directly informed the installation she titled Dawn's Wedding Feast. Bride and Disk and Groom and Disk were originally part of that installation and collectively represent nearly ten years of Nevelson's sculptural practice. She used a process similar to that of Sky Cathedral to create all of the elements that made up this final installation. However, rather than paint the various sculptures black, she chose an all-white palette for the wedding-themed installation. During this period in her career Nevelson actually kept two separate studios, one for the creation of black sculptures and the other for white works. This separation illustrates just how deeply she believed in the fundamental duality and power of the two opposing tones. For Nevelson, white signified the "emotional promise" and "summoned the early morning," making the hue perfect for a work that examined weddings, a life-event that is typically laden with emotional promise. The disks attached to the columnar bride and groom sculptures - both key figures in a nuptial celebration - represent the sun and moon, both also present at the allegorical wedding feast at dawn. These key figures, as well as the installation as a whole, reflected both Nevelson's own escape from the constraints of her failed marriage in her 40s as well as her unwavering commitment to her artistic career, a new and different marriage. With the exhibition of Dawn's Wedding Feast, Nevelson effectively pioneered the idea of installation art, a format that was pivotal to the various postmodern art movements of the following decades.
Painted wood - The Art Institute of Chicago, Grant J. Pick Purchase Fund
1960
Royal Tide I
As in many of her works, Nevelson created Royal Tide I as part of a larger series of works, which were exhibited at the 1962 Venice Biennale. However, for this series Nevelson chose to use gold paint, instead of black or white, to provide a new unifying palette for the wooden detritus that she built into the sculptural wall. The gleaming gold extending from floor to ceiling lends Royal Tide I the feel of a sumptuous reliquary or gilded altarpiece, as if the abstractions of the sculpture were alchemically charmed in their transformation from ordinary castoffs to art object. It is quite telling that she labeled Royal Tide I and similar works as her "Baroque phase," effectively linking her modern abstract sculpture with the elaborate and ornate works of the 16th-century Baroque era. In contrast to her more organically arranged pieces, Nevelson organized the individual pieces of Royal Tide I within a matrix of regularly sized wooden boxes and imposed a unifying order throughout the work. The formal relation of these individual boxes and their contents to the whole wall reflects the meeting of opposites that Nevelson delighted in, imbuing both her artwork and her persona with a sense of the cultural clash she experienced as a child who left Tsarist Russia for America. The palette of Royal Tide I also reflects her childhood emigration, since, as Nevelson noted, America was often referred to as the land where the streets were paved with gold. The color of the paint also illustrates Nevelson's preoccupation with royalty; she viewed herself as possessing regal qualities, and this notion fueled one of three recurring themes (death, marriage, and royalty) throughout her work.
Painted wood 86x40x8 in. - Collection of Beverly and Peter Lipman
1968
Transparent Sculpture IV
After she achieved fame in the late 1950s and early 1960s, Nevelson abandoned her wooden found objects to explore unconventional materials like plastic, steel, fiberglass, and latex. Transparent Sculpture IV is one in a series of geometric, gridded works that resembled transparent, high-tech jewelry boxes or glittering futuristic palace maquettes in their repeated, clear structures. Although the cubic format is inherited from her earlier works, unlike her prior symbolic sculptures, the sole subject matter is the play of light within the crystalline forms. Despite the changing appearances of her work, Nevelson maintained a consistentinterest in experimenting with unconventional sculptural materials.

Governor Nelson Rockefeller commissioned the work to present to a New York-based preservation organization, a crucial step toward her later public installations. Nevelson worked with a commercial fabricator to create thirteen editions of the tabletop work, each self-contained within a clear Lucite vitrine. Although Transparent Sculpture IV is much smaller in scale than her earlier works, her use of an industrial fabricator and commercial materials represents an intermediate step in Nevelson's continued sculptural evolution. In the following years, she shifted her focus from these intimately-scaled works and moved toward enduring, monumental public sculptures.
Plastic 8x12 1/4x11 1/2 in. - Albright-Knox Art Gallery, Buffalo, New York, New York State Award, 1968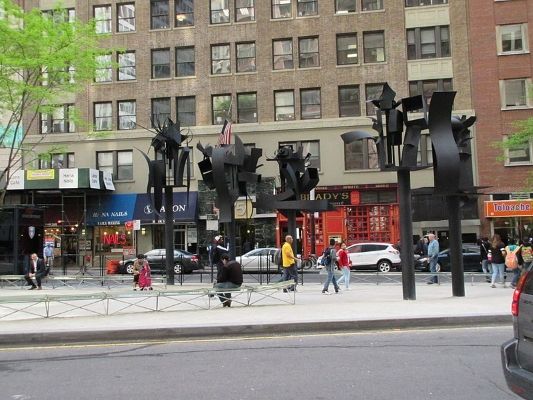 1978
Shadows and Flags
The Public Art Fund in New York City commissioned Shadows and Flags in the first public plaza to honor both a woman and an artist: The Louise Nevelson Plaza. Nevelson, who was in her 70s at the time, worked with the agency and envisioned a site-specific sculpture that would both reinvigorate the formerly empty lot and reflect her individual aesthetic. For this work, Nevelson wanted to create sculptures on stilts, or legs, so they would appear to float in the air like flags. To construct the installation, Nevelson was hoisted up in a crane and assembled the sculptures in mid-air from salvaged scrap steel and machine parts. She wanted to reflect the greatness of the location of New York City, so she utilized the grandiosity of black to abet the monumentality of the work, reflecting her continued interest in the darkest hue as the sum of all colors and a signifier of all potential experience. The formal relationship between the trees and the sculptures echoed the dynamism of organic life and the urban environment, with the sculptures branching out like trees atop their narrow bases. While her personal biography is less present in her later works, Nevelson worked to integrate her memories with the larger public and allowed her experience as an immigrant to reflect her vision of the greatness of New York City heralded in the lofty banners of Shadows and Flags. This work was one of 22 public commissions fulfilled by Nevelson, each created specifically for their location. Nevelson's involvement with public art into her 80s reflected her continued interest in the potential of modern art to engage and delight viewers, and allowed her ideas to confront the public outside the art institutions.
Cor-Ten steel, steel machine parts, black paint - Louise Nevelson Plaza, Downtown New York, NY between Maiden Lane and Liberty Street
Biography of Louise Nevelson
Childhood
Louise Nevelson was born Leah Berliawsky in Pereiaslav-Khmelnytskyi, Russia (now Ukraine). In 1905, her family immigrated to Rockland, Maine, due to the terrible abuse inflicted by the Tsarist Russians on the Jewish community that she grew up in. Nevelson later recalled knowing that she would be an artist from the age of nine, having been drawn to the field after observing a plaster cast of a statue of Joan of Arc at the Rockland Public Library. She dreamed of escaping to New York to study art while she was still a high school student, and took a job as a stenographer while she continued her studies. Through her job, she met Bernard and Charles Nevelson. Louise married Charles in 1920, and the couple moved to New York City soon after.
Early Training
In 1922, Louise Nevelson had a son, Myron (later called Mike), but she also sought to hone her artistic calling. From 1928 through 1930, she studied at the Art Students League in New York, but the Nevelson family discouraged her studies. In 1931, she separated from her husband and left her son with Charles, so that she could travel to Munich to study under Hans Hofmann at his School for Modern Art. Her decision to focus on her career instead of motherhood was a crucial one, and informed many of her later sculptural installations. Also in 1931, Nevelson worked as a film extra in Vienna and Berlin. In 1932, when Hofmann immigrated to America to escape the political tension in Germany, she returned to New York.
In New York, Nevelson re-enrolled at the Art Students League, and worked with George Grosz. While at the League, she studied painting, modern dance, and sculpture. She also studied with the legendary teacher Hans Hofmann and the sculptor Chaim Gross. During this time, Nevelson met Frida Kahlo and Diego Rivera, and assisted the legendary muralist with his paintings for the New Workers' School. During the mid to late 1930s, Nevelson also worked with the Works Progress Administration (WPA), though the Federal Art Project that also employed Jackson Pollock, Lee Krasner, and Arshile Gorky, among many other artists.
Mature Period
Nevelson first gained attention for her sculpture in the early 1940s, and her works were all found object pieces of varying materials. However, her earliest works were often written off as those of a woman artist, which was akin to a four-letter word at that time. One critic wrote, "We learned the artist is a woman, in time to check our enthusiasm...otherwise we might have hailed these sculptural expressions as by surely a great figure among moderns." During the 1940s, she was aware of, but absent from, most of the contemporary artists' groups, including The Club. In an interview, she credited her outsider status to the fact that she did not fit with museum curators' and critics' preconceived notions of how an artist should be - specifically that she was not old, ugly, or male and thus could not be totally dedicated to her art.
Despite her lack of initial critical success, she remained committed to her art and her sculptures grew in size finally evolving into the large-scale walls in the 1950s. Her favored material of cast-off scrap wood was a radical departure from the endeavors of her male counterparts, like Isamu Noguchi and Alexander Calder, who worked in traditional materials like metal and marble. Despite their unconventional materials, Nevelson's works established her reputation for sculptural bravado. In 1958, Hilton Kramer declared her exhibitions "remarkable and unforgettable." The following year, Nevelson's installation work Dawn's Wedding Feast (1959) was exhibited in the group show 16 Americans at the MoMA, alongside Robert Rauschenberg and Jasper Johns. Dawn's Wedding Feast addressed a common theme in her mature oeuvre, marriage, and Nevelson mentioned it was indicative of her "transition to a marriage with the world. "Through exhibitions at the lucrative Martha Jackson Gallery, Nevelson met her future dealer, Arnold Glimcher of Pace Gallery, which still represents her work. From the reputation she gained during the 1950s, she was invited to represent America in the 1962 Venice Biennale. Influenced by the Mayan ruins she encountered on her travels in Mexico and Central America during the 1940s and 1950s, her mature work reflects her interest in the spiritual communion with nature and the emotive relationship between the artistic environment and the viewer.
Outside of her three-dimensional artwork, Nevelson actively sought out artistic enrichment in her daily life, studying modern dance with Ellen Kearns from the 1930s through the 1950s. She also took voice lessons, studied acting, and was active in many artists' organizations like Artists Equity, the National Association of Women Artists, the Sculptors Guild, and the American Abstract Artists. She often hosted meetings for these groups at her house and studio on East 30th Street in New York City. In 1958, she purchased the house at Spring Street, in Manhattan's Little Italy neighborhood, where she maintained a private personal life, but was known as "Mrs. N" by neighborhood children. Her closest confidantes were her friend, the playwright Edward Albee, and her assistant, driver, friend, and housemate, Diana MacKown. Just as she carefully constructed her sculptures, she also cultivated her extravagant personal style. In the late 1960s, she met fashion designer Arnold Scaasi, who dressed her from then on. Although Scaasi designed clothes for Nevelson, she was not content to let him determine her appearance. She added lush scarves, large pieces of eccentric jewelry, elaborate headdresses, and mink eyelashes on a daily basis. She confessed to MacKown that she didn't feel dressed without several pairs of eyelashes glued on, framing her deeply kohl-rimmed eyes. Nevelson carefully cultivated her personal appearance and viewed it as further extension of her intricate artwork.
Late Years and Death
In 1967, the Whitney Museum of American Art hosted her first museum retrospective and exhibited over 100 of her works spanning her entire oeuvre. Two years later, already in her 70s, she received her first commission for a monumental outdoor sculpture from Princeton University, which she fulfilled in 1971 when the Cor-Ten steel monumental screen, Atmosphere and Environment X, was installed on the university's campus. She continued to create public art throughout the 1970s, and she even translated her work into a 1975 design for St. Peter's Lutheran Church in midtown Manhattan. When asked about this commission and her religion, she noted that her abstract art transcended faiths. Her public sculptures translated her earlier private symbolism and narratives into a grand scale. Accordingly, she eschewed many of the individual themes from her earlier work like death, royalty, and marriage, in favor of broader narratives suited to each location, like urban life or American immigrant experience. Tied to her growing interest in the public realm, Nevelson donated her papers and documents to the Archives of American Art throughout the late 1960s and 1970s, providing a record of her life to the public in perpetuity. After decades of surrounding herself with a visual feast of objects in her own home, she also donated her extensive art collections and ornate furniture to friends and museums. While she kept her lavish wardrobe, she wanted to live in a clean slate and stated that she did not want one thing to impose itself on her or her work. Nevelson continued to create sculptures during the 1980s. She was also photographed by the likes of Robert Mapplethorpe, who documented her lavishly eccentric image.Upon her death in 1988, she left behind an oeuvre as flamboyant and varied as her persona.
The Legacy of Louise Nevelson
Nevelson's work is fundamental to the history of Feminist art, as it challenged the dominant stereotype of the macho, male sculptor. In Linda Nochlin's famous 1971 essay "Why Have There Been No Great Women Artists?" she cited Nevelson as a major influence on the new generation of women struggling to redefine femininity in art. Women sculptors during the 1960s and 1970s, like Eva Hesse and Harmony Hammond, owed a clear debt to Nevelson's exploration of biography through abstract sculpture. Even painters like Joan Snyder, Judy Chicago, and Miriam Schapiro were able to create the abstract, feminine works that they did because of the groundbreaking work executed by Nevelson decades earlier. Outside of her influence on Feminist art, her sculpture also set aprecedent for the installation art of the late 1960s and 1970s, since she designed each element in an exhibition to function both as an integral part of the holistic installation and as an individual object. Contemporary artists, like Rachel Whiteread, were clearly informed by Nevelson's abstract installation-exhibitions that reimagined banal materials into monumental abstract sculptures.
Influences and Connections
Influences on Artist

Influenced by Artist
Friends & Personal Connections
Linda Nochlin
Useful Resources on Louise Nevelson
Books
The books and articles below constitute a bibliography of the sources used in the writing of this page. These also suggest some accessible resources for further research, especially ones that can be found and purchased via the internet.
biography
paintings
Similar Art