Artworks and Artists of Installation Art
Progression of Art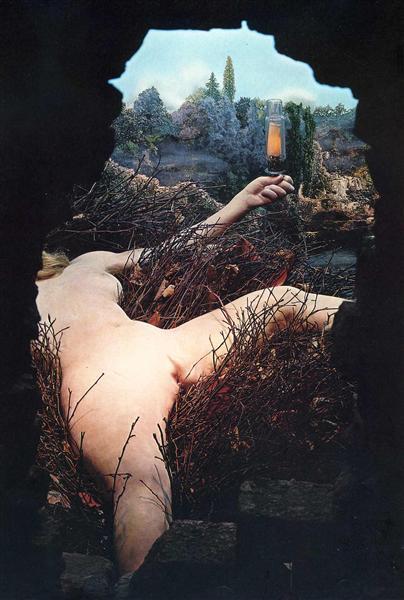 1966
Étant donnés
Étant donnés was one of the first works to set up a specific and controlled viewing environment for audiences, which today remains a central tenet to Installation art. Duchamp surprised the art world with this three-dimensional tableau, since most believed he had decidedly retreated from art-making almost a quarter century before this, his final piece, was revealed.

The piece was described by the artist Jasper Johns as "the strangest work of art in any museum." At the time, it was. Imagine peering through two peepholes in a wooden door to find a reclining cast of a nude woman in the forefront of a lusciously painted landscape. By crafting an experience of voyeurism, rather than simply showing a traditional nude painting on the wall, Duchamp forced the viewer into a sense of complicity. Only one person at a time could peek in, making this a very enveloping experience and creating an intimate encounter with the work's enigmatic inhabitant.
The Philadelphia Museum of Art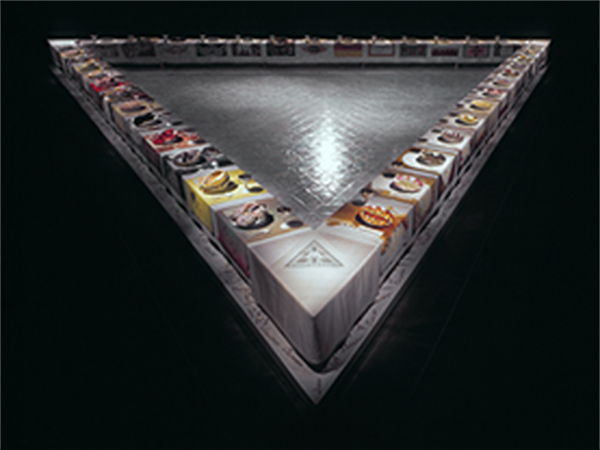 1974-79
The Dinner Party
The Dinner Party, an installation artwork that has become an icon of Feminist art, consists of a large triangular table adorned as a ceremonial banquet, with 39 place settings, each honoring an important woman. Each setting comprises embroidered runners, gold eating utensils, and porcelain plates that unapologetically resemble the female vulva and that vary in motif based on each specific honoree. The list of honorees includes, among others Sacajawea, Virginia Woolf, and the goddess Kali. The names of another 999 women are inscribed in gold on the white floor beneath the banquet table.

By creating this emulation of an event that audience members could easily relate to -the honorary dinner - and by designing the piece in a triangular fashion that would promote many people walking around and reviewing the place settings simultaneously, the artist sparked dialogue about these women who had been under-documented in history. Viewing the piece became an event in itself. By delivering her message through a three-dimensional, physical piece rather than a written manifesto or painted tableau, she proved the power in the presence signature to Installation art.
1975
Wall Drawing #260, On Black Walls, All Two-Part Combinations of White Arcs from Corners and Sides, and White Straight, Not-Straight, and Broken Lines
Sol LeWitt's Wall Drawing #260 is one among hundreds of wall drawings started in 1969, which the artist continued to produce throughout his prolific career. Not only would LeWitt create a drawing for one specific location, he would then maintain detailed instructions on its composition so that others could duplicate it in other spaces going forward, even after his death. Even if LeWitt's Wall Drawings are ephemeral and endlessly replicated, the idea behind their initial conception lives on undiluted.

This seminal line of work inaugurated a new relationship between drawing and architectural spaces, furthering Installation art's site-specificity. By claiming entire walls, LeWitt's drawings responded to the spaces they occupied and enclosed viewers in work that alternated between soothing symmetry and dazzling randomness.

These drawings were also radical inclusions into the Installation art canon because they challenged the preciousness and permanence that is expected from fine art. They are birthed in conceptualism and carried out with simple tools. They are not confined to the originating artists' hand and they can be duplicated in multiple settings ad infinitum.
The Museum of Modern Art, New York
1995
Electronic Superhighway: Continental U.S., Alaska, Hawaii
Nam June Paik's 1974 report to the Art Program of the Rockefeller Foundation forecasted the emergence of what he called a "broadband communication network," an electronic information "superhighway" - quite amazingly, this would become true by the 1990s with the rise of Internet connectivity. This interest in nascent technologies led Paik to create many enormous, free standing structures out of TV screens, cable, DVD players, and more. Multimedia experiences of this sort are a common theme in Installation art, allowing the artist to command the viewer's attention in a blunt, sensory-based way (Paik's creations are some of the first and innovative in this genre).

For this piece, the artist arranged over 300 TV screens into the shape of a map of the United States and outlined each state with bright neon lights, with each screen playing video clips reminiscent of the state it represents. Forty feet long and fifteen feet high, the work is a monumental record of the physical and cultural contours of America. Aside from delineating each state firmly, the neon outlines also represented the web of interstate highways that were increasingly unifying the country both economically and culturally. Encountering this massive installation was an overwhelming experience - the amalgam of voices, light, and information became a noisy testament of how the advent of media completely transformed American lives.
Smithsonian American Art Museum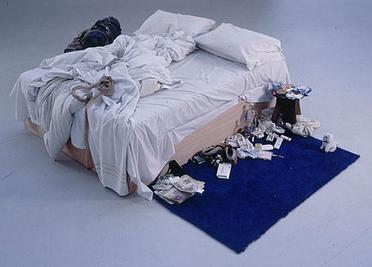 1998
My Bed
My Bed, by Tracey Emin, has inspired as much vitriol as it has critical acclaim throughout the years. The installation was a literal autobiographical presentation; the result of four bed-ridden, depressed days during which Emin accumulated debris surrounding her bed such as used condoms, blood stained underwear, and empty bottles. The piece, which the artist produced after a traumatic relationship breakdown, has been labeled self-absorbed and delusional by some, and seminal and inspired by others.

The one thing critics and enthusiasts alike can agree on is that My Bed forever changed the course of Installation art with its blatant realism. By taking her actual bed and displaying it as art Emin furthered the development of the movement's concern with bringing a more intimate experience to the viewer. The visually narrative portrait of Emin's life at the time and its candid nature created an engulfing atmosphere that eloquently evoked genuine experience. Audience members might either shudder in revulsion over the scene of personal debauchery or shirk guiltily inward with the knowledge that we all harbor our own dirty laundry. This piece also distanced itself resolutely from representational art as it reveled in its own mundanity and refused to stand in for any loftier concerns.
The Duerckheim Collection
2000
Work No. 227: The lights going on and off
Martin Creed's Work No. 227: The lights going on and off consisted of an empty room which was lit up for five seconds, and then darkened for the following five seconds in a recurring pattern. This subtle intervention with the room's illumination, an intervention we all stage in our own homes regularly, might compel viewers to reconsider taken-for-granted elements of their everyday lives.

By playing solely with light in this minimalist piece, the artist sought to jostle viewer expectations. Creed wanted people to interact with the space as if it were a non-static entity and to gain new perspectives of something familiar - a key tool of Installation art. He did so by toying with their preconceived expectations of a seemingly dormant place. When encountering its animation, audiences were forced to interact more attentively with the room's physicality. Through subtle and mundane interventions Creed, like many other installation artists, was able to engage viewers in new ways.
The Tate
2002
Obliteration Room
Yayoi Kusama's Obliteration Room started out as a simple room, a completely commonplace one barring the fact that it was entirely painted over in white. Curious audience members were given a sheet of colored stickers made in accordance with the artist's specifications, and then invited to place the stickers anywhere they liked in the blank canvas of the room. Over the course of time the surfaces were transformed into an explosion of color with thousands of conglomerated spots covering every available surface.

Kusama was careful to choose a domestic environment that audiences would find familiar so that participants, especially children, would feel comfortable engaging with the work freely. The piece was her way of engaging with the surface of an architectural space and of handing over some of the creative process to the audience, thus involving them fully in the development of this spotted interior. This dynamic piece took Installation art's history of active viewer participation one step further by allowing them to actually co-create the work. It also allowed them to become fully immersed in an experience that significantly affected the senses but was also true to the artist's singular voice. Kusama is famously known for suffering life-long mental illness and polka dot-infused hallucinations, so in a way, this piece invited viewers to share a vivid glimpse into her own barraged mind.
Queensland Art Gallery
2005
The Matter of Time
Richard Serra's primary focus is on large-scale site-specific sculptures made from industrial materials that exist in conversation with the physical spaces they occupy. According to him, "I consider space to be a material. The articulation of space has come to take precedence over other concerns. I attempt to use sculptural form to make space distinct." Viewing these sculptures necessitates moving around and through them, and thus encountering them from constantly shifting perspectives.

The Matter of Time is an installation comprising one of Serra's older sculptures, entitled Snake, in addition to 8 new, torqued pieces of steel. It occupies an entire gallery space in the Guggenheim Bilbao Museo. The different shapes made of weathered metal vary from simple elliptical ones to more complex spiral forms, and as viewers walk among these forms they move through varying passages of steel. The spaces between the sheets of curved metal change from being narrow and encroaching to being wide and open causing the viewer to experience constant disorientation. Serra's choice of material, with its textured rust and spectrum of browns and oranges, adds yet another layer of visual interest to this breathtaking installation.
Guggenheim Bilbao Museo
2007
Shibboleth
Doris Salcedo's Shibboleth, a winding crack in the floor that ran the length of The Tate's Turbine Hall, managed to be both unobtrusive and intensely engaging. The Colombian artist created a fissure of varying width in the museum's floor and placed in it a concrete cast of rock with a wire fence set inside. The crevice measures 548 feet in length, and the depth varies from being a thin opening to a more cavernous one. Salcedo's fissure is meant to represent the immigrant experience in Europe. The title of the piece, "Shibboleth," refers to a word, phrase, or custom that may be used to determine if someone truly belongs to a particular group or place. In a manner characteristic of Installation art, this site-specific piece engages the viewers by demanding that they come up close to the crack and then shift their distance as they encounter its variations, handing them an experience that brings to mind notions of boundaries, discomfort, and safety.
materials - The Tate
2012
Rain Room
In Rain Room, the collaborative studio group Random International, created a fully immersive environment, which travelled to various museums and architectural spaces consisting of an entire room filled with rain. Barely lit from above, visitors stood on the periphery to take in the emulation of a natural phenomenon. As guests stepped into the rain, their body heat triggered the rain to stop only in the spaces that contained them. It was meant to give a person peaceful respite from everyday life and to provoke sensory reflection on the relationship between man and nature. It also provided viewers the opportunity to control the rain. The piece aimed to question the human experience within a machine-led world.

Rain Room represents the exciting contemporary cross section of creativity, science, and technology currently informing cutting-edge installations that expand our traditional ideas of art.