Beginnings and Development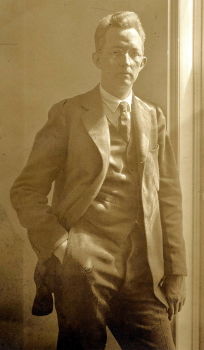 It is not clear who first coined the term Precisionism. It may have been Charles Sheeler, one of the movement's foremost painters, or, as seems most likely, Alfred H. Barr, the first director of the Museum of Modern Art in New York City, in 1927. In other sources, art historian Wolfgang Born is credited with the first use of the term when he applied it in 1947, while others claim that it was not until 1960, when the Walker Art Center in Minneapolis mounted "The Precisionist View in American Art" exhibition, that the movement was officially recognized. Whatever the original source of the term, its practitioners attracted the early support of patrons including Charles Daniel (owner of the Daniel Gallery), Stephen Bourgeois (the Bourgeois Gallery), Alfred Stieglitz (the 291 Gallery, Intimate Gallery and An American Place), Gertrude Vanderbilt Whitney (the Whitney Studio Club) and, moving into the 1930s, the Whitney Museum of American Art.
The challenge for historians is that Precisionism was never a formal school or movement, one supported, perhaps, by a published manifesto. It was, rather, a philosophical outlook shared by several American painters and photographers during the early decades of the twentieth century. The group - who have been referred to variously as "Cubist-Realists", "Immaculates", "Sterilists" and "Modern Classicists" - shared an interest in celebrating the dynamism of the modern industrial America and conveyed this aspect of modernity through precise lines and pared back geometric forms. The key Precisionists have been identified (in no order of preference) as Sheeler, George Ault, Ralston Crawford, Francis Criss, Charles Demuth, Preston Dickinson, Elsie Driggs, Louis Lozowick, Gerald Murphy, Georgia O'Keeffe, Niles Spencer, Morton Schamberg, Joseph Stella, Alfred Stieglitz and Paul Strand.
Early Encounters with Modernism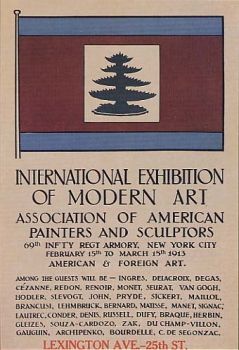 Probably the most influential single figure in introducing European modernism to American audiences was the photographer, publisher and gallery owner Alfred Stieglitz. A pioneer of modern photography himself, Stieglitz, with his friend and colleague Edward Steichen, established the 291 Gallery in New York which operated between 1905 and 1917. Stieglitz's goal was to elevate photography to the same status as painting and sculpture and his gallery became not only an exhibition home for the so-called "Photo-Secession Group", but also the country's first exhibition space for imported works by European avant-garde artists such as Henri Matisse, Henri Rousseau, Pablo Picasso, Auguste Rodin, Paul Cézanne, Marcel Duchamp and Francis Picabia.
However, it was through the International Exhibition of Modern Art (known as the Armory Show since it was staged in vast US National Guard armouries) of 1913 that announced Fauvism, Cubism and Futurism to the wider populous. The Armory Show would prove a landmark event in American art history and provided the catalyst for American artists who wanted to create their very own artistic language. Stieglitz said the challenge now facing domestic artists was to establish a national art movement that represented "America without that damned French flavour!".
Another significant figure in introducing European modernism to America was Walter Arensberg who became a major collector of modern art after the Armory Show. Walter, and his wife, Louise, became close friends with Duchamp who they set up in a studio apartment on New York's 67th Street. Walter even collaborated with Duchamp on "assisted readymades" such as Comb and With Hidden Noise (both 1916). In the 1920s, the Arensbergs moved from New York to Los Angeles, taking with them works by Duchamp, Picabia, Rousseau, Braque and Matisse and transforming their home there into a veritable West Coast Salon.
The Birth of Precisionism
As early as 1915 Preston Dickinson was producing European-inspired works that focused on industrial subjects such as factories and granaries. Most of his industrial scenes were, however, drawn from his imagination. Charles Sheeler turned to Precisionism in 1917, two years before his move from Philadelphia to New York. Sheeler's favourite subject was barns, reduced to cuboid masses and surface textures, with all references to the natural setting within which the building stood omitted. "In these paintings I sought to reduce natural forms to the borderline of abstraction, retaining only those forms which I believed to be indispensable to the design of the picture", Sheeler said. In 1923 the art critic Forbes Watson placed Sheeler within a tradition of American production: "in the clean-cut fineness, the cool austerity, the complete distrust of superfluities which we find in some pieces of early American furniture, I seem to see the American root of Sheeler's art". Sheeler also enjoyed a long and successful career as a photographer. In 1921 he had collaborated with the Straight photographer Paul Strand on the film Manhatta, based on quotations from Walt Whitman, and celebrating New York as an architectural phenomenon. Sheeler's photographs also provided blueprints for paintings, combining sharp-focus photographic-like detail with tight abstract cohesion.
Charles Demuth - who in his earlier career had excelled as a watercolorist of still-life florals, a book illustrator, a playwright and writer of short prose pieces for avant-garde journals - had emerged out of a "Cezanne-esque" phase of painting to create cityscapes of churches and factories which were more tightly constructed in a Precisionist manner that borrowed from the Futurists and German-American Expressionist Lyonel Feininger. Demuth was fascinated by grain elevators, water towers, and factory chimneys, although he neither wholly accepted nor disapproved of industrialization. He was also interested in advertising hoardings on buildings and along highways. "America doesn't really care" about art he wrote to Stieglitz. "Still, if one is really an artist and at the same time an American, just this not caring, even though it drives one mad, can be artistic material".
The Maturation of Precisionism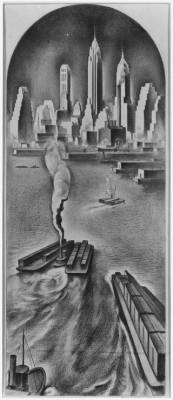 During the 1920s many of the Precisionists exhibited at the Charles Daniel Gallery in New York. When it closed in 1932, Edith Halpert's Downtown Gallery became the primary showcase for Precisionism. Outside a dedicated gallery space, the group featured in The Little Review's Machine Age Exposition held at the Steinway Hall, New York in the spring of 1927. This event brought together paintings, architectural drawings and photography. Encouraged by Duchamp, Jane Heap - the celebrated publisher who, with Margaret Anderson, edited the famous modernist literary journal (The Little Review) - organised the show at which Sheeler, Demuth and Louis Lozowick all participated and served on the Artists' Board.
Writing in the catalogue, Lozowick expressed the belief that America was going toward an "order and organization which found their outward sign and symbol in the rigid geometry of the American city: in the verticals of its smokestacks, in the parallels of its car tracks, the squares of its streets, the cubes of its factories, the arc of its bridges, the cylinders of its gas tanks". Lozowick added that "the history of America is a history of gigantic engineering feats and colossal mechanical constructions [...] The skyscrapers of New York, the grain elevators of Minneapolis, the steel mills of Pittsburgh [...] give the American cultural epic its diapason". Lozowick implored American artists, finally, to celebrate this "underlying mathematical pattern".
Concepts and Trends
Architectural Structure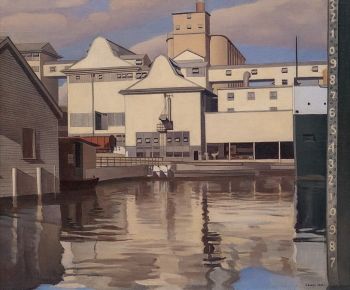 Precisionism started from the position that all ornamental embellishments should be stripped away and the search for the pure architectural structure should be the focus of aesthetic attention. While self-consciously identifying as Americans, the influence of the European avant-garde is clear and the Precisionists were emboldened to pursue abstract forms, fracture compositions and skew perspective, and to represent the world both perceptually and conceptually.
Drawing predominantly on Cubist and Futurist compositional ideas, and often marrying these pictorial techniques with those derived from photography, the Precisionist artists sometimes strove to present multiple views of a subject, and even represent differences in time and place. Precisionist style was linear, hard edged and brittle. The presence of brushstrokes conveying how the paint was applied was absent, seemingly suggesting that the human being is redundant, perhaps even absent. Critic Alexander Adams wrote, "Precisionist art speaks of perfectionism, attempts to impose control over external chaos and hypersensitivity towards disruption. It is a pathological response akin to phobia of germs or insecurity in the face of change. Precisionism is the art of those averse to imprecision; it speaks of fear of decay and worry about ambiguity and doubt".
Mechanization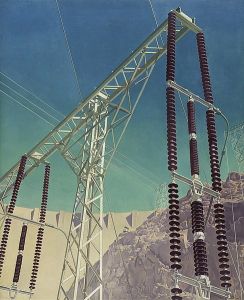 Taking mechanization as subject matter was a reflection of America's investment in progress, its faith in science and engineering, and its positive belief in the virtues of industry. But Precisionist paintings gave rise in certain circles to an ambivalent attitude toward mechanization. Many paintings endow factory and industrial buildings with a kind of monumentality reserved previously for the depiction of churches. Others, however, hint at the dehumanising effect of technology and, with a lack of human presence in the works, the absence of a soul at the heart of modernity. Sheeler often applied his attention to detail to transform mundane objects into transcendent subjects worthy of worship. But The New York Daily Worker commented with a tone of derision that "Sheeler approaches the industrial landscape [...] with the same sort of piety Fra Angelico used toward angels [...] In revealing the beauty of factory architecture, Sheeler has become the Raphael of the Fords".
Photography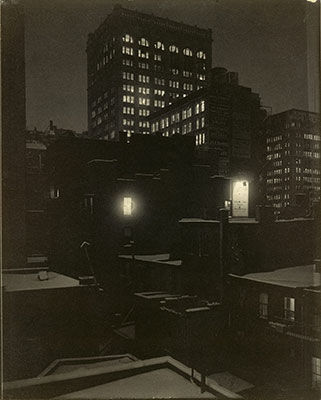 The interests of modern photography and Precisionist painting often overlapped in the 1920s. Paul Strand (a one-time junior mentee of Stieglitz) had taken his own inspiration from the paintings of Cezanne, Braque and Picasso and became fixated on the idea that the photographic image could also be broken up compositionally. His initiated the idea of Straight Photography which used large format cameras to create high contrasts (rather than shading), flat, or two-dimensional images, semi-abstractions, and forms of geometric repetition. Stieglitz had been so impressed with Strand's artistic maturation that he himself adopted Strand's Straight Photography aesthetic. In 1917 Stieglitz gave Strand a major exhibition at his 291 Gallery and then allotted two issues of his photography magazine Camera Work entirely to Strand's work.
Through Stieglitz's promotion, the idea of Straight Photography impacted upon the way that Precisionists focussed in on the world, especially in the geometric realism of Sheeler, Demuth and Stella. Sheeler was himself an accomplished commercial photographer and often based his paintings on his photographs. He also employed photographic techniques such as flattened and bowed perspective in some of his painted works. In 1921, Strand and Sheeler collaborated on a short, silent film called Manhatta (AKA: New York the Magnificent). The film, which captured the movement of everyday street life under the architectural shadows of the looming New York skyline, reflected many of Precisionism's aesthetic preoccupations and is widely considered to be the first American avant-garde film.
Later Developments - After Precisionism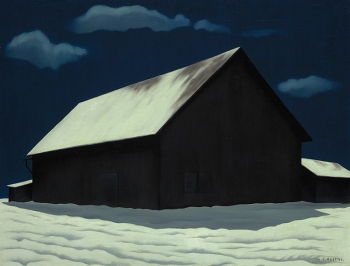 By the late 1930s, the USA was providing refuge for artists and architects fleeing fascist Europe. Many of them had been schooled in the Bauhaus tradition which sought unity between art and technology. Bauhaus and Constructivist influences merged with the Precisionist fascination for geometric and architectural forms, which became even more focussed on shape, pattern, and texture. By the 1940s, however, Precisionism's major champions had either passed away, fallen out of fashion, or moved on artistically. Charles Demuth died aged 51 in 1935, having finished a series of seven paintings depicting factory buildings in Lancaster, Pennsylvania. Sheeler stayed true to his Precisionist principles, but focussed increasingly on photography. Precisionism's influence continued to be directly felt, in a more bleak and unsettling manner, in the American Scene Paintings of Charles Burchfield, George Ault and Edward Hopper, the latter becoming the accepted master of small town alienation.
History indicates that Precisionism was a bridge between realism and a more modern American vision, with Abstract Expressionism building upon Precisionism's reductionism but by rooting itself more in the subconscious explorations of Surrealism. As collector Deedee Wigmore observed, "Precisionism was about the search for architectural structure underlying reality, which eventually led American artists out of realism into pure geometric abstraction". Precisionism's impact on advertising imagery and stage and set design, meanwhile, continued throughout the twentieth century, inspiring countless cinematographic visions of bucolic America as well.
Perhaps its most direct influence was felt, however, by Pop artists such as Jasper Johns and Robert Indiana, and especially in their "numbers paintings". The art historian Eli Anapur writes for instance that one painting - Demuth's I Saw the Figure Five in Gold - "holds the foremost place in this equation of significance" for twentieth century American art and argued "its popular subject and angled forms anticipate both Pop and Abstract art". She writes that both movements "slowly emerged from the increased stylization of forms and reduction of details", but it was in fact "Demuth's poster-portraits - specific in their depictions of letters and everyday commercial objects instead of figures [that] are some of the earliest examples of such imagery in American Art" and these directly "inspired similar Pop Art renderings of consumer objects".
Key Artists
A major figure in the early development of American modern art, Charles Sheeler incorporated motifs related to industrialization and urbanization, such as towering buildings and flattened geometric planes. His work explored the tension between pre-modern America and its increasingly mechanized future.

Demuth was an important member of the early twentieth century Precisionist movement that emphasized sharp lines and clear geometric shapes. Challenging the boundaries of race, class, sexuality, and artistic tradition he was an instrumental part of advancing American modernism.

The iconic photographer Strand redifined the medium through his portraits, city scenes, and abstract compositions that helped define modernist photography in the twentieth century.

Bourke-White was an intrepid adventurer at the very center of challenging historical events. Her photographs gained international recognition.

Stella's images of industrial America - especially of New York City landmarks such as the Brooklyn Bridge are depicted with the power and honesty that were revolutionary. He was one of the founders and leaders in the Precisionism movement.

Georgia O'Keeffe was an American painter best known for her depictions of flowers, animal skulls, landscapes, and still lifes. Married to photographer Alfred Stieglitz, she was an important member of the "Stieglitz circle" and early American modernism.
Do Not Miss
Cubism was developed by Pablo Picasso and Georges Braque between 1907-1911, and it continued to be highly influential long after its decline. This classic phase has two stages: 'Analytic', in which forms seem to be 'analyzed' and fragmented; and 'Synthetic', in which pre-existing materials such as newspaper and wood veneer are collaged to the surface of the canvas.

Futurism was the most influential, mostly-Italian avant-garde movement of the twentieth century. Dedicated to the modern age, it celebrated speed, movement, machinery and violence. At first influenced by Neo-Impressionism, and later by Cubism, some of its members were also drawn to mass culture and nontraditional forms of art.

Orphism was a French art movement that brought together contemporary theories of philosophy and color. This movement was pioneered by Robert and Sonia Delaunays, a couple who immersed the viewer in dynamic expanses of rhythmic form and chromatic scales rather than the monochromatic Cubist experiments of the time.

Straight Photography is a movement centered on depicting a scene in sharp focus and detail as a way to emphasize the photographic medium and distinguish it from painting. Straight Photographers manipulated darkroom techniques to enhance the photograph with higher contrast and rich tonality.
Content compiled and written by Robert Weinberg
Edited and revised, with Summary and Accomplishments added by Tony Todd
"Precisionism Movement Overview and Analysis". [Internet]. .
TheArtStory.org
Content compiled and written by Robert Weinberg
Edited and revised, with Summary and Accomplishments added by Tony Todd
Available from:
First published on 25 Mar 2021. Updated and modified regularly
[Accessed ]