Artworks and Artists of Precisionism
Progression of Art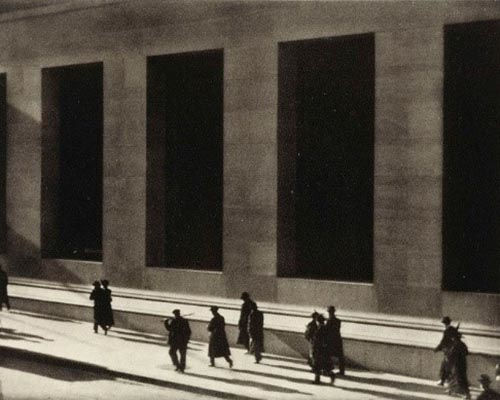 1915
Wall Street
Wall Street is amongst the most iconic American images of the early twentieth century. It marked a clear departure for Strand, away from a style of photographic Pictorialism whereby the photographer used a camera and dark-room manipulation to produce soft-focus images that mimicked the Pictorialist style of painting. The image is an early example of Strand's move into documentary realism and abstraction, which he often incorporated within the same frame. On the one hand, Strand offers the spectator an objective - or "Straight" - record of a street scene showing walking commuters; on the other, we have a high-contrast interplay of light and dark as the shadows formed by the niches of the large Morgan Trust Bank building produce a sloping geometric pattern.

The geometric solidity of the imposing, temple-like building dwarfs the silhouetted figures who become anonymous - shapes stretched through elongated shadows. Strand was encouraged by the influential photographer and gallery owner Alfred Stieglitz to emphasise contrast, clean lines, and patterns in his works. Precisionist painters, who were also mentored by Stieglitz, were inspired by Strand's approach, reducing forms to their underlying geometry, and copying the camera's ability to crop in closely on compositions and reveal objectively the essence or core of ordinary objects and everyday scenes. Georgia O'Keeffe (to whom Strand sent love letters before she married his friend Stieglitz), in particular, shared in Strand's search for abstraction through close-up images of natural forms, but believed that painting could express something beyond the limits of the (mechanical) camera. It is said that Edward Hopper became fascinated with this image, and adopted some of the same formal techniques for his own paintings.
Platinum palladium print photograph - Whitney Museum of American Art
1916
Painting VI (Camera Flashlight, Machine Still Life)
In the two or three years before his untimely death (aged 37, in the 1918 flu pandemic) Schamberg painted a series of objects sourced from illustrations in machinery catalogues (borrowed from his brother-in-law who worked for a hosiery company). Having died so prematurely, his position in the Precisionist movement is one of a forefather, who exerted especial influence over artists such as Charles Sheeler and Charles Demuth, both of whom explored mechanical themes in their painting.

Born in 1881 in Philadelphia, Schamberg qualified as an architect before enrolling as a post-graduate student at the Pennsylvania Academy of the Fine Arts (PAFA) where he studied under the impressionist William Merritt Chase. Following his time at the PAFA, he undertook several tours of Europe, sometimes accompanied by Chase and Sheeler. In Europe he confirmed his appreciation for the Old Masters but also encountered the works of modernists for the first time. As the auction house Sotheby's described it, while in Paris "He came to appreciate the underlying geometry he saw in compositions by Pablo Picasso and Paul Cézanne, as well as Henri Matisse's use of vivid, non-associative color [and his] immersion with these modes of visual expression proved deeply influential". Sotheby's adds that although Schamberg "did not fully abandon realistic subject matter, the works he created upon his return to the United States display[ed] a new concern for the structural rather than the representational function of color and he increasingly flattened and fragmented forms".

Referring to Painting VI, Sotheby's suggests that "Although the object is undoubtedly industrial in nature, Schamberg's reductive treatment makes it difficult to immediately identify and for many years it was incorrectly identified as a 'camera flashlight.' Indeed, the artist simplifies the components of the object to their most basic, geometric forms and places the machine in an amorphous setting, dissociating it from the larger context of the factory. As Schamberg's subject approaches abstraction he invites the viewer to consider it not for its function, but rather for its distinctive shape, color and form". Citing the art historian Wilford W. Scott, Sotheby's explains that the "imagery of the painting invites comparisons with the work of Marcel Duchamp and Francis Picabia, who similarly utilized the machine as subject matter in this period". Scott argues, however, that Schamberg "never subscribed to the satirical undertones embedded in the work of these artists" and that his formal approach avoided the "typical 'Dada' subversion of traditional art and meaning [and that in] discovering a new subject for his formal analysis, Schamberg transformed machines from objects of Dada irony and wit into objects of beauty".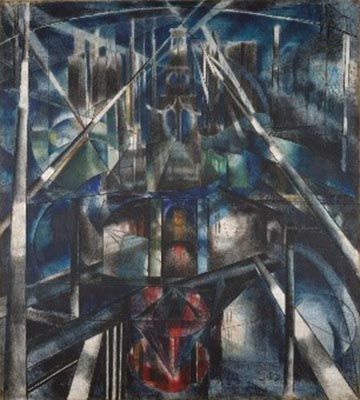 1919-20
Brooklyn Bridge
Following his showing at the influential Armory Show in 1913, where he exhibited a Futurist-inspired painting of Coney Island, Stella, an Italian immigrant, emerged as a key figure in the New York art scene. It is often argued that his images of New York, and especially the many he made of the Brooklyn Bridge - what he called "the shrine containing all the efforts of the new civilization of America" - were captured with an element of religiosity. Most critics and historians are in agreement that his paintings probably achieved their extraordinary power because they were viewed through the eyes of an "outsider".

Stella first painted the bridge in 1918 and returned to it repeatedly throughout his career. Rather than capturing the structure literally, Stella presents a fractured, color-saturated, Cubist/Futurist evocation of a technological wonder, an almost mystical response to its wires and cables, walkways and tunnels, arches and granite piers - all of it re-configured into a transcendent image reminiscent of a Gothic cathedral, a Renaissance altarpiece or a stained glass window. By melding contemporary progress with historical allusions, Brooklyn Bridge became for Stella a symbol of progress and human achievement. "I felt deeply moved," he said of it, "as if on the threshold of a new religion or in the presence of a new DIVINITY". The Whitney Museum of American Art added that "By combining contemporary architecture and historical allusions, Stella transformed the Brooklyn Bridge into a twentieth-century symbol of divinity, the quintessence of modern life and the Machine Age".
Oil on canvas - Yale University Art Gallery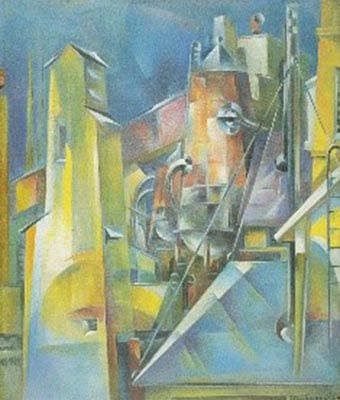 1920
Factory
Dickinson had lived in Paris between 1910 and 1914, becoming conversant with the works of Cézanne and the Cubists. Upon his return to New York, he became affiliated with the progressive Charles Daniel Gallery where he exhibited alongside Sheeler and Demuth. He had initially painted urban scenes using a flat, decorative style but, by 1918, he modified his style to better represent images of industrial factories and grain elevators. It was on the basis of such subject matter that Dickinson has been associated with the Precisionists, although he remained something of an individualistic voice. The New York Sun wrote in 1927 that Dickinson had "won an enviable position among contemporary painters" but the critical response to his work remained mixed.

His Factory is a quasi-Cubist breakdown of tensely strung diagonal lines, fragmented shapes and gleaming colors, that capture the dynamism of industry and the sheen of its metal. But as with many of his paintings, Dickinson's mechanised landscape is imaginary; an idealised and romanticized view of the benefits of machinery for human advancement. He was, however, one of the first American artists to depict such subject matter and was working in what would soon be known as the Precisionist style as early as 1915. His Precisionist images, which predate even those of Charles Sheeler and Charles Demuth, combined, according to curator Gail Stavitsky, "technical precision and intellectual force to a degree hardly approached by any of his companions".

According to art historian and curator Ruth Cloudman, Dickinson began a series of "hard" industrial scenes around 1918 and these were "a logical outgrowth of his earlier urban views that contained small industrial vignettes" but which shared with his larger industrial subjects the "energetic brushwork and what has been described as a Cezannesque 'glitter of faceted planes'". The Factory, she continued, is "the result of several factors: freer brushwork, a greater reliance on diagonals and oblique perspective, a dramatic interplay of bright light and shadow and the implied movement of smoke and steam". Cloudman adds that Dickinson "draws the viewer toward the center of activity in contrast to the earlier scenes in which the observer had a more distant viewpoint" and that in these later works "Light assumes increasing importance creating lively surface patterns, highlighting volumes, and faceting forms" and that "For the most part the industrial views are colorfully painted with little, or no, reference to actuality". Dickinson died from pneumonia in 1930 at the age of 41 after a long battle with alcoholism.
Oil on canvas - Columbus Museum of Art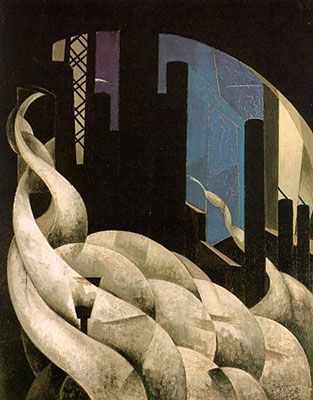 1921
Incense of a New Church
In his early years, Demuth worked primarily in watercolor, producing luminous images of flowers, circuses and café scenes. But, as the historian Janet M. Torpy notes, "after about 1916, the pretty, soft, and naturalistic paintings of the flora found in his mother's garden began to yield to the harder-edged, geometric, tension-filled executions of man-made subjects". In what Torpy calls "a paean of the Precisionist style", Demuth paints Lukens Steel Yard in Coatesville, Pennsylvania. He depicts smoke billowing and circling gracefully around the ominous, vertical chimneys which are highlighted against cartoon-like patches of sky. The combination of curves and geometric forms endows the image with a Futurist feeling of the motion and dynamism of the modern city, even though the smoke itself, is expressed through solidified, Cubist-like, grey patchwork.

As a child, Demuth saw Lancaster's Evangelical Lutheran Church of the Holy Trinity from his bedroom window, and the painting charts the factory town's shift from a landscape dominated by churches to one dominated by industry. The title of the work leads one to the work's meaning, though it is not clear if Demuth was expressing any kind of critique on an increasingly secular American society. In any case, the plumes of smoke represent incense, while the factory has supplanted the church as the dominant feature of the urban landscape.
Oil on canvas - Columbus Museum of Art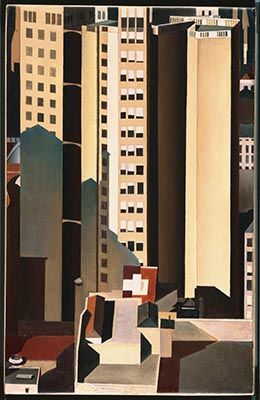 1922
Skyscrapers
Sheeler underwent a process of artistic renaissance when, having studied under the American Impressionist William Merritt Chase, he traveled to France and Italy in 1908-1909. On his return to his home in Philadelphia he abandoned the carefree Impressionist style and started to experiment with the revolutionary Cubist techniques he had seen in works of Cézanne, Braque, and Picasso. Sheeler moved to New York in 1919, following the death of his close friend Morton Schamberg and it was here that he turned his attentions to the great icon of modern America: the skyscraper. Sheeler's interest in the city's landscape was confirmed through his collaboration with the photographer Paul Strand on the 1920 short film Manhatta which, regarded by many as the first American avant-garde film, emphasized the abstract qualities of the great metropolis.

Sheeler prepared this view from the Equitable Building, located at 120 Broadway in New York, with preliminary photographs and sketches, allowing him to capture the view with precision and detail. Planes of solid color draw the viewer's eye to the diagonal intersection of light and shadow toward the lower center of, what is arguably, Sheeler's most accomplished Precisionist work. Though no residents are shown, the differing heights of the blinds in each window suggests the presence of life inside the concrete towers. With its sharply defined geometric contours planes, and evocation of intense, direct, light the composition epitomizes Sheeler's Precisionist aesthetics. Of all the artists who are encompassed by the label, Sheeler epitomised the Precisionist movement. As professor Merrill Schleier put it, Sheeler was the "quintessential optimist of the urban scene [his] city views convey perfection, all ills ameliorated by the mechanical precision of the skyscraper".
Oil on canvas - Phillips Collection
1925
New York Street with Moon
O'Keeffe is one of the most significant American artists of the first half of the twentieth century. Classically trained in Chicago and New York, she fell under the influence of the progressive teachings of Arthur Westley Dow who encouraged his students to experiment with abstraction. While on a teaching posting in Texas she produced a series of abstract charcoal drawings which found their way via a friend to Stieglitz (her future husband) who put on her first exhibition at the 291 Gallery in 1916. By the time she produced New York Street with Moon, she was already recognized, primarily for her famous flower series of paintings, as one of America's most important modern artists.

The art historian Gail Levin noted that New York Street with Moon was O'Keeffe's first painting of New York which she produced while living in adjoining rooms on the 30th floor of the Shelton on Lexington Avenue: "I had never lived up so high before and was so excited that I began talking about trying to paint New York", the artist recalled later. "One can't paint New York as it is, but rather as it is felt", she said, and after her flowers series, her New York paintings would become her second major thematic group of the 1920s. In their simplified, geometrically-reduced forms, clear lines and smooth, polished, surfaces they conform to the Precisionist painters' objective approach to the city. Further, by taking a street-level view, O'Keeffe pays homage to the towering dimension of New York while the flattened planes of the buildings' facades, offset here by the red and white orbs of the city's street/traffic lighting, lends the work a quality reminiscent of stage scenery.

Levin writes, "O'Keeffe had hoped to show New York Street with Moon in Seven Americans, a show that [...] Stieglitz organised at the Anderson Galleries in 1925. However, Stieglitz pointed out to her that even men found it difficult to paint New York skyscrapers and refused to allow her to show this picture, preferring instead to exhibit her more feminine, large-scale flower paintings". Levin adds, however, that in her own show at The Intimate Gallery in 1926, "she insisted that Stieglitz hang this picture, which sold the first day for $1, 200. She beamed: "From then on they let me paint New York". Of the works themselves - which include titles such as City Night, (1926) Radiator Building-Night, New York (1927) and New York Night (1929) - Levin observes that O'Keeffe "seems to have preferred the mystery of nocturnal scenes rather than the raking sunlight she loved for flowers and other rural architectural subjects" and that by the end of the decade she had shown "that it did not take a man to deal effectively with the structures of the city [and duly] turned her focus elsewhere" (in northern New Mexico).
Oil on canvas - Museo Nacional Thyssen-Bornemisza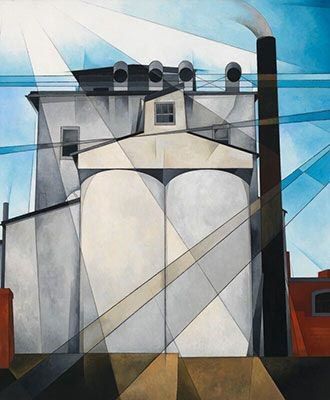 1927
My Egypt
This enigmatic painting, one of seven in Demuth's final major series, depicts a concrete and steel grain elevator in Lancaster, Pennsylvania. The massive structure looms over the smaller, red buildings nearby - perhaps barns or family homes - almost barging them out to the sides and corners of the canvas. Several intersecting beams of light illuminate the grain elevator like an actor on a stage, and reiterating perhaps its importance while adding a Cubist-like fracturing of the composition.

The painting has been interpreted as both a critique of modernization and a celebration of it. The title suggests that industrialization is a pinnacle of American achievement equivalent to the great monuments of the ancient world. It helps evoke the great pyramids (of Egypt) and their symbolic association with life after death; no doubt a compelling theme for Demuth who, as a sufferer (and Guinea-pig for experimental treatments) of early onset diabetes, was bedridden by illness at numerous points throughout his life. At the same time, the painting may allude to the slave labor that built the great monuments to the pharaohs. Read this way, the painting serves as a critique of the dehumanizing effect of industry on American workers.
Oil, chalk, and graphite on board - Whitney Museum of American Art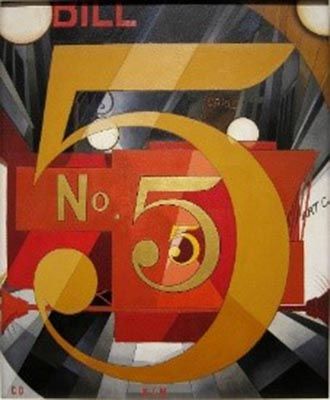 1928
I saw the Figure 5 in Gold
Stricken by lengthy bouts of ill health, Demuth spent many of his later years at home, though he used his art to retain connections with his close circle of friends. These included Marsden Hartley, John Marin, Alfred Stieglitz, Georgia O'Keefe and William Carlos Williams, author of the poem "The Great Figure" on which this, Demuth's most famous work, and perhaps the quintessential Precisionist painting, is based. Between 1924-1929, Demuth created poster portraits that used image and word play to sum up the personality of his "sitters". This work is what we might call a "conceptual portrait" - expressed through typography, gold-leaf and fire-engine red paint - and was created from Williams's poem. His poetry was simple and concise, avoiding metaphor or symbolism:

Among the rain
and lights
I saw the figure 5
in gold
on a red
firetruck
moving
tense
unheeded
to gong clangs
siren howls
and wheels rumbling
through the dark city.

I saw the Figure 5 in Gold depicts what the Met Museum called "the sights and sounds of a fire engine speeding down the street [while the] intersecting lines, repeated '5,' round forms of the numbers, lights, street lamp, and blaring sirens of the red fire engine together infuse the painting with a vibrant, urban energy". The art historian Dr. Lara Kuykendall describes, meanwhile, how "Demuth divided the picture plane into rectangles and triangles, which refract light and change the color of space and shapes", while the "diagonal lines force [our] eyes to race around as [we] try to understand the image". It is, however, the three number "5s" that dominates the image. Kuykendall observes that the "fives get larger as they surge into the foreground (or smaller as they recede into the background), and in the upper right corner you can glimpse the curve of a fourth five as it leaves the surface of the picture and enters your space". She concludes that "with its prismatic chards of space and color and the recurring number five, visualizes the motion and mystery of Williams' experience in a futurist way. It collapses an extended period of time onto one still canvas". With lettering that is reminiscent of sign painting and billboards, Demuth's most iconic image can be read as an early pre-cursor to Pop Art.
Oil on canvas - The Metropolitan Museum of Art, New York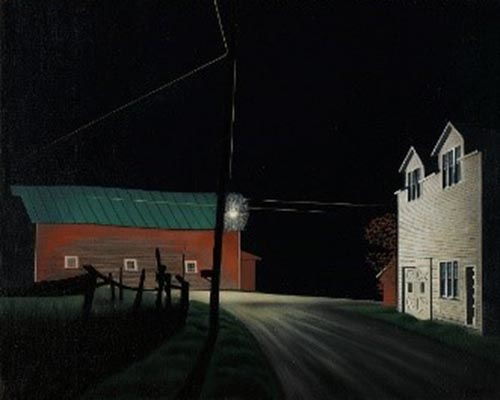 1946
Bright Light at Russell's Corners
Although Ault's series of paintings of Russell's Corners in Woodstock NY meticulously depict a collection of farm buildings, they still feel strangely alien. The buildings in the image (as the title indicates) are illuminated by a single, bright light but the scene is mysterious and dark, almost reminiscent of the empty streets of a 1940s film noir. The strikingly lit telephone wires fragment the image into angular planes, although Ault was not so interested in the avant-garde influences of his contemporaries.

Like other Precisionists, Ault was interested in how the old landscape was giving way to one that was altogether more industrialised. But his images of lonely farm buildings reflected Ault's tendency to isolate himself from others and the expansive darkness perhaps expresses the artist's depressed state of mind. Art historian Alexander Nemerov has written how this lonely crossroads held some "mystical power" for Ault. "He fixated on them - painting Russell's Corners five times in the 1940s, in different seasons and times of day - as if they contained some universal truth that would be revealed if he and the viewers of his paintings meditated on them long enough".
Oil on canvas - Smithsonian American Art Museum
Related Artists
Related Movements & Topics