Artists
Wassily Kandinsky
For Educators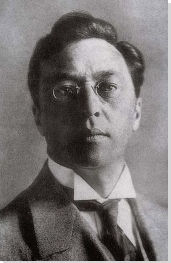 Wassily Kandinsky
Russian Painter
Movements and Styles: Expressionism, Bauhaus, Der Blaue Reiter
Born: December 4, 1866 - Moscow, Russia
Died: December 13, 1944 - Neuilly-sur-Seine, France

"Of all the arts, abstract painting is the most difficult. It demands that you know how to draw well, that you have a heightened sensitivity for composition and for colors, and that you be a true poet. This last is essential."

Synopsis
One of the pioneers of abstract modern art, Wassily Kandinsky exploited the evocative interrelation between color and form to create an aesthetic experience that engaged the sight, sound, and emotions of the public. He believed that total abstraction offered the possibility for profound, transcendental expression and that copying from nature only interfered with this process. Highly inspired to create art that communicated a universal sense of spirituality, he innovated a pictorial language that only loosely related to the outside world, but expressed volumes about the artist's inner experience. His visual vocabulary developed through three phases, shifting from his early, representational canvases and their divine symbolism to his rapturous and operatic compositions, to his late, geometric and biomorphic flat planes of color. Kandinsky's art and ideas inspired many generations of artists, from his students at the Bauhaus to the Abstract Expressionists after World War II.
Key Ideas
Painting was, above all, deeply spiritual for Kandinsky. He sought to convey profound spirituality and the depth of human emotion through a universal visual language of abstract forms and colors that transcended cultural and physical boundaries.
Kandinsky viewed non-objective, abstract art as the ideal visual mode to express the "inner necessity" of the artist and to convey universal human emotions and ideas. He viewed himself as a prophet whose mission was to share this ideal with the world for the betterment of society.
Kandinsky viewed music as the most transcendent form of non-objective art - musicians could evoke images in listeners' minds merely with sounds. He strove to produce similarly object-free, spiritually rich paintings that alluded to sounds and emotions through a unity of sensation.
Biography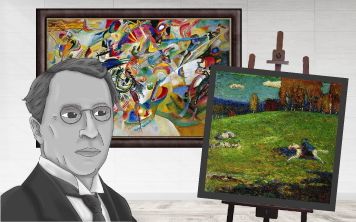 Childhood
Wassily (Vasily) Wassilyevich Kandinsky was born in 1866 in Moscow to well educated, upper-class parents of mixed ethnic origins. His father was born close to Mongolia, while his mother was a Muscovite, and his grandmother was from the German-speaking Baltic. The bulk of Kandinsky's childhood was spent in Odessa, a thriving, cosmopolitan city populated by Western Europeans, Mediterraneans, and a variety of other ethnic groups. At an early age, Kandinsky exhibited an extraordinary sensitivity toward the stimuli of sounds, words, and colors. His father encouraged his unique and precocious gift for the arts and enrolled him in private drawing classes, as well as piano and cello lessons. Despite early exposure to the arts, Kandinsky did not turn to painting until he reached the age of 30. Instead, he entered the University of Moscow in 1886 to study law, ethnography, and economics. In spite of the legal focus of his academic pursuits, Kandinsky's interest in color symbolism and its effect on the human psyche grew throughout his time in Moscow. In particular, an ethnographic research trip in 1889 to the region of Vologda, in northwest Russia, sparked an interest in folk art that Kandinsky carried with him throughout his career. After completing his degree in 1892, he started his career in law education by lecturing at the university.
- - - - - - - - - - - - - - - - - - - - - - - - - - - - - - - - - - - - - - - - - - - - - - - -
Wassily Kandinsky Biography Continues

Important Art by Wassily Kandinsky

The below artworks are the most important by Wassily Kandinsky - that both overview the major creative periods, and highlight the greatest achievements by the artist.

Der Blaue Reiter (The Blue Rider) (1903)

Artwork description & Analysis: This breakthrough work is a deceptively simple image - a lone rider racing across a landscape - yet it represented a decisive moment in Kandinsky's developing style. In this painting, he demonstrated a clear stylistic link to the work of the Impressionists, like Claude Monet, particularly evident in the contrasts of light and dark on the sun-dappled hillside. The ambiguity of the form of the figure on horseback rendered in a variety of colors that almost blend together foreshadow his interest in abstraction. The theme of the horse and rider reappeared in many of his later works. For Kandinsky this motif signified his resistance against conventional aesthetic values as well as the possibilities for a purer, more spiritual life through art.

Oil on canvas - Private collection

Der Blaue Berg (The Blue Mountain) (1908-09)

Artwork description & Analysis: In this work, the influence of the Fauves on Kandinsky's color palette is apparent as he distorted colors and moved away from the natural world. He presented a bright blue mountain, framed by a red and yellow tree on either side. In the foreground, riders on horseback charge through the scene. At this stage in Kandinsky's career, Saint John's Book of Revelation became a major literary source for his art, and the riders signify the four horsemen of the apocalypse. The horsemen, although an indicator of the mass destruction of the apocalypse, also represent the potential for redemption afterward.

Kandinsky's vibrant palette and expressive brushwork provide the viewer with a sense of hope rather than despair. Further, the brilliant colors and dark outlines recall his love of the Russian folk art. These influences would remain part of Kandinsky's style throughout the rest of his career, with bright colors dominating his representational and non-objective canvases. From this figurative and highly symbolic work, Kandinsky progressed further towards pure abstraction. The forms are already schematized from their observable appearance in the surrounding world in this canvas, and his abstraction only progressed as Kandinsky refined his theories about art.

Oil on canvas - The Solomon R. Guggenheim Museum of Art

Composition IV (1911)

Artwork description & Analysis: Hidden within the bright swaths of color and the clear black lines of Composition IV, Kandinsky portrayed several Cossacks with lances, as well as boats, reclining figures, and a castle on a hilltop. As with many paintings from this period, he represented the apocalyptic battle that would lead to eternal peace. The notion of battle is conveyed by the Cossacks, while the calm of the flowing forms and reclining figures on the right alludes to the peace and redemption to follow. In order to facilitate his development of a non-objective style of painting, as described in his text Concerning the Spiritual in Art (1912), Kandinsky reduced objects to pictographic symbols. Through his elimination of most references to the outside world, Kandinsky expressed his vision in a more universal manner, distilling the spiritual essence of the subject through these forms into a visual vocabulary. Many of these symbolic figures were repeated and refined in later works, becoming further and further abstracted as Kandinsky developed his mature, purely abstract style.

Oil on canvas - Kunstsammlung Nordrhein-Westfallen, Dusseldorf
More Wassily Kandinsky Artwork and Analysis:
Influences and Connections
Influences on Artist
Artists, Friends, Movements
Influenced by Artist
Artists, Friends, Movements

Interactive chart with Wassily Kandinsky's main influences, and the people and ideas that the artist influenced in turn.
View Influences Chart

Artists

| | |
| --- | --- |
| | Paul Cézanne |
| | Claude Monet |

Personal Contacts

| | |
| --- | --- |
| | Paul Klee |
| | Franz Marc |
| | Walter Gropius |
| | Arnold Schoenberg |

Movements

| | |
| --- | --- |
| | Post-Impressionism |
| | Fauvism |
| | Cubism |
| | Expressionism |

Influences on Artist

Wassily Kandinsky
Years Worked: 1900 - 1944
Influenced by Artist

Artists

| | |
| --- | --- |
| | William Baziotes |
| | Arshile Gorky |
| | Hans Hartung |
| | Hans Hofmann |

Personal Contacts

| | |
| --- | --- |
| | Solomon R. Guggenheim |
| | Alexej von Jawlensky |

Movements

| | |
| --- | --- |
| | Action Painting |
| | Color Field Painting |
| | Surrealism |
Useful Resources on Wassily Kandinsky
If you see an error or typo, please:
tell us
Cite this page

Content compiled and written by Eve Griffin
Edited and published by The Art Story Contributors
" Artist Overview and Analysis". [Internet]. . TheArtStory.org
Content compiled and written by Eve Griffin
Edited and published by The Art Story Contributors
Available from:
[Accessed ]