Artists
Pablo Picasso
For Educators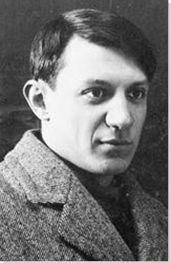 Pablo Picasso
Spanish Draftsman, Painter, Printmaker, and Sculptor
Movements and Styles: Cubism, Symbolism, Surrealism
Born: October 25, 1881 - Malaga, Spain
Died: April 8, 1973 - Mougins, France

"Art is a lie that makes us realize the truth."

Synopsis
Pablo Picasso was the most dominant and influential artist of the first half of the 20th century. Associated most of all with pioneering Cubism, alongside Georges Braque, he also invented collage and made major contributions to Symbolism and Surrealism. He saw himself above all as a painter, yet his sculpture was greatly influential, and he also explored areas as diverse as printmaking and ceramics. Finally, he was a famously charismatic personality; his many relationships with women not only filtered into his art but also may have directed its course, and his behavior has come to embody that of the bohemian modern artist in the popular imagination.
Key Ideas
It was a confluence of influences - from
Paul Cézanne
and
Henri Rousseau
, to archaic and tribal art - that encouraged Picasso to lend his figures more structure and ultimately set him on the path towards Cubism, in which he deconstructed the conventions of perspective that had dominated painting since the Renaissance. These innovations would have far-reaching consequences for practically all of modern art, revolutionizing attitudes to the depiction of form in space.
Picasso's immersion in Cubism also eventually led him to the invention of collage, in which he abandoned the idea of the picture as a window on objects in the world, and began to conceive of it merely as an arrangement of signs that used different, sometimes metaphorical means, to refer to those objects. This too would prove hugely influential for decades to come.
Picasso had an eclectic attitude to style, and although, at any one time, his work was usually characterized by a single dominant approach, he often moved interchangeably between different styles - sometimes even in the same artwork.
His encounter with Surrealism, although never transforming his work entirely, encouraged not only the soft forms and tender eroticism of portraits of his mistress Marie-Therese Walter, but also the starkly angular imagery of Guernica (1937), the century's most famous anti-war painting.
Picasso was always eager to place himself in history, and some of his greatest works, such as
Les Demoiselles d'Avignon
(1907), refer to a wealth of past precedents - even while overturning them. As he matured he became only more conscious of assuring his legacy, and his late work is characterized by a frank dialogue with Old Masters such as
Ingres
,
Velazquez
,
Goya
, and
Rembrandt
.
Biography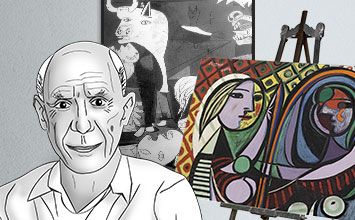 Childhood
Pablo Ruiz Picasso was born into a creative family. His father was a painter, and he quickly showed signs of following the same path: his mother claimed that his first word was "piz," a shortened version of lapiz, or pencil, and his father was his first teacher. Picasso began formally studying art at the age of 11. Several paintings from his teenage years still exist, such as First Communion (1895), which is typical in its conventional, if accomplished, academic style. His father groomed the young prodigy to be a great artist by getting Picasso the best education the family could afford and visiting Madrid to see works by Spanish old masters. And when the family moved to Barcelona so his father could take up a new post, Picasso continued his art education.
- - - - - - - - - - - - - - - - - - - - - - - - - - - - - - - - - - - - - - - - - - - - - - - -
Pablo Picasso Biography Continues

Important Art by Pablo Picasso

The below artworks are the most important by Pablo Picasso - that both overview the major creative periods, and highlight the greatest achievements by the artist.


Artwork Images

The Old Guitarist (1903)

Artwork description & Analysis: The Old Guitarist is characteristic of the somber melancholy of Picasso's Blue Period, and it was produced at the same time as a series of other pictures devoted to themes of destitution, old age, and blindness. The picture conveys something of Picasso's concern with the miserable conditions he witnessed while coming of age in Spain, and it is no doubt influenced by the religious painting he grew up with, and perhaps specifically by El Greco. But the picture is also typical of the wider Symbolist movement of the period. In later years Picasso dismissed his Blue Period works as "nothing but sentiment"; critics have often agreed with him, even though many of these pictures are iconic, and of course, unbelievably expensive.

Oil on canvas - Art Institute of Chicago


Artwork Images

Portrait of Gertrude Stein (1905)

Artwork description & Analysis: Gertrude Stein was an author, close friend, and even supporter of Picasso, and was integral to his growth as an artist. This portrait, in which Stein is wearing her favorite brown velvet coat, was made just a year before Les Demoiselles d'Avignon, and marks an important stage in his evolving style. In contrast to the flat appearance of the figures and objects in some of the Blue and Rose period works, the forms in this portrait seem almost sculpted, and indeed they were influenced by the artist's discovery of archaic Iberian sculpture. One can almost sense Picasso's increased interest in depicting a human face as a series of flat planes. Stein claimed that she sat for the artist some ninety times, and although that may be an exaggeration, Picasso certainly wrestled long and hard with painting her head. After approaching it in various ways, abandoning each attempt, one day he painted it out altogether, declaring "I can't see you any longer when I look," and soon abandoned the picture. It was only some time later, and without the model in front of him, that he completed the head.

Oil on canvas - Metropolitan Museum of Art, New York


Artwork Images

Les Demoiselles d'Avignon (1907)

Artwork description & Analysis: This painting was shocking even to Picasso's closest artist friends both for its content and its execution. The subject matter of nude women was not in itself unusual, but the fact that Picasso painted the women as prostitutes in aggressively sexual postures was novel. Picasso's studies of Iberian and tribal art is most evident in the faces of three of the women, which are rendered as mask-like, suggesting that their sexuality is not just aggressive, but also primitive. Picasso also went further with his spatial experiments by abandoning the Renaissance illusion of three-dimensionality, instead presenting a radically flattened picture plane that is broken up into geometric shards, something Picasso borrowed in part from Paul Cézanne's brushwork. For instance, the leg of the woman on the left is painted as if seen from several points of view simultaneously; it is difficult to distinguish the leg from the negative space around it making it appear as if the two are both in the foreground.

The painting was widely thought to be immoral when it was finally exhibited in public in 1916. Braque is one of the few artists who studied it intently in 1907, leading directly to his Cubist collaborations with Picasso. Because Les Demoiselles predicted some of the characteristics of Cubism, the work is considered proto or pre Cubism.

Oil on canvas - Museum of Modern Art, New York
More Pablo Picasso Artwork and Analysis:
Influences and Connections
Influences on Artist
Artists, Friends, Movements
Influenced by Artist
Artists, Friends, Movements

Interactive chart with Pablo Picasso's main influences, and the people and ideas that the artist influenced in turn.
View Influences Chart

Artists

| | |
| --- | --- |
| | Francisco Goya |
| | El Greco |
| | Paul Gauguin |
| | Paul Cézanne |
| | Henri Matisse |

Personal Contacts

| | |
| --- | --- |
| | Guillaume Apollinaire |
| | Gertrude Stein |
| | Georges Braque |
| | Daniel-Henry Kahnweiler |
| | Ambroise Vollard |

Movements

| | |
| --- | --- |
| | Impressionism |
| | Post-Impressionism |
| | Expressionism |
| | Art Nouveau |
| | African Art |

Influences on Artist

Pablo Picasso
Years Worked: 1892 - 1973
Influenced by Artist

Artists

| | |
| --- | --- |
| | Amedeo Modigliani |
| | Arshile Gorky |
| | Willem de Kooning |
| | Jasper Johns |

Personal Contacts

| | |
| --- | --- |
| | Alfred H. Barr, Jr. |
| | Clement Greenberg |
| | Meyer Schapiro |
| | Robert Rosenblum |
| | Leo Steinberg |

Movements

| | |
| --- | --- |
| | Cubism |
| | Abstract Art |
| | Surrealism |
| | Pop Art |
| | Conceptual Art |
Useful Resources on Pablo Picasso
Videos
Special Features
Books
Websites
More
Documentaries and Overviews:
More Interesting Videos with Pablo Picasso

Picasso on The Art Story:
The books and articles below constitute a bibliography of the sources used in the writing of this page. These also suggest some accessible resources for further research, especially ones that can be found and purchased via the internet.
biography
More Interesting Books about Pablo Picasso

articles and reviews
transcripts
More Interesting Resources about Pablo Picasso

If you see an error or typo, please:
tell us
Cite this page

Content compiled and written by The Art Story Contributors
Edited and published by The Art Story Contributors
" Artist Overview and Analysis". [Internet]. . TheArtStory.org
Content compiled and written by The Art Story Contributors
Edited and published by The Art Story Contributors
Available from:
[Accessed ]