Important Art Related to Museum of Modern Art
Before the Mirror (1923)
Paul Sachs, one of MoMA's first board members, gifted the nascent museum a set of prints and drawings by prominent German Expressionists, including Max Beckmann's Before the Mirror, thus seeding a permanent collection long before the museum officially had one. A nude woman sits, with her back to the viewer brushing her hair, while the mirror in front of her reflects her face back out to the viewer. The etching is simple but contains many themes and formal treatments favored by many modern artists. Sachs, in addition to being an early supporter of MoMA, was a professor at Harvard University and developed a program of museum education, training who he termed "the connoisseur-scholar." Famously, his Print Course saw students analyzing prints and drawings from his own collection.

Though MoMA would go on to amass a considerable collection of German Expressionist art, including paintings, prints, and books, Alfred Barr and others championed the French artists, particularly Picasso and Matisse, above most.
Drypoint - The Museum of Modern Art, New York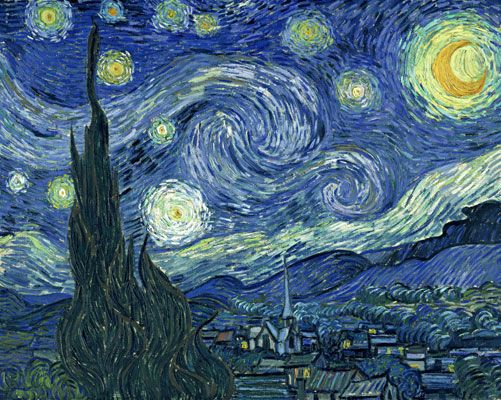 The Starry Night (1889)
MoMA purchased van Gogh's Post-Impressionist masterpiece in 1941 through the Paul Rosenberg Gallery, an important source of modern European art. With its juxtaposition of quiet order and swirling energy, The Starry Night remains to this day one of the Museum's most prized acquisitions. Of the painting, van Gogh once said, "Looking at the stars always makes me dream....Why, I ask myself, shouldn't the shining dots of the sky be as accessible as the black dots on the map of France?" The closeness and accessibility van Gogh spoke of provides a nice parallel to the closeness and accessibility for which MoMA strived. Interestingly, conservators were forced to put glass over the painting when it was discovered that viewers liked to kiss the work.

While MoMA does not have the deepest holding of van Gogh's work (they own three paintings and three prints), van Gogh has appeared in ninety-five different solo and group exhibitions over the years, and he featured prominently along side Cézanne, Gauguin, and Seurat in MoMA's first exhibition. In the story of modern art told by MoMA, van Gogh and the Post-Impressionists forever changed the trajectory of painting.
Oil on canvas - The Museum of Modern Art, New York
Girl Before a Mirror (1932)
Picasso's Girl Before a Mirror was Barr's first major acquisition for the museum, purchased in 1938 for $10,000 with the assistance of Olga Guggenheim, the wife of businessman Simon Guggenheim. In a 1974 interview, Alfred Barr's wife Marga said that Girl Before a Mirror was "the first really important picture Alfred was able to buy."

In the painting Picasso used one of his favorite subjects, his mistress Marie-Therese Walter, to achieve a strange and somewhat off-putting mixture of tranquility, sexuality and mortality. Consciously or not, Barr's first major acquisition echoed the theme and form of Beckmann's Before the Mirror, one of the first works to enter MoMA's collection.

Barr's positioning of Picasso as the greatest modern master had profound effects on the understanding of modern art for many decades. For Barr, Cubism was the great impetus that led later avant-garde artists into the realm of abstraction, which he argued in his 1936 exhibition Cubism and Abstract Art, and three years later, Barr's Picasso retrospective showcased the modern master's forty-year career, cementing his reputation. Girl Before a Mirror was part of a series of portraits that Picasso embarked upon, and Barr described them as "unlike anything he had done before in their great sweeping curves."
Oil on canvas - The Museum of Modern Art, New York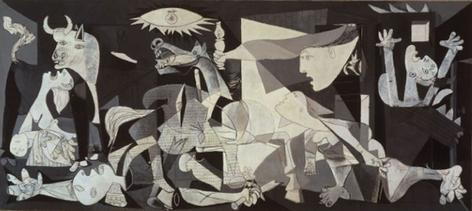 Guernica (1937)
Picasso painted Guernica shortly after German bombers destroyed the Spanish town of Guernica during the Spanish Civil War, and it pictures the brutality, atrocities, and suffering of war. The painting began touring the world and drawing global attention to the conflict in Spain. Guernica first arrived at MoMA in 1939 for Barr's Picasso retrospective and subsequently traveled throughout the U.S. for the next thirteen years. At Picasso's request, the painting's safekeeping would be entrusted to MoMA, with the stipulation that it return to his native Spain once the fascist leader Franco had been removed from power, a stipulation that was even written into Picasso's will.

In 1974, an outspoken New York art dealer, Tony Shafrazi, spray-painted the words "KILL LIES ALL" on Guernica, supposedly in protest of the Vietnam War. The paint was easily removed due to the painting's heavy varnish. While Franco died in 1975, MoMA slow-walked the return the painting, one of its most popular and only returned it 1981. The painting's current home is the Museo Nacional Centro de Arte Reina Sofía in Madrid. In 2016, MoMA's registrars found the painting's original - forgotten - stretcher in a storage area.
Oil on canvas - Museo Nacional Centro de Arte Reina Sofía, Madrid, Spain
One: Number 31, 1950 (1950)
Acquired by MoMA in 1968, this is one of three wall-sized canvases that Pollock produced, all in rapid succession, during the summer of 1950. Almost seventeen-and-a-half feet wide and almost nine-feet tall, One: Number 31, 1950 is one of the largest paintings Pollock ever made, and many consider it one of his drip masterpieces. In order to raise the funds to purchase the painting, the museum had to sell two of its Mondrian paintings. While many claim MoMA was slow to acknowledge Abstract Expressionism, it acquired an early painting by Pollock, She-Wolf (1943), the year after he painted it, and MoMA also held Pollock's retrospective, curated by Sam Hunter, a few months after Pollock died.

Barr originally wanted to buy Pollock's Autumn Rhythm, but he could not raise enough money for the asking price, $8,000, because Pollock's paintings were still controversial for the conservative acquisitions committee. After Pollock's death in 1956, Barr approached his dealer Sidney Janis to inquire again about buying it. Janis informed him that Lee Krasner, Pollock's wife and now executor, had raised the price of the painting to $30,000. Barr was furious, but the Metropolitan Museum of Art happily paid the increased price.
Oil on canvas - The Museum of Modern Art, New York
Thread (1990-95)
MoMA acquired Thread in 2001 through a gift by prominent Latin American art collector Patricia Phelps de Cisneros. A Brazilian artist, Meireles' sculpture consists of forty-eight bales of hay encircled with a gold wire, and at one end of the wire, a gold needle sticks into the cube, evoking the adage, "like finding a needle in a haystack." The work references earlier styles such as Minimalism and Process art, but more clearly moves into the realm of installation, engaging the viewers' senses.

The addition of Meireles' work is but one example of how MoMA has made an effort in more recent decades to acquire works of art by female artists, although the percentage of female artists in the collection remains abysmally low, as well as to broaden the story of modern art beyond the United States and Europe. While MoMA makes efforts to bolster their collection beyond the "Modern Masters," they still have a ways to go to make modern art more inclusive in an increasingly globalized culture.
Hay, gold needle, and gold thread - The Museum of Modern Art, New York
Similar Art