Movements, Styles, and Tendencies
Japonism
History and Concepts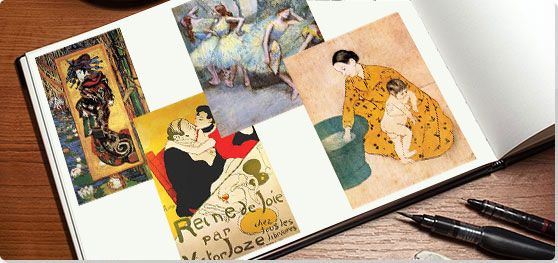 Japonism - History and Concepts
Started: 1854
Ended: 1920

Beginnings of Japonism
Precedents
Japonism built upon the Orientalist influences that were pervasive in European Neoclassical and Romantic art. The 18th-century aristocratic fashion for chinoiserie, based in imported Chinese art, merged with styles learned from French colonialist expansion in the Middle East and northern Africa. In the first half of the 19th century, artists as varied Eugène Delacroix and Jean-Auguste-Dominique Ingres turned to Orientalist subjects, developing dramatic intensely colored scenes as seen in Delacroix's Death of Sardanapalus (1827) or reconfiguring figurative work with sensual treatments such as Ingres's La Grande Odalisque (1814).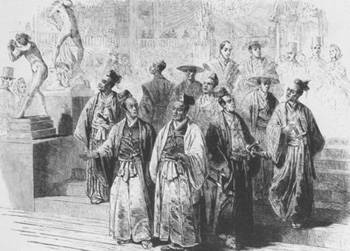 The International Exhibition of 1862 -The Japanese Embassy at the International Exhibition, from The Illustrated London News (May 24, 1862) depicts a Japanese delegation arriving at the International Exhibition.
Japan, which (with the exception of its contact with the Dutch) had been isolated since 1633, was forced to accept international trade agreements after the 1852 arrival of Commodore Matthew Perry and the United States Navy. The 1854 Convention of Kanagawa compelled international exchange and, as a result, Japanese artworks and objets d'art were extensively imported into Europe. This provided an introduction to a new history of art production, including the format of Ukiyo-e prints. Collectors rushed to acquire and exhibit Japanese objects, while the affordable price of many prints encouraged artists to collect them.
Félix Henri Bracquemond in France
The French artist Félix Henri Bracquemond was primarily known in the early 1850s for his etchings, which included landscapes, portraits, and studies of birds. He was also celebrated for his mass-produced interpretations of paintings by artists such as Gustave Moreau and Jean-Baptiste-Camille Corot, creating affordable reproductions that launched a revival of engraving and etching in France.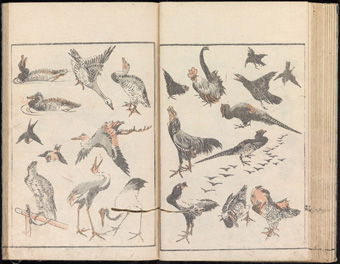 Two pages from Katsushika Hokusai's Denshin Kaisu: Hokusai Manga (Transmitting the Spirit and Revealing the Form of Things: Random Drawings of Hokusai), (1814) depict his sketches of various birds.
In the early days of trade, cheap Japanese prints were often used as an inexpensive and attractive way to wrap porcelain for shipping. Finding some such prints in his dealer's shop, where they had been included as mere packing material, in 1856, Bracquemond discovered the Hokusai Manga (1814). While today manga is used as a term for comic books, this was an album of woodblock prints by Katsushika Hokusai that depicted landscapes, birds, flowers, and everyday scenes. Bracquemond was particularly drawn to Hokusai's sketches in the style of Kachô-ga, a Japanese genre, which captured individual specimens of flowers and birds in close detail.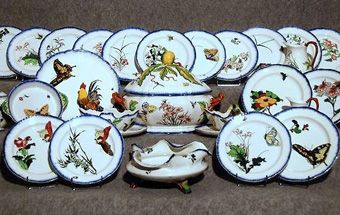 Bracquemond's Service Rousseau (c. 1867) used the asymmetrical composition and images of 200 flowers, birds, and butterflies from Hokusai.
When Bracquemond received an 1860 commission from Eugène Rousseau to create tableware, he based the designs on Japanese prints, including Hokusai's Manga, Taito's Flower and Bird Paintings (1848) and Hiroshige's Grand Series of Fishes (1830). His Service Rousseau (c. 1867) was among the first works to showcase the inspiration of Japanese art. The set was enormously popular, included in both the 1876 Paris Universal Exhibition and Philadelphia Centennial Exhibition (the same year) as an example of French porcelain. While it might seem incongruous to display work so heavily indebted to Japanese sources as an example of French art, contemporaries viewed the two traditions as totally compatible. The poet Stéphane Mallarmé specifically praised the Service Rousseau as an expression of French artistic sensibility. Thus, from the beginning, Japanese art and design was not considered to be the inclusion of foreign elements but reframed as an expression of European artistic impulses and development.
Bracquemond was equally well known for his printmaking, and most of his engravings were of animals or landscapes, like his Reed and Teals (1882). His work encouraged a number of artists, including Édouard Manet, Camille Pissarro, and Edgar Degas, to explore the artistic possibilities of printmaking. He became a founding member of the "Société du Jing-lar," a group brought together by their admiration of Japonism, which included Henri Fantin-Latour, Marc-Louis Solon, and Carolus Durgan. Bracquemond was also an influential author; his book, Du dessin and la couleur (Design and Color) (1886) was also important to the next generation of artists, including Vincent van Gogh.
Anglo-Japanese Style in Britain
Following an 1851 exhibit of Japanese art and objects in London, British artists and collectors began a fascination with what was dubbed the "Anglo-Japanese" style. Indeed, this show had such an immediate and forceful impact that the Museum of Ornamental Art (now known as the Victoria and Albert Museum) began acquiring Japanese objects in 1852, adding mostly porcelain and lacquer works to its permanent collection. In the following decade, exhibits of Japanese art occurred throughout Britain, Ireland, and Scotland, fueling this enthusiasm for the style in both the public and the artistic community.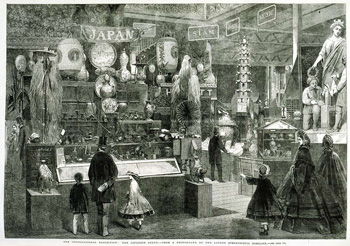 From The Illustrated London Times (20 September, 1962), this illustration, The International Exhibition of 1862 - Japanese Court shows a man with his two children looking at a display a variety of Japanese objects (in the background appears a display from Siam).
The London International Exhibition of 1862 displayed a wide selection of Japanese art alongside works by British designers, like Christopher Dresser and Edward William Godwin, that incorporated Japanese design. This aesthetic, which predominantly featured ebonized rectangular forms with little decoration, came to be known as the Anglo-Japanese style. The Aesthetic Movement developed at this same time and the two styles heavily influenced each other. For example, James McNeill Whistler Tonalist composition, Harmony in Gold and Blue: The Peacock Room, also exemplifies the Aesthetic Movement and the Anglo-Japanese style. These directions in art would also lead to the Arts and Crafts and Art Nouveau movements.
Ukiyo-e
Ukiyo-e, or "pictures of the floating world," refers to a genre of Japanese woodblock prints. These inexpensive prints were produced in variety of styles, some using only black ink, while others used layers of color or added materials like metal flakes or glue to create textured, shimmering, or lacquer-like surfaces. Considered a low form of art created for merchants and workers, ukiyo-e originated in 1670, but soon became a form of art that was known both for its appeal to the average person and its artistic quality.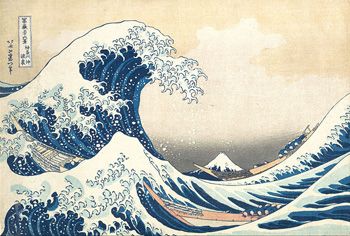 Katsushika Hokusai 's Under the Wave off Kanagawa (c. 1830-32), from the series Thirty-six Views of Mount Fuji, is world-renowned for its striking design, original perspective and delicately balanced color palette.
The work of the great masters of ukiyo-e, Kitagawa Utamaro, Utagawa Hiroshige, and Katsushika Hokusai greatly impacted European artists. Some artists, like Henri de Toulouse-Lautrec, were particularly drawn to Japanese prints depicting urban night life and its famous or notorious denizens. Utamaro, known primarily for his prints of beautiful Japanese women, influenced artists like Whistler. Others, like Edgar Degas, were more interested in composition strategies and the portrayal of figures in unconventional poses. Hiroshige's work, which focused on landscape and scenes of ordinary life (unlike the more common depictions of celebrities and scenes of what were called Tokyo's "pleasure district") influenced Impressionist and Post-Impressionist artists like Vincent van Gogh. Indeed, van Gogh made multiple copies of images from Hiroshige's One Hundred Famous Views of Edo (1856-1858). Some works became widely popular: Hokusai's The Great Wave off Kanagawa (c. 1831), an iconic work became known worldwide and remains very popular.
La Porte Chinoise
To meet consumer demand, many small stores and teashops began selling Japanese objects in the early 1860s. La Porte Chinoise became a destination and an artistic hub. Having lived in Japan, in 1863 the French merchant E. de Soye opened the shop in Paris, and it actually specialized in imports from Japan, China, and other Asian countries. French artists like Édouard Manet, James Tissot, Theodore Duret, and Henri Fantin-Latour frequented the store, as did the British artists Dante Gabriel Rossetti and Whistler. Many of the fans, screens, textiles, and porcelains that Whistler included in his paintings like Variations in Flesh Colour and Green: The Balcony (1864-1879) were purchased there. Interestingly, rivalries occasionally flared as artists competed to buy or reserve the best objects; Rossetti complained in 1864 that Tissot had purchased all the shop's kimonos.
Siegfried Bing and Art Nouveau
First introduced to Japanese prints through Bracquemond, in the 1870s, the German-French art dealer Siegfried Bing began importing Japanese objets d'art; and recognizing a demand for the style, he hired artists and designers to create similarly styled work.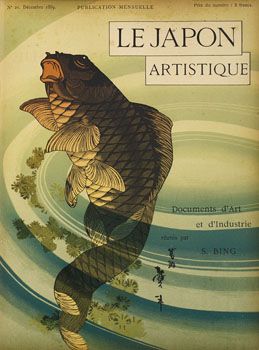 Siegfried Bing's cover for an issue of Le Japon artistique; documents d'art et d'industrie (1888-1891)
Bing launched the journal Le Japon artistique: documents d'art et d'industrie in 1888. The magazine promoted Japanese art and objets d'art to an international audience, appeared monthly in English, French, and German, until its demise in 1891. Its influence was far-reaching, impacting the late work of Pre-Raphaelite artists, Post-Impressionists (like Vincent van Gogh, who was briefly hired to promote the magazine), and the next generation of artists such as the Vienna Secessionist Gustav Klimt.
Following the collapse of the magazine, in 1895, Bing founded the Maison d l'Art Nouveau, a gallery where he sold and promoted Japanese art alongside contemporary fine art and decorative objects by Édouard Vuillard, Edward Colonna, William Benson, George de Feure, Eugène Gaillard, Henry van de Velde, and Louis Comfort Tiffany.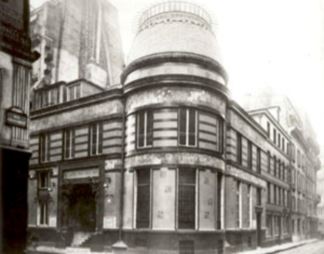 Édouard Pourchet's photograph, Hôtel Bing (1895), depicts the street view of Bing's Maison d l'Art Nouveau. Designed by the noted architect Louis Bonnier and featuring windows designed by Toulouse-Lautrec and created by Louis Comfort Tiffany, this shop gave the Art Nouveau movement its name.
Bing's influence was greatest upon the development of Art Nouveau, as his magazine, galleries, and attending exhibitions, brought together his enthusiasm for Japonism with stylistic trends that were emerging across Europe. The resulting combination came to be known as Art Nouveau, inspired (in part) by the name of Bing's gallery.
Japonism: Concepts, Styles, and Trends
Painting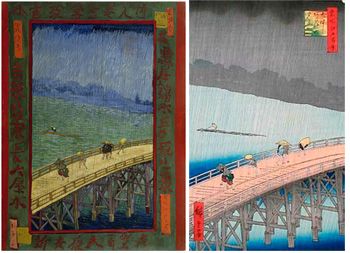 As a self-taught artist, Vincent van Gogh often copied images as a way of studying them. In his Bridge in the Rain (after Hiroshige) (1887), he heightened the color contrasts and added a fanciful painted frame but retained the composition of the original Sudden Shower over Shin-Ōhashi bridge and Atake as shown on the right.
Perhaps the most extensive and far-reaching impact of Japonism was reflected in painting. The foundations of modern art, particularly the emphasis on the flattened and decorative surface, were based on innovations found in Japanese woodblock prints. Arriving as artists sought new ways of depicting their world and a break from the Western Renaissance tradition, the Japanese aesthetic was a major impetus in the development of Impressionism, Post-Impressionism, Aestheticism, Art Nouveau, and Tonalism; it also influenced members of the Pre-Raphaelite and Nabis groups. Virtually all of the Impressionists were influenced by ukiyo-e prints, inspired by the everyday subject matter, limited palette and flat planes of color, asymmetrical composition, and unexpected points of view. Claude Monet's extensive collection of prints can be seen today at his house/museum in Giverny, France; Vincent van Gogh and Auguste Rodin also amassed large collections of prints.
Among the Post-Impressionists, van Gogh, Toulouse-Lautrec, Paul Gauguin, Georges Seurat, Camille Pissarro, and Paul Cézanne, were all influenced by the woodblock prints. Cézanne's series of paintings featuring Mont Saint-Victoire (c. 1886-88), show the mountain in the distance with trees framing it in the foreground, similar to Hokusai's Fuji Seen from the Katakura Tea Plantation in the Province of Suruga (c. 1830-31). Even Cézanne's repeated versions of this subject parallels Hokusai's repetition in Thirty-six Views of Mount Fuji. The depictions of casually posed figures common to Hokusai's images influenced the figurative work of Edgar Degas and Mary Cassatt, as well as Toulouse-Lautrec's portraits of the denizens of Paris nightlife. The flat pictorial space, use of rectilinear composition and exaggerated gestures in Seurat's Neo-Impressionist The Circus (1889) were all influenced by Japanese prints.
In England, Whistler blurred the boundaries between Tonalism, the Aesthetic and Anglo-Japanese styles, echoing prints by Hokusai in works such as Nocturne: Blue and Gold - Old Battersea Bridge (1872-1875). Edward Burne-Jones and Dante Gabriel Rossetti,part of the late Pre-Raphaelite group incorporated elements into their work, such as the flatness and tiered vertical composition of Burne-Jones's The Nativity (1887). It also influenced the Japanese-inspired aesthetic of Beardsley's block print, Peacock Skirt (1894).
Architecture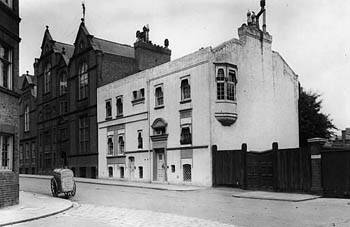 A photograph of The White House, designed by Godwin for Whistler in 1877-1878.
Japanese design influenced an international assortment of architects. In England, Edward William Godwin was a leader in developing the Anglo-Japanese style. Among the first to adopt elements of Japanese design into his Aesthetic buildings and interiors, he built The White House (1877-1878) as a private residence for Whistler. The simplified contours and rectilinear forms of Japanese prints were also important to Louis Bernard Bonnier's design for Bing's Maison d l'Art Nouveau (1895).
The Prairie School style of Frank Lloyd Wright was influenced by Japanese architecture, which he first encountered at the 1893 Columbian World Exposition in Chicago. Travelling to Japan in 1905, he collected hundreds of prints, which informed the rectangular forms and simplified elements of his designs. In his book, The Japanese Print (1912) he explained, "A Japanese artist grasps form always by reaching underneath for its geometry." He was also deeply influenced by the Japanese philosophy that a building should be open to and part of its environment. Marion Mahony Griffin, who worked with Wright for fifteen years. also incorporated Japanese elements into her later designs for the city of Canberra in Australia and, subsequently, in India.
Design
Japonism affected nearly all facets of late-19th century European design, from tableware to furniture to high fashion. Following the first, 1851 exhibit of Japanese work in London, English designers like Godwin and Christopher Dresser began incorporating Japanese design in their designs for furniture and household items. Dresser is credited for the first Anglo-Japanese piece of furniture: an ebonized chair displayed at the 1862 International Exhibition in England. Harmony in Yellow and Gold - The Cloud Cabinet (c. 1878), designed by Godwin and painted by Whistler is a notable example of the Anglo-Japanese and Aesthetic styles. James Hadley used Japanese pictorial elements in his designs for Royal Worcester Porcelain.
In Paris, textiles, furniture, tableware, and interior décor items infused with Japanese elements became ubiquitous. The fashion magazine, Journal des demoiselles promoted clothes in "the Japanese style" in 1867 and the writer Emile Zola commented that department stores in Paris were even selling Japanese-style umbrellas.
Later Developments - After Japonism
Japonism faded in the early 1900s with the arrival of avant-garde modernist abstractions, although the rise of Primitivism can be linked to its role in popularizing non-Western sources. Picasso's proto-Cubist Les Demoiselles d'Avignon (1907) or Matisse's Fauve Dance (1910), can be seen as following in the footsteps of earlier generations that had similarly turned to Japanese and Asian work. Many artists, following the example of Gauguin, turned to the artworks of what were then considered to be 'primitive' cultures, studying African masks and statues and incorporating their elements and principles into a modern idiom.
Some scholars have suggested that as the most often emulated Japanese printmaker, Hokusai could be considered an implicit "father" of modern Western art, since Tonalism, Impressionism, Post-Impressionism, Art Nouveau, and the Aesthetic movement were informed by the broad planes of color, asymmetrical compositions, rectilinear forms, unconventional poses, and everyday subjects of his prints.
Whistler's Nocturnes can be seen as the beginning of a development toward abstraction, and his Peacock Room informed the thinking of Robert Motherwell, David Smith, and later conceptual artists like Darren Waterson in the creation of an immersive space that seeks to envelope the viewer.
The Japanese-influenced architecture of Frank Lloyd Wright reconfigured architectural design, and the Anglo-Japanese style, practiced by Godwin and Dresser, prefigures the sparse geometric design of Bauhaus, De Stijl, and The International Style.
Japonism also had a noted influence upon the development of new museums and collections. It featured prominently in the expansion of the British Museum of Ornamental Art (now known as the Victoria and Albert Museum), which began adding Japanese work to its collection as early as 1852. Isabella Stewart Gardner, who was close friends with Whistler, pioneered collecting Asian art in America; her gifts to the Boston Museum of Fine Arts have created what some scholars believe to be the best collection of Japanese art outside of Japan. The Freer Gallery of Art in Washington D.C., which houses the Peacock Room of Whistler, is home to the largest research library on Asian art in the United States.
Most Important Art
Portrait of Émile Zola (1868)

What appears to be a casual portrait of the writer Émile Zola is really a carefully composed array of symbols and references. Zola is shown in Manet's studio, but the objects around him were chosen to suggest Zola's character and convey the friendship between the artist and the sitter. When Manet's Olympia had scandalized the 1865 Salon, Zola, a respected art critic, published a brochure (1866) to defend Manet's work; that essay is clearly visible on the desk. In it, Zola argued that Olympia was Manet's best work, and it was due to his ardent support that Manet offered to paint this portrait. The men are shown as comrades in the battle for modern art, hinted at by the juxtaposition of reproductions of Manet's Olympia with Utagawa Kunaiki II's print of a wrestler. Zola sits in profile, looking up from the open book with a thoughtful expression. The text is likely Charles Blanc's L'Histoire des peintres (1861), a book which Manet often consulted, further linking these two men.

Other objects in the room also point to their shared tastes and artistic influences. On the left, a Japanese screen depicting a landscape and a bird on a branch, is partially visible. Manet, however, doesn't simply import these exotic objects into the portrait, he incorporates elements of japoniste design into the composition. The lines of the gray screen and the white border of the Japanese print on the right transform the black background into a series of intersecting rectangles. This creates a flat pictorial plane that contrasts sharply with the writer's head and shoulders before merging with the almost solid form of his black jacket. This effect is strikingly similar to the figure of the wrestler in the Japanese print, who is also strongly outlined by his black long coat. Thus, the elements of Japonism are included not only to convey the shared interests of Manet and Zola, but as a means of flattening and simplifying the shapes and palette to create a new, modern style of Western portraiture.

Read More ...

Japonism Artworks in Focus:
Japonism Overview Continues Below