Artworks and Artists of Art Brut and Outsider Art
Progression of Art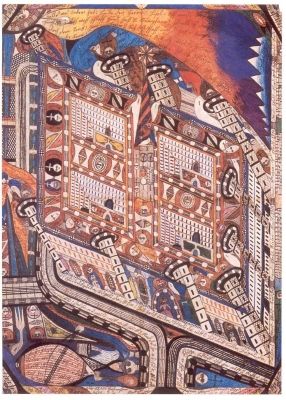 1910
Mental Asylum Band-Copse (From the Cradle to the Grave, Book 4, p. 203)
After a traumatic childhood, Adolf Wölfli was arrested in 1890 for the attempted sexual assault of two young girls and sentenced to two years in the St. Johannsen prison in Berne. In 1895 he was arrested once again for the attempted molestation of a very young girl. At this point he was committed to the Waldau Mental Asylum for evaluation, and diagnosed as schizophrenic. He would remain a "patient" there until his death in 1930. During his institutionalization, he was reportedly often violent and uncontrollable, and was frequently placed in solitary confinement.

Some years after his admission to the Asylum, in 1908, he began to draw. At first he was allowed only one pencil per week, which he always quickly wore down to a nub. However, staff soon realized that drawing and writing helped to subdue his temper, and so they provided him with more supplies. Wölfli soon began work on his 25,000-page illustrated narrative life story which, upon his death, measured six feet high when stacked up. In this work, he constructed a new history of his childhood and a described a glorious future with its own uniquely personal mythology.

The first book of Wölfli's imaginary autobiography, comprised of 3000 pages, is titled From the Cradle to the Grave (1908-1912). The image pictured here comes from this first book, in which Wölfli re-narrates his tragic childhood into a magnificent travelog, which recounts how a child named Doufi traveled "more or less around the entire world." The narrative is ornately and densely illustrated with intricate drawings of geometric shapes, fictitious maps, portraits, palaces, churches, kings, queens, animals, and speaking plants, and also incorporates text and musical notation. In the second book, titled the Geographic and Algebraic Books (1912-1917), Wölfli describes how to build in the future "Saint Adolf-Giant-Creation", a huge "capital fortune" that will allow for the purchase, renaming and urbanization of the planet, and eventually the entire universe. In this narrative, Wölfli renames himself St. Adolf II. The third and fourth books, Books with Songs and Dances (1917-1922) and Album Books with Dances and Marches (1924-1928), celebrate his "Saint Adolf-Giant-Creation" not only through drawings, but also sound poetry, songs, musical scales, and collages. Finally, from 1928 until his death in 1930, he worked on the fifth and final book, the Funeral March. In this substantial volume, totaling over 8,000 pages, he (as the website www.AdolfWoelfli.ch writes, with information collated by the Museum of Fine Art in Bern, Switzerland) "recapitulates central motifs of his world system in the reduced form of keywords and collages, weaving them into a infinite tapestry of sounds and pictures", creating "a fascinating requiem."
Pencil and colored pencil on newsprint - Prague City Gallery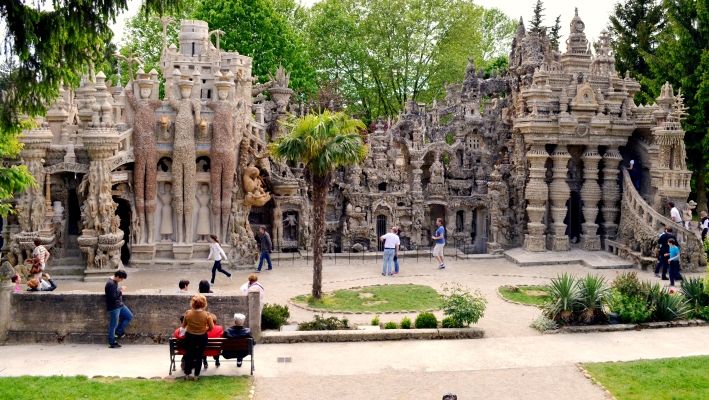 1879-1912
Le Palais Idéal (the "Ideal Palace")
This architectural project serves as an example of a "Visionary Environment", in which an Outsider Artist constructs a large-scale architectural or landscape site. Set in a lush garden, Cheval's Palais draws architectural inspiration from an eclectic variety of sources. Architectural authors Ulrich Conrad and Hans Sperlich described the Palais Idéal as "half pagoda, half robber-baron's castle, half nymphaeum, half tomb; not Baroque, not Hellenistic, not Buddhist, not Indian, and yet all of them at once." The Palais also includes grottos, waterfalls, subterranean chambers, and soaring towers. It even bears sculptural elements representing a variety of animals such as octopi, caiman, elephants, bears, and birds, as well as mythological creatures such as giants and fairies. One of the Palais walls bears the inscription "I was not a builder, I had never handled a mason's trowel, I was not a sculptor. The chisel was unknown to me; not to mention architecture, a field of which I remained totally ignorant... Everything you can see, passer-by, is the work of one peasant, who, out of a dream, created the queen of the world..."

Cheval was a French postman with little formal education who set forth on his project in April of 1879 despite having no experience in architecture or engineering. He later recounted how "I was walking very fast when my foot caught on something that sent me stumbling a few meters away, I wanted to know the cause. In a dream I had built a palace, a castle or caves, I cannot express it well... I told no one about it for fear of being ridiculed and I felt ridiculous myself. Then fifteen years later, when I had almost forgotten my dream, when I wasn't thinking of it at all, my foot reminded me of it. My foot tripped on a stone that almost made me fall. I wanted to know what it was... It was a stone of such a strange shape that I put it in my pocket to admire it at my ease. The next day, I went back to the same place. I found more stones, even more beautiful, I gathered them together on the spot and was overcome with delight... It's a sandstone shaped by water and hardened by the power of time. It becomes as hard as pebbles. It represents a sculpture so strange that it is impossible for man to imitate; it represents any kind of animal, any kind of caricature. I said to myself: since Nature is willing to do the sculpture, I will do the masonry and the architecture".

For the next thirty-three years he collected stones that he found on his daily 18-mile mail route and took them home to add to the project, often working at night with the light of an oil lamp. At first he put the stones in his pockets, but he later began using a basket and eventually a wheelbarrow. It took him twenty years just to complete the outer walls. He carried out the entire project without any assistance. Cheval wished to be buried in his Palais, but French law forbade it. He thus spent the final eight years of his life constructing his own mausoleum at the Hauterives cemetery. The mausoleum was constructed using similar materials and style to the Palais Idéal.

Toward the end of Cheval's life, artists such as André Breton, Pablo Picasso, and Max Ernst developed an interest in his Palais. Ernst even created a collage titled The Postman Cheval in 1932. In 1969, Minister of Culture, André Malraux, declared the Palais a cultural landmark and granted it official protection. In 1986 Cheval and his magical ingenuity was commemorated on a French postage stamp.
Stone, lime, mortar, cement - Hauterives, France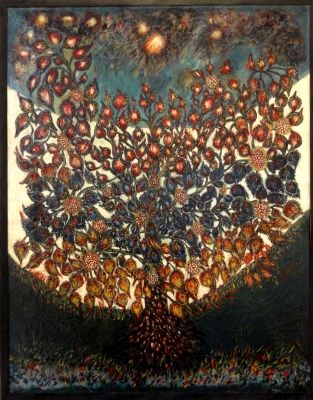 1928
The Tree of Life
Séraphine Louis, born in 1864, and also known as Séraphine de Senlis (the French town where she lived and worked) was a prolific painter of large and luscious floral arrangements. Sometimes she painted what appears to be a conventional bouquet or a typical still-life, but more often than not her images are surreal hybrids between trees and flowering bushes. Séraphine added ripe fruits to her dreamlike foliage, and created heavily patterned, sometimes even dotted leaves that begin to look more like feathers. There is no botanical accuracy to the project; it is a frenzied attempt to show something of life's beauty.

Indeed, as a visionary, Séraphine suffered from mental health instability and took solace in her religious faith saying that it was often stained glass windows that had inspired her paintings. Interestingly, although the artist used oil paints, her pictures are unusually waxy in appearance and experts cannot be sure what other ingredients she added to the mix. Her work was discovered by a German art collector called Wilhelm Uhde, who whilst visiting the small town of Senlis saw one of Séraphine's paintings hanging in his friend's home; his friend told him that the picture had been painted by his cleaner. Uhde immediately befriended Séraphine, encouraged her to work large-scale, and quickly included her work in a selection of group exhibitions. Sadly, the artist did not get a chance to experience her success as she was permanently institutionalized from 1932 onwards. In this particular asylum Séraphine had no access to art materials or any outlet for her creativity.
Oil paint and unknown added substances
1935-49
Untitled
Forestier's sculptures of beasts were likely inspired by the legend of the Beast of Gévaudan, a large man-eating wolf-dog that terrorized the former province of Gévaudan in south-central France between 1764 and 1767. Forestier's beasts are frightful, baring their real teeth. In particular, Untitled appears as if it could be a trophy head of the actual beast, with its patchy pelt of leather and furs and the large horn protruding from its snout. Forestier, like many Outsider Artists who lived in institutions, was resourceful in his use of found materials. For instance, the teeth used in this sculpture were pigs' and horses' teeth, which he scavenged from the on-site farm at the hospital to which he was committed.

Auguste Forestier was born on a farm in Southern France in 1887. He was fascinated with trains from a young age and frequently stole away on trains for long journeys, only to be returned to his family by the police. In May 1914, when he was 27, his curiosity led him to place some pebbles on train tracks, which caused the next passing train to derail. Upon his arrest, he stated simply "I wanted to see how the stones got crushed, and it didn't occur to me that I could derail the train". He was then placed in the St. Alban psychiatric hospital in Lozère, where he remained for 44 years until his death in 1958. While hospitalized, he began to draw portrait busts and medallions, and later began carving wooden toys for hospital employees' children. According to art historian Jenifer P. Borum, Forestier's work "became increasingly complex, as the artist went to greater lengths to shape and adorn his imaginary boats, winged creatures, and decorated generals with cloth, buttons, string, tape, leather, and even the bones and teeth from pigs or horses retrieved from the trash. Each one of his finished creations vibrates with a life of its own."

At the time of Forestier's incarceration, the hospital was being run by Maxime Dubuisson, a physician who took an interest in the artistic work produced by the patients and eventually put together two volumes of drawings, many of which were by Forestier. According to curator Savine Faupin, "Forestier's wanderlust was unbroken: he ran away a total of five times between 1914 and 1923, yet he gradually began substituting his real travels with other forms of departure. His drawings and sculptures took him on fictitious journeys through history [...] Because he no longer ventured outside the hospital walls, Forestier, the stationary traveler, invented imaginary means of travel. Although he never saw the sea, he devised ships and set them to sail on the roads of Lozère by selling and trading them." Similarly, psychiatrist Jean Oury, who worked at Saint-Alban from 1947 to 1949, commented about Forestier that "This transformation from a nomad into a sedentary man can only be the logical result of the transformation of a traveler into a producer. But Forestier's work will always bear traces of the ideal of the traveler."
Wood and mixed media - Collection of Art Brut, Lausanne, Switzerland
c.1940
Untitled
Scottie Wilson was born in Glasgow in 1888. He enlisted with the Scottish Rifles and fought in The Great War. Afterwards he changed his name (his given name was Louis Freeman) and emigrated to Toronto in Canada where he opened a second-hand shop. At age 44 Wilson started to doodle on his counter top with one of the used fountain pens that was for sale. He had an epiphany and said of the experience, "I'm listening to classical music one day - Mendelssohn - when all of a sudden I dipped the bulldog pen into a bottle of ink and started drawing - doodling I suppose you'd call it - on the cardboard tabletop. I don't know why. I just did. In a couple of days - I worked almost ceaselessly - the whole of the tabletop was covered with little faces and designs. The pen seemed to make me draw, and the images, the faces and designs just flowed out. I couldn't stop - I've never stopped since that day."

Wilson received recognition relatively quickly and by 1945 he had decided to return to London. During the early 1950s, Jean Dubuffet became aware of Wilson's work and the two met in Paris, along with Pablo Picasso. Both Dubuffet and Picasso loved Wilson's work and squabbled over who would buy which piece. Wilson was resolutely and unwaveringly uncommercial, for although he did show his work in London galleries, he typically sold his work to friends, acquaintances, and people on the street for a fraction of the price that the gallery suggested he asked for the pieces.

Wilson's style is typically repetitive and often symmetrical. He completed intricate scenes using hundreds and thousands of strokes and lots of cross-hatching. He had a love for fish and birds, for totem type arrangements, and for portraits, all of which often reoccurred. As in the above image, he made many mask-like images, where countless faces can be found within one larger visage. The faces unite many cultural flavors - Indian, Celtic, and North American - and sit fittingly at the time when many artists, including Picasso, were exploring the art and objects of other indigenous peoples.
Pen and Ink on paper
c.1940
Untitled
Madge Gill is a relatively new and wonderful discovery to be added to the remarkable canon of Outsider Artists. Gill was born in 1882 in East London and suffered a miserable childhood because she was illegitimate. At age 9, her mother placed her daughter in the care of St. Barnardo's orphanage because of the prejudice and stigma that she continually encountered haven given birth to a child out of wedlock. When Gill was only fourteen years old she was transported across the Atlantic on a boat bound for Canada as part of large-scale child-labor scheme. She worked as a domestic servant and lived in poor conditions, but by age eighteen had saved enough money to buy her passage back to England. Living once again in London she trained as a nurse and married her cousin, Tom Gill. The union was not a particularly happy one but the couple had four children together. Two of the children survived to adulthood, but tragically, one was lost as a baby to the influenza pandemic of 1918, and the last of the four children, and the only girl, was stillborn.

It was after the culmination of such great loss, tragedy, and hardship that Gill finally started to draw. She was 37 years old at the time and experienced starting her artistic practice as a sort of spiritual revelation. Gill had already shown interest in spiritualism and mediumistic practice, as shared by her Aunt Kate, but by 1919 this had developed into the dramatic and all embracing experience of being 'possessed' by a companion spirit guide called 'Myrninerest'. Gill experienced trace states and moments of ecstasy from this point onwards and did not stop making art, be it in the form of drawing, weaving, knitting, or writing, until her death at age 79. Her images typically depict many faces of women and one asks the question as to who are these figures? Does Gill make repeated self-portraits, or does she reveal to us the face of 'Myrninerest'? The images also contain celestial and geometric shapes likely related to Gill's love of astrology and astronomy, as well as to the spiritual predictions that she would make following the outcome of many séances held at her home.
Black Ink on card - col
1961
Totem Double Face
This sculptural painting, representing a human figure comprised of puzzle piece-like segments of bold, flat colors, stands just over six feet tall. The artist, Gaston Chaissac, serves as an example of an artist that Dubuffet originally categorized as Art Brut, due to his being an autodidact, untrained in the formal art world, but then later recategorized as a "Neuve Invention" artist, as he had greater awareness of and interaction with the mainstream art world than other artists that Dubuffet considered as more "purely" Art Brut.

Chaissac was born to shopkeeper parents and raised in Avallon, France. In the 1920s, he and his sister took drawing lessons from a woman named Mademoiselle Guignepied, who also happened to teach Jean Dubuffet (although the two would not meet for another twenty years). In the 1930s, Chaissac lived in Paris where he befriended his next-door neighbors, German abstract painters Otto Freundlich and Jeanne Kosnick-Kloss. Freundlich and Kosnick-Kloss introduced Chaissac to the Modern art of the time, and supported/promoted his painting career. Their influence can be seen in Chaissac's use of distinct segments of a single flat color, although Chaissac's paintings differ from theirs in his use of thick black outlines between colored segments. The influence of Picasso and other Cubists can also be seen in the way that Chaissac experimented with various perspectives when depicting his figures.
Oil paint on carved wooden board - Centre Georges Pompidou, Paris
1973
Personnage pour Washington Parade
This sculptural work features an abstracted human form whose body has been segmented with strong black lines. Some of the segments are white, while others have been painted solid red or blue, or striped red or blue. The work was produced by Dubuffet during his Hourloupe cycle which lasted from 1972-1974, during which he wished to give a sculptural or "architectural" dimension to his paintings.

It is evident from this, and other works, that Dubuffet drew inspiration from one of his favourite Art Brut artists, Gaston Chaissac, who created similarly segmented, colorful paintings and sculptural figures. A comparison of Dubuffet's Personnage pour Washington Parade and Chaissac's Totem Double Face (1961) show extreme similarities, and in fact, Chaissac accused Dubuffet of plagiarism. (This was not the only case in which an artist made such an accusation of Dubuffet).

It is important to note that many scholars, such as art historian Antonia Dapena-Tretter, do not consider Dubuffet to be an Art Brut or Outsider Artist (even though his work is, erroneously, most-often associated with these concepts). Although he drew inspiration from the Art Brut works that he collected, and was a strong advocate for Art Brut, his own art does not qualify as art brut as he himself defined the category. First, as he has stated, Art Brut artists "do not consider themselves to be artists and they do not designate their production as art," nor do they have any interest in exhibiting or receiving money from the sale of their artworks. However Dubuffet was very aware of himself as an artist, and worked hard to promote his work. Second, Dubuffet specified that Art Brut artists work without knowledge of the mainstream art world and do not have any formal arts education. However, Dubuffet was well-acquainted with the mainstream art world, and studied painting at the Académie Julian in Paris. Thus, by his own definition, he does not actually fit into the category.
Polyurethane paint on epoxy figure - Pace Gallery, New York
1975
Birdhouse
This birdhouse, painted with green and red plants, is a good example of a piece of folk art, an object created by an untrained working-class person with a primarily utilitarian and decorative purpose.

However, while much folk art is created by unknown makers, we do know the "artist" of this work. Howard Finster was born in 1916 in Valley Head, Alabama as one of thirteen children. When he was three years old, he had a vision of recently deceased sister Abbie Rose who told him, "Howard, you're gonna be a man of visions." He grew up on his family's farm and stopped attending school after the sixth grade. When he was thirteen, he was "born again" at a Baptist revival, and three years later he began to preach at local churches. In 1940 he became a full-time pastor at Rock Bridge Baptist Church. He also picked up work as a bricklayer, carpenter, plumber, and bicycle and lawn mower repairman in order to support his wife, Pauline, and their five children.

In 1965 he retired from preaching in order to work full-time on a visionary environment titled Paradise Garden in Pennville, Georgia, which he intended "to show all the wonderful things o' God's Creation, kinda like the Garden of Eden." In 1976 he had another vision. He recounts how "...one day I was workin' on a patch job on a bicycle, and I was rubbin' some white paint on that patch with this finger here, and I looked at the round tip o' my finger, and there was a human face on it... then a warm feelin' come over my body, and a voice spoke to me and said, 'Paint sacred art.' And I said to it, I said, 'I cain't do that. I know professionals can, but not me.' And it comes to me again and it says, 'How do you know?' I said, 'How do I know that I cain't paint.' I tuck a dollar out of my wallet, and I pasted it on a piece of plyboard and went out in front of my shop, and I started drawing George Washington off that dollar bill." Finster believed that God had asked him to create 5,000 sacred paintings, and by the time of his death in 2001, he had far exceeded this number. (A 1995 article in The New York Times noted that he was finishing up his 36,892nd piece of art.) His colorful paintings caught the attention of Athens, Georgia-based rock group R.E.M., who collaborated with Finster on the cover art for their second album Reckoning. He also participated in the 1984 Venice Biennale, as well as making appearances at folk music festivals and art schools around the United States. It is reported that he slept in his clothes and only took twenty-minute naps, in an effort to get out all his ideas.
Wood and enamel - Cavin Morris Gallery, New York
2002
Untitled
Judith Scott was an American with Down Syndrome, who was also deaf and never learned to speak. She lived in an institution from the age of 7 until 42, at which point her twin sister became her guardian. Two years later, Scott began attending the Creative Growth Art Center in Oakland, California. In the first two years of going to the center she showed almost no interest in art making. It wasn't until she attended a class by a visiting textile artist that she began to take a strong interest in artistic creation, which endured until her passing in 2005.

Scott's instinctive, meditative, and so-called "obsessive" art practice involved wrapping found objects (such as coat hangers, office supplies, shopping carts, chairs, and whatever else she could get her hands on) in colored string, yarn, and fabric strips. Scott's sculptures took weeks, even months of methodical work to complete, and once finished, the spectacular cocoon-like creations completely concealed the hidden treasures inside. Over the course of eighteen years, she created over two hundred of these Trojan Horse-like sculptures, ranging in size from miniature to monolithic. Tom di Maria, director of Creative Growth, believes she was finally "learning to speak". Her early pieces thus acted as her first words after decades of severe isolation.

Scott's sculptures act as powerful symbols of her experience. Yet they also appear to represent an effort on Scott's part to create a protective casing for items of value. In one instance, when assistants were moving her particularly large sculpture she had created, several tiny objects fell out of the work. It was then ascertained that the night before, Scott had secretly broken apart her necklace and put the beads inside her sculpture.
Twine, yarn, and found objects - The Museum of Modern Art, New York
2014
The Windmills
Gregory Blackstock creates what cultural critic and writer Maria Popova calls "astonishing visual lists," and has what Roger Cardinal refers to as "obsessive interest in inventories and taxonomies". In this example of his work, he has produced diagrammatic grayscale illustrations of eighteen types of windmill, each neatly labeled underneath.

Born in the United States in 1946, Blackstock was first diagnosed with paranoid schizophrenia, but the diagnosis was later changed to autistic savant. He obsessively reads encyclopedias, can speak a dozen languages, can play hundreds of songs on the accordion by memory, and can recall the names of nearly every one of his childhood schoolmates. Several of his drawings have been published in Blackstock's Collections: The Drawings of an Artistic Savant (2006).

His taxonomic drawings range in subject matter from types of animals, plants, industrial tools, vehicles, buildings, stringed instruments, and mariners' knots. Within each drawing, each subtype of the category being studied (for instance, various types of crows of the world, American owls, or Italian roosters) are, as Cardinal describes, "diagrammatic, each item being presented plain and simple as the variant of a general type: thus, four dozen kinds of saw are squeezed into a single page, catering to a desire for symmetry as well as completeness." Thus, although Outsider Artists tend to be associated with fantastical imagery and imaginative scenarios, we see that there are some who produce realistic representations of objects and cityscapes with an astounding level of detail and verisimilitude.
Graphite, colored pencil and permanent marker on paper
Similar Art