Progression of Art
1924
Leaving the Bank
This painting depicts a fashionably dressed matron in three quarters pose as she leaves the bank, its marble columns framing her within a context of material prosperity and institutional power. As Ellen Wiley Todd wrote, "Miller orchestrated the picture...to make her an image of classical stability and repose. Placed close to the picture plane, she dominates the scene .. .Her columnar stance - arms held close to her rounded body - partakes of the architectonic qualities of the massive supports behind her." Miller's treatment was influenced by Rubens' and Renoir's images of women bathers, but rather than the vitality of the nude, he emphasizes a contemporary sense of material prosperity and feminine propriety. The woman's fashionable clothing, her cloche hat, fur-collared coat, and white leather gloves, are essential elements of the work; as Todd noted, "Miller transformed the shopper into a goddess of commerce." The controlled brushwork further contributes to a sense of polished perfection, while at the same time the architectural columns visually evoke "the pillars of society," and the woman's gaze, not meeting the viewer's, conveys a sense of urbanity and class disdain.

Miller's innovative images of matronly shoppers had a dominant influence upon Bishop, Marsh, Laning, and the Soyer brothers and became a defining characteristic of the movement. Largely forgotten at the time of his death in 1952, Miller's work was rediscovered in the 1970s and has been featured in several contemporary exhibitions.
Oil on canvas - Virginia Museum of Fine Arts, Richmond, Virginia
c. 1930
Breezy Day on the Avenue
This work depicts two well-dressed matrons, accompanied by a young boy and a small dog, huddled together facing into a strong wind, while a man, hanging on to his hat, passes by on the left and a woman passes on the right. Though the painting is only 8 ¾ x 6 ½ inches, the figures seem statuesque and monumental. The Rubenesque figures and strong arms and legs are depicted with a three dimensionality that is emphasized by the flat background and the repeating curves of their forms and clothing. The animated movement of the wind reveals and sculpts the group, pressing the women's dresses against them and unifying the group.

Raised in Illinois, Laning later moved to New York where he studied with Sloan, Marsh, and Miller. He originally rejected Miller's artistic approach as too conservative, but after delving into the works of Peter Paul Rubens on a 1929 European trip, he studied with the artist for several years upon his return. Laning wrote of his mentor, "He had a remarkable faculty for making art the thing one lived for .. My identification with him was almost complete for a time. I guess I turned him into my father." Here, in this depiction of two older middle-class women, dressed in the flapper style of the 1920s, as they are out shopping, Laning has adopted Miller's preferred subject but added his own contribution of dramatic narrative. Laning's emphasis on the unsettling moments of ordinary life was a unique contribution to the movement. In the 1930s, he created a number of notable murals for the WPA that have become his most famous works.
Oil on canvas, 8-3/4 x 6-1/2 inches - Collection of John P. Axelrod
1931
The Fitting Room
This painting shows a women's fitting room, where a woman just right of center, her arms positioned in a classical pose, is trying on a gold dress as she is attended by an older salesclerk. To the right, three well-dressed women converse as they stand in a circle, the curving swirls of their clothing and limbs evoking Renaissance paintings of the three Graces, a configuration that Miller employed in other works as well. The woman in gold is both matronly and voluptuous, and viewers of the time would probably have recognized her pose as reminiscent of "the Jean Harlow publicity pose and its overt display of a potent and, as some contemporaries would have argued, liberated sexual self," as art historian Ellen Wiley Todd explained. The strong perspective of the gold and silver tiled floor, emphasized by the horizontal and vertical lines of the walls, evokes a classical setting thus underscoring the comparisons of the modern shoppers with ancient goddesses.
Oil and tempera on canvas, mounted on Masonite - Metropolitan Museum of Modern Art, New York
c. 1932
Dante and Virgil in Union Square
This work shows a crowd at Union Square, the equestrian statue of George Washington in the center framed by the Union Square Savings Bank and other buildings in the background. Yet what makes the painting startling is the inclusion of the 13th-century Italian poet Dante and the 1st-century BCE Roman poet Virgil in the foreground. Facing the crowd, the robed figures seem to be discussing the scene before them, and the two evoke Dante's poem the Inferno (1308-1320), an account of his journey through hell while guided by Virgil. Busy with their own affairs, a woman leading her child by the hand, pairs of women walking away from the crowd, and a number of working class men, portrayed in darker colors, facing into the Square seem completely unaware of the classical figures, who stand in the shadowed foreground of the sidewalk, as if embodying the evaluating gaze of another era.

The composition of the work, divided into three zones, both horizontally and vertically, creates a serene sense of order and reflects the influence of the Renaissance artist Pierro della Francesca. Bishop created this work for Miller's mural course, a class in which he emphasized Renaissance composition, while she also drew upon her own background. Her mother aspired to be a writer and translate Dante's Inferno. The painting's focus on women, lit up in sunlight and at the front of the crowd, emphasizes their rising ambitions and desires.

Bishop said of the work, "I don't consider Union Square the Inferno at all, but a place where one is confronted with a multitude of souls." While the neighborhood was diverse in ethnicity and class, as Todd noted, Bishop portrayed it "as a universalized community of urban dwellers...everyone has been 'Americanized.'" She also creates a sense of political and social order, as the work resembles a kind of secular triptych, the central panel dominated by the equestrian statue, where George Washington seems to direct the crowd with his outstretched arm, his figure and horse rendered in dark shadow and light, like a compelling symbol. Pairs of women in fashionable hats and clothing, symmetrically placed on both the left and the right, walk toward the viewer, whose attention is drawn to them by the verticals above them. As a result, the women themselves become a kind of implicit embodiment of another kind of social order, contrasting with the pair of classical men contemplating the scene. As art critic Jane Addams Allen wrote of Bishop, "She is brilliant at making two figures form a single unit in space, at endowing them with a reciprocal warmth that unconsciously excludes outsiders." Bishop first achieved national recognition when her Two Girls (1935) was purchased by the Metropolitan Museum of Art.
Oil on canvas - Delaware Art Museum, Wilmington, Delaware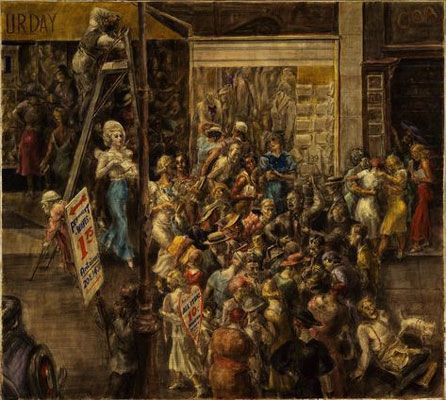 1934
In Fourteenth Street
This work, informed by Michelangelo's Last Judgment (1526-1541), shows a crowded scene, as shoppers swirl around the entrance of a store holding a sale, while hawkers in the crowd try to sell their goods. Just right of center, a hawker, declaiming as he raises his left arm, takes on a pose evoking Michelangelo's judging Christ. He is depicted in grisaille, as are the other hawkers and, contrasting with the crowd's bright colors, becomes a shadowy figure that conveys his tawdry opportunism. A legless beggar rests on the sidewalk at the lower right, his desperate expression looking out of the frame, as the crowd is oblivious to him. On the upper left, a man on a ladder works on a sign, and the grisaille treatment of his figure identifies him with the dingy storefront, a swirl of dark figures and faces filling the shadowy depths of the store. The ladder frames a tall statuesque blonde, drawing attention to her figure, and yet she, too, is framed somewhat cynically by a dwarf leaning on crutches and a sideboard announcing a bargain price for women to have permanent waves in their hair.

Born in Paris, Marsh grew up in New Jersey and New York, where he worked as an illustrator and began studying at the Arts Students League with John Sloan, George Luks, and Miller who had a noted impact on his career. As March wrote, "I can't exactly say how I came to paint New York, except that determining and articulate encouragement came from my new friend and teacher, Kenneth Hayes Miller, whose scholarly and original mind is the most valuable influence we have," though he was also influenced by his studies of the Old Masters. Combining elements of illustration with classical composition, his work was distinctive among the Fourteenth Street School for its energetic and often searing depiction of the working poor, vagrants, popular entertainments, and the rougher side of the neighborhood, including its economic inequities. Here, as art historian Ellen Wiley Todd wrote, he "transformed the district into an image of Bedlam," suggesting his "ambivalence toward an urban scene that was energetic and exciting but also cynical and chaotic."

Drawing upon the Siren, an image of a seductive but dangerous woman popularized in the late 1920s in film and advertisement, Marsh pioneered the voluptuous femme fatal as seen here, which was dubbed "the Marsh girl", as the figure both reflected and critiqued popular culture. His work influenced the Pop artist Roy Lichtenstein who studied with Marsh at the Art Students League; art historian Barbara Haskell wrote, "Decades before the Pop artists turned their attention to advertising and tabloid headlines, Marsh understood these art forms as modern-day folktales."
Egg tempera on board - Museum of Modern Art, New York
c. 1940
A Railroad Station Waiting Room
This work depicts a number of individuals waiting for their trains in the Harlem-125th Street Station in New York. In the center, a weary-looking woman in a red crocheted hat rests her head in her hand and leans forward. The newspaper under the satchel on her lap looks well-read, and she has nothing to do but wait. Soyer presents a cross-section of society - a mother holding an infant, a working class man smoking, and an African-American young man, a balding businessman, and a well-dressed woman - in the waiting room, yet the figures are solitary, "disassociated from one another even when they're painted together," as Soyer explained. The setting with its repeating patterns of horizontals and verticals and the replicating curves of the slumped backs of the figures in the first row conveys a feeling of tedium. Prominently, in the lower left, a garment and a paper bag take up an empty seat, defined by two scrolling metal armrests; perhaps they belong to the woman in the crocheted hat or perhaps they were left by someone else, but regardless, they convey a sense of time discarded, of passengers feeling forgotten in the limbo of waiting.

The Eighteenth Biennial Exhibition at the Corcoran Gallery of Art awarded Soyer's painting a medal in 1943, and it received much public attention for its identifiable experience. First Lady Eleanor Roosevelt said, "I felt as though I were passing through that waiting room, which I have done so many times, and looking at the people myself." Born in Russia to a Jewish family that emigrated due to persecution, Soyer was most influenced by George Bellows, and his humanistic depictions of ordinary activities made his work distinctive. Stating, "I choose to be a realist and a humanist in the art," Soyer remained a leading figure of representational art during subsequent decades.
Oil on canvas - Corcoran Collection, National Gallery of Art, Washington, D.C.
1941
Tidying Up
This painting depicts a young working woman as she checks her teeth and lipstick in her hand mirror while her left hand holds a white rumpled handkerchief. Depicted in tonalities of soft brown and gold with energetic brushwork, the work evokes the painterly style of Baroque masters. The grey hat with its single yellow flower, its brim partially reflecting the sunlight, shadows her brow and eyes, creating a sense of privacy. While capturing a private moment, the painting also conveys the animated energy of contemporary life, as if the woman were standing on a busy street and checking her appearance before going back to the office or department store.

Bishop's unique contribution to the Fourteenth Street School was her poignant sense of the working woman's interior life. As art critic Jane Addams Allen wrote, "No other artist has so acutely portrayed the vulnerability of single women, caught, as she put it, between the 'double purpose' of looking for husbands and earning a living." Allen continued to explain that the work expresses "a powerful longing for unrepressed vitality and a carefully preserved distance from it. It's the tension between the two that gives Bishop's art its edge." The background, depicted without any detail and echoing the colors of the woman's dress and hat, blurs with the foreground, reflecting the influence of Peter Paul Rubens, whose figures created a sense of animated and realistic movement by blending with the background. As Bishop said, "Everything I have tried to do is Baroque....The essence of the Baroque style to me is continuity, a seamless web."
Oil on Masonite - Indianapolis Museum of Art, Indianapolis, Indiana
1949
Nude Bending
This painting depicts a nude woman, seated on the edge of a bed, as she bends over, her right hand touching her left foot. Her curving form is depicted in a kind of Rembrandt-like translucent golden light and is evocative of Edgar Degas' bathing women; the work simultaneously depicts her matronly shape, the soft folds of her abdomen, the delineation of her ribs, her worn elbows and knees with great realism. Bishop's later style often blurred the line between painting and drawing, as she would draw upon the layered paint. The technique created a feeling of spontaneity, as if capturing a moment in a sketch, and blended the figure with the background to create dynamic flow and vitality in contrast to some of the earlier works that were more psychologically distant.

Bishop's nudes pioneered a new subject for the Fourteenth Street School and were among her most influential later works. According to Bishop, the Abstract Expressionist Willem de Kooning said, "That woman's nudes are the best damn nudes ever."
Oil and tempera on canvas - Private collection
Related Artists
Related Movements & Topics