Artists
Albert Pinkham Ryder
Born: March 20, 1847 - New Bedford, Massachusetts, USA
Died: March 28, 1917 - New York City, New York, USA

"What avails a storm cloud accurate in form and color if the storm is not therein?"
Summary of Albert Pinkham Ryder
Albert Pinkham Ryder was the only American painter whose work was hung in the same gallery as the honoured European masters of the modern, Cézanne, van Gogh, Gauguin, Manet, at the landmark 1913 Armory Show in New York, the exhibition that virtually defined modern in art and introduced the term avant-garde into the way we talk about art. Yet Ryder's approach to his own work was deeply personal, inventive, idiosyncratic, obsessive, and disregarding of "isms." As an intuitive extender of American Romanticism's reach, Ryder's interest in form and tone as means to evoke feelings and moods drew him towards abstract fields of dense but muted color. His paintings are always pictures of something but their abstract qualities also deeply appealed to the modernist interest in surface and the non-pictorial. For Ryder himself, the paintings of eerie light flooding scenes of other-worldly strangeness were vehicles for transporting himself and the viewer to somewhere beyond everyday rationality. Today many of Ryder's canvases and panels have deteriorated and the gradual sinking of his illuminating vision back into literal obscurity is one of the great ironies of modern art.
Key Ideas
One of Ryder's most notable artistic heirs, American abstract painter Bill Jensen, has said of his own work that it seeks to "put people in touch with areas of their psyche they're not normally aware of. ... If you can bring people in touch with that for just a second, then you have a different way of looking at the world." This perfectly captures Ryder's influence on many artists, including
Marsden Hartley
,
Georgia O'Keeffe
, and
Jackson Pollock
, who saw the importance of Ryder's different way of looking at the world and were deeply affected by it.
Ryder's characteristic method was to empty out unnecessary detail from the spaces he was painting and replace them with layers of moody light and color that tended towards abstractionism, but he never abandoned the representational. So, Ryder's paintings are always pictures of something but he showed later artists how this "something" could include the seeping of other-worldly feelings through the materiality of the visible world.
Ryder's single-mindedness, modest lifestyle, shyness, and sometimes eccentric behavior, all contributed to the myth of his being a recluse. In fact, he had a small circle of devoted friends, who loved him for his gentleness and imagination, and he valued these friendships and the correspondence in which they engaged, not least because they helped him deal with life's practicalities, in which he was temperamentally uninterested.
Ryder could not draw well, in a conventionally technical sense, and a slight impairment of his sight since a childhood illness, though its influence on his work is sometimes exaggerated, made him more interested in tonal effects than detail. His moonlit and marine subjects in particular, such as small boats being tossed at sea, benefit from the resulting evocation of atmosphere.
Ryder's other-worldliness, which was a personal characteristic as well as a feature of his art, was not that of a mystic. Instead, Ryder believed that painting in its material effects could create deep experiences of contemplation, imaginative arousal, and absorption. This belief is detectable in the work of later artists such as Mark Rothko and Agnes Martin, on whom Ryder was not a direct influence but whose work inherited an American painterly interest in sublime surfaces to which Ryder undoubtedly contributed.
Though not consciously an adherent to Romanticism or Tonalism, Ryder can be understood as instinctively and temperamentally drawn to their principles and was an inspiration for later Abstract Expressionists. He also had several Symbolist friends who influenced his own ideas.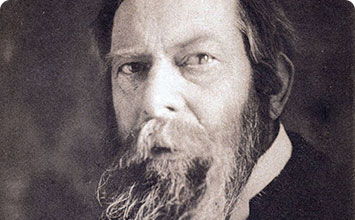 Albert Pinkham Ryder was born in 1847 in New Bedford, a growing port in Massachusetts then known for its role in the whaling industry. Both his parental ancestors were of old Cape Cod families, and it is presumed that many in the family had been sailors. Albert, the youngest of four sons, began attending a public grammar school for boys, but had to quit due to poor eyesight resulting from a vaccination that went wrong. This visual impairment was never completely healed, and Ryder may have perceived colors and depth in a slightly altered way, contributing to his distinctive style.
Important Art by Albert Pinkham Ryder

The below artworks are the most important by Albert Pinkham Ryder - that both overview the major creative periods, and highlight the greatest achievements by the artist.

The Spirit of Autumn (c. 1875)

Artwork description & Analysis: A contemporary critic remarked about Ryder's early work that a shortfall in drawing skills was made up for by the overall effect of his "masses embodying a poetic impression". The figure in this very early painting is certainly an example. Like The Spirit of Spring from the same period, a circle of illumination accompanies a serene figure by a tree, but everything is softly defined, and the overall impression is of a contemplative mood rather anything more clearly delineated. This softness in the forms was a technique Ryder derived from some of the artists associated with the Barbizon school of French painters, but he was recognized as different from early on, another critic calling his work "dream-pictures." The artist's natural world may have been around his childhood home in New Bedford, Massachusetts, but in a painting like Spirit of Autumn the natural seems to be more dream-like than real, and the overall effect is delicate, restrained, and introspective.

Ryder in his twenties and early thirties, living in New York, was a shy and likeable man with an attitude to women that an acquaintance described as "chivalrous." He would never marry, and it is tempting to see in these early paintings an other-worldliness that seems celibate in its detachment; Ryder's figures less physical bodies than presences in a landscape of imagination. Ryder's Tonalism in the making, his use of color for atmospheric effect, was less the self-conscious adoption of a style shared with others than Ryder's own very personal interest in giving his restrained palette a life of its own, beyond its purely representational capacities. His cows and sheep from this early period are pulpy material presences of color in the landscape. So too, the figure here is an assemblage of color masses on the surface of the panel. What both intrigues and presages the achievements of his later, mature work, is the intense feeling of a presence in the image.

Oil on panel - Columbus Museum of Art, Columbus, Ohio

The Toilers of the Sea (c. 1880-85)

Artwork description & Analysis: This is a relatively small painting, about a foot (or 30cm) square. The size adds to its feeling of concentrated intensity. The painting shows Ryder's characteristically sure-handed compositional skill. Although the little boat is cresting a wave, the moment feels frozen in time because the strong compositional balance holds the pictorial forms so firmly in place: the shape of the boat and sail, the strong horizon line, the placement of the moon and clouds, the contours of the waves. Painted with layers of subtle color over a monochromatic base, the painting is moodily somber. The painting that we see today, however, is darker than in Ryder's day due to some deterioration of the pigments. So as we look at it, we should imagine a little more green than dull yellowness in the olive-greens and more punch to the moonlight. Ryder, who was not quite as reclusive as some accounts suggest, often spoke admiringly to his small circle of friends about his love of Jean-Baptiste-Camille Corot's paintings, leading to Ryder being associated with Corot's Tonalism, or the use of a muted range of colors. Many American artists were exposed to this technique when they visited Europe to study painting after the Civil War, so Ryder was not alone in being attracted to it. But his palette here is much more severe than Corot's, his application of it highly personal, his vigorous brushwork coarser, and his vision distinctive.

One journalistic commentator wrote about seeing "bushy-bearded" Ryder in a New York library lugging a pile of art books off to a quiet corner, including a book about J.M.W. Turner. There are certainly parallels between Turner's approach to the sea and Ryder's in this and his other "marines". Ryder's painting could almost be a small section cut from Turner's Fishermen upon a Lee-Shore, in Squally Weather, the fishing boat rising on the wave, the luminosity in the clouds beyond. However, Turner's waves are detailed and sweep towards us in a space that has perspectival depth where Ryder's have a more stylized bulk and loom across a flatter surface. One way of thinking about this is that Turner was an obsessive observer of the actual sea in all its moods while Ryder's sea is an inner vision of tumult and the search for respite. When the painting was exhibited in New York in 1884, Ryder wrote this for the catalogue: "Neath the shifting skies, O'er the billowy foam, The hardy fisher flies to his island home."

The painting's 1915 purchase by the Metropolitan Museum of Art secured Ryder's reputation and led directly to his growing popularity, while also attracting the attention of many forgers over the years.

Oil on wood - Metropolitan Museum of Art, New York

The Forest of Arden (c. 1888-97, reworked c.1908)

Artwork description & Analysis: In a 1905 interview for a magazine, Ryder talked about an early, formative moment in the development of his technique when he had felt lost in a "maze of detail" and threw his brushes aside, squeezed big chunks of paint onto the canvas, moulded them with a palette knife, and realized that he could sculpt vigorous forms onto the surface of his paintings. This painting shows off the resulting boldness and simplicity, applied to one of the several subjects Ryder took from what we would now call "high culture," in this instance a Shakespeare play. Two small figures from As You Like It appear in the bottom left corner, like the "donor portraits" that were sometimes included in paintings of the Middle Ages and Renaissance, small renderings of patrons or other significant persons the artist wished to acknowledge. So, Ryder acknowledges here the Shakespearean characters who gave him the inspiration for his landscape but the landscape itself is all Ryder; the dark, bulky forms of trees billowing like clouds into the glow of the sky, the perspective heaping the layers of the composition onto a space that feels materially dense behind the dwarfed couple. The space is compositionally anchored around the dead tree to the left of center. Probably painted from memory after visits to Bronx Park in New York, as Ryder was not a en plein air or outdoor painter, the dead tree has much more presence in the painting than the human figures.

The two figures and a similarly placed tree feature in Shakespearean Scene: As You Like It, painted by Francis Hayman around 1750. There is no firm evidence that Ryder knew this painting, but its depiction of Celia and Rosalind is strikingly similar and the tree is compositionally placed in the same way. Ryder's dead version of the tree introduces a discordant note into a scene that might have beenlight-hearted Shakespearean wistfulness; the tree's gnarled presence, reaching into a bulbous mass of cloud, suggesting something much bigger than the young women's worldly romantic preoccupations. Where Hayman staged his version with mannered theatricality, Ryder subsumes the players' concerns into a natural world that funnels compositionally towards a luminous distant hill beyond the forest. Ryder's drama, as always, is other-worldly.

Oil on canvas - Metropolitan Museum of Art, New York
More Albert Pinkham Ryder Artwork and Analysis:
Influences and Connections
Influences on Artist
Artists, Friends, Movements
Influenced by Artist
Artists, Friends, Movements

Interactive chart with Albert Pinkham Ryder's main influences, and the people and ideas that the artist influenced in turn.
View Influences Chart

Artists

Personal Contacts

| | |
| --- | --- |
| | Julian Alden Weir |
| | Daniel Cottier |

Movements

Influences on Artist

Albert Pinkham Ryder
Years Worked: 1867 - 1910
Influenced by Artist

| | | | | |
| --- | --- | --- | --- | --- |
| Artists | | Personal Contacts | | Movements |
If you see an error or typo, please:
tell us
Cite this page

Content compiled and written by Sarah Frances Dias
Edited and revised, with Synopsis and Key Ideas added by Daniel Xavier Fleming
" Artist Overview and Analysis". [Internet]. . TheArtStory.org
Content compiled and written by Sarah Frances Dias
Edited and revised, with Synopsis and Key Ideas added by Daniel Xavier Fleming
Available from:
First published on 14 Feb 2018. Updated and modified regularly.


[Accessed ]