Progression of Art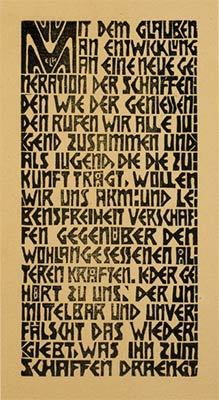 1906
Programme
The charismatic center of Die Brücke, Ernst Ludwig Kirchner composed and printed their original group statement a year after their formation, championing in it their youth and claims of authenticity. The statement, seen here, was turned into a leaflet and distributed at the group's first exhibition. Kirchner's choice of the woodcut medium indicates Die Brücke's reverence for German precedents and direct representation. Moreover, his formal style suggests Johannes Gutenberg's innovations in moveable type, with a large capital "M" serving as the first letter, leading compact lines of printed script. However, a closer look reveals the artistic, handmade nature of Programme, which is evident in Kirchner's irregular lettering. That natural, artisanal approach to art and design was a remnant of his education in the Jugendstil mode of architecture and the applied arts, which would greatly influence early Die Brücke art and philosophy.
Woodcut on paper - Museum of Modern Art, New York

1906
Poster for the first Die Brücke Exhibition
In September and October of 1906, Die Brücke mounted its first exhibition, focused on the theme of the female nude. The group held the event in the showroom of the Karl-Max Seifert lamp factory, a venue procured through one of Erich Heckel's connections from design school. In contrast to the factory polish of the chandeliers and candelabras on display, Fritz Bleyl designed an expressionistic poster for the event featuring a partially abstracted nude woman. For Die Brücke and its proponents, the figure was striking and direct, reflecting the group's attitude toward open sexuality and the natural state of nudity. Reduced formally by Bleyl's style and the printed medium to a series of curves and contours, the poster was nonetheless deemed too sexually suggestive for public view and banned under the pornography clause in Germany's national penal code.
Color lithograph - Die Brücke Museum, Berlin
1910
Self-Portrait with Monocle
Karl Schmidt-Rottluff's Self-Portrait with Monocle exemplifies the lively, enervating brushstroke common among many Die Brücke painters. Rather than representing himself in a recognizable domestic interior, Schmidt-Rottluff simplified the background in an angular composition of flat panes of vibrant color. He depicted himself in the pose and garb of a bohemian intellectual, complete with brooding visage, green turtleneck, and thoughtful gesture. With the focus placed on his eye and his painting hand, he modernized the pose of Albrecht Dürer, one of the few masters Die Brücke acknowledged, in his well-loved Self-Portrait Wearing a Coat with Fur Collar (1500).
Oil on canvas - Staatliche Museen, Berlin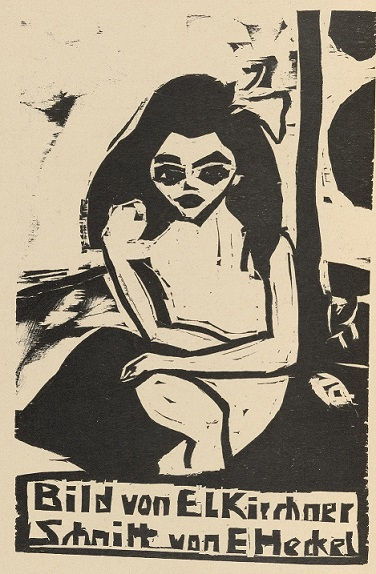 1910
Sitzender Akt (Fränzi) (Seated Nude (Fränzi))
In their studies toward a modern, expressionistic art, the Die Brücke group regularly sketched, painted, and printed images of two young neighborhood girls they used as models, one of whom, "Franzi," (Lina Franziska Fehrmann) Erich Heckel depicts here. The artists' desire for freedom of expression was mirrored in the free movement and relative lack of inhibition of their young muses. In Heckel's woodcut Seated Nude (Fränzi), Franzi's pose and slight grin indicate a lack of shame about her nakedness, while her skinny, immature body provides a visual analog for the artist's angularity and simplification of form. Rendered in stark, unmodulated white, her nudity contrasts with the red and green background tones. Heckel also continued the contour of her nose into the accentuated curves of her eyebrows, a formal convention he culled from non-Western masks he studied in Dresden's Ethnological Museum.
Woodcut - Museum of Modern Art, New York
1911
Masks
The oldest member of Die Brücke, Emil Nolde, already a seasoned painter, joined the group in 1906. The jarring tonal combinations in Masks show both his maturity as a colorist and his respect for the northern Symbolist heritage of artists like James Ensor and Edvard Munch. These artists often incorporated the mask in their art as the visual language of alienation and disconnect; in Nolde's Masks, the masks melt into and rise from the canvas, creating a grotesque, mocking chorus of faces. His inclusion of the motif was also based on his intense study of African and Pacific masks in the Ethnological Museum in Berlin, where he lived intermittently throughout his adult life. However, his representation of the masks is neither a simple copy nor a transplantation of those forms onto figures in his painting; rather, Nolde enhances the masks with his figural distortions.
Oil on canvas - Nelson-Atkins Museum of Art, Kansas City, Missouri
1911
Under the Trees (Nudes in the Open)
The artists of Die Brücke were often compared to the Fauve painters in Paris due to their bright, vivid canvases and their semi-abstract handling of the human form. And there is certainly common ground between Max Pechstein's Under the Trees (Nudes in the Open) and Henri Matisse's Joy of Life, both of which feature nude figures rendered in vibrant colors in an idyllic landscape. However, while Matisse and his cadre were still borrowing from the Classical tradition, with muses playing flutes, dancing, and making love, Pechstein depicted the landscape and events of actual trips he and his bohemian artist's group took to the country to escape from society and its strictures. Among the radical philosophies Die Brücke espoused was naturism (nudism) as a counterpoint to the industrialization of the modern city. Painted in the year the Die Brücke group moved to the Berlin metropolis, Under the Trees stands as an iconic example of that anti-urban impulse.
Oil on canvas - Detroit Institute of Art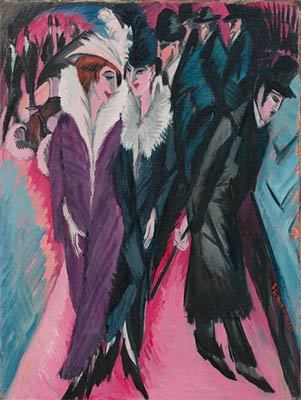 1913
Street, Berlin
Though Max Pechstein moved first, the choice to move the Die Brücke group to Berlin was made largely by Ernst Ludwig Kirchner, who saw greater artistic opportunity in the more populous cultural center. Painted shortly after the breakup of Die Brücke, however, Street, Berlin exemplifies the destabilizing effect the city had on Kirchner, who referred to the years 1911 to 1914 as "the loneliest times of my life." In the forefront are two garishly painted prostitutes who stroll down a street so drastically flattened that they appear to be sliding off the canvas. They are as much on view, for sale, and separate as the trinkets in the storefront window a man peruses on the right. Kirchner would later write that as an artist he identified with the prostitute, being constantly asked to sell himself to survive. Thus, the work can be read as an iconic self-portrait depicting both his formal innovations and the psychological motivations that produced them.
Oil on canvas - Museum of Modern Art, New York
Similar Art
Related Artists
Related Movements & Topics