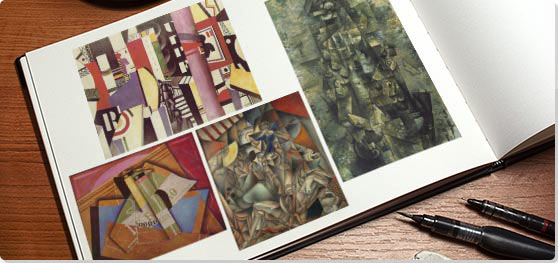 Cubism
Started: 1907
Ended: 1922

"Cubism is like standing at a certain point on a mountain and looking around. If you go higher, things will look different; if you go lower, again they will look different. It is a point of view."

Key Ideas
The artists abandoned perspective, which had been used to depict space since the Renaissance, and they also turned away from the realistic modeling of figures.
Cubists explored open form, piercing figures and objects by letting the space flow through them, blending background into foreground, and showing objects from various angles. Some historians have argued that these innovations represent a response to the changing experience of space, movement, and time in the modern world. This first phase of the movement was called Analytic Cubism.
In the second phase of Cubism, Synthetic Cubists explored the use of non-art materials as abstract signs. Their use of newspaper would lead later historians to argue that, instead of being concerned above all with form, the artists were also acutely aware of current events, particularly WWI.
Cubism paved the way for non-representational art by putting new emphasis on the unity between a depicted scene and the surface of the canvas. These experiments would be taken up by the likes of
Piet Mondrian
, who continued to explore their use of the grid, abstract system of signs, and shallow space.
Beginnings:
A watershed moment for the development of Cubism was the posthumous retrospective of Paul Cézanne's work at the Salon d'Automne in 1907. Cézanne's use of generic forms to simplify nature was incredibly influential to both Picasso and Braque. In the previous year, Picasso was also introduced to non-Western art: seeing Iberian art in Spain, and African-influenced art by Matisse, and at the Trocadero anthropological museum. What drew Picasso to these artistic traditions was their use of an abstract or simplified representation of the human body rather than the naturalistic forms of the European Renaissance tradition.
If you see an error or typo, please:
tell us
Cite this page

Content compiled and written by The Art Story Contributors
Edited and published by The Art Story Contributors
" Movement Overview and Analysis". [Internet]. . TheArtStory.org
Content compiled and written by The Art Story Contributors
Edited and published by The Art Story Contributors
Available from:
[Accessed ]