Progression of Art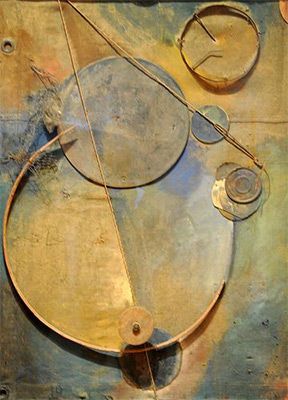 1919
Revolving
This work demonstrates a significant shift in Schwitters' early artistic practice from primarily conservative figurative painting to abstract collage. After World War I, Schwitters began to collect broken and discarded materials he found on the streets and arrange them into works of art. Born from the rubble left by the war, these works emphasize the fact that art can be made from destruction; that urban detritus could be made into something beautiful. In Revolving, found items are organized to form lines and shapes to which he adds bits of yellow and blue paint for shading. He creates a geometrically harmonious work by finding a careful balance between the physical roughness of the found materials and the smooth shapes they form. The concept that attaching small objects (not to mention - garbage) to the surface of the canvas could be considered art was radical. Yet Schwitters was convinced that the act of taking broken fragments and unifying them into a whole demonstrated art's potential to remake and reimagine a fractured world. Additionally, it enabled him to reject conventional illusionism, the rendering of objects as they appear, something he associated with trickery and even hypocrisy in light of the crumbling socio-economic situation in Germany following World War I.
Scrap wood, cord, cardboard, wool, leather and wire mesh and oil on canvas - Museum of Modern Art, New York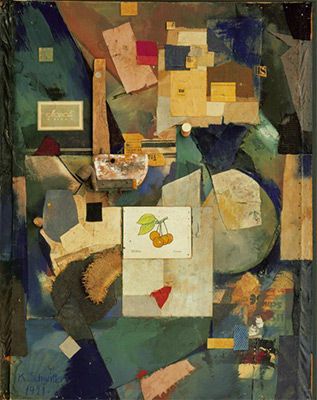 1921
Merz Picture 32 A. The Cherry Picture
In this work Schwitters continues his exploration of abstract collage, creating an intricate and complex work that incorporates many different materials and pieces. Merz Picture 32 A. The Cherry Picture is remarkable for its abstract design and its abandonment of any sense of illusionistic hierarchy. An interplay of colors (light and dark areas) as well as added materials such as wood and scraps of paper, suggest depth and there is a total abandonment of traditional one-point perspective. Especially notable is the use of elements featuring text, such as product labels and newspaper clippings. These examples of commercial culture provoked the viewer to consider the relationship between art and everyday life.

The focal point of the image is a white flashcard featuring a printed cluster of cherries and the German and French words for "cherry" upon which he has scribbled an ungrammatical phrase "Ich liebe dir!" ("I love she!"). He essentially takes a standard educational tool and destroys its utility with blatantly incorrect language. Like other Dada artists, Schwitters manipulated words and images in order to highlight the irrationality and arbitrariness of conventional systems, in this case, language.
Cut and pasted colored and printed paper, loth, wood, meal, cork, oil, pencil, and ink on paperboard - Museum of Modern Art, New York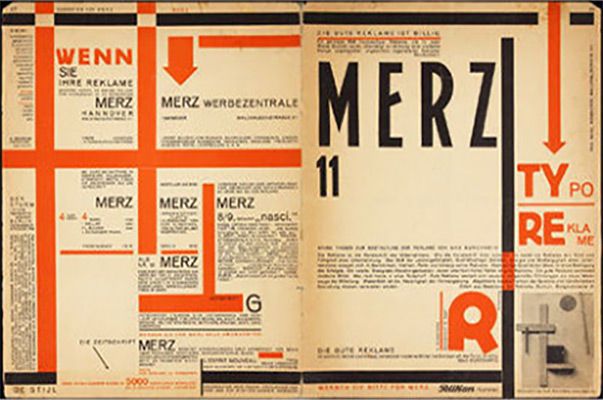 1924
Merz 11: Typoreklame
Merz 11 offers an example of Schwitters work within the print media, groundbreaking both contextually and stylistically. The content of the Merz Magazine, launched by Schwitters in 1923, was varied and eclectic, featuring a range of artistic forms, including poetry, prose, art and advertising, and representing a variety of avant-garde artistic movements including De Stijl, Constructivism, and Dada. In this way the Merz journal united different avant-garde networks while serving as a platform to promote Schwitters' own diverse work.

Formally, the journal had a very different look. With its bold red and black lines, irregularly positioned negative space, simplified sans-serif type, and asymmetrical layout, the cover of Merz 11 resembles the striking geometric style of Constructivism practiced at the Bauhaus. Noted in other books and periodicals published at the time in both Europe and Russia, this aesthetic exemplifies the most innovative, daring and up-to-date graphic design trend. Unique to Schwitters' composition, however, is the unpredictable, irregular, and lively use of space on the pages. This would have been quite startling to the contemporary viewer. The dynamic arrangement of text and the space left between on the page highlights the artist's awareness of typography's creative possibilities and his desire to elevate the status of graphic design to art.
Letterpress - Museum of Modern Art, New York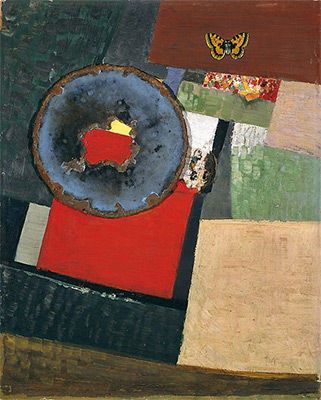 1930
Maraak, Variation I (Merzbild)
This work, featuring mono-color painted rectangles laid out side by side in a way that emphasizes the flatness of the canvas, demonstrates Schwitters' grasp of a more abstract style in the late 1920s, one indicative of his growing interest in De Stijl. It is the irregular arrangement of these shapes and the lively and expressive brushwork used to describe them that distinguishes the work from de Stijl's strictly linear and expressionless compositions. The artist's formal evolution is additionally noted in the way the artist alters his found materials, painting over their surfaces in an effort to deemphasize their origins as elements from the outside world.

To maintain some sense of a known reality, and perhaps even a sense of whimsy, he includes an easily recognizable object here: the enameled tin butterfly. There is indication that Schwitters originally intended to include other everyday objects as well (a broken piece of china and two wooden balls that would project directly into the viewer's space) in order to ground the work in the viewer's world. Maraak encapsulates Schwitters' attempt to negotiate between the viewer's world and that presented within the constrictive space of the work itself, commenting on their overlapping yet ever distinct essence.
Oil, rusted steel, laminate, enamled tin, butterfly, paper, cork, and china, mounted on board - Guggenheim, New York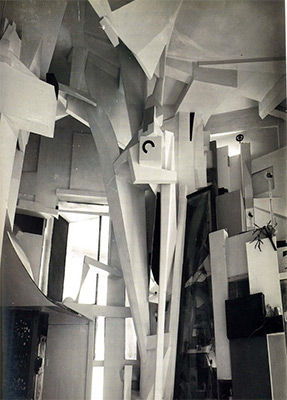 1923-37
Merzbau (Merz Construction)
Schwitters' most ambitious work is a (no longer existent) multimedia construction that he eventually named the Merzbau. This project, located in the artist's Hanover studio, began as a single "column" comprised of cardboard scraps, newspaper clippings, and varied detritus. Schwitters continued to add objects to this "column" which gradually changed and transformed Schwitters' entire living space into a series of grottoes and caves. While it is difficult to ascertain the exact appearance of what became this multi-room installation, as it was destroyed during the Second World War, written records and three photographs from 1933 document a sprawling accumulation of uncontained and varied material. Apparently other artists, including Hannah Hoch, Raoul Hausmann, and Sophie Taeuber-Arp, contributed their own artwork to the installation that, alongside Schwitters' additions, transformed the original structure into a complex and virtually inaccessible morass of material and matter.

In effect, Schwitters' Merzbau was a continually changing, immersive environment meant to be experienced by the viewer (become visitor) as she walked through it; an all-encompassing work of art that defied categorization. Schwitters' created another Merzbau in Norway immediately following the war and one last one in England shortly before he passed away. Despite the fact that no physical evidence of these projects remain, Schwitters' Merzbau continues to influence artists seeking to blur the boundaries between art and life as well as those who seek art whose definition lies in its experience.
Paint, paper, cardboard, plaster, glass, mirror, metal, wood, electric lighting, and other materials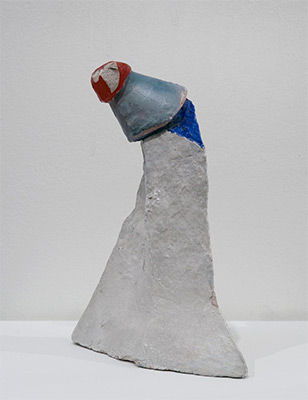 1945-47
Untitled (The Clown)
Fashioned from plaster and found objects, this diminutive assemblage is characteristic of the mixed media sculptures Schwitters produced toward the end of his life, while exiled in England. Despite its unassuming stature and materials, this sculpture embodies the enduring tenderness and whimsy unique to the artist's oeuvre. For example, he attaches a hat-shaped mass to the irregularly shaped conical mass forming the base in order to add the playful characteristic of the pointed clown's hat it comes to resemble. The manner in which the top section teeters above the bottom adds a sense of spontaneity overall, adding a note of levity to the whole ensemble. Schwitters accordingly uses limited found materials to boldly question the conventional notion of sculpture as monumental and lofty, manipulating these materials into an abstract concept that provokes with both light-heartedness and elegance.
Mixed media - Tate Modern, London
Similar Art
Related Artists
Related Movements & Topics