Artists
Eduardo Paolozzi
Biography and Legacy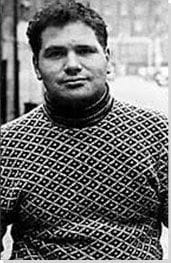 Eduardo Paolozzi - Biography and Legacy
British Collage Artist and Sculptor
Born: March 7, 1924 - Leith, Scotland
Died: April 22, 2005 - London, England

From Our Sponsor
"I suppose I am interested, above all, in investigating the golden ability of the artist to achieve a metamorphosis of quite ordinary things into something wonderful and extraordinary."

Biography of Eduardo Paolozzi
Childhood
Eduardo Paolozzi's parents immigrated to Scotland from Italy where the artist was born in Leith, an area north of Edinburgh. They owned an ice cream parlor and as a child, Paolozzi enjoyed collecting cigarette packet cards, usually featuring Hollywood stars or military vehicles such as airplanes, prompting a life-long fascination with both American culture and the relationship between people and machinery.
His father admired Mussolini and sent his son to Fascist summer camps in Italy. When Italy joined the Second World War in 1940, the British interned Paolozzi along with his male relations, marking them as enemy aliens. During the young artist's three months in prison, his father and grandfather (who had the unusual name of Michelangelo) were to be transported to Canada. On the way, a German U-Boat sunk their ship and they drowned. This resulted in Paolozzi's deep distrust of war and of the British government, which remained throughout his life.
Early Training
After he was released from internment, Paolozzi studied at the Edinburgh College of Art for a period of time before being conscripted into the army. He feigned insanity in order to be released early, and enrolled at the Slade School of Art in Oxford, where he studied for the duration of the war. While there he enjoyed drawing the anthropological collections at the Pitt-Rivers museum, demonstrating an early attraction to non-classical art forms. When the school's premises were moved back to London, he encountered the work of Pablo Picasso, which was to have a huge influence on his style. His first solo show, consisting of primitivist sculpture and Cubist-inspired collage, was held at London's Mayor Gallery in 1947; it was a great success and everything exhibited was sold.
Later that same year, Paolozzi moved to Paris, where he got to know a host of Surrealist artists who were becoming very well-known. They included Alberto Giacometti, Jean Arp, Constantin Brancusi, Georges Braque and Fernand Leger. With roots in the improvisational nature of Dada, Surrealism evolved the idea of using elements of surprise in unexpected juxtapositions and non sequitur. This was a key impressionable moment in the young artist's career and in the late 1940s he made various sculptures in the Surrealist vein that reflected his deep interest in images of modern machinery. He also made a number of collages based on appropriated images from magazines he gathered from American soldiers who were based in the area on training programs after the Second World War. These collages represented a culmination of all his prior artistic influences. They married his obsessions with American culture, Surrealism's utilization of random forms and imagery, and graphic design industry-inspired layouts into bold and visually fresh compositions, which would later mark the inception of the British Pop art movement. Although much of Paolozzi's later work exhibits evidence of the influence of this formative time, his period in Paris didn't prove as satisfactory as he had hoped and he only stayed for two years.
Mature Period
On returning to London in 1949, Paolozzi's artistic identity blossomed as he immersed himself into multiple fields reflecting his prolific and wide-ranging creative interests. A decade of devout practice and production followed, evolving a career that bridged the worlds of fine art, academia and commercial art production. He started to teach at the Central School of Art and Design and established a studio in Chelsea, sharing a space first with painter Lucian Freud and then with sculptor William Turnbull. He also got to know Francis Bacon, whom he admired for his innovative approach to painting.
In 1951 he married textile designer Freda Elliot and the couple moved to a small remote village in Essex. He established a company with his friend, the experimental photographer Nigel Henderson. The firm was called Hammer Prints Ltd and specialized in silk-screened textiles and wallpaper. The collaboration lasted for seven years and produced a successful range of design products, often inspired by the duo's artistic practices. Paolozzi was very successful by this point, and was able to rent a studio in London. He lived in the capital during the week and returned to his countryside cottage on the weekends. This rigorous schedule ended up having a detrimental effect on his marriage, leaving his wife feeling isolated and lonely. The couple's three daughters were sent away to boarding school and were rarely at home.
During the 1950s, Paolozzi created many sculptures that concentrated on an anguished human form, perhaps harkening back to the chaos of his childhood wrapped in the horrors of war. He began exploring the relationship between machine and the body in this work, often incorporating metal parts directly into the wax maquettes, which would then be cast in bronze.
A seminal moment in his career came in 1952, when he began showing his collages made earlier in Paris to his peers. One piece in particular, I Was a Rich Man's Plaything (1947) was a great inspiration to the future group of British Pop artists and was indeed the first piece that literally showcased the word "pop" in its composition. This led him to get involved with The Independent Group of burgeoning British Pop artists and in 1956 he collaborated on a section of the This is Tomorrow exhibition at the Whitechapel Gallery in London, which gave the new genre its first noted stage. It was during this time that he became friendly with other artists also making work that borrowed from popular American culture including Peter Blake and Richard Hamilton.
During the1960s, Paolozzi further evolved his endless fascination with the relationship between industry and art. He developed new ways of creating sculpture by collaborating with various engineering firms and experimenting with new materials such as aluminum. During this time, he took on a series of teaching posts around the world, including stints in Hamburg and California. He remained extremely productive, creating a huge quantity of art in a variety of media. However, toward the end of the decade his star began to wane, perhaps as a result of his constant curiosity that led him to vacillate wildly away from a singular identity in his work, making his artistic voice hard to pin down. His retrospective at the Tate Gallery in 1971 was panned by critics and through much of his career his popularity never exceeded a very general level of appreciation.
Late Period
Paolozzi's experimentations continued throughout the 1970s as he began to use wood in a number of abstract relief pieces that utilized geometric and biomorphic elements. His career received a new lease of life in 1974 when he was invited to work in Berlin and his reputation was revived in 1979 when he was invited to become a member of London's Royal Academy. In the 1980s the human head became a regular subject in his sculpture and collage, often shown mutilated or haphazardly affixed.
Paolozzi remained committed to teaching, both in Cologne and Munich, where he worked between 1981 and 1994. It was reported that during his post at the Munich Academy he would frequently sleep on a camp bed in his messy studio. He went on to make a large number of works for public bodies both in Germany and in the UK. These include several large-scale sculptures and mural mosaics for the underground station at Tottenham Court Road in London. In 1988, to Paolozzi's surprise, his wife Freda asked for a divorce, to which he agreed. The following year he was knighted by Queen Elizabeth II, becoming Sir Eduardo Paolozzi.
The Legacy of Eduardo Paolozzi
Paolozzi was particularly concerned with his reputation and how the public would go on to view him after his death. In 1994 he donated a large body of his works to the Scottish National Gallery of Modern Art in an attempt to enshrine his future reception.
Paolozzi's impression on the psyche of contemporary sculpture, particularly in its cobbling together of various industrial parts and found materials in rudimentary fashion, can be seen in many modern artists. This is evident in the compository work of Peter Voulkos, the fragmented figures of Stephen De Staebler, and many others working in the metamorphosis of rubbish or the discarded.
He will particularly be remembered for the early collage works, which were important in inspiring the British pop art movement. This would eventually spur the International Pop art movement from which superstars like Andy Warhol, Roy Lichtenstein, Jasper Johns and Robert Rauschenberg sprang.
Most Important Art
I was a rich man's plaything (1947)

This collage was made by Paolozzi as part of a series called "Bunk," composed of images from American magazines, given to Paolozzi by American ex-soldiers in Paris. A bunk can be seen to mean two things: the shell-like bed soldiers in service sleep on or a synonym for "nonsense." Both cases conjure the ideas of soldiers, stationed far from home, perusing periodicals in the privacy of their sleeping quarters at night in order to fantasize, or gaze nostalgically, about a seemingly more normal life back home, lured by the glossy pages of a magazine.

The piece includes the cover of a magazine called "Intimate Confessions," which features a voluptuous woman who, it is implied, spills her secrets inside the magazine. The inclusion of the cherry pie posits a tongue in cheek wink to the similar treatment of women and food in what was becoming new visual language in American advertising after World War II. The woman is faced with a hand holding a gun, which has fired the cartoonish word "pop!" An airplane with a propaganda-type message of jolly patriotism flies in the lower left corner alluding to the disconnect between the manipulations of mass media and the realities of day to day life, which at this time for Paolozzi were steeped in a country dealing with the more gloomy aftermaths of a difficult war.

Paolozzi was fascinated with American culture as a boy, perhaps as a way to escape a contrasting life at home, which from very early on was steeped in the notions of man being vulnerable to the workings of an overarching government. Looking toward brighter, shinier culture as a pastime was a worthy escape mechanism and this series explored this practice by compiling an image very much like the advertisements being used to sell certain ideal versions of a once removed lifestyle.

It was the first of its kind and resonated greatly within the current circle of British artists who were equally looking outward to America with its slick and robust confidence to cull their images and ideas on direct opposition to the stale tradition of art in their own country. This is considered to be the first use of the word "pop" in art of this type, and is credited for launching the Pop art movement when Paolozzi finally shared it with artists from the Independent Group in 1952. His work was original, crude and rudimentary with dog-eared and dirty cuttings on an uncleaned piece of wood. But it would become a key source of inspiration to more polished work by artists such as Richard Hamilton and Andy Warhol working in the fresh, new genre.

Read More ...

Eduardo Paolozzi Artworks in Focus:
Eduardo Paolozzi Overview Continues Below
If you see an error or typo, please:
tell us
Cite this page

Content compiled and written by Anna Souter
Edited and revised, with Synopsis and Key Ideas added by Kimberly Nichols
" Artist Overview and Analysis". [Internet]. . TheArtStory.org
Content compiled and written by Anna Souter
Edited and revised, with Synopsis and Key Ideas added by Kimberly Nichols
Available from:
First published on 01 Dec 2016. Updated and modified regularly.


[Accessed ]