Progression of Art
1961-62
Pastry Case, I
A plate of frosted cookies, two sundaes, a cake, an oversized rack of ribs, and a half-eaten caramel apple vie for our attention inside a display case. Roughly to scale, these unappetizing models of classic American diner fare reach out to us, rather like embarrassing relatives. Like portraits, but without the human figure, the magic of Oldenburg's sculpture is the expressive element he imparts to it. The most emotional (and hilarious) of the Pop artists, his brilliance is in the balance he strikes between irony and earnestness in his references to American culture.
Painted plaster, ceramic and metal - The Museum of Modern Art, New York
1962
Floor Cake
Oldenburg introduced sculpture to Pop art, beginning with a series inspired by Duchamp's "readymades" and the bluntly prosaic subjects chosen by Pop artists like Warhol and Lichtenstein. Floor Cone, Floor Burger, and Floor Cake (shown here) were among the monumental structures based on comfort food fashioned by the artist in the early 1960s. A Surrealist element arises from the dramatic shift in scale. Floor Cake, a giant squishy triangle five feet high and nine-feet long, reverses the familiar relationship between this object and the spectator (it looks like it might eat us). More so than other Pop artists, Oldenburg drew inspiration from the process that comprised the items on which his art was based. Floor Cake, for instance, was assembled in layers, as one might make a cake, its soft medium and opaque, slightly splotchy paint mimics frosting, and finally, even though this element is invisible, empty ice cream cartons and foam rubber were used for the interior filling, giving metaphorical guts to the piece.
Fabric - Museum of Modern Art
1966
Soft Toilet
By the mid-1960s, Oldenburg was leading a full-fledged rebellion against the non-figurative sculptural tradition of Abstract Expressionism. Soft Toilet belongs to a series of straightforwardly representational forms generated by the artist during this period - sandwiches, egg beaters, toasters, and other mundane household items - roughly to scale and comprised of parts that fit together, much like the actual household objects themselves, with one glaring inconsistency. Soft materials, like fabric, or in this case latex, prevent these forms from holding their shape. Soft Toilet slumps forward, as if it may spill its contents into the room. By placing a toilet on a pedestal, Soft Toilet is an obvious homage to Marcel Duchamp's Fountain (an upturned urinal presented as art in 1917). Like its infamous predecessor, it is a mundane feature of the modern home intended for private use as opposed to aesthetic contemplation. Surrealism - a persistent element in Oldenburg's compositions - persists in the faux-melting effect. While unapologetically representational, this form is powerful in presence, not merely an imitation of the thing it represents, but an independent, expressive form capable of expression, like the human body.
Latex - Whitney Museum of American Art
1969
Lipstick Ascending on Caterpillar Tracks
Unlike most of his Pop art peers, Oldenburg's work conveyed an unambiguously anti-war message at the height of U.S. military intervention in Vietnam. An alumnus of Yale, Oldenburg mobilized a group of students to assist him in creating a mixed-media anti-war monument in 1969 and initially installing it in the Beinecke Plaza on campus. In the original version, the lipstick was capped with a flimsy fabric peak that required the activation of a mechanical pump to inflate, and rose over twenty feet in the air from the plywood base, fashioned in the shape of an army tank which functioned as a speaker platform. The double reference to female excitement and male impotence was designed to call attention to the absurdity of U.S. military aggression, and served as a rallying point for the fierce, impassioned anti-war demonstrations of that year. It was removed, ostensibly for the purposes of structural maintenance, and later replaced with the painted metal version shown here, reinstalled on campus outside the Morris College building. The first public artwork installed by the artist, it worked to solidify his alignment with the peace movement, and shaped his goals for larger future commissions.
Corten steel, aluminum, cast resin, polyurethane enamel - Yale University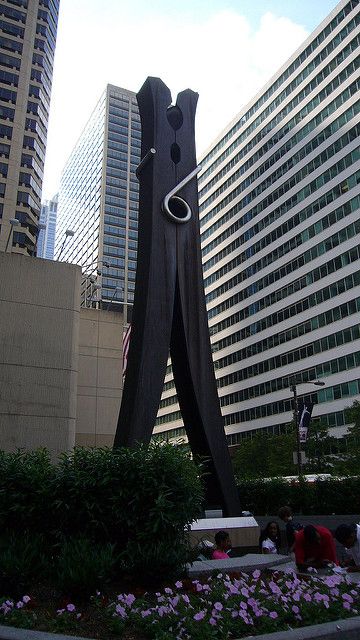 1976
Clothespin
A series of sketches of imaginary monuments and skyscrapers, completed in the 1960s, served as a blueprint for Oldenburg's signature strategy: reproducing mass-manufactured objects on a scale and in a context where one wouldn't normally find them. This 54-foot high Clothespin, erected outside the entrance to the SEPTA metro station in Philadelphia in 1976, makes people look up before they descending into the subway. Without presupposing a specific level of education or familiarity with the history of art or sculpture, Clothespin asks us to consider the manner in which small innovations in design transform the way we live. This work was based on a sketch for an imaginary skyscraper and was the artist's first public commission, built in collaboration with the Philadelphia Redevelopment Authority's "one percent for art" program (a progressive development in favor of public funding for the arts).

The sculpture itself is far from simple (Oldenburg's sculptures are never merely enlarged replicas of the things they represent). Among Oldenburg's own clever alterations to the instantly-recognizable object is the augmented angle of the bottom legs (further apart, to facilitate broader views of the sculpture from directly beneath it), and its hinge twisted to resemble a 7 and 6 (in accordance with the date of the commission, '76). Profoundly democratic in its overarching message, like the best of Oldenburg's work, Clothespin is no mere Pop witticism, but a celebration of the role of design in everyday life.
Weathering Steel - Philadelphia
1984
Stake Hitch
Having ceased locking horns with Abstract Expressionism, Oldenburg's work after 1980 grew more abstract, conceptual and site-specific. Stake Hitch, a sculpture commissioned for a large exhibition vault within The Dallas Museum of Art, highlights the manner in which Oldenburg continued to challenge the perspective of the viewer and even some of the institutions that have commissioned his work. Stake Hitch, an arrestingly powerful form that consisted of a bright red aluminum stake and illusionistic rope, transformed the viewer's experience of the soaring vault in an optical illusion - the rope appeared to anchor the ceiling to the floor. The piece also served as a counterweight to the Sol LeWitt Mural commissioned for the same space. Despite widespread acclaim for the sculpture, it was removed in 1994. The current museum director argued that it interfered directly with the display of temporary exhibitions, and no plans to reinstall it have been announced.
Stake: aluminum, steel, resin, painted with polyurethane enamel. Rope: polyurethane foam, plastic materials, fiberglass-reinforced plastic, painted with latex - Dallas Museum of Art, Dallas, TX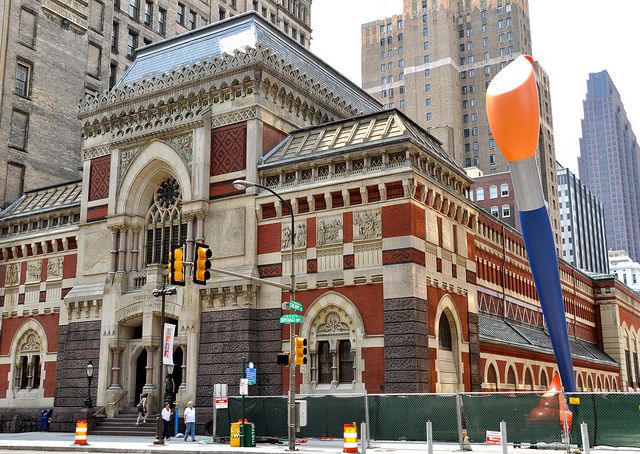 2011
Paint Torch
Paint Torch, an inverted paint brush erected outside the Pennsylvania Academy of Fine Arts in 2011, epitomizes Oldenburg's life-long approach to democratic, site-specific, accessible subject matter multi-layered in its symbolism. The orange blob on the plaza pavement below the 50-foot-high sculpture lights up, as does its orange tip, celebrating the Pennsylvania Academy of Fine Arts' steadfast commitment to defending painting as the backbone of Western tradition (despite significant challenges to painting's supremacy in the late-20th century). The paintbrush-as-torch motif evokes the most patriotic of figures, the Statue of Liberty. The diagonal tilt of the piece adds forward thrust, linking its two sections and heightening the implicit eroticism of the phallic form, injecting a note of wry, irreverent humor typical of Oldenburg's refusal to take seriously any form of authority, even (or perhaps especially) the authority of art.
Steel, fiberglass, urethane, LED lighting - Pennsylvania Academy of Fine Arts
Similar Art
Related Artists
Related Movements & Topics