Artists
Helen Lundeberg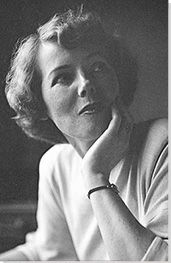 Born: June 24, 1908 - Chicago, Illinois
Died: April 19, 1999 - Los Angeles, California

"I don't like disorder, or confusion or violence. I know they exist in the world but why should I have to paint them."

Summary of Helen Lundeberg
Helen Lundeberg was a profound thinker who started to paint and as such her work presents a highly intellectual response to art. She was interested in nature, but not specifically in flowers or vegetables, in all of nature, from the smallest crustacean in the sea to the largest planet in the sky. Indeed, Lundeberg was a dynamic personality and as she sought to investigate and understand life in all aspects, great energy bursts forth from her canvases. At the same time however, she was a rigorous and careful scientist making what seems like a contradiction - to unite passion and control - in fact a very good fit.

As her career was long and spans almost an entire century, it is interesting to use as a marker for art history moving from Surrealism, to Post-Surrealism and then on to abstraction. Indeed, Lundeberg seamlessly gleaned influences from the Renaissance to Early Surrealism. The artist's deeply inquisitive mind and particular interest in combining earth, sea, and sky, alongside even other worlds seems to align her work most accurately to that of the Surrealists Ithell Coloqhoun and Remedios Varo. All of these artists wanted to constantly learn, to measure, to dissect and to join up all of the dots; a process that ideally moves towards illumination and enlightenment. It seems, in her late works - full of simple forms, soft color, and originary central energy - that Lundeberg got pretty close.
Key Ideas
Lundeberg was an intellectual as well as an artist. This combination resulted in her integral role in the establishment of two relatively influential new art movements. The first movement was initially called 'Subjective Classicism' - combining interests in both emotion and technique - but the title later changed to 'Post-Surrealism' and along with Lorser Feitelson, Lundeberg wrote the manifesto. The second movement was called 'Hard-edge Painting', a new form of abstraction, and once again the couple were at the center of its development.
As 'artists in love', Lundeberg's relationship with her husband, Feitelson, was both romantic and professional. Like
Dorothea Tanning
and
Georgia O'Keefe
, supported by
Max Ernst
and
Alfred Stieglitz
in turn, Lundeberg received extended support from her artistic spouse. Interestingly, all three of these women remained childless and all three effectively create highly reflective visual spaces that provide means to address and unravel complex feelings implied by the state of childlessness.
There is a sense that Lundeberg's influence base creates a harmonious marriage between Europe and The United States. Struck by the themes, motifs, and techniques of the early European Surrealists,
René Magritte
and
Giorgio de Chirico
, she also had a love of the American desert landscape and the same intense curiosity as
Straight Photographers
, particularly
Edward Weston
. Lundeberg paradoxically established an American Surrealist identity, whilst revealing that the most important motifs in art recur irreverent of time and place.
Lundeberg's love of planets and the cosmos reveals that her career is one of a relentless quest for knowledge, even beyond our own earth. There is a strong parallel between Luneberg's later depictions of planets and the paintings of such similar globular and otherworldly spheres, also incased within a black ground, created by Yayoi Kusama in the 1950s, and by Ithell Colquhoun, slightly later, in the 1970s.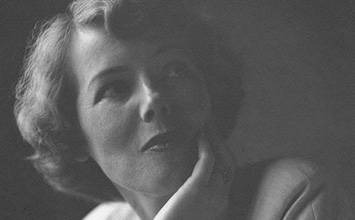 While born in Chicago, Helen Lundeberg spent almost her entire life in California having initially moved to the city of Pasadena at the age of four to accommodate her father's job at a stock brokerage and real estate firm. Some of her fondest childhood memories were of car trips with her parents and younger sister; she would enjoy looking out of the window at the Californian landscape which would, years later, provide inspiration for some of her paintings.
Important Art by Helen Lundeberg

The below artworks are the most important by Helen Lundeberg - that both overview the major creative periods, and highlight the greatest achievements by the artist.


Artwork Images

The Red Planet (1934)

Artwork description & Analysis: An interior domestic scene, Lundeberg's painting The Red Planet features a small round window on which rests a small red coin. Equally though, the window looks like a table and the 'coin' appears to be a floating sphere. Behind the window/table is an open door with gold doorknob, or another otherworldly globe. On the left side of the canvas on the floor next to the table is an image of the night sky propped up against a stack of books. Amazingly, it is as though pieces of the sky have been brought inside the room and have then been both implausibly and magically framed for our contemplation.

One of Lundeberg's early Surrealist works, this painting shows the influence of Salvador Dalí in that here, like in many of his works, she has employed the use of double images. The work too recalls early drawings by Max Ernst who enjoyed designing magical apparatus, and looks forward to the celestial paintings of Remedios Varo. What seem at first to be a coin and doorknob could instead or also be viewed as planets. According to art curator Ilene Susan Fort, these objects "...appear to float as orbs. Echoing the idea of Mars, nicknamed the red planet, the objects refer to the title of the painting as well as to the title of the book on the floor."

The well thought out, often autobiographical elements of Lundeberg's works, helped to set her apart from many of her Surrealist contemporaries who relied more on the subconscious and random assembling of objects to render their paintings. We see here that the depiction of objects relate to science and more specifically to astronomy; a subject that Lundeberg explored extensively in college before officially deciding to become an artist. She is attracted to the same motifs as many other Surrealist artists - for example the sphere, the form that René Magritte too returned to again and again throughout his career - but has a tendency to lay out her subject matter with rigorous text book type organization.

Oil on Celotex - Private Collection


Artwork Images

Plant and Animal Analogies (1934-1935)

Artwork description & Analysis: Again here, there is not only the sense that Helen Lundeberg is depicting the intricacies of the world around her, but also that she is trying to solve a scientific and spiritual conundrum. Plant and Animal Analogies is rich in imagery including in the background, a large tree beside which stand a woman and small child. In the foreground are various objects including a knife, cherries, half a green pepper, and a dissected cross-sectional image of a brain. On the right side connected to these other images by white dashed lines is the dissected half of a female uterus. The overall message of the painting is that within the universe there is an overall sense of design, and for those who look closely enough, design features are repeated everywhere. Everything is linked. This connectivity extends beyond the natural world and into the trajectory of art history. Indeed, the specifically flesh-colored torso of a female body resting in a window structure offers visual proof that the Italian Surrealist Giorgio de Chirico was an early influence on Lundeberg. Furthermore, the message behind the work is very similar to that of Edward Weston's from his series of close-up photographed fruits and vegetables also made in the early 1930s. As in Ithell Colquhoun's early work, and for Lundeberg, the most acute observation and deepest dissection of nature results in the dissolution of opposites and a merging of all things.

The importance of this early work, according to Ilene Susan Fort is that it is, "the only painting illustrating the New (or Subjective) Classicism manifesto" co-authored by Lundeberg and Feitelson which served to introduce Post-Surrealism. Every image was thought out and intentionally depicted for the intended larger message, that of the relationship between woman and child. The connections are made bolder by the dashed lines employed to connect the objects which Fort explains, "...led the observer from one disparate object to another: for example, on the left is the brain of a three-month old human fetus that is connected to the large human uterus on the right [...] The mind of the spectator associates the brain with the pepper because of the similarity of their shapes and interiors. All the objects conceptually refer to their functions, which involve various aspects of fertilization and creation. The mother and child in the distant horizon were added later in 1935, possibly to assure the proper reading of the foreground objects cluttered on the windowsill." The pair stands as the ultimate guarantee for the continued cycle of life.

Oil on Celotex - Collection of UCI Museum and Institute of Art, Irvine, California


Artwork Images

Double Portrait of the Artist in Time (1935)

Artwork description & Analysis: In this painting, a small child holding an unopened flower sits at a desk on which rests a blank sheet of paper and a clock. A long shadow of a female figure is cast on the wall behind her partially covering a painting featuring a woman holding a red flower at a desk with a small open dish in the shape of a globe. The painting is typically interpreted - as the title also directs us- as a self-portrait of the artist through time. Given the fact that the artist's own state of never having had children, there is also a great sense of longing and loss in the reflection of an experience that will never be. Read is this way, the painting becomes uncannily connected to Dorothea Tanning's Maternity (1946), a similar scene of longing for a relationship that does not exist.

While Lundeberg often created self-portraits, this work is unique in that it offers two images of the artist. The depiction of herself as a child based on an early photograph and as an adult seen in the self-portrait painting hanging on the wall - a reproduction of the 1934 painting Artist, Flowers, and Hemispheres - is clever and intends to illustrate the journey from childhood to adult life. According to the Luce Center Label for this work in the Smithsonian American Art Museum, "the time on the clock represents the child's age of two and a quarter, and the blank paper suggests her unknown future. She holds a flower bud to emphasize her undeveloped state, whereas the adult figure holds a blooming flower to show that she has experienced sex and love. Lundeberg connected the young girl to the grown woman with a shadow to suggest that the two parts of her life are "psychologically bridged."

This work can also be interpreted as a statement about the passing away of innocence leading to the personal and artistic maturity that developed once Lundeberg had met and started a relationship with Lorser Feitelson. According to Ilene Susan Fort, "The inclusion of both the child and adult suggests Lundeberg knew about the surrealist belief in the femme-enfant, the woman-child, who through her purity and naïveté possessed a direct path to the unconscious". Through known archive photography, Lundeberg looked like a femme-enfant when Feitelson first met her. It seems that this painting, however, which is one of her largest early canvases, was the artist's declaration that she had now matured and had left that stage of her life behind.

Oil on fiberboard - Collection of Smithsonian American Art Museum, Washington, D.C.
More Helen Lundeberg Artwork and Analysis:
Influences and Connections
Influences on Artist
Artists, Friends, Movements
Influenced by Artist
Artists, Friends, Movements

Interactive chart with Helen Lundeberg's main influences, and the people and ideas that the artist influenced in turn.
View Influences Chart


Influences on Artist

Helen Lundeberg
Years Worked: 1930 - 1990
Influenced by Artist

| | | | | |
| --- | --- | --- | --- | --- |
| Artists | | Personal Contacts | | Movements |
If you see an error or typo, please:
tell us
Cite this page

Content compiled and written by Jessica DiPalma
Edited and revised, with Synopsis and Key Ideas added by Rebecca Baillie
" Artist Overview and Analysis". [Internet]. . TheArtStory.org
Content compiled and written by Jessica DiPalma
Edited and revised, with Synopsis and Key Ideas added by Rebecca Baillie
Available from:
First published on 20 Jan 2019. Updated and modified regularly.


[Accessed ]