Progression of Art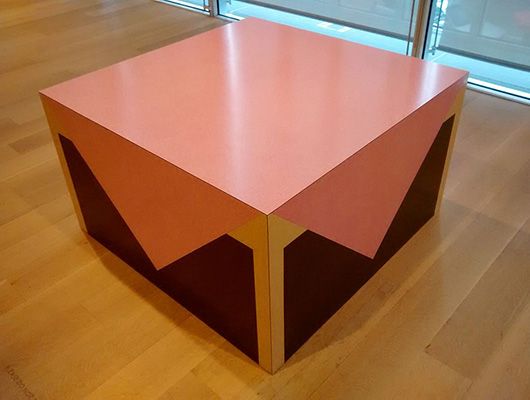 1964
Table with Pink Tablecloth
In this curious hybrid object, Artschwager creates an unusual tension between reality and abstraction. Although the title describes this work as a "table with pink tablecloth" it is too low and too solid to push a chair under. Slick panels of Formica applied to its surface suggest a speckled pink tablecloth, the woodgrain of table legs and even the dark, empty space underneath, but ultimately their synthetic veneer is a reminder that this is a flat replica of reality.

Made early in the artist's career, this work is one a of a series exploring the boundaries between real objects and their relationship to art. Artschwager described these works as "useful furniture with an overlay of representation". He was particularly interested in the way objects are represented in the pared back Cubist art of Georges Braque and Pablo Picasso, and in the minimal still life paintings of Giorgio Morandi. Like them, he was searching for ways to translate two-dimensional versions of reality into three-dimensions and even described this work as "the way a table with a tablecloth is in a painting".

Working in New York throughout the 1960s, Artschwager was keenly aware of the ideological tensions between modernist abstraction and the rising trends for Pop Art. But here he blends interests in both strands, melding playful allusions to domesticity with a pared back, slick language of Minimalism. But as artist and critic Roberta Smith points out, Artschwager deliberately defied any easy categorisation, noting "at different times, [he] identified with Pop, Minimalism, and Conceptualism, without landing squarely in any category. Part of his cachet was that no one quite knew what to do with him". This fusion of art styles was to have a profound impact on the Neo-Geo movement of the 1980s; especially so on the American painter Peter Halley.
Formica on Wood - The Art Institute of Chicago
1975
Door, Mirror, Table, Basket, Rug, Window D
Commenting on a series of drawings using oil pastel, charcoal and graphite that Artschwager produced in his later career, art critic John Yau pointed to the fact that drawing had always been central to the artist's practice and he was, in fact, "one of the few contemporary artists whose drawings constitute a distinct, self-contained body of work within his far ranging oeuvre of paintings, sculptures, and various hybrid combinations". Yau first offered the oft-quoted statement from Artschwager (made in the early 1960s): "Sculpture is for the touch, painting is for the eye. I wanted to make a sculpture for the eye and a painting for the touch". Yau asked that on having taking this statement on board, "we might inquire of the artist, what is a drawing for?".

Yau records that in the mid 1970s Artschwager abandoned his studio set up to concentrate on "the familiar and rewarding practice of drawing". It was through his drawings that he established the six principal subjects that would "become his own imaginative obsession until 1980". They were (as the title of this work confirms) Door, Mirror, Table, Basket, Rug, Window. Artschwager described the process as follows: "I flipped to a drawing of an interior, a room I had once occupied, and made a list of the six objects that were in it. I decided to take this as an instruction to make one drawing, then another, and another, and so on. The instruction endured and I 'played' those six objects like I play the piano - I guess you could say that it was some kind of fugal exercise".
Pen and black ink and graphite pencil on board, sheet (irregular) - Whitney Museum of American Art, New York
1983-84
Door
A playful balance between illusionism and artifice is created in this surreal installation. A replica of a door is installed into the gallery space, suggesting imaginative possibilities of escape. But the wood grain texture is a little too polished and exaggerated to be real, while the cheap plastic handle adds to the work's artificial quality. When installed next to an enlarged black punctuation mark (closed bracket), the flat, motif-like quality of the door is heightened further. Artschwager commented on works such as this one, "What interest me is above all the line of demarcation between ordinary things and the ones we recognise as objects of art".

Throughout the 1980s Artschwager had hit his stride as an artist, as he continued to expand upon the boundaries between reality and perception. This work is one of a series made from painted wood, which developed on from his earlier Formica furniture sculptures and explored the same interplay between ordinary objects and their representation in art. During this time, he was also branching out into Installation Art, exploring how domestic spaces could be alluded to with the arrangement of objects, and undercut with the inclusion of jarring abstract elements.

Punctuation marks - what he termed "blps" - were a prevalent feature in Artschwager's mature work, and once removed from their original function and exploded in scale they take on a whole new meaning; especially when placed alongside supposedly familiar objects. Adam Weinberg, director of the Whitney Museum notes how Artschwager's punctuation marks, "appear as humorous, sensuous forms yet mute ones, detached from the dramatic feeling or sound that they would imply in a text".
Acrylic on Wood, Glass, 2 parts, installation view at Mart Rovereto - Guggenheim, Bilbao
1987
Book
The pages of a sensuously glossy book seem to have fallen open in the centre, revealing the matt, grainy surface of the flat pages inside. Resembling an open Bible displayed on a pulpit, the book has an air of grandeur and importance. But there is no text, only a series of tooled in vertical lines and any allusion to further pages are undercut by the book's black, shiny exterior surface. A balance of opposites happens here, between realism/abstraction, two/three dimensions and matt/gloss.

Books are a recurrent motif in Artschwager's art, taking a variety of forms from the familiar (as seen here) to the oblique and abstracted in other works. He was particularly drawn to books because they straddle a role between physical object and flat pictorialism, which was an ongoing subject of fascination in much of his art. Richard Armstrong from the Whitney Museum of American Art has referred to this strand of his art as "pictorial sculpture", while curator Jean Christophe Ammann notes how Artschwager's work merges sculpture with a flattened language, creating a "transition from the third to the second dimension".

Artschwager was also attracted to books because they can conjure up associations with domestic or interior space, an ongoing theme in his art. His use of Formica here is typical of the artist's practice, and brings a playful element to the work with connotations to post Second World War interiors, creating what Frances Richard in Artforum International calls "a sleek joke on surface and function".
Formica and Wood
1988
Double Sitting
This painting illustrates a strange and unsettling interior space that doesn't quite make sense. A Formica-panelled floor unites two walls leading off in separate directions. Strange chair-like forms project out from each wall, creating illusionistic space and suggesting a trace of figurative presence, while their outlines are reflected in the floor below. On closer inspection, the elongated perspective of the floor and oddly mirrored walls lends the work an uneasy and uncanny quality, recalling, perhaps, the distorted Surrealism of Dorothea Tanning.

Although primarily known as a sculptor, Artschwager made paintings throughout his career, exploring the same curious combinations of pictorialism, surrealism and abstraction as seen in his sculptures. He enjoyed upending the conventions of both mediums, making sculpture appear clean and flat, and painting textural and sculptural. He used real Formica here to create the effect of floor panels, but unlike his sculptures, where Formica creates an artificial effect, in this painting it takes on an almost photographic realism.

Artschwager's paintings and sculptures of this period shared the same playful repetition of motifs associated with domesticity, including chairs, tables, doors, books and pianos, rendering these once familiar items a strange, and even menacing quality that draws out undercurrents of discomfort about suburban life. Writer Alex Kitnick points out how radical and influential this strangely uneasy sense of malaise has become on the shape of Postmodern and contemporary art practices: "Artschwager's 'tasteful' vernacular still sticks out like a sore thumb, reminding us of his talent for bringing to the surface everything that lurks beneath".
Synthetic Polymer Paint on Board and Paint on Formica - Museum of Modern Art, New York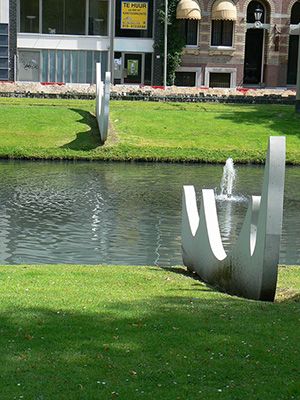 1988
Untitled
Artschwager originally made this public art installation for the exhibition Beelden in de Stad (Sculptures in the City) in Rotterdam in 1988. Two white, concrete forms were placed facing one another on the sloped banks of Rotterdam's canal, rising from the ground with organic, wave-like forms. One of his most abstract sculptures, there is no direct association to reality in this artwork, an ambiguity reinforced by its lack of title. Instead, Artschwager has likened the curling, flickering forms with each season: flower (spring), flame (summer), fence (autumn) and ice (winter).

At surface level this makes the work seem somewhat conventional in comparison with Artschwager's earlier works, but this quality is entirely deliberate, parodying the supposedly profound meaning artists so often attach to abstract public art. This attitude reveals his disdainful attitude towards inert public art projects that fail to engage with the public, lending his work a cheeky, subversive quality. Since his work was never really intended to be a popular project, it is perhaps ironic that it is such a well-known and celebrated talking point in Rotterdam. It even has its own nickname amongst locals who know it as "De Watertanden" (The Water Teeth).
Concrete - Rotterdam
1994
Untitled
Rough planks of natural, untreated pinewood are bolted together to form an enclosed wooden box resembling a packing crate. But when seen from above, the entire construction is made into the shape of a Biblical cross. This religious reference transforms a seemingly ordinary object into something new, injecting into it an air of tragedy. This work is one of a series of constructions made since the 1990s which resemble packing crates shaped into a range of geometric forms, some stacked on top of one another or arranged into groups, others attached to the wall. As is typical of Artschwager's practice, there is an air of ambiguity about this work. He deliberately toys with our desire to work out what is inside this container, or what it might be designed to hold, frustrating the viewing experience by insisting the packing itself is the final work.

When seen in a gallery context, the object seems as if it could be made to hold a particular work of art, ready to be unpacked, and this quality lends the gallery space around it an incomplete, makeshift quality. This ability for objects to transform the space around them was an ongoing subject of fascination for Artschwager in the latter part of his career, and one that would have long lasting repercussions in the contemporary art world. In particular his influence can be seen in the architecturally aware art of Dan Graham and Nathan Coley.
Wood, Bolts
2010
Exclamation Point
A huge, Day-Glo exclamation mark punctuates the space around it, expanding outwards into three-dimensional space like a burst of life. Orange plastic bristles turn this recognised symbol of expression into a grossly exaggerated caricature of itself, suspended mid-air with a whimsical playfulness. Removed from all textual context, the symbol becomes uprooted and appropriated, taking on a strange new meaning.

This work is one of a long-running series by Artschwager in which exclamation points and other forms of punctuation are transformed into three-dimensional objects in a variety of textural materials, from fuzzy or fluffy to rubbery and solid. Removed from their usual linguistic context, some of these codes still carry with them the same resonant emotional impact, while others become ludicrous and ridiculous. Transformed into solid forms, Artschwager observes how they can subvert and change the gallery space around them, echoing themes explored in his codified objects and arrangements.

Artschwager's fascination with the symbolic meanings of punctuation was also expanded into his famous "blps" series from the late 1960s through to the end of his career. Made from flat, lozenge shaped forms which he displayed in a range of contexts, these seemingly simple motifs have the power to subvert and upend the context around them. The same attitude towards repetitious motifs, but with a decidedly digital slant, can be seen in the technologically advanced paintings of Jacqueline Humphries.
Plastic Bristles on a Mahogany Core Painted with Latex
2011
Landscape
Following a visit to his childhood home of New Mexico in 2006, Artschwager was inspired to produce a series of landscapes through which he explored the effect of pastel chalk on different kinds of papers. He had stated previously that "paper always talks a lot" and it was this maxim, coupled with the fact that he suffered a sense of longing for his childhood, and especially memories of travels with his mother, that led him to explore drawing on surfaces that ranged from colored and hand-made paper, sandpaper and even velvet. As the Sprüth Magers Gallery, Berlin said of the series, "The different surfaces shift our focus from the image to the materiality, making paper an essential attribute of the work itself [and that the] color, composition, and sense of time passing all derive from the feeling of a long road trip across the American west. The shifting landscape invites contemplation of both nature's capacity for constant change and its eerie timelessness".

The New York painter Alexi Worth (cited by the David Nolan Gallery) added: "Garishly beautiful and ebullient, these pastoral hallucinations hark back to the horizontal line drawings of the late sixties, and beyond them, to Artschwager's earliest exhibited work: the abstract landscapes that Donald Judd admired back in 1959, with their "quick, spiked strokes,... communicative of abbreviation". For the artist himself, they look back even further, to the New Mexico of the 1930s, where he spent his teenage years. Their subject is, as he put it with typically laconic candor: "Homesickness. Which continues".
Pastel on gold paper
Related Artists
Related Movements & Topics