Beginnings of Der Blaue Reiter
The Neue Künstlervereinigung München (NKvM)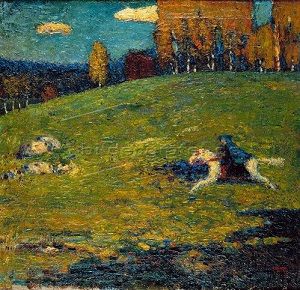 In January of 1909, Wassily Kandinsky proposed forming a new group of like-minded artists in opposition to traditional exhibition venues, the Neue Künstlervereinigung München (Munich New Artists' Association), a secession movement that contained several future members of Der Blaue Reiter. The founders included Kandinsky's Russian compatriots Alexej von Jawlensky and Marianne von Werefkin, as well as the Germans Gabriele Munter, Alexander Kanoldt, and the German-American Adolf Erbsloh. Aside from their desire to "secede" from the mainstream art institution and their dedication to modern art, these artists shared an expressionistic visual style culled partly from the example of Fauvism and partly from turn-of-the-century Symbolism, as exemplified by artists like Edvard Munch and Gustav Klimt.
The Two Sides of German Expressionism
The Die Brücke group, operating in Dresden from 1905 to 1911 and in Berlin until 1913, was an early influence for the directness of representation in the work of the NKvM and later, Der Blaue Reiter. The Munich artists, however, pursued rather different goals than their Dresden counterparts. While both groups learned of the importance of bold color from the Fauves, Die Brücke artists used vibrant color to express the heightened emotion of their simplified figures. For Kandinsky and his cohorts those colors needed to go beyond mere emotive persuasion to find resonance in the human soul.
Similarly, while both groups found the Western tradition lacking in inspiration and reached beyond it to "primitive" forms of art, Die Brücke artists would accept a certain level of crude "ugliness" in their art that was typically unwelcome in Der Blaue Reiter's harmonious compositions of color and form. While Der Blaue Reiter was born of the same alienation from the modern world that deeply affected Die Brücke, their answer wasn't to address that feeling through unsettling depictions of traumatic experience, but to attempt to transcend it through abstract artistic means. Die Brücke would, on the other hand, remain averse to total abstraction.
Concerning the Spiritual in Art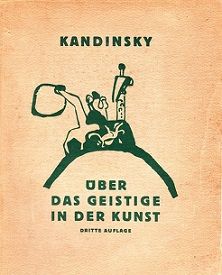 In 1910 Kandinsky wrote the treatise Concerning the Spiritual in Art, cementing himself as a revolutionary art theorist. An eclectic mix of spiritualism, theosophy, color theory, and art history, Concerning the Spiritual nevertheless managed to make a succinct, impassioned argument for the movement from figurative, naturalistic painting into the realm of abstraction. For Kandinsky, the modern artist had a messianic mission to lead his viewer to spiritual transcendence through his art. The type of art best suited to accomplish this was abstract, or non-objective, art built upon a knowledge of the effect of form and color not only on the eye, but on the soul - a principle he referred to as "inner necessity."
Translated from the original German into French and English and published in 1912, Concerning the Spiritual was widely influential at its time of publication and is still widely considered one of the most groundbreaking theoretical texts in modern art. Kandinsky's suggestion that there were connections between visual components such as form, color, and movement and extra visual elements such as music, emotion, and thought provided the impetus for generations of avant-garde experimentation.
New Members, New Beginnings, and a New Name
The NKvM group mounted three traveling exhibitions during its three-year tenure, through which it accomplished two things. First, it garnered recognition from avant-garde movements outside of Germany, including contributions by Georges Braque, Pablo Picasso, and André Derain, among others. Second, it served as something of an incubator for the increasingly radical theoretical proposals of Kandinsky, who would go on to found Der Blaue Reiter. Indeed, by the third NKvM exhibition of 1911-12, the artists of Der Blaue Reiter mounted a parallel exhibition in the opening gallery, having seceded from their own secessionist movement.
In 1911 the artists of the NKvM rejected Kandinsky's Composition V (1911), which he later subtitled Last Judgment. The lack of understanding this represented for his increasingly abstract work - even among his closest colleagues - led him to separate from the group to form the more radical Der Blaue Reiter. Though it kept several key NKvM figures in its orbit (Jawlensky, Werefkin, Munter), Der Blaue Reiter expanded its sights with the addition of Franz Marc, August Macke, Paul Klee, Lyonel Feininger, and the experimental composer Arnold Schoenberg, as well as the German-American Albert Bloch, the Ukrainian David Burliuk, and the Russian Natalia Goncharova.
The name for the new group - Der Blaue Reiter - derives from a pivotal 1903 painting by Kandinsky. Painted in an early, Symbolist style, the painting nonetheless marked a turning point for the artist, where he began rendering his forms and colors with less distinct boundaries. By 1911, however, the name had achieved a new meaning due to the writings of Kandinsky and Marc: for both artists, the color blue indicated intense spirituality; for Kandinsky, the rider came to represent - among other things - the journey from worldly figuration to heavenly abstraction.
Der Blaue Reiter Almanach
Due to the centrality of Kandinsky and Marc, Der Blaue Reiter achieved a unifying theoretical rigor that made it a more defined movement than the earlier NKvM. In 1912 the group published its defining statement, the Der Blaue Reiter Almanach, edited by Kandinsky and Marc, which contained a number of theoretical essays by the two artists, one each by Schönberg and Macke, and an experimental theatre piece by Kandinsky. The Almanach also contained over 140 reproductions of works of art, most of which were pieces of "primitive" art, folk art, or children's art. This suggests that the artists of Der Blaue Reiter saw the Western figurative tradition as bankrupt and in need of rejuvenation through outside sources.
Der Blaue Reiter: Concepts, Styles, and Trends
An International Aesthetic
Though style of painting varied from one artist to another within Der Blaue Reiter, certain similarities are worth noting. The expressionistic art of Der Blaue Reiter was envisioned partly as a coloristic rejoinder to the contemporary monochromatic formal explorations being undertaken by the Cubist avant-garde in Paris. If Picasso and Braque were simplifying their palettes to grays and browns to better focus on issues of form, Der Blaue Reiter artists were heightening their use of color and theorizing its symbolic qualities. Indeed, the members of Der Blaue Reiter were well connected to the experiments of Cubism in France, Futurism in Italy and Russia, and a plethora of other splinter movements in Europe. Yet, while all of these aesthetic components of modern art came together in their canvases, they were always inscribed within the artists' intense study of expressive color.
Primitivism and the "Savages" of Germany
In an essay entitled "The 'Savages' of Germany" published in the Almanach, Marc described his colleagues - including the artists of the NKvM, the Berlin Secession, and Die Brücke - as "savages" fighting against an "old established power" to create "symbols that belong on the altars of a future spiritual religion." This rehabilitation of the notion of the "savage" went hand-in-hand with Der Blaue Reiter's interest in Primitivism in the arts.
Primitivism - a perhaps outdated term with negative connotations in the post-colonial era - was nevertheless a positively viewed concept at the beginning of the 20th century. This is because, despite the colonial underpinnings that allowed European artists to know of non-Western cultures, its use in the arts constituted a genuine attempt on the behalf of modern artists to break through the intellectual constraints of modern Western society by reaching to a "simpler," potentially "freer" means of expression in less-developed parts of the world. For the artists of Der Blaue Reiter, this meant that their art often evinced a less laborious, more direct rendering of form far from the obsessive pursuit of naturalism and beauty that had previously been considered the highest goal of art.
Color Theory
In Concerning the Spiritual in Art and in essays published in the Almanach, Kandinsky laid out and developed specific extra-visual values for colors that he defined as Eigenschaften (properties). Yellow, for example, was the color of warmth and excitement; it could signify joy, annoyance, or enervation. Blue was the most peaceful and spiritually resonant color - the darker the blue, the deeper the feeling of calm.
Marc also established a theory of color that assigned symbolic values to specific hues, though his did not necessarily correspond to Kandinsky's. For example, in Marc's woodcuts and paintings - predominantly semi-figural paintings of animals in nature - the color yellow stood for feminine joy, while blue represented masculinity and (like Kandinsky) spirituality. Symbolism in color played out to different degrees in the works of many Der Blaue Reiter artists.
Music and Abstraction
For Der Blaue Reiter, music was the perfect analogy for the abstract visual arts. Not only was music capable of evoking deep emotional responses or spiritual resonances, but the timbres of certain instruments might evoke certain images or associations despite the inability for the human eye to "see" music. In addition, the language of sound and music lent a vibrancy and descriptive power to abstract art: painted compositions could be loud and cacophonous or quiet and harmonious; a pigmented form could crescendo across a canvas, or a pairing of hues could create a visual vibrato.
In addition, several of the members of Der Blaue Reiter had direct relationships to music. Besides being an exemplary painter, Schönberg is among the most important experimental composers and theorists of 20th-century music, and his students included the groundbreaking artist-composer John Cage. A musician from his teenage years, Klee played violin in an orchestra well into his maturity as a painter. The poet Rainer Maria Rilke once wrote of Klee, "Even if you didn't tell me he plays the violin, I would have guessed on many occasions that his drawings were transcriptions of music." The contents of the Der Blaue Reiter Almanach demonstrate the group's commitment to musical form: a reproduction of one of Schönberg's songs, two others by his colleagues Alban Berg and Anton Webern, and an essay on "Anarchy in Music" by the Russian composer Thomas Alexandrovich de Hartmann.
For Kandinsky, the synesthetic relationship between color and sound could even be codified. In what he described as Klangfarbe (sound tones), each color had a pitch and volume, so to speak. Yellow, whose Eigenschaft was excitement, was connected to loud, sharp sounds. Blue, the color of peace and spirituality, was richer, and deep blues had a more sustained sound tone. Moreover, Kandinsky suggested that hues of varying saturation corresponded to the timbres of specific instruments, where red was the strong, forceful playing of a trumpet fanfare or a high, clear violin, and green was a gentle violin played at middle position. Fittingly, Kandinsky contributed an experimental theatre piece entitled The Yellow Sound to the Almanach as the first in a four-piece group of "color-tone dramas" he wrote, including The Green Sound, Black and White, and Violet.
Later Developments - After Der Blaue Reiter
The end of Der Blaue Reiter was almost entirely due to the outbreak of World War I in 1914. Due to their Russian citizenship, Kandinsky, Jawlensky, and Werefkin were deported, with Kandinsky returning to Russia and Jawlensky and Werefkin immigrating to neutral Switzerland. Macke died in action a mere two months into the war, and Marc died at the Battle of Verdun in 1916.
The group was, however, extremely influential on generations of artists to come. Before their dissolution, the participation of Der Blaue Reiter in the groundbreaking 1912 Sonderbund exhibition in Cologne placed them among many of their artistic predecessors, including Munch, Klimt, Vincent van Gogh, and Paul Gauguin. One year later, when the curators lent a large number of canvases to the Armory Show in New York City, Kandinsky's art was seen for the first time on American soil.
Kazimir Malevich's creation of Suprematism in Russia in the mid-1910s is unthinkable without Der Blaue Reiter's theory of abstraction and spirituality as a model. The subsequent development of geometric abstraction in the Dutch De Stijl movement, best exemplified in the art of Piet Mondrian and Theo van Doesburg, owes a debt to both Kandinsky and Malevich.
Indeed, De Stijl and Der Blaue Reiter would come together under the roof of the Bauhaus, which might be seen as a next chapter for Der Blaue Reiter. Though the Bauhaus is predominantly (and accurately) thought of as a school of design, many of its early faculty were Expressionist painters. Among the initial appointees were Feininger and the Swiss Expressionist Johannes Itten, whose spiritual approach to abstraction paralleled Der Blaue Reiter's. Klee joined in 1920 and Kandinsky in 1922, forming a nucleus of painters that carried Der Blaue Reiter's experimental abstraction and color theory into the Bauhaus curriculum - a curriculum still imitated widely in art schools today. In 1924 while Kandinsky, Feininger, and Klee were together in Weimar, the painter and art dealer Emmy Scheyer brought Jawlensky back into their midst to form the exhibition group Der Blaue Vier (the Blue Four), promoting their art as an ensemble for the next decade.
Through the influence of Scheyer's exhibitions, the popularity of Klee and Kandinsky's art, and the immigration of the Bauhaus-taught painter and educator Josef Albers to the United States in 1933, the artists of Der Blaue Reiter also left a strong imprint on the development on Abstract Expressionism - perhaps most notably in the work of Jackson Pollock, Arshile Gorky, and Mark Rothko. Pollock and Gorky's mature gestural styles and Rothko's focus on color combinations and the emotions carried or evoked by certain hues owe directly to the example of Kandinsky's painting.
Key Artists
A member of the German Expressionist group Der Blaue Reiter, and later a teacher at the Bauhaus, Kandinsky is best known for his pioneering breakthrough into expressive abstraction in 1913. His work prefigures that of the American Abstract Expressionists.

Franz Marc was a German painter and printmaker, and one of the pioneers of German Expressionism. Along with August Macke and Kandinksy, Marc founded The Blue Rider artist group. A student of Futurism and Cubism, Marc was a master of color and depth, and a major influence on mid-twentieth-century abstractionists.

Münter's name is linked with Wasily Kandinsky, but more importantly she is contributed to twentieth century modernism.

The Swiss-born painter Paul Klee worked in a variety of styles, including Expressionism, geometric abstraction, and collage. His most famous works have a mystical quality and make use of linear and pictorial symbols.

Lyonel Feininger was a German-American painter and caricaturist associated with the Die Brucke and Der Blaue Rider groups. He painted in an original style reminiscent of Cubism and Futurism, but he is most famous for helping Walter Gropius build the Bauhaus school where Feininger taught until the school was closed down by the Nazis.

Goncharova was part of the Russian avant garde generation involved in a relentless exploration of different visual styles. She also co-founded Rayonism with her life partner Mikhail Larionov.

Nolde was a Danish-German painter and printmaker who was affiliated with the groups Die Brucke, the Berlin Secession, and Der Blaue Reiter. His bright, evocative paintings of religious scenes, seascapes, and flowers earned him a unique place in the greater Expressionism movement.
Do Not Miss
Expressionism is a broad term for a host of movements in early twentieth-century Germany and beyond, from Die Brücke (1905) and Der Blaue Reiter (1911) to the early Neue Sachlichkeit painters in the 1920s and '30s. Many Expressionists used vivid colors and abstracted forms to create spiritually or psychologically intense works, while others focused on depictions of war, alienation, and the modern city.

Die Brücke (The Bridge) was a group of German Expressionist artists that banded together in Dresden in 1905. The group, which includes artists such as Erich Heckel, Ernst Ludwig Kirchner, and Emil Nolde, had a major impact on the evolution of modern art in the twentieth century and the creation of Expressionism. Die Bruke artists' used bold colors to depicts gritty scene of city life.
Content compiled and written by The Art Story Contributors
Edited and published by The Art Story Contributors
"Der Blaue Reiter Movement Overview and Analysis". [Internet]. .
TheArtStory.org
Content compiled and written by The Art Story Contributors
Edited and published by The Art Story Contributors
Available from:
First published on 21 Apr 2015. Updated and modified regularly
[Accessed ]