Progression of Art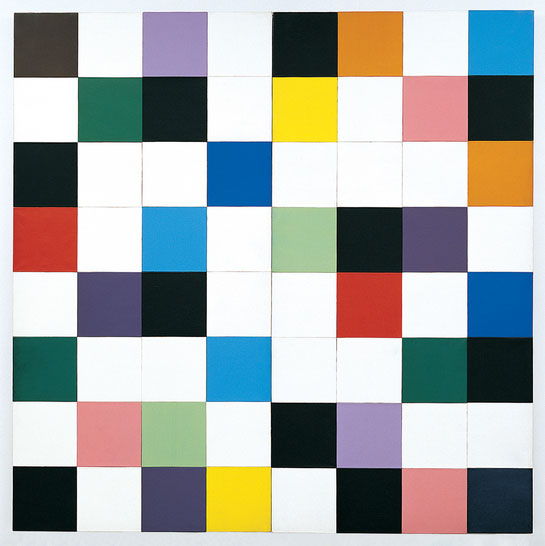 1951
Colors for a Large Wall
The large-scale Colors for a Large Wall is one of Kelly's early forays into multi-panel paintings, a fundamental motif throughout his career. Colors for a Large Wall helped introduce his deeply held view of paintings as objects; not only was this painting an object in itself, but it was comprised of many smaller objects (panels) supposedly having come together in chance collision. In this work, Kelly covered each of the 64 square canvases in a single color and fused them together based on a collage study he had arbitrarily arranged. Much of Kelly's subsequent work stemmed from this painting, as he continued to juxtapose panels of differing sizes, shapes, colors and materials in innumerable variations.
Oil on canvas, mounted on 64 joined panels. Dimensions: 94 1/2 x 94 1/2 inches. Photo by courtesy of the artist. ©Estate of Ellsworth Kelly - The Museum of Modern Art, New York. Gift of the artist, 1969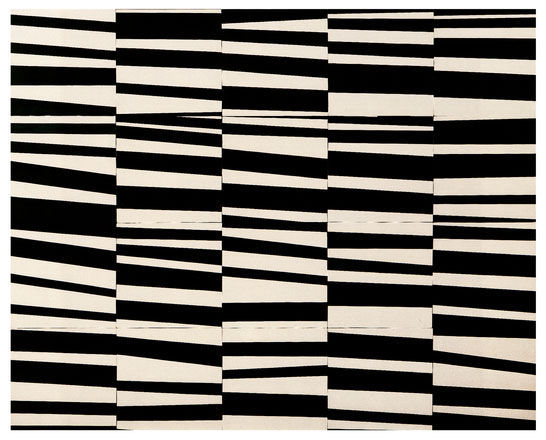 1951
Cite
In Paris, artists such as John Cage and Hans Arp encouraged Kelly to experiment with the idea of chance in his artwork. For Cite, Kelly cut a black and white brushstroke drawing into twenty squares and randomly rearranged the pieces. He then turned this composition upside down and painted it onto twenty wood panels. After rearranging it once more, he connected the panels into the final painting. Although his artistic decisions ultimately dictate the final composition, Kelly's use of chance partially disconnects him from the resulting work. Such efforts to reduce the artist's emotions, influence, or individual marks have been important facets of Kelly's artwork, suggesting that all apparently "controlled" creativity is always partly a matter of an artist's making the most of chance collisions with unexpected and impersonal forces.
Oil on wood, twenty joined panels. Dimensions: 58 1/2 x 70 3/4 inches. Photo by Jerry L. Thompson, courtesy of the artist. ©Estate of Ellsworth Kelly - San Francisco Museum of Modern Art, The Doris and Donald Fisher Collection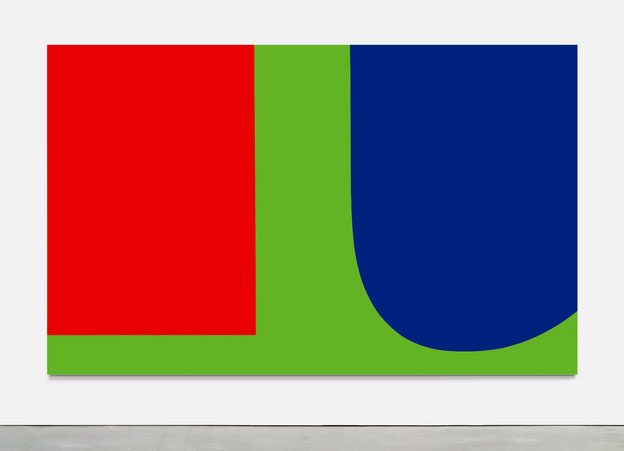 1963
Red Blue Green
Kelly put great emphasis on the tensions between the 'figure' and the 'ground' in his paintings, aiming to establish dynamism within otherwise flat surfaces. In Red Blue Green, part of his crucial series exploring this motif, Kelly's sharply delineated, bold red and blue shapes both contrast and resonate with the solid green background, taking natural forms as inspiration. The relationship between the two balanced forms and the surrounding color anticipates the powerful depth that defined Kelly's later relief paintings. Therefore, these works serve an important bridge connecting his flat, multi-panel paintings to his sculptural, layered works.
Oil on canvas. Dimensions: 83 5/8 x 135 7/8 inches. Photo courtesy of the artist. ©Estate of Ellsworth Kelly - The Museum of Contemporary Art San Diego, gift of Dr. and Mrs. Jack M. Farris
1963
Black over Blue
Upon returning to New York after six influential years in Paris, Kelly progressed beyond his multiple-panel paintings to reliefs. Black over Blue, first exhibited in the Betty Parsons Gallery, reflects his recurring interest in both layered works and non-traditionally shaped canvases. His paintings are often hung away from the wall, giving them a three-dimensional, sculptural quality. In fact, the painting's interaction with the wall was a strong focus for Kelly. In Black over Blue, the curved, black panel extends beyond the confines of the rectangular blue canvas, making the surrounding wall an essential part of the composition. Wall, artwork, and space itself become nearly equally important aspects of the viewer's experience, finally leading to a heightened awareness of one's own body as a similar, energized "gesture" in the same architectural setting.
Painted aluminum. Dimensions: 81 3/4 x 64 x 7 inches. Photo by Jerry L. Thompson, courtesy of the artist. ©Estate of Ellsworth Kelly - San Francisco Museum of Modern Art, The Doris and Donald Fisher Collection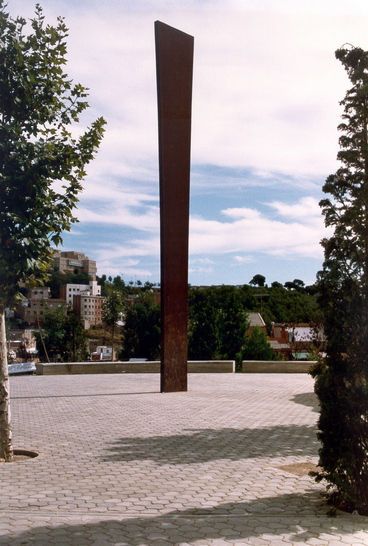 1987
Creueta del Coll
During the 1970s and 1980s, inspired by his move to the pastoral upstate New York, Kelly began expanding his use of the curve and making large, totem-like sculptures - many designed to be displayed outdoors. The 12-foot tall, slightly curving Creueta del Coll reflects both of these important new directions in his work.Kelly created a highly abstracted version of a specific, recognizable form - in this case, an ancient Greek statuary form known as kouros, or male youth. Like many of Kelly's sculptures, this one and a half inch-thick piece painted matte-black is very flat and has a two-dimensional quality. He encouraged his viewers to question traditional perspectives by creating sculptural paintings that might sit on the floor and flat sculptures that lean against a wall.
Weathering steel. Dimensions: 390 x 330 x 5 1/4 inches. Photo courtesy of the artist. ©Estate of Ellsworth Kelly - City of Barcelona, Spain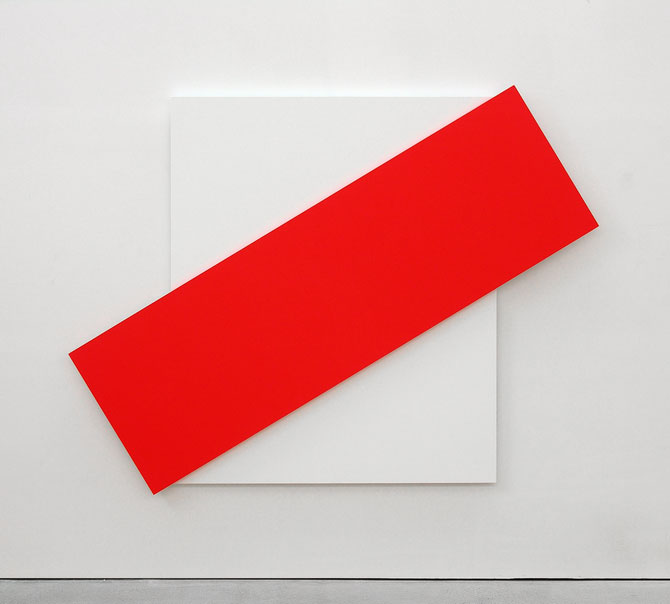 2007
Red Diagonal
In the 1990s, Kelly further developed the possibilities of the relief and continues expanding on this motif today. Red Diagonal employs a striking, geometric construction that echoes the forms created by his earlier panels attached side-by-side. At the same time, these layered pieces extend away from the wall, cutting into the viewer's space. His careful placement of the overlapping canvases creates precise, yet varying shapes in both the positive and negative space.
Oil on canvas, two joined panels. Dimensions: 84 1/4 x 109 3/8 x 2 5/8 inches. Photo by Jerry L. Thompson, courtesy of the artist. ©Estate of Ellsworth Kelly - The Art Institute of Chicago, promised gift of Donna and Howard Stone Collection
Similar Art
Related Artists
Related Movements & Topics