Progression of Art
1911
Le Repos
An early sculpture by Archipenko, Le Repos depicts a voluptuous reclining female nude twisting languidly with one arm positioned over her head. Its pose is reminiscent of Matisse's Blue Nude (1907) or Picasso's Demoiselles d'Avignon (1907), thus drawing on contemporary interest in the female nude among avant-garde artists.

The smooth flowing lines and delicate contours produce a simplification of forms that reflects the influence of Cubism and the sculptural traditions of ancient Egypt, Assyria, Greece, and Africa. Rather than fragmenting the body, as was more typical of Cubism, Archipenko chose to exaggerate the anatomy of his figures. And, with Le Repos, he initiated a lifelong preoccupation with depicting the female body. As Marek Bartelik has noted: "The search for a timeless representation of women brought the artist close to abstraction, not in terms of producing non-representational forms, but in the way he treated his subject abstractly, as an enduring motif. A devotional object of some sort, shared by many cultures and civilizations."

Le Repos was one of four sculptures lent by Archipenko to the Armory Show in New York in 1913 and travelled also to the exhibition's venues in Chicago and Boston. Although today the response to this small-scale sculpture seems surprising, it was considered both the ugliest work at the Armory Show by the critic James Pattison, and simultaneously as "lewd" by some female visitors (who by seeing the incision of two interlocking lovers by Archipenko on the back of the sculpture threatened to report the work to the police). According to Pattison the sculpture was "much overfleshed, her pose makes a tortured twist, her too-small head tucked under her arm...". Le Repos was nevertheless reproduced and sold as a postcard.
Painted plaster - Frances Archipenko Gray Collection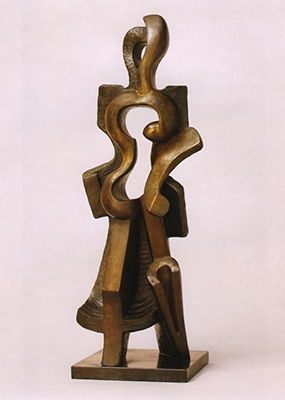 1912
Walking Woman
Taking its cues from Cubism, Walking Woman is a highly stylized abstract sculpture that deconstructs the figure by piercing holes in the head and body and reversing the roles between convex and concave forms. Archipenko's introduction of the void as a sculptural element is one of his most important innovations. Instead of a unified whole, Walking Woman replaces solid volumes with voids, using space to model the figure's head. In so doing, Archipenko breaks with conventional sculpture in his reassessment of the relationship between mass and void. According to art historian Jánszky Michaelsen, "The hole is not only one of the principal features of Cubist sculpture but a significant step in the development of sculpture in general; it signals the opening-up of the traditional monolithic concept of sculpture." Indeed, in giving sculptural form to Cubist painting, Archipenko noted, "I did not take from Cubism, but added to it."

French-German writer Ivan Goll spoke of his innovation in 1921: "Archipenko is the first to dare what appears to be sculptural suicide. A deep philosophy emanates from his creations. Every object is also present in its reverse. Being and non-being. Fullness is expressed through emptiness. A concave form is inevitably also a convex form [...] Archipenko's discovery - to stress the presence of something through its absence - makes even the unimaginable possible." As Katherine Kuh states in the catalogue of Archipenko's work for his exhibition at New York's MoMA in 1970: "[...] his greatest contribution was metaphysical. He made what is, seem what it is not. It was the duality of vision that interested him, less the image itself than our reaction to the image. Turning total voids into solid form, he also discovered that surrounding space could become as potent as dense mass".
Bronze - Denver Art Museum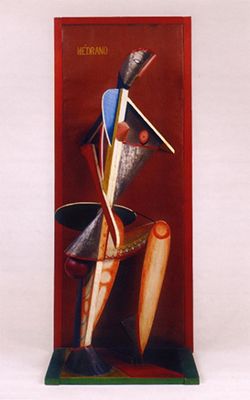 1913-14
Médrano II
Médrano II showed the direct influence of Cubism on Archipenko's work. The volumes of the body are articulated through intersecting planes, cone and wedge elements, and abstract forms. This is set off by color and a back panel that frames and supports the figure.

Juan Gris noted that this work paralleled "the visual experience of Cubist painting" by challenging "the traditional understanding of sculpture. It was generally monochromatic at the time. His pieces were painted in bright colors. Instead of accepted materials such as marble, bronze or plaster, he used mundane materials such as wood, glass, metal, and wire. His creative process did not involve carving or modeling in the accepted tradition but nailing, pasting and tying together, with no attempt to hide nails, junctures or seams."

Positioned within its own frame, which is also a support, the performer's stylized body is painted in vibrant colors that allude to the famous circus that inspired it. The use of color, particularly red, also serves to further highlight the structure and the sculpture's non-traditional materials.

The work's title, Médrano, refers to the Cirque Médrano, a popular destination for artists in Paris at the time. It also seemed to draw on the contemporary interest in puppetry and the colorful harlequins and jesters seen in Picasso's paintings (for example, Family of Saltimbanques, 1905). The subject allowed Archipenko to experiment with pose and polychrome. The work relates to his "sculpto-paintings" from the same period, which provocatively combine the two mediums. In this instance, the figure appears to have broken free from the picture frame, while his other "sculpto-paintings," featuring painted reliefs, remain confined within the frame to more directly reference painting. In Archipenko's work, it is the only extant example of a figure in motion, thus being reminiscent of Marcel Duchamp's Nude Descending a Staircase (1912). The connection to Duchamp is less surprising than it seems given that both artists were affiliated with the Section d'Or group and expressed strong admiration for one another's work.

Cornelia Lauf suggests, Médrano II shows Archipenko's awareness of Synthetic Cubism by incorporating reflective glass, wood and metal in his sculpture. Lauf further interprets the sculpture as gazing at a mirror and connects this to an influence of early poems by Apollinaire, who was another supporter of Archipenko's work.
Painted tin, wood, glass, and painted oilcloth - Solomon R. Guggenheim Museum
1920
Standing Woman
An example of Archipenko's sculpto-painting, Standing Woman consists of a series of vividly colored geometric shapes that are combined to produce an abstract representation of the female form. Archipenko had invented the technique in 1912, which involved building up a combination of materials - paper, metal, glass, and plaster - on a wood support in order to create a relief. It was then painted and hung on the wall like a painting. Viewing the work frontally, as one might view a painting, the work appears flat, or nearly so, but on closer inspection the raised contours of the relief become visible. The brightly painted shapes that form the woman's body add the overall effect, blurring the lines between painting and sculpture. In its use of materials like papier-mâché, the sculpto-paintings make use of similar techniques and materials as Cubist collages and constructions. As Archipenko put it: "Sculpto-painting is more effective and diverse in character than the usual painting and uncolored sculpture. The unification of color and form does not interfere with spiritualization; on the contrary, it facilitates the expression of the abstract in this medium."

Like many of his sculptural innovations, the sculpto-paintings pointed towards new paths in abstract sculpture. Jacques Lipchitz, for example, produced a series of "transparents" that took their name from an "Archipenkolian" geometric style that celebrated "negative space," while some of Barbara Hepworth's most important works were hollowed out and perforated, and then painted, in order to extenuate an interior sculptural space that was just as important as the mass surrounding it.
Oil paint on gessoed papier-mâché on wood - The Phillips Collection
1935
Torso in Space
Torso in Space continues Archipenko's long preoccupation with the female form. One of a series of works featuring sleek lines in bronze or terracotta, the elongated female torsos, in reclining or vertical poses, are more classicizing in their naturalism than his earlier Cubist-influenced work. In making this series, Archipenko compared the use of line to music: "A quietly flowing melody in music is associable with moderately bent linear curves."

Produced just after he moved to Hollywood, California, Torso in Space reflects his return to traditional sculptural materials and the various themes and ideas that appeared in his earlier work. It also reflects his tendency to rework the same subject in various sizes, materials, and colors - this sculpture exists in bronze and terracotta, and in various colors and patinas. Although he interpreted the female form throughout his career, here the lines are softened and the addition of color is more subdued than his brightly polychromed sculptures from the 1910s and 1920s. Clearly influenced by the simplified forms of Egyptian and Archaic sculpture, this work is indicative of Archipenko's desire to translate the female form through the language of modern art.
Bronze with blue patina - Art Gallery of Ontario
1957
Cleopatra
Cleopatra is a seven-foot-long horizontal panel that depicts an abstracted female form whose partial reflection is painted on a small mirror attached to edge of the frame. Consisting of various amoeba-like shapes that are attached to or painted on the wood panel, the constructed relief seems to undulate over and under the surface. The figure reclines in what might be a lounge chair, while next to the figure a table holds a bracelet, a string of coral beads, and other objects. Michaelsen has suggested that "despite the familiar subject matter - woman before a mirror - and the typical materials, shapes, and textures of a commonplace interior of the 1950s, there is something nightmarish and menacing in the organic bulge of the silver-blue upholstery, the gooey swirls of paint in the wood-grain finish, and the bludgeon-shaped head with its reptilian eye." Indeed, Cleopatra draws on his interest in ancient cultures, however, its anthropomorphism may also have been a response to Surrealism.

Produced at the end of his life, this late work recalls his early "sculpto-paintings" and their combination of bright polychromy and sculptural elements on a monumental scale. It also reflects Archipenko's continued experimentation with new materials, like Bakelite and Formica, and new techniques in his representation of the female form.
Wood, Bakelite, and found objects - Frances Archipenko Gray Collection
Related Artists
Related Movements & Topics