Artists
Willem de Kooning
For Educators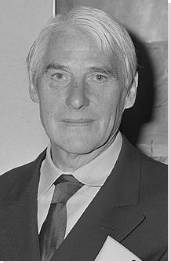 Willem de Kooning
Dutch-American Draftsman, Painter, and Sculptor
Movement: Abstract Expressionism
Born: April 24, 1904 - Rotterdam, The Netherlands
Died: March 19, 1997 - East Hampton, New York

"I'm not interested in 'abstracting' or taking things out or reducing painting to design, form, line, and color. I paint this way because I can keep putting more things in it - drama, anger, pain, love, a figure, a horse, my ideas about space. Through your eyes it again becomes an emotion or idea."

Synopsis
After Jackson Pollock, de Kooning was the most prominent and celebrated of the Abstract Expressionist painters. His pictures typify the vigorous gestural style of the movement and he, perhaps, did more than any of his contemporaries to develop a radically abstract style of painting that fused Cubism, Surrealism and Expressionism. Although he established his reputation with a series of entirely abstract pictures, he felt a strong pull towards traditional subjects and would eventually become most famous for his pictures of women, which he painted in spells throughout his life. Later he turned to landscapes, which were also highly acclaimed, and which he continued to paint even into his eighties, when his mind was significantly impaired by Alzheimer's disease.
Key Ideas
De Kooning strongly opposed the restrictions imposed by naming movements and, while generally considered to be an Abstract Expressionist, he never fully abandoned the depiction of the human figure. His paintings of women feature a unique blend of gestural abstraction and figuration. Heavily influenced by the Cubism of Picasso, de Kooning became a master at ambiguously blending figure and ground in his pictures while dismembering, re-assembling and distorting his figures in the process.
Although known for continually reworking his canvases, de Kooning often left them with a sense of dynamic incompletion, as if the forms were still in the process of moving and settling and coming into definition. In this sense his paintings exemplify 'action painting' - they are like records of a violent encounter, rather than finished works in the old Beaux Arts tradition of fine painting.
Although he came to embody the popular image of the macho, hard-drinking artist - and his most famous
Women
series seems painted with angry vigor - de Kooning approached his art with careful thought and was considered one of the most knowledgeable among the artists associated with the
New York School
. He is thought to have possessed the greatest facility and polished techniques of painters in the New York School, one that compares to that of Old Masters, and he looked to the likes of Ingres, Rubens and Rembrandt for inspiration.
Biography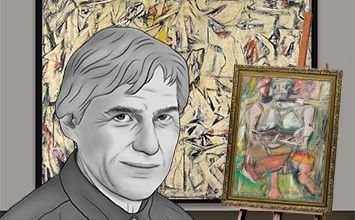 Childhood / Early Training
Born in Rotterdam in the Netherlands in 1904, Willem de Kooning was raised mostly by his mother, who owned a bar, after his parents divorced when he was three. He found his vocation early and left school when he was twelve to apprentice at a commercial design and decorating firm. He also studied at Rotterdam Academy of Fine Arts and Techniques. During this period, he became interested in Jugendstil, the German variant of Art Nouveau, and its organic forms were significant in shaping his early style. However, he was soon distracted by the ascendant Dutch movement De Stijl, becoming particularly interested in its emphasis on purity of color and form, and its conception of the artist as a master craftsman.
- - - - - - - - - - - - - - - - - - - - - - - - - - - - - - - - - - - - - - - - - - - - - - - -
Willem de Kooning Biography Continues

Important Art by Willem de Kooning

The below artworks are the most important by Willem de Kooning - that both overview the major creative periods, and highlight the greatest achievements by the artist.


Artwork Images

Seated Woman (1940)

Artwork description & Analysis: Seated Woman was de Kooning's first major painting of a woman, and it evolved, curiously, out of a commission for a slightly earlier picture, Portrait of a Woman (c.1940). The artist seems to have held on to the commissioned portrait and started to use it to develop new pictures. The earlier work was shaped in part by contemporary images of women in magazines and by de Kooning's wife Elaine who had even stood in as a model when the portrait's subject was not available. These factors surely encouraged de Kooning to see the possibilities of using a 'portrait' to represent womankind in general, rather than a specific individual. Seated Woman was also undoubtedly influenced by Arshile Gorky, in particular the figurative The Artist and his Mother, which Gorky worked on for almost fifteen years after 1926.

Oil and charcoal on masonite - The Philadelphia Museum of Art


Artwork Images

Pink Angels (1945)

Artwork description & Analysis: Pink Angels marked an important stage in de Kooning's evolution from figuration towards abstraction in the 1940s. The fleshy pink biomorphs of his earlier work - shapes that evoke eyes and other anatomical forms - are violently torn apart in a painting that was reportedly inspired by the carnage of World War II, and the figurative elements are barely distinguishable from the mustard yellow background. This thorough blurring of figure and ground was an important step in de Kooning's development towards the black and white paintings of the later part of the decade.

Oil and charcoal on canvas - Frederick R. Weisman Foundation, Los Angeles


Artwork Images

Attic (1949)

Artwork description & Analysis: In 1947, de Kooning embarked on a series of black and white abstractions. Attic is one of the best known among these, having been widely exhibited in the years after its completion. "Everything that passes me I can see only a little of," the artist once said, "but I am always looking. And I see an awful lot sometimes." He might well have said this of Attic, as it seems to combine fragments of figures and backgrounds in a highly abstract and dynamic whirl. Although de Kooning is said to have been prompted to begin the series through lack of funds (he found a cheap supply of black commercial enamel), many artists in this period were experimenting with black and white. To a greater or lesser degree Motherwell, Kline, Baziotes, Gottlieb and Hofmann all worked in the restricted palette, and Picasso's Guernica, which was exhibited in New York in 1939, provided them with an illustrious model.

Oil, enamel, and newspaper transfer on canvas - Metropolitan Museum of Art, New York
More Willem de Kooning Artwork and Analysis:
Influences and Connections
Influences on Artist
Artists, Friends, Movements
Influenced by Artist
Artists, Friends, Movements

Interactive chart with Willem de Kooning's main influences, and the people and ideas that the artist influenced in turn.
View Influences Chart

Artists

| | |
| --- | --- |
| | Pablo Picasso |
| | Joan Miró |
| | Piet Mondrian |
| | Arshile Gorky |
| | Chaim Soutine |

Personal Contacts

| | |
| --- | --- |
| | Clement Greenberg |
| | Harold Rosenberg |
| | Franz Kline |
| | John Graham |

Movements

| | |
| --- | --- |
| | Cubism |
| | De Stijl |
| | Surrealism |
| | Expressionism |

Influences on Artist

Willem de Kooning
Years Worked: 1930 - 1990
Influenced by Artist

Artists

| | |
| --- | --- |
| | Robert Rauschenberg |
| | Joan Mitchell |
| | Franz Kline |
| | Richard Diebenkorn |
| | Cecily Brown |

Personal Contacts

| | |
| --- | --- |
| | Harold Rosenberg |
| | Clement Greenberg |
| | Arshile Gorky |

Movements

| | |
| --- | --- |
| | Pop Art |
| | Post-Painterly Abstraction |
| | Neo-Expressionism |
Useful Resources on Willem de Kooning
If you see an error or typo, please:
tell us
Cite this page

Content compiled and written by The Art Story Contributors
Edited and published by The Art Story Contributors
" Artist Overview and Analysis". [Internet]. . TheArtStory.org
Content compiled and written by The Art Story Contributors
Edited and published by The Art Story Contributors
Available from:
[Accessed ]