Artworks and Artists of Young British Artists
Progression of Art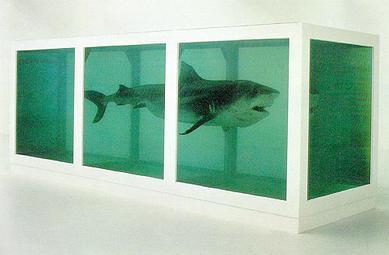 1991
The Physical Impossibility of Death In The Mind of Someone Living
Probably the most emblematic work of the movement (it's now often referred to in art circles as simply 'The Shark'), The Physical Impossibility of Death In The Mind of Someone Living consists of the body of a tiger shark suspended in formaldehyde. The monstrous fish floating in its tank appears alive and dead at the same time, and is typical of Hirst's brashly conceptual postmodernism and unapologetically direct style in the tradition of Dada. The piece was commissioned by Charles Saatchi for the Young British Artists show at his gallery in St John's Wood, London in 1992, and was sold in 2004 to collector Steven Cohen for a reported $8 million. After the original shark started to deteriorate, Cohen paid for a replacement, raising the philosophical question as to whether it could now be considered the same artwork. Hirst, as a conceptualist whose focus is on the intention rather than the piece itself, argued that it was, while traditionalists (especially art conservators) had a different view.

The piece is one of the most potent examples in popular culture of an artwork that deals so unashamedly with concepts of death and the greatest human fears (following in the footsteps of artistic greats such as the romantic artist Francisco Goya and figurative painter Francis Bacon). It has entered the public imagination and become one of the most recognized examples of contemporary art because it symbolizes all that the YBA movement stood for - huge production value, the use of shock tactics to produce an instant reaction in the viewer, and the use of non-art materials.
Glass, painted steel, silicone, monofilament, shark and formaldehyde solution - Stephen and Alexandra Cohen Foundation Collection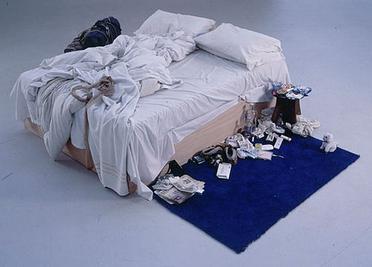 1998
My Bed
My Bed is Tracey Emin's own bed and its surrounding detritus, removed from her home and installed in a gallery space. Emin claims it is a faithful reconstruction of the scene she witnessed after coming round from a four-day stint of depression caused by a relationship breakdown - complete with used condoms, dirty underwear, stained sheets, old Kleenex, and cigarette butts. The piece is typical of Emin's distinctive brand of confessional art, where even the darkest and most embarrassing details of her life are used as artistic fodder for drawings, installations, and sculptures. My Bed caused huge controversy in the British tabloid press when it was nominated for the Turner Prize for contemporary British art in 1999. Japanese performance artists Yuan Chai and Jian Jun Xi enhanced the piece's notoriety when they jumped and pillow fought on it while it was on display at Tate Britain, London.

While the media frenzy around the work has assured My Bed a place in the artistic canon, the piece is also seen as a significant postmodern artwork in its use of non-art materials and its exploration of what it meant to be a young woman at the turn of the 21st century. It follows in the footsteps of other important feminist works such as Judy Chicago and Miriam Schapiro's Womanhouse installation of 1972 - similarly challenging traditional expectations as to how women should present themselves by blurring the boundaries between art and life, public and private.
Mattress, linens, pillows, objects - Tate Britain Collection, London
1990
Market
Michael Landy's Market is an installation constructed from typical London market stands draped in fake grass and plastic crates stacked in various arrangements. Resembling an eerily abandoned market, the likes of which were quickly disappearing from British streets at the time, Market captured the spirit of social reform and rapidly changing commercial activity in London at the dawn of the 1990s. For centuries, the British housewife (or her maid) had bought groceries from street markets where produce was fresh and grown by those owning the stalls. With the corporatization of food production in the 1980s, this dynamic began to change. The impersonal, sterile quality of Landry's Market captures the lack of personal relationships and the absence of long-standing tradition. The work was originally installed in Building One, a vast, recently vacated biscuit factory in Bermondsey, south London - a location selected by Landy to add further weight to the work's social commentary. Landy has been widely praised for his democratic, uncompromising, and straightforwardly political approach that Market encompassed so eloquently. As a viewer, it is not difficult to read the artist's ideas on the state of consumerism at the time, with one critic describing it as "public in practice and spirit." This was a work that could truly resonate with the ordinary Londoners who were likely to see it, without involving art historical references or theory that would only appeal to art world types.
Market stall stands, plastic crates, fake grass - Private Collection
1992
Two Fried Eggs and A Kebab
In Two Fried Eggs and A Kebab, Sarah Lucas places the objects in the title (freshly bought each day that the piece is exhibited) on a wooden table in an arrangement that resembles a naked female body. The eggs and the kebab are stereotypically British foods used as intentionally crude, humorous references to the sexualized female form, with an image of the whole piece propped at the rear of the table highlighting the composition's similarity to a surprised face.

Lucas has become well-known for her gritty, abject reflections on contemporary British culture and attitudes to women. Sculptures such as Two Fried Eggs And A Kebab clearly pay homage to the seminal readymades of Marcel Duchamp, the father of Conceptual Art, aggressively taking on stereotypical portrayals of the female body with a dose of British wit and a delicate touch. She is now seen as one of the art world's most important post-feminist, postmodern artists, following in the footsteps of pioneering feminist art of the 1970s such as Judy Chicago's portrayals of female genitalia in Dinner Party, and the brash humor of the Guerilla Girls' posters.
Fried eggs, wooden table, kebab, photograph
1991-2003
Preserve (beauty)
Preserve (beauty) is an installation consisting of hundreds of red flowers (a hybrid species known as 'beauty'), mounted behind four large glass panels. As time passes, the flowers begin to wither, rot, and occasionally drop away, exuding ever-changing smells - a multi-sensory meditation on death, decay, renewal, and the passing of time. Gallaccio intended people visiting at different stages of the exhibition to have different experiences of the piece, so someone viewing it early on would see bright flowers and smell their fresh perfume, while those looking at it later would have a darker impression of decay and the aroma of dead organic matter. Gallaccio often uses organic materials that change over time - such as ice, apples, and sugar - to encourage viewers to think about the fleeting nature of experiences such as beauty and joy, and the pointlessness of trying to preserve them.

The artist is following in a long art historical tradition of portraying death and decay that began with the Dutch interest in vanitas paintings in the early-17th century. Vanitas images depict those things representative of the vanity of earthly life and that cannot be preserved as one ages and dies such as wealthy, beauty, and knowledge. As with the 17th-century images, Gallaccio's installation encourages viewers to think about their own mortality, as part of an all-encompassing installation experience rather than as a static painting.
2000 gerberas, glass, metal and rubber - Tate Collection, London
1996
Pietà (first version)
Pietà is a photograph of Angus Fairhurst himself, unconscious, naked, and lying in the arms of a life-size gorilla suit arranged in a sitting position on a sofa. Tender and humorous, the image is his idiosyncratic take on Michelangelo's 1499 sculpture of the same name, which depicts the body of Christ being embraced by the Virgin Mary. Fairhurst used the gorilla as a motif in sculptures, photographs, animations, paintings, and drawings throughout his career, often in surreal or comic situations, as a way of exploring the blurred boundaries between man and beast. The artist also saw the gorilla as an alter-ego, meaning Pietà can also be read as a comically poignant expression of a split between his two selves.

Fairhurst was a key example of a YBA who repeatedly played with the self-portrait as a form, using it to explore deep psychological states, just as artists from Rembrandt to David Hockney had done before him. By including a naked version of himself in such an ad hoc, postmodern appropriation of a classical piece, he also showed a democratic and completely open attitude to art history that was becoming particularly dominant in British art of the 1990s - Pietà sits alongside other re-workings of great artworks by fellow UK artists Tom Hunter and Sam Taylor-Wood.
Color photograph on paper - Tate Collection, London
1993
Plan
Saville's over the top paintings of the human figure caught the attention of the collector, Charles Saatchi, who not only bought all of the work from her 1992 senior show but also gave her an 18-month contract so that she could create new work. Her self-portrait, Plan, became the signature piece in the 1994 show Young British Artists III. While Saville creates her paintings using the classical standard of the oil medium - with influences ranging from Peter Paul Rubens to Lucian Freud - her representations of the female body and, particularly, her nude self-portraits are groundbreaking. She depicts meaty, sometimes distorted, female bodies from odd angles that emphasize their out-sized fleshiness and the messiness of the human figure. Some of the works, like Plan, also include the marks of a plastic surgeon. Adding to the impression of the size of her figures, which often seem too large for the representational space, Saville's canvases are also larger than life. She has branched out since 1992 to include transgender patients, trauma victims, and other non-idealized bodies in her repertoire of human figures.
Oil on canvas
1990
Ghost
Whiteread is known for her three-dimensional works that focus on domestic spaces. She came to the attention of Charles Saatchi in the early 1990s and her work was included in his first YBA show in 1992. Ghost is considered her breakthrough piece showing her innovative effort to make a negative space into a positive, i.e. to give physical form and shape to empty space. Here, the empty space is that of a shabby parlor in a house set for demolition in the poverty-ridden East End of London. In its memorialization of the parlor, the work forces the viewer to recognize the smallness of the space and the poverty of area as well to imagine the many lives there were lived in the room. Her work thus draws on issues of home, memory, and family making it is less sensational than other YBA works. Whiteread described her process as "mummifying the air in the room," thus the title of the work. The making of the piece was highly laborious and, thus, reminiscent of Process Art: she first covered the walls with plaster molds, then, once the plaster dried, she peeled the molds from the walls and reassembled them on a steel frame.
Plaster on steel frame - Collection of National Gallery of Art, Washington DC
1996
The Holy Virgin Mary
Chris Ofili rocketed to fame when this work was one of the most controversial in the 1997 Sensation exhibit. Ofili's works are richly layered with non-art materials (such as glitter) as well as with images from popular culture. The Holy Virgin Mary, like many of his works, links the sacred with the profane. Though it is a representation of the Christian Mary and the gold background harkens back to medieval imagery, the work also includes cutouts of women's breasts and genitalia floating around the figure like Renaissance putti. The elephant dung used for the Virgin's right breast was especially controversial, though Ofili defended its inclusion by saying that in Zimbabwe, where he had visited, elephant dung represents fertility. Offili described the work as a hip-hop version of the Virgin, underscoring the scandalous (for some viewers) possibility of a black Virgin.
Paper collage, oil paint, glitter, polyester resin, map pins & elephant dung on linen
1993
Pop
Pop is a waxwork model of Gavin Turk himself, dressed as a gun-slinging cowboy version of Andy Warhol's Elvis Presley combined with the late British punk rocker Sid Vicious. Described by the artist as an homage to the kings of Pop and of Pop art, the presence of Vicious in the piece adds an extra layer of poignancy and cultural relevance. Both musicians came to untimely and tragic ends - Presley died from a suspected prescription drug overdose, while Vicious allegedly killed himself by overdosing on heroin. Turk's facial expression is the stereotypical Presley curled lip, while his outfit and hairstyle are pure punk.

The piece is also a wry comment on the potentially destructive nature of celebrity culture and the damage ruthlessly inflicted on young stars by the system that makes them. Made just as Turk was becoming a hugely successful art star whose work was changing hands for increasingly large amounts, the work is also a meditation on the way artists are commodified and expected to distort their own identity for the sake of their work's commercial success. Turk is particularly noted for his witty reflections on what it meant to be a YBA, his innovative use of the waxwork as an art form, and his pioneering experiments with various art-historical personas.
Waxwork in vitrine
1988
Bullet Hole
Bullet Hole consists of fifteen separate lighted panels that together make up a large, close-up image of a head wound that also resembles female genitalia. Brash and unashamedly graphic, the piece is one of the most immediately recognizable works of the movement. It was described by critic Ian Jeffrey in the catalogue for the 1988 exhibition Freeze (where it was first shown) as a 'freeze-frame' - a phrase which provided the show's title. Collishaw sourced the raw and uncompromising image from a pathology textbook, and despite the piece's title the wound was caused by an ice pick rather than a bullet. His use of softly illuminated individual panels means that the work as a whole resembles a stained glass window, hinting at religious intensity as well as bloody violence.

Bullet Hole is a prime example of Collishaw's ability to pull viewers into a world between the everyday and the nightmarish, the familiar and the horrible. It exemplifies his fascination with the power of media imagery in contemporary culture, making high-impact pieces that challenge us to think about the type of images we readily consume. Eventually, as it was reproduced countless times in the press as a representation of work by the Young British Artists, Bullet Hole became a part of the very system it was intended to critique.
Cibachrome mounted on fifteen light boxes - MONA collection, Tasmania, Australia
1999
Hell
Hell was a huge tableau populated by sixty thousand toy soldiers in Nazi uniform, many of which were painstakingly chopped up or otherwise disfigured in scenes of intense torture and battle. The nine large vitrines containing these horrific scenes of fictional violence were arranged in the shape of a swastika. Like much of the Chapmans' postmodern experiments, the piece mixes elements associated with childhood or play with those from pornography or graphic images of torture - a combination that employs non-art materials and maximizes their grotesque impact. The original Hell was destroyed by fire in 2004 while it was in storage at Momart's warehouse. (The fire actually destroyed dozens of YBA works and was a milestone in the history of the group.) The artists completed a later, even larger version, titled Fucking Hell, in 2008.

It is the duo's clear artistic proficiency and dedication to artistic labor (as opposed to the apparent lack of skill used to create the more typically conceptual work of the other YBAs) that has led to their popularity with more traditionalist art critics. Hell took two years to make, and was noted by art historians for its conceptual as well as its actual scale - mixing history, mythology, and religion to provide a deeply memorable snapshot of a 20th-century catastrophe.
Fibreglass, plastic and mixed media - (destroyed)
Similar Art
Related Artists
Related Movements & Topics