Beginnings
Early Trends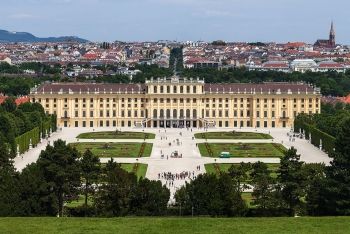 Ideas related to Gesamtkunstwerk existed as early as the Baroque period. These can be seen in Johann Fischer von Erlach's monumental designs for Schönbrunn Palace (1696-1709) or Louis le Vau and Charles le Brun's designs for Versailles (c. 1661-1678), the residence of Louis XIV of France. Architecture, interior design, garden design, sculpture, and painting were combined in one total effect of grandeur that was reflected in every element from the tableware to the textiles. Later architects and artists expanding the royal estates continued to strive for a total effect, although they also reflected the influence of later styles. This can be still seen in the additions at Schönbrunn Palace by Rococo architect Nicolaus Pacassi. UNESCO, naming Schönbrunn Palace a World Heritage Site in 1996, called the buildings and grounds "a remarkable Baroque ensemble and a perfect example of Gesamtkunstwerk", demonstrating how well Pacassi's work blends with the original.
German Romanticism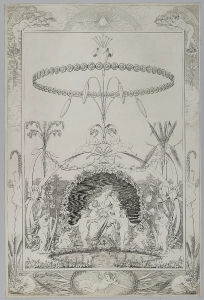 Early 19th century Romanticism movement influenced the development of Gesamtkunstwerk, notably through the artist and theorist, Phillip Otto Runge. Runge was celebrated for his Tageszeiten (Time of the Day) (1803-1805) series that depicted specific times of the day as a holistic imagining of figures, natural forms, architectural and decorative motifs, and landscapes. Taken as a kind of precursor of Gesamtkunstwerk, Runge's work had a noted impact on German artists, particularly as the leading figure of the day, Johann Wolfgang von Goethe became a patron. Contemporary historian Rudolf M. Bisanz notes that Runge "expanded under the auspices of the visual arts...the Gesamtkunstwerk on the basis of the universal constancy of human predisposition and an ecumenical Christianity."
Richard Wagner
In 1827 K.F.E. Trahndorff, a German writer and philosopher, used the word Gesamtkunstwerk in his Ästhetik oder Lehre von Weltanschauung und Kunst (Aesthetic or Theory of Worldview and Art). Although the first to coin the term, he built on the views of other philosophers such as Ludwig Trek and Gottfried Lessing who advocated for a synthesis of the arts. Adopting the idea theoretically and embodying it in his renowned operas, Richard Wagner popularized the term to the degree that, subsequently, it was often attributed to him. His essays, such as "The Art Work of the Future" (1849), argued that, since the classical Greeks, the arts had been incoherently splintered from one another, and that the artwork of the future must return to creating a total work of art. Wagner felt that the 19th century was one of chaos, and wrote "It is for Art above all else, to teach this social impulse its noblest meaning, and guide it towards its true direction." His noted opera cycles, particularly Der Ring des Nibelungen (1876), made him the most famous and influential composer of his era, as he combined drama, poetry, music, and theatrical setting to create a single unified experience. In 1857 he also undertook the design and building of the Bayreuth Theatre in Bavaria, creating a complete environment for the performance of his opera cycles.
Wagner's anti-Semitism expressed in such works as "Das Judenthum in der Musik" (Judaism in Music), an essay published under a pseudonym in 1850 and then under his own name in 1869, combined with his emphasis on the superiority of Germanic culture were seen as foundational to Nazism and Hitler was an ardent fan of his music and performances. Although Wagner himself died in 1883, by the 1920s, Winifred Wagner, the composer's daughter-in-law who had assumed ownership of the Bayreuth Theatre and its festival, was a close friend and strong supporter of Hitler. In 1928, she along with the festival's leadership joined with the Nazi Kampfbund für deutsche Kultur (The Militant League for German Culture).
Arts and Crafts Movement (1880-1920)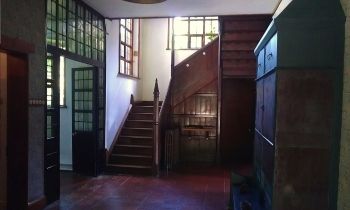 An early example of modern Gesamtkunstwerk was The Red House (1859), codesigned by William Morris and Philip Webb in Southeast London. The house, drawing upon Medieval Gothic design and using traditional building methods and materials, was also a pioneering example of the Arts and Crafts movement. Dante Gabriel Rossetti and Edward Burne-Jones also helped to decorate and fit the interior, while Morris designed the exterior garden, all to create a single artistic effect. Rossetti described the result as "more a poem than a house," and, as the thriving hub of the Arts and Crafts movement, as well as the site where Morris formed his design company, the building became an influential example of Gesamtkunstwerk. The movement's concept of Gesamtkunstwerk emphasized handmade objects over mass production, and focused on an English tradition of craftsmanship dating back to the 13th century, a period that also informed their aesthetics.
Art Nouveau (1890-1905)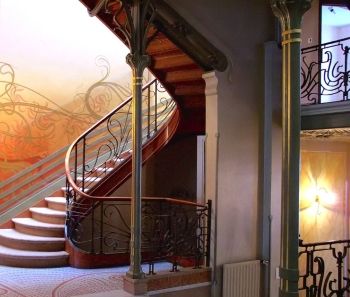 One of the first examples of Art Nouveau was Victor Horta's Hôtel Tassel (1893) in Brussels, a private residence that he designed for the Tassel family. The same year Paul Hankar's Hankar House (1893) also pioneered the style, as did Henry Van de Velde's house, Bloemenwerf (1895). In all of these houses the architecture, fittings, and furnishings were designed to complement each other and produce a complete artistic effect. As art historian Kenneth Frampton writes, Van de Velde built a house for himself that "without question was intended to demonstrate the ultimate synthesis of all the arts, for apart from integrating the house with all its furnishings, including the cutlery, Van de Velde attempted to consummate the whole GESAMTKUNSTWERK through the flowing forms of the dresses that he designed for his wife".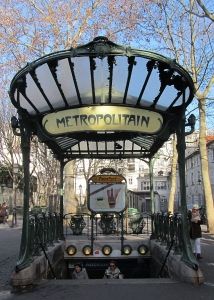 Art Nouveau dominated the 1900 Paris International Exposition, an international showcase that, along with Van de Velde, included Bruno Paul, Louis Comfort Tiffany, René Lalique, Fvodor Schechtel, Josef Hoffman, Émile Gallé, Alphonse Mucha, and many others. Art Nouveau embraced the use of modern materials, including iron, glass, ceramics, and, eventually, concrete, while emphasizing curving sinuous lines and organic forms to create a sense of movement. It was widely employed in all elements of interior design, the graphic arts, metal work, and jewelry as well as architecture.
Jugendstil (1896-1914)
Jugendstil, the German term for Art Nouveau, began in 1896 in Munich with the work of Hermann Obrist. As art critic Andrew Hickling notes his "'whiplash'; a sinuous flourish of hairpin curves inspired by cyclamen stems...would become synonymous with fin-de siècle design." In much the same manner as Art Nouveau, the emphasis upon elegant lines, inspired by organic and sometimes geometric forms, involved a new vision of design that, rejecting conservative academic art, integrated all the arts into a Gesamtkunstwerk.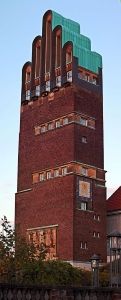 Founded in 1899 by the Grand Duke Ernst Ludwig of Hesse, the Darmstadt Artists' Colony became the hub of the Jugendstil movement, but also its most famous example of Gesamtkunstwerk. Led by Joseph Maria Olbrich, the artists who lived and worked in the colony included architect Peter Behrens, sculptor Ludwig Habich, painter Hans Christiansen, interior designer Patriz Huber, and furniture designer Julius Glückert. Each artist's home was a carefully-designed total work of art, while also harmonizing with the colony's wider architecture effect and reflecting its owner's artistic preoccupations. For instance, Olbrich's façade for Hans Christiansen's house was decorated with bright colors and figurative decoration to reflect the painter's artistic oeuvre. Olbrich's Ernst-Ludwig-Haus, (1900-1901) was the center of the colony, functioning as a public reception space but also housing artist studios and workshop space. Rejecting the hierarchal distinction between fine and applied art and emphasizing craft, the colony's workshops also embraced modern industrialization, producing various items commercially and promoting the idea that even the most ordinary home could be a Gesamtkunstwerk. In 1901 in their "A Document of German Art," written for the colony's official opening, Olbrich and Behrens celebrated the colony as a model of Gesamtkunstwerk.
The Vienna Secession (1897-1905)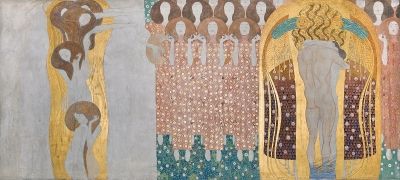 Breaking with the conservative and academic hierarchy of the arts, the Vienna Secession emphasized an international "total art," that unified the decorative arts with painting, sculpture, and architecture. Founded in 1897 the movement was led by Gustav Klimt and included the architects Josef Hoffmann and Joseph Maria Olbrich, the designer Koloman Moser, and, later, the architect and designer Peter Behrens. The Secession's first and most famous project was the Secession Building (1897-1898) in Vienna, designed by Olbrich and serving as the movement's exhibition space. The building's architecture, its famous Beethoven Frieze (1901), designed by Gustav Klimt, and the distinctive façade details, designed by Moser, created a total work of art that also functioned as the movement's architectural manifesto. The tour de force of the movement was the Stoclet Palace (1905-11) in Brussels. Designed by Josef Hoffman, the private residence with its dining hall, containing murals by Gustav Klimt and employing rare and expensive materials, has been celebrated as the luxurious epitome of Gesamtkunstwerk. The Wiener Werkstätte (Vienna Workshops), a commercial design group founded by Josef Hoffmann and Koloman Moser in 1903, played a primary role in creating elements for the Stoclet Palace (1905-11), including executing Klimt's murals made of precious materials.
Bauhaus (1919-1933)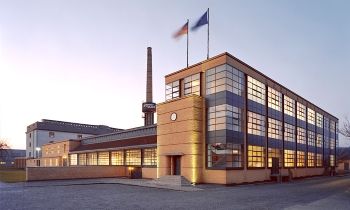 Taking leadership of the Bauhaus, a school that emphasized rigorous training in the crafts along with the fine arts, Walter Gropius embraced the concept of Gesamtkunstwerk. In 1919 his Manifesto proclaimed the "universally great, enduring spiritual-religious idea..., which must find its crystalline expression in a great Gesamtkunstwerk." Redefining the term from a "total work of art," to what he called "Total Design," he believed the concept applied to all aspects of modern life, from designing a factory to urban planning to a private residence, and to all of its elements from workstations to lighting, teapots, and teaspoons. Believing that form should reflect function, under Gropius' management, the Bauhaus ardently embraced the materials and processes of modern technology and a modernist aesthetic to create a new utopian society.
De Stijl (1917-1931)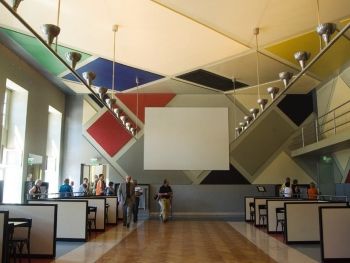 In 1917 Theo van Doesburg and Piet Mondrian, with other artists, founded De Stijl, a Dutch movement that advocated for simplicity, using primary colors and geometric forms, to create abstract works that reflected underlying spiritual reality. Other noted artists who later joined the movement included Gerrit Rietveld and Vilmos Huszár. Van Doesburg was deeply interested in Gesamtkunstwerk's unification of fine art with architecture and the applied arts to create a kind of utopia. De Stijl became primarily known for its paintings, as exemplified by the Mondrian's Neo-Plasticism and van Doesburg's Elementarism, but the group also produced items including graphic design and Rietveld's iconic chair. Rietveld was the creator of one of the movement's most renowned buildings, the Rietveld Schröder House (1924), which incorporated interior and exterior space into one total art work that emphasized, according to historian Alice T. Friedman, "a fierce commitment to a new openness about relationships within their own families and to truth in their emotional lives."
Concepts and Trends
Raumkunst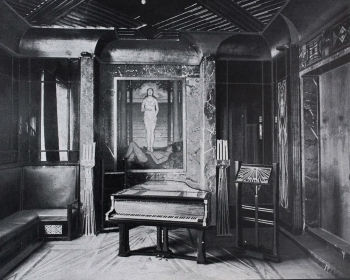 The Jugendstil artist Albert Endell pioneered the concept of Raumkunst, or "room art," as all the elements in a room from furnishings to fittings to decorative motifs were designed to create a total work of art. He derived Raumkunst from his concept of Raumbewegung, or "space-movement," as he wrote, " It is the life of space (Raum) that gives...such a strong and meaningful basis to form and color...It is customary to understand under the term architecture the elements of a building, the facades, the columns, and the ornaments. And yet all of this is only secondary. What is in fact most powerful is not form, but...the emptiness that spreads out rhythmically between walls, that is defined by them, but whose liveliness is more important." At the 1899 Dresden German Art Exhibition, Richard Riemerschmid exhibited his Music Room, and at the 1900 Paris Exposition Universelle, Bruno Paul's Hunting Room, Bernhard Pankok's Smoking Room, and Riemerschmid's Room for an Art Lover were exhibited. These rooms, each presented as a total work of art focused around the room's function, were wildly popular and most of the items went immediately into commercial production. The concept of living in a total work of art became available to the ordinary middle class, who could not afford custom buildings, but who could now transform their interior rooms with commercially available items. The concept of Raumskunst implicitly informed the later work of the Bauhaus and De Stijl, though modified. Walter Gropius emphasized function and total design, whilst De Stijl sought to create interior spaces that were open and flowing. Both Bauhaus and De Stijl, embracing modernization and its processes, commercially producing many of their products.
Multimedia
In essence, Gesamtkunstwerk prefigured modern multimedia practice and this interdisciplinary approach was expressed in the lives of its practitioners. At the time of his death, William Morris was remembered as much for being a poet as for his design work. Otto Eckmann created graphic work, logos, and several distinctive fonts, while also engaged in decorative painting, and Paul Bruno was not only a leading architect but also an interior designer, furniture designer, and illustrator. Rather than specializing in a single art, artists took a "Renaissance man" approach, continually learning new crafts, printing technologies, industrial processes, and artistic techniques to expand their repertoire to all aspects of designs. At the same time, the interdisciplinary approach led to an emphasis on collaboration, as artists and craftsman worked together on a single project.
Visions of Utopia
Beginning with the works of Richard Wagner, Gesamtkunstwerk was driven by the vision that the total work of art would reflect and create a utopian society. In many cases, including Wagner and the Arts and Crafts movement, the utopian society was, in essence, a revival of an earlier age. Wagner sought a return to the unity he saw in classical Greece and the Arts and Crafts movement saw that restorative value in the earlier, simpler age of medieval England. As a result, Gesamtkunstwerk often had an implicitly nationalistic focus, drawing upon the traditional crafts and beliefs of a particular people. As art historian Michael Wilson Smith writes, the concept embodied "an attempt to forge many cultures into a single, idealized national culture." By the 1920s, this emphasis had informed Nazism's extreme nationalism, defined by spurious concepts of racial and cultural purity.
Other movements, like Jugendstil and Art Nouveau saw Gesamtkunstwerk as connecting humans to the order and truth of nature, as artists turned to organic forms. These depictions were assisted by then-recent scientific observations including microscopic photographs. De Stijl saw their abstract elemental forms and primary colors as reflecting a deeper spiritual reality, where Gesamtkunstwerk would create a new openness in society.
Later Developments
Gesamtkunstwerk was not without its critics and in the 1920s the German playwright Bertolt Brecht compared it to hypnosis. He wrote, "So long as the expression "Gesamtkunstwerk" means that the integration is a muddle, so long as the arts are supposed to be "fused," together, the various elements will all be equally degraded and each will act as a mere "feed" to the rest." He advocated for a "radical separation of the elements." The noted filmmaker Eisenstein, while influenced by Wagner in his concept of "total cinema," similarly emphasized a separation of elements with his use of montage, juxtaposing discordant and contradictory images. As art critic Dustin Cosentino wrote, "Where there is totality, there is total control. And total control means that the successfully executed Gesamtkunstwerk...does not allow for free progression or natural evolution."
The concept of Gesamtkunstwerk fell from favor in the 1930s with the rise of Nazism, partly due to the displacement of many of its leading practitioners. Artists such as Walter Gropius and other members of the Bauhaus fled from Nazi persecution, moving to other European countries or to the United States. As the same time, however, Nazism co-opted some of the concepts of Gesamtkunstwerk and Wagner's music and theory was seen as foundational to ideas of racial purity. Reviving Nordic myth and culture during World War II, the Nazi party ran the Bayreuth Theatre Festival, presenting Wagner's operas as well as lectures on the composer. As a result, in the post-war period, the concept of Gesamtkunstwerk lost all legitimacy and artists such as Peter Behrens, who remained in Germany and worked with Speer at Hitler's behest, were disgraced. At the same time, the effect of the war and its atrocities made belief in a total work of art as a vehicle for a utopian society untenable in the post war era. Emerging art movements also rejected any concept of the unity of all the arts, as seen in Abstract Expressionism's emphasis on the formal qualities and media specificity of painting.
Contemporary scholarship has revisited and revitalized the historical and artistic analysis of Gesamtkunstwerk. Scholars such as M.W. Smith in his The Total Work of Art (2007) writes, "the total work of art is still a potent aesthetic idea, always intertwined with technology, continuing to blur distinctions between high and mass culture, artwork and commodity spectacle." As Smith noted, "The uses to which it had been put under the Third Reich made the Gesamtkunstwerk generally unacceptable throughout much of Europe in the wake of the Second World War. The genre, however, would find new life in the United States." Smith finds this "most sharply exemplified at Disneyland, which replicated many of the strategies of Bayreuth, the Bauhaus, and Nuremberg." His analysis also includes Warhol's multimedia Happenings, virtual reality and the pseudo-totality of the internet, as informed by the concept.
Other scholars including David Robers, Matthew Wilson Smith, and Juliet Koss also view the concept as central to twentieth century culture. As Art critic David Newland notes, "The multi-media installations so ubiquitous in contemporary art - such as Marta Minujin's raucous performance installations - are arguably indebted to the idea of the gesamtkunstwerk." Various events, including the opening ceremonies for the Olympic games, the Times Square New Year's Eve celebration, as well as concert performances by Laurie Anderson, Robert Wilson & Philip Glass, Madonna, Nine Inch Nails, and others have been viewed as aspiring to total works of art. Whilst various critics have applied the term retrospectively, none of the artists themselves have embraced or employed it.
In 2014, the Saatchi Gallery's exhibition Gesamtkunstwerk: New Art from Germany, a show that included over twenty contemporary artists, was described as pointing "to a new kind of Gesamtkunstwerk, one in which high and low culture, the avant-garde and the historical, the everyday and everything in between can co-exist." To avoid the negative connotations of the term, the exhibition emphasized the egalitarian and democratic aspects of the works.
Key Artists
William Morris was an English textile designer, writer, and social activist who was the father of the Arts and Crafts Movement.

Mackintosh was a Scottish architect, designer, sculptor and decorative artistwho is best known as the United Kingdom's greatest proponent of Art Nouveau and founder of the Glasgow Style.

Aubrey Beardsley was a nineteenth-century English illustrator and author. In black ink he created highly erotic, grotesque, and decadant drawings, much in the style of Japanese woodcuts. Beardsley's work was part of the Aesthetic movement, and was highly influential to the subsequent Art Nouveau movement of the early-twentieth century.

Synonymous with Art Nouveau, Horta was one of the greatest innovators and pioneers of the movement, designing flamboyant, lush, and organic houses, buildings, and offices. His works are marked by their curvilinear botanic forms, most of which can still be seen in the city of Brussels.

Guimard was a leading figure in the Art Nouveau movement and the buildings that he designed exemplified the aims of the movement with their organic curves, unity of decorative arts, and natural elements. He made his greatest mark in Paris where in 1900 he designed the entrances to most of the city's metro stations.

Austrian painter Gustav Klimt was the most renowned advocator of Art Nouveau in Vienna, and is remembered as one of the greatest decorative painters of the twentieth century. He also produced one of the century's most significant bodies of erotic art.

Louis Comfort Tiffany was an American glass designer, painter and decorative artist, and undoubtedly the American most associated with the Art Nouveau movement.

The German architect Walter Gropius founded the important Bauhaus School of art and design. Along with Ludwig Mies van der Rohe and Le Corbusier, he is regarded as one of the pioneers of modern architecture.

Antoni Gaudí was the most popular representative of the Catalan Modernista movement, which combined elements of Art Nouveau, Japonisme, Gothic design, and geometric forms. Gaudi's design style has been referred to as "global," indicating a profound attention to every detail of his work, from a building's structure and placement down to its smallest decorative details. Gaudi's masterpiece is the Sagrada Familia, a distinctly modern church in Barcelona.

Frank Lloyd Wright was an American architect and designer who is widely considered among the greatest architects in history, having erected some of the world's most iconic structures, from the Solomon R. Guggenheim Museum to the Fallingwater house.

Theo van Doesburg was a Dutch artist, who together with Piet Mondrian established the De Stijl movement. Van Doesburg's most famous work experimented with geometric abstraction and archetypal forms. He was also a prominent architect and writer.
Do Not Miss
The Arts and Crafts Movement was an international design movement that originated in Great Britain and had a strong following in the United States. It advocated truth to materials and traditional craftsmanship using simple forms and often medieval, romantic or folk styles of decoration. It also proposed economic and social reform and has been seen as essentially anti-industrial.

Rising to prominence in Germany in the late nineteenth century, Jugendstil, which means "youth style" in German, influenced the visual arts (particularly graphic design and typography), decorative arts, and architecture.

Bauhaus is a style associated with the Bauhaus school, an extremely influential art and design school in Weimar Germany that emphasized functionality and efficiency of design. Its famous faculty - including Joseph Albers and Ludwig Mies van der Rohe - generally rejected distinctions between the fine and applied arts, and encouraged major advances in industrial design.
Content compiled and written by Rebecca Seiferle
Edited and revised, with Summary and Accomplishments added by Kate Stephenson
"Gesamtkunstwerk Definition Overview and Analysis". [Internet]. .
TheArtStory.org
Content compiled and written by Rebecca Seiferle
Edited and revised, with Summary and Accomplishments added by Kate Stephenson
Available from:
First published on 21 Jan 2020. Updated and modified regularly
[Accessed ]