Artists
Charles Rennie Mackintosh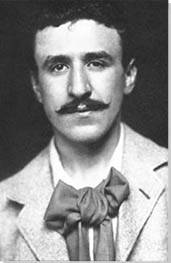 Born: June 7th, 1868 - Glasgow, Scotland
Died: December 10th, 1928 - London, England

"We must clothe modern ideas with modern dress."
Summary of Charles Rennie Mackintosh
A close friend of his once said, "the creations of Mackintosh breathe", and as such likened the architect to a prophet giving life to the otherwise ordinary and inanimate. Self-consciously understated, and in the same key as a simple monastery or a white cube contemporary art gallery, both the interior and exterior spaces designed by Charles Rennie Mackintosh sing of serenity, spirituality, and of rigorous attention to detail. Although an architect working with colossal and hard materials, he typically brought intimacy and softness to all that he designed and built. His symbolist architectural style is one infused with the restraint and minimalism of Japonism, as well as fine delicacy and a love for floral motifs shared with his long-term partner and artistic collaborator, Margaret Macdonald.

As the visionary architect responsible for its re-design and re-build, Mackintosh not only transformed The Glasgow School of Art into world-renowned academy, but also put Scotland firmly on the map as a center of creativity and hub for art and design. His most intense work period lay between 1896-1910 - designing buildings, as well as all types of furniture and other decorative features - but he also drew and painted until his final days. Like his European counterparts, including Gustav Klimt, Mackintosh integrated a multitude of curves with straight lines but did so without the same ostentation, opulence, and grandeur. In 1900, he was invited to present an installation at the 8th Secessionist Exhibition in Vienna and following his display he was appropriately acknowledged as one of the foremost designers in Europe.
Key Ideas
Mackintosh worked in close collaboration with his wife Margaret Macdonald, his friend Herbert MacNair, and his wife's sister Frances Macdonald (who was married to MacNair); together they were known as "The Four". They developed The Glasgow Style that was similar in intent to
William Morris
and
The Arts and Crafts Movement
, believing in the "total design", that is the creation of every aspect of an interior including furniture, metalwork, and stained glass.
Interestingly, although European Modernist contemporaries said that they sought to break with tradition, lavish materials often pointed back to the wealth and elitism from which they wished to dis-associate. Mackintosh on the other hand, achieved a humble simplicity in design - both for the exterior and the interior furnishings of buildings - and sought for, above all, integrity of materials and harmony of space. Indeed, taste not wealth was always a key focus for Mackintosh.
Aside from being a highly imaginative visionary architect and interior designer, Mackintosh in his later years became an avid painter of flowers. Interestingly, fellow modernist,
Piet Mondrian
was also a prolific flower painter as an aside to his famous primarily color abstractions. The act of painting flowers well exposes an artist's intention, that of a manmade attempt to capture the exquisite perfection of nature.
Although Mackintosh himself ironically stated that part of his impetus to create art was to make something "more lasting than life itself", it seems that in many ways his career gives insight into the opposite message. The fact that most of Mackintosh's designs were never materialized, and furthermore, that recently one of his greatest buildings has been irrecoverably damaged by fire raises the poignant question as to whether anything can, or should, exist eternally. This debate is particularly current as impermanence is a topic that is in vogue throughout modern art, for example, the contemporary sculptor
Urs Fischer
makes larger-than-life figures into candles and lets them melt away.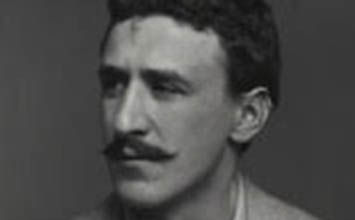 Charles Rennie Mackintosh was the fourth of eleven children, and one of seven to survive infancy, born to parents Margaret Rennie and William Mackintosh. His father was a policeman whilst his mother was usually bedridden due to being so often pregnant, recovering from birth, or unwell. Mackintosh's large - mainly female - family was tight knit and lavished him with love and affection. The family's first tenement was situated on Parson Street overlooking the gothic Glasgow Necropolis; their father tended a vegetable garden and such became an early influence on Mackintosh who developed an avid interest in organic and botanical form and growth. From a young age Mackintosh did lots of drawing and used his sketchbooks as a way to withdraw from the world and to manage difficulties understanding the emotions of others as well as his own outbursts of rage. Also during childhood, Mackintosh was afflicted with rheumatic fever; this resulted in a droop on one side of his face and developed into a signature feature of his appearance.
Important Art by Charles Rennie Mackintosh

The below artworks are the most important by Charles Rennie Mackintosh - that both overview the major creative periods, and highlight the greatest achievements by the artist.

Glasgow School of Art (1899 - 1909)

Artwork description & Analysis: Mackintosh redesigned both the interior and exterior of the Glasgow School of Art to stand as a shining example of his early, forward-looking, pluralist architecture. The building was made of stone in order to reference Scottish Baronial tower houses, which Mackintosh considered incredibly modern in their original use of iron and glass. Mackintosh was always sensitive to surrounding architecture and existing national traditions but at the same time added his own free style aesthetics; on the left-hand side of the building there is an entrance reminiscent of an ancient ziggurat built to unusual, non-classical proportions. As such he seamlessly merges a wide variety of different influences.

Perhaps most prominently, and especially in the interior, Mackintosh displays his interest in Japanese design; as well as overall restrained decorative elements. He created a functional iron screen on the North facade which bears similarity to Japanese heraldic emblems or 'mon'. The exterior of the building served as notable inspiration for Bauhaus director Walter Gropius' Fagus Factory (1911-13), through its very similar rectilinear composition and window design.

From a philosophical perspective, Mackintosh sought to unite the body and spirit, and beauty and function through perfectly designed interior space. The library was built at the heart of the art school building and inside the space was carefully divided by wooden beams akin to Japanese houses and illuminated by large windows. This part of the facade stands in contrast to the East Front where windows were kept to a minimum. Art historian Alan Crawford described this part of the building, "a pause in the design, such as occurs between the chapters of a book or the verses of a poem."

The studio spaces within were simple and austere but were decorated - by balancing contrast - with exuberant floral ironwork akin to Hector Guimard's classic Art Nouveau designs for the Paris Metro (1900). Art historian Nikolaus Pevsner claimed such juxtapositions as "essential to grasp the fusion in his art of puritanism with sensuality." Traditionally furniture was viewed as an extension of architecture but for Mackintosh it served as more of a complement. The square chandeliers in the library as well as the curved and colorful shapes in the stained glass windows clearly highlight the artist's interest in Symbolism, and overall, the building has been dubbed by writer Cairney as "Mackintosh's self-portrait" and by the design historians the Fiells as "Mackintosh's masterwork".

Stone, Glass, Iron, Wood


Artwork Images

Interior for Mackintosh's Mains Street Flat (1900)

Artwork description & Analysis: Mackintosh began to design the interior for his own Glasgow flat shortly before his marriage to Margaret Macdonald, and the two of them moved in soon afterwards. While Mackintosh largely left the original features intact he rearranged the rooms to create what Cairney has praised as a "living, three-dimensional work of art, a breathtaking space within four square walls". One of Mackintosh's friends, Muthesius, described the home as a "fairy-tale world" and noted that even a book left out would disturb the minimalist and perfectly harmonious scheme. Even the fireplace had been lovingly modified with a curved wooden top piece in order to soften it and to make the overall space feel more homely. The couple's furniture, pictures, and cushions for the cats were added.

There is a strong disregard for materialism illustrated by the clean lines, delicate coloring, and generally uncluttered interior. As such we are presented with a stark contrast to the heavily draped, ornate, and dark more typical British Victorian interior. Some furniture was brought from Mackintosh's Regent Park dwelling and modified slightly, whilst the tables, a smoker's cabinet for the dining room, a white writing desk and new decorative panels by Macdonald were all made specifically for the new residence. Quiet complementary color schemes were created, mostly grey and white, or brown, black and white (in the dining room), and this was all off set and completed by select Japanese prints and subtle arrangements of twigs and flowers.

It has been suggested by art historian Pamela Robertson, that the photographs taken of this flat could be considered misleading, for they were all taken in black and white. They were in fact highly interested in color and drawn to the enriching effect that touches of color could have. For example, the panels in the artists' bedroom were green and their stained glass was purple. They did not omit color as much as create a neutral space so that one could actually see color, a bit like a gallery in that respect.

Wood, glass


Artwork Images

Installation for the Eighth Secessionist Exhibition (1900)

Artwork description & Analysis: In 1900 Mackintosh and Macdonald were invited by the architect and figurehead of the Viennese Secession, Josef Hoffman to present a collaborative design for "The Scottish Room" at the 8th annual exhibition of the movement held in Vienna. The result was a recreation of one of the many tea room interiors that Mackintosh had designed in Glasgow. Changes were made furnishing the space however, making it relatively sparse overall, but with a show-stopping piece by Macdonald hanging on the wall. Macdonald had made a large oil-painted gesso on hessian piece (her typical media) that featured five women depicted in her signature overlapping and floral style. It had originally been made for Miss Cranston's Ingram Street Tea Room and named The May Queen. Admired greatly by Mackintosh, he said of his wife's work, "Margaret has genius, I have only talent".

Some of the furniture included was in fact brought from the couple's Mains Street flat, whilst other pieces were made especially for the space. A magazine at the time, The Studio commented on the spirituality of the installation; "The composition forms an organic whole... the effect of sweet repose filling the soul." Muthesius, writing for Die Kunst, praised this installation as having "a seminal influence on the emerging new vocabulary of forms, especially and continuously in Vienna."

Mackintosh's biographer, Thomas Howarth wrote that after this exhibition the "the entire Viennese movement blazed into new life" with an "outpouring of decorative work and furnishing... bearing a striking superficial resemblance to that of Mackintosh." Two of the best examples of direct influence following Mackintosh's iconic display are Hoffman's Sitzmachine Armchair (1905) and Gustav Klimt's Beethoven gesso frieze (1902), although Klimt is more likely to have been influenced by the work of Macdonald.

Wood, glass, textiles
More Charles Rennie Mackintosh Artwork and Analysis:
Influences and Connections
Influences on Artist
Artists, Friends, Movements
Influenced by Artist
Artists, Friends, Movements

Interactive chart with Charles Rennie Mackintosh's main influences, and the people and ideas that the artist influenced in turn.
View Influences Chart

Artists

Personal Contacts

| | |
| --- | --- |
| | Margaret MacDonald |
| | Herbert McNair |
| | Francis Henry Newbery |
| | Frances McDonald |

Movements

Influences on Artist

Charles Rennie Mackintosh
Years Worked: c.1890 - 1928
Influenced by Artist

If you see an error or typo, please:
tell us
Cite this page

Content compiled and written by Anton Smirnoff
Edited and revised, with Synopsis and Key Ideas added by Rebecca Baillie
" Artist Overview and Analysis". [Internet]. . TheArtStory.org
Content compiled and written by Anton Smirnoff
Edited and revised, with Synopsis and Key Ideas added by Rebecca Baillie
Available from:
First published on 09 Nov 2018. Updated and modified regularly.


[Accessed ]