Beginnings
Predecessors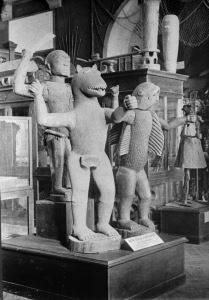 Leading up to the 1900s, sculpture was based on the traditional forms taught in the academies and employed by leading artists like Auguste Rodin. Sculptors used a somewhat collaborative process that relied upon help by skilled assistants. The sculptor would make the original work in clay, wax, or plaster, and assistants, using a pointing machine, would then carve the work in wood or stone. Plotting specific points on the raw material, the machine made it possible to create accurate copies and to enlarge or reduce the size of the original. But Direct Carvers soon emerged to reject this approach.
In the early 1900s, European museums and avant-garde artists began recognizing the works of other cultures as art, rather than merely crafts or utilitarian objects confined to historical or ethnographical interest. Artists began adopting elements of non-Western art's formal and stylistic qualities as innovative strategies and took up the techniques of Direct Carving. While, in actuality, most non-Western art was created within a complex tradition, where iconography, the materials used, and the process of creation followed specific rules and customs, the avant-garde artists, feeling they understood these exotic works intuitively, found specific inspiration in their raw and primitive powers of expression.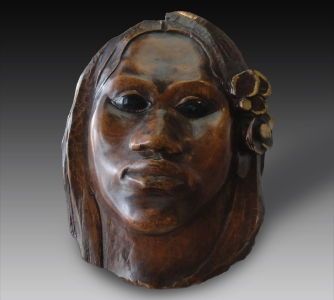 When Paul Gauguin first went to Tahiti in the early 1890s, he became enamored with its people and culture. He encountered the hand carved sculptures and objects of Tahitian art and, subsequently, made a number of Direct Carved works. As he later said, after viewing the non-Western works exhibited at the 1889 Universal Exposition, his view was that "sculpture like drawing...ought to be modeled 'harmoniously with the material.'" Gauguin's work had wide influence, informing Brâncuși's approach and inspiring Ernst Ludwig Kirchner's transition to sculpture. An exhibition of his work in 1910 in Dresden not only influenced other Expressionists but also fueled their further interest in African art.
The Arts and Crafts movement also promoted the search for a more primal authenticity. It began in Britain in 1860, rejecting industrialization while advocating for the creation of high quality handcrafted items in harmony with a more genuine lifestyle. Blurring the distinction between fine art and craft and between artist and craftsperson, the movement provided the theoretical underpinnings for Direct Carving.
Constantin Brâncuși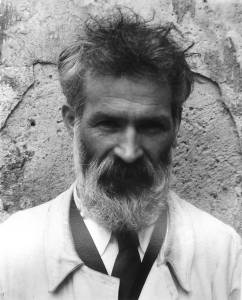 Constantin Brâncuși's love of woodcarving developed during his rural Romanian childhood. At the age of 18, his hand-carved violin impressed a patron who helped him enroll in the Craiova School of Arts and Crafts. He went on to study at the Bucharest School of Fine Arts, before moving to Munich and then to Paris where he became part of the artistic milieu. He worked as an assistant in Auguste Rodin's workshop for two months, but left after feeling he had reached an artistic turning point. As he said, "I felt that I was not giving anything by following the conventional mode of sculpture."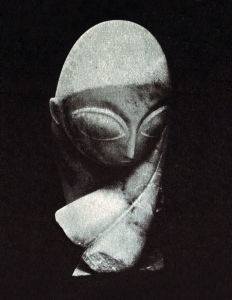 After deciding to pursue his own path, Brâncuși would pioneer Direct Carving. This new mode allowed him to engage with the material through every part of the process, letting texture, grain, and color inform the final work. He drew upon his deep knowledge and connection to Romanian folk art but was also influenced by Gauguin whose works he had seen at the 1906 Salon d'Automne and by the African sculptures he studied at the Trocadéro Museum in Paris. His simple forms often married geometry with biomorphism to capture, as he said, "not the outer form but the idea, the essence of things." His work was so influential, he is often called "the father of modern sculpture."
Adopted by European artists like Amedeo Modigliani, André Derain, Ossip Zadkine, Emile Nolde, Ernst Barlach, and Ernst Ludwig Kirchner, British artists including Jacob Epstein, Henry Moore, and Barbara Hepworth, the Surrealists such as Hans Arp, and even the Japanese American Isamu Noguchi, Direct Carving became part of the gestalt of modernism.
Concepts and Trends
Primitivism and Culture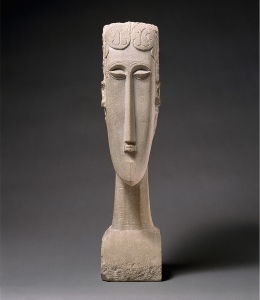 The hand-carved objects of non-Western culture, including pieces from Mesoamerica, ancient Egypt, and Africa, influenced many early practitioners of Direct Carving. With their simple shapes and elemental lines, these non-Western works, whether carved in stone or wood, simplified and abstracted the figure, conveying a primitive connection to essential form. Avant-garde artists were often drawn to the art of specific cultures; Epstein's work was often influenced by Egyptian sculpture, whereas the elongated faces of Baule masks and figures inspired Modigliani. He would later cement this distinctive facial style in a series of sculptures that included his Woman's Head (1912).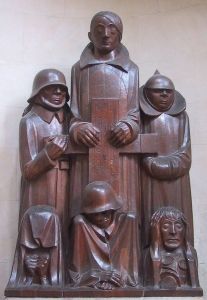 The avant-garde's interest in non-Western art was often combined with a deep attachment to the artist's native culture. For example, art historian Sidney Geist traced the figure in Brâncuși's The First Step to a work from the Bambara people of Africa, while Edith Balas attributed its innovation to the influence of Romanian folk art. Brâncuși praised both traditions saying, "Only the Africans and the Romanians know how to carve wood." In Germany, when Ernst Barlach, who had been influenced by Asian art early in his career as an Art Nouveau artist, turned to sculpture in 1907, his wooden figures, such as his Magdeburge Ehrenmal (1929), drew upon German medieval religious sculpture. Both African art and German woodcut prints informed Ernst Ludwig Kirchner's work. This trend continued with subsequent sculptors like Henry Moore, who wrote, "Mexican sculpture, as soon as I found it, seemed to me true and right, perhaps because I at once hit on similarities in it with some eleventh-century carvings I had seen as a boy on Yorkshire churches." Isamu Noguchi learned Brâncuși's Direct Carving while studying with him but his work equally reflected Japanese aesthetic and cultural tradition.
Materiality and Inherent Nature
Direct Carvers often viewed the artistic process as being in an intimate collaboration with nature. With an utmost respect toward the material's unique properties, they would allow for the colors, textures, and inherent nature of the wood or stone to guide the finished work. As Brancusi wrote, "It is the hand that thinks and follows the thought of matter." Materials were carefully selected for their distinctive qualities, and sculptors often used indigenous materials with historical or cultural resonance.
Jacob Epstein's Sun God (1910) was made from Hoptonwood stone, a Derbyshire limestone historically used for official buildings, including the Houses of Parliament. In Epstein's sculpture, we therefore find the irony of the same stone being used to create both a modern artifact alluding to the mythological and ephemeral as is used in housing our manmade authoritative institutions. Meanwhile, both Hepworth and Moore used Cumberland alabaster, known for its veins and rich color that could be carved in accordance to resemble the natural forms of landscape.
Additionally, materiality itself could inspire. As Hepworth noted, "Carving to me is more interesting than modeling, because there is an unlimited variety of materials from which to draw inspiration." Explaining his preference for Mexican sculpture, Moore wrote of its "grim, sublime, austerity, a real stoniness," and further explained, "Its 'stoniness', by which I mean its truth to material, its tremendous power without loss of sensitiveness, its astonishing variety and fertility of form-invention."
Process
Direct Carving valued a raw and spontaneous approach to sculpture. Rather than working from models, sculptors felt they were involved in a more organic and intuitive relationship with the material, resulting in a liberated final form. As a result, the process often took on a spiritual or mystical quality, as it was viewed as creating a direct connection to nature from which emerged a synchronistic and elemental truth. As José de Creeft wrote, "As you probe deeper and deeper into the stone, accepting suggestions of its shape and structure and imposing on it your unfolding vision, you discover new beauty at every step." Sculptors emphasized a wood's grain or knots to suggest the features of a figure or to evoke biomorphic shapes. Using simple forms unadorned by detail, they sometimes polished the form to emphasize certain aspects of its character but, just as often, left it roughly finished, still bearing the marks of their tools, as the process itself became part of the final work. Many artists approached the process of Direct Carving without any pre-training in sculpture. This lack, as art historian Penelope Jane Curtis wrote, "actually cultivated the new stylization which was the result of the conjoining of different priorities with a resistant material."
Later Developments
The evolution of Direct Carving would go on to make its mark on the artwork of subsequent generations of artists and movements. Following World War II, artists like Louise Bourgeois, Isamu Noguchi, Georg Baselitz, Chaim Gross, and Marina Núñez del Prado, continued to employ similar approaches.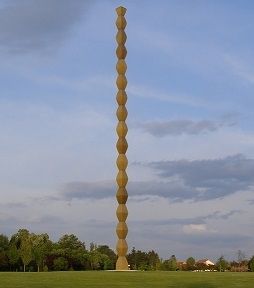 Direct Carving's emphasis on materiality can also be seen as a fundamental underpinning of Minimalism's focus on the material object as something whose form and function could be discovered in its simple, inherency alone. Brâncuși's work, particularly his Endless Column, first carved out of oak in 1918, and subsequently revisited, as William C. Agee noted, was a "sustained inspiration," for the Minimalists, who could find "Seeing in his single, unitary shapes with no extraneous parts a way to a new abstraction."
In 1984, the exhibition aptly titled "Ways of Wood" was held at four locations, highlighting the works of 48 artists, some of whom employed Direct Carving. The exhibit occurred the same year that Martin Puryear's Direct Carving was shown at the La Jolla Museum of Contemporary Art, and Ellsworth Kelly's wood sculptures, which he called "totems," were presented at a New York Gallery.
Along with Puryear, other leading artists have continued to inventively employ Direct Carving into the 21st century. Anish Kapoor's solo exhibition in Instanbul in 2013 centered around his stone sculptures created over three decades. In 2014-2015, Ursula von Rydingsvard's monumental cedar sculptures were shown in a solo retrospective at the Yorkshire Sculpture Park in the United Kingdom. In 2019, Peter Randall-Page's solo exhibition was held at Kloster Schoenthal sculpture park in Basel, Switzerland. Today, other artists working in Direct Carving include Milena Naef, Hanna Eshel, Matthew Simmonds, Christopher Kurtz, and Julian Watts, as well as the collaborative team of Daniel Dewar and Grégory Gicquel, and MANGLE, the Colombian team of María Paula Alvarez and Diego Fernando Alvarez.
Direct Carving's emphasis on process also informs Process Art's forms, spontaneously and unpredictably shaped by human actions and organic processes.
Key Artists
Constantin Brâncuși, a Romanian artist working in Paris, was one of the founders of modern sculpture. His abstracted animals, portrait busts, and totem-like figures revolutionized the traditional relationship between the sculpture and its base.

Paul Gauguin was a French Post-Impressionist artist who employed color fields and painterly strokes in his work. He is best known for his primitivist depictions of native life in Tahiti and Polynesia.

Amedeo Modigliani was a Jewish-Italian painter working in Paris from 1906 onwards. His unique style was influenced by Post-Impressionism, Brâncuși and Cézanne, and featured ovaloid faces, elongated forms, and the use of brushed, modulated color fields.

André Derain, the co-founder of Fauvism, was a French artist whose paintings exhibit the writhing energetic lines and bright colors characteristic of the movement. He strove to keep art modern and current throughout his career.

Nolde was a Danish-German painter and printmaker who was affiliated with the groups Die Brucke, the Berlin Secession, and Der Blaue Reiter. His bright, evocative paintings of religious scenes, seascapes, and flowers earned him a unique place in the greater Expressionism movement.

Ernst Ludwig Kirchner was one of the driving forces in the Die Brücke group that flourished in Dresden and Berlin before WWI, and one of the most talented and influential of the Expressionists.

Henry Moore was an English sculptor and artist. He was best known for his abstract monumental bronze sculptures. His forms are usually abstractions of the human figure, typically depicting reclining figures, or even more commonly, the mother and child theme.

Barbara Hepworth was an English sculptor. She helped develop modern sculpture, along with her contemporaries Henry Moore and Naum Gabo. She won a scholarship and studied at the Leeds School of Art in 1920, where she met Moore.

Hans Arp (also known as Jean Arp) was a German-French artist who incorporated chance, randomness, and organic forms into his sculptures, paintings, and collages. He was involved with Zurich Dada, Surrealism, and the Abstraction-Creation movement.

Isamu Noguchi was a Japanese-American modern artist. best known for his organic, biomorphic sculpture works, Noguchi was also a furniture designer and landscape artist.
Do Not Miss
Perhaps the most influential avant-garde movement of the century, Surrealism was founded by a small group of writers and artists who sought to channel the unconscious as a means to unlock the power of the imagination. They hoped that the psyche had the power to reveal the contradictions in the everyday world and spur on revolution.

A vast number of major modern artists in the West were greatly influenced by art they deemed 'primitive' or 'naïve', made by tribal or non-Western cultures. Such art, ranging from African, Oriental, Oceanic, and Native American to naive depictions of the French peasantry, was thought to be less civilized and thus closer to raw aesthetic and spiritual experience.

Expressionism is a broad term for a host of movements in early twentieth-century Germany and beyond, from Die Brücke (1905) and Der Blaue Reiter (1911) to the early Neue Sachlichkeit painters in the 1920s and '30s. Many Expressionists used vivid colors and abstracted forms to create spiritually or psychologically intense works, while others focused on depictions of war, alienation, and the modern city.

Biomorphism was a twentieth-century art movement with close ties to Surrealism. The term referred to styles of painting and sculpture that assumed an organic appearance or form, and contained characteristics reminiscent of nature.
Content compiled and written by Rebecca Seiferle
Edited and revised, with Summary and Accomplishments added by Kimberly Nichols
"Direct Carving Definition Overview and Analysis". [Internet]. .
TheArtStory.org
Content compiled and written by Rebecca Seiferle
Edited and revised, with Summary and Accomplishments added by Kimberly Nichols
Available from:
First published on 04 Feb 2020. Updated and modified regularly
[Accessed ]