The Important Artists and Works of Direct Carving
Progression of Art
1907-08
The Kiss
This sculpture depicts two figures kissing, carved to accentuate their closeness within the block of stone from which they emerge. Intimacy is prevalent in their curvaceously embracing arms with bodies and faces that press together. Only a slight variance in hairstyle and contour evokes gender.

The simplified forms emphasize oneness, made convincing by the unpolished singularity and authenticity of the material. As art critic Nicholas Fox Weber wrote, "This is the purest of geometric sculptures, yet the bodies are completely lithe, and the eyes, which are represented so sparely, meet with an infinity of emotion...This stylized sculpture, a cube of stone, is the essence of connection."

Saying, "direct cutting is the true road to sculpture," Brâncuși's emphasis on elemental form and texture in this work was undoubtedly meant to artistically counter the romantic naturalism of Auguste Rodin's famous sculpture, The Kiss (1882). Rather than a polished surface, this work's surface is rough, enhancing the natural qualities of the limestone. As a result, the sculpture takes on an archaic quality, evoking ancient cultures but confined to none of them, as it becomes startlingly modern.
Limestone - The Philadelphia Museum of Art, Philadelphia, Pennsylvania
1907
Homme accroupi
This sandstone sculpture depicts a crouching man. His compressed and tightly coiled form evokes a sense of dynamic energy, as if at any moment he might burst outward from the stone. The geometry of the block contrasts with the more organic and curvilinear lines of his form. Carving only a few lines, the artist stayed true to the elemental, almost abstract cube, which allows for a 365-degree perspective depending on where the viewer stands.

The work was acclaimed as a pioneering example of early Cubism when shown at Kahnweiller's Gallery in Paris in 1907. Art historian Edith Balas called it the most influential work of the period. At the same time, in the huddled figure's powerful expression, it also draws upon Derain's early Symbolist work.

Derain was a pioneer of both Fauvism and Cubism, and in this work, the artist, primarily known as a painter, brought a new vision to sculpture. Drawing upon his enthusiasm for pre-Columbian and African sculpture and the volumetric forms of Paul Cézanne, the artist has left the working marks of his chisel in the stone, creating a sense of the work as if it had been recently excavated from the earth.
Sandstone - MUMOK, Vienna, Austria
1910
Tänzerin mit Halskette (Dancer with Necklace)
Carved out of a cylindrical log of wood, this work depicts a nude dancer, her body torqued in a tight spiral, counter to the forward movement of her legs. Roughly carved, it is reminiscent of a tribal artifact. As art critic Christopher Knight noted, "The painted wooden dancer exudes an animistic spirit, as if temporal nature is infused with conscious life. She's a modern totem."

Kirchner cofounded Die Brücke in 1905, a group of Dresden Expressionists who wanted to create "the bridge" between the modern era and the ancient past - here considering the past traditions of German woodcuts and wood working and those of non-Western cultures. Kirchner frequented the Ethnographical Museum, and as Knight noted, "was especially smitten with sculpture from Cameroon and Palau, so he started to carve." As the artist said, "How different that sculpture appears when the artist himself has formed it with his hands out of the genuine material, each curvature and cavity formed by the sensitivity of the creator's hand, each blow or tender carving expressing the immediate feelings of the artist."

Though he was most known for the powerful forms in his drawings and paintings Kirchner saw this innovative work in his oeuvre as exemplifying the aims of Die Brücke, as he reproduced it in a woodcut for the group. The Nazis later destroyed much of Kirchner's work as examples of what they called "degenerate" art, and, as a result, few of his wood sculptures survived. This work disappeared and was only rediscovered in the 1980s.
Painted wood - Los Angeles County Museum of Art, Los Angeles, California
1910
Sun God (verso: Primeval Gods)
This sculpture presents a nude male figure, his arms and legs extended, with rays of sunlight streaming from his head. Reflecting the aesthetics of Egypt and carved in deep relief, the work creates an impression of virility and power. The subject's palms are opened as if holding up the world.

The piece is carved from Hoptonwood stone, a limestone found in Derbyshire that, used in decorative carving for memorials, tombs, and buildings including the Houses of Parliament, was profoundly connected to British historical and cultural tradition. It was ironic to use a stone denoted so heavily for manmade memorials and institutions in a way that reflected a more ethereal memorial for a mythological God.

At the time, Epstein was collaborating with Eric Gill, with plans to make a series of carved monumental sculptures to reflect what they saw as the primitive power and sensuality of Egyptian sculpture. Though the plan fell through, Epstein nevertheless made a number of the sculptures, including Sun Goddess Crouching and Sun Worshipper in 1910. During the same period, he was working in Paris on the Tomb of Oscar Wilde (1909-12), also carved from Hoptonwood stone, and as art historian Emma Chambers wrote, "The Sun God figure appears to grow out of the stone and its hovering position was reused by Epstein for the 'flying demon angel' on the Tomb of Oscar Wilde."

In the early 1930s Epstein returned to this sculpture, deepening the relief of the figure and adding Primeval Gods, a carved relief on the back of the stone. The relief depicted a massive figure, alluding to African sculpture, with two smaller figures carved on his torso. As a result, art historian Emma Chambers wrote, the work "is notable for the way in which it shows the development of Epstein's carved sculpture across two decades, his evolving relationship to non-Western sculpture, and the links between his work of the 1910s and the 1930, all in a single block."
Hoptonwood stone - Collection of the Tate, United Kingdom
1931
Figure
This curvilinear form suggests the figure of a woman, emerging from and simultaneously one with the warm, rich beech wood. Her rounded contours are informed by the wood's natural contour lines. As art historian Sarah Victoria Turner wrote, "Moore thoroughly exploited the natural grain of wood in achieving the final form. Following the undulating grains of the wood also encourages our haptic sense of vision - in other words, looking evokes touching." Additionally, the figure evokes a landscape, elemental yet shaped by nature's forces.

As Turner wrote, "Direct Carving was unquestionably central to Moore's practice and identity as a sculptor: between 1920 and 1940 nine in every ten of his sculptures, it has been claimed, were carved." Moore first began carving in stone in 1920 while studying at the Leeds Art School and continued his emphasis on the practice as he attended the Royal College of Art in London where he became aware of the divide between those who directly carved their works and those who were trained to copy sculpture, using pointing machines. While studying, Moore became fascinated with the carved sculpture of other traditions, of which he admired, as he wrote, "the intense vitality which it possesses, because it has been made by a people in close touch with life, who felt simply and strongly, and whose art was a means of expressing vitally important beliefs, hopes and fears." Accordingly, Moore's use of specific materials was, as Turner noted, central to the "development of his identity as a quintessentially 'English' sculptor connected to the local landscape."

Moore became the most celebrated English sculptor of the century and became influential internationally as his monumental sculptures can be found in noted art centers and cities throughout the world.
Beech - Collection of the Tate, United Kingdom
1934
Mother and Child
This small, semi-abstract sculpture, carved out of Cumberland alabaster, evokes the figure of a reclining woman with her child balanced on her knees. The work was innovative both in its use of negative space, which as art historian Matthew Gale wrote, "carried a conceptual value, with the suggestion that the child had come from - and outgrown - the vacant space in the centre of the mother's body," and in being made of two pieces of stone to create what Gale and Chris Stephens called "a single integral sculptural mass."

Influenced by Brancusi's method of Direct Carving, Hepworth also shared his reverence for the materiality of the object. As she said, "I was fascinated by the kind of form that grew out of each sculpture, and by the kind of form that grew out of achieving a personal harmony with the material," Here, she has customarily used a local stone, one veined with warm colors, that, enhanced by the work's biomorphic form, evokes the undulating landscape of Cumberland. Subsequently she created works like Three Forms (1934), using three white stones carved in simple shapes to, as she said, show "the relationships in space, in size and texture and weight, as well as the tensions between forms."

Similar to Henry Moore, Hepworth's evolution toward abstraction stemmed from her Direct Carvings. The two artists are often confused and were friends and rivals, forging their careers with very similar aesthetics (intercut voids, concavities, and convexities) during the same period. Although Moore gained exhibition notoriety a few years prior to Hepworth, it has been argued that Hepworth was the first to pierce her stone. As their careers progressed, Moore's work conjured more toward the human figure as Hepworth remained connected primarily with landscape.
Cumberland alabaster on marble base - Collection of the Tate, United Kingdom
1947-49
Dagger Child
This sculpture, carved of wood, which has been darkly painted, resembles a dagger, as if organically emerging from nature. Three defined and overlapping layers reaching upward to "petals" that are sharpened points. The vertical shape evokes both wounding and being wounded, as a tiny drop of red paint beads on the shortest blade, for in a sense, the object can be also be seen as three daggers, a kind of cryptic family unit with the shortest blade evoking the child. Remarkably simple, this elemental piece takes on a kind of archetypal and psychological weight, as if embodying the strangeness of dreams.

This work was part of Bourgeois' Personnages, a series of about 80 carved sculptures, as art historian Nancy Spector described, embodying "the essential themes and obsessions of all her subsequent work. Described by Bourgeois as her first truly mature artistic effort, these life-size, semi-abstract, vaguely anthropomorphic sculptures created between 1945 and 1955 functioned as surrogates for real people close to her - some departed, some forsaken, and some eminently present. " When exhibiting the pieces, the artist placed them in various groupings, as Spector noted, "to create a "reconstruction" of her past with this display of surrogates...the Personnages were as much conjured as they were carved, nailed, and painted."
Painted wood on stainless steel base - The Solomon R. Guggenheim Museum, New York, New York, New York
1979
Modell fur eine Skulptur (Model for a Sculpture)
This sculpture, Baselitz's first, has a raw energy, reflecting a deliberately crude artistic technique, as the artist employed a chain saw and axe in order to create this wood block, as if severed from a tree, with the figure of a man, aggressively emerging but bound to it. Raising his arm in a furious gesture and painted roughly in raw and black, the colors of the Third Reich, the figure has been interpreted as by some scholars as a caustic commentary on Germany's past. Resisting art as social commentary, the artist attributed its inspiration to an edible souvenir available in Dresden markets, though he was also to state of the entirety of his work, "This idea of 'looking toward the future' is nonsense. I realized that simply going backwards is better. You stand in the rear of the train - looking at the tracks flying back below - or you stand at the stern of a boat and look back - looking back at what's gone."

Originally intending to send paintings to the 1980 Venice Biennale, Baselitz sent only this sculpture, which he had worked on in secret. At the Biennale, as The Musée d'Art Moderne de la Ville de Paris wrote for its 2012 Baselitz retrospective, "the sculpture, caused a furore...As both 'model' and 'idea of sculpture', however, it embodied the features of the works to come: categorical rejection of the elegant, aggressively crude handling, connections with a personal or collective history, axe-work and painted highlights."

The work, perhaps, reflects Baselitz's admiration for Kirchner's work, though as art critic Norman Rosenthal noted, it is also "based...on an African Lobi figure." Saying, "I don't like things that can be reproduced. Wood isn't important in itself but rather in the fact that objects made in it are unique, simple, unpretentious," Baselitz continued working in sculpture, as seen in his Die Dresdner Frauen (Women of Dresden) (1989), referencing the fire bombing of Dresden in 1945. At the same time, as Rosenthal noted, "During the 1980s, Baselitz's paintings became deliberately more crude, perhaps informed by his sculpture. Works such as Nachtessen in Dresden (Supper in Dresden, 1983) can almost be imagined as sculptures."
Limewood and tempera - The Ludwig Museum, Cologne, Germany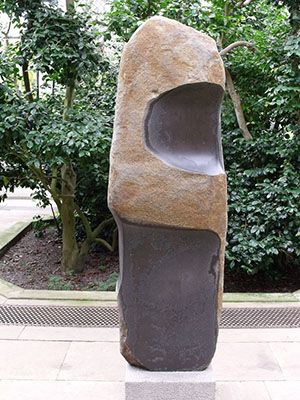 1979
Sculpture Finding
Placed in a garden and carved of black basalt, this hexagonal stone takes on an elemental presence, enhanced by the asymmetrical contrast between smooth almost geometric planes and irregular areas of roughness. Man's relationship with medium is clearly delineated through the juxtaposing shades between the exterior beige and the interior brown areas representing the artist's hand. It is the perfect visual representation of Noguchi's own statement: "The presumption to work as I do comes from the ability of new tools to incise our will upon matter - like a meeting from the opposite ends of time to resume on another level the continuity that has gone on for eons."

After seeing a New York exhibition of Brancusi's work, Noguchi traveled to Paris in 1927 and began working as an assistant to Brancusi where he learned Brancusi's Direct Carving techniques. Subsequently he traveled to China and Japan where he practiced traditional arts including ink drawings and portraits sculpted in terra cotta. As Muchnic noted, "He has a special fascination for "abandoned stones" that "allow me to enter into their life's purpose.... It is my task to define and make visible the intent of their being." His sculpture was informed by a deep awareness of nature and environmental concerns, as evinced by this sculpture, carved in Japan from local basalt.
Granite - Yorkshire Sculpture Park, England