Progression of Art
1907
Portrait de Mistinguett
The style of this portrait, with its simplified forms and flat color, blends aspects of Symbolism and Fauvism and is typical of Picabia's maturing style as he began to try his hand at different approaches. Painted at a time when he was slowly building a conventional, successful career as an Impressionist, it might be taken as a sign of Picabia's frequent later habit of striking out in new and surprising directions. The model for the picture, Mistinguett, was a successful actress and singer, and was one of Picabia's first famous friends from the entertainment industry (she was at one time the lover of Maurice Chevalier). Independently wealthy, Picabia enjoyed the life of the bon viveur and was often drawn to music halls, nightclubs, circuses, and the cinema. He met Mistinguett during one of his visits to the Parisian revues. Instead of painting a realistic portrayal of her, he was much more interested in revealing the mood of the time by using dramatic color and composition.
Oil on canvas - Solomon R. Guggenheim Museum Collection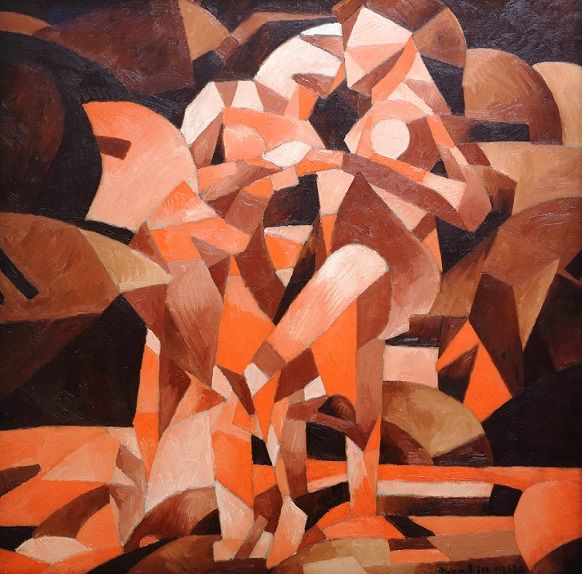 1912
Dances at the Spring (La Danse a la Source)
Picabia met Marcel Duchamp around 1911, and Dances at the Spring, which echoes Duchamp's Nude Descending a Staircase (1912), points to the important impact this meeting would have on him. It is considered one of the best examples of Picabia's abstract art, expressing his inner experience through geometric forms. Picabia with particularly interested in representing motion on canvas, celebrating dancing on the surface. He sought to represent the balance between the figurative and abstract, the static and dynamic. Using vivid colors and fragmented angular planes, he painted the motion and the excitement of a peasant dance while he was on his honeymoon in the countryside of Italy. Two versions of the picture were painted, but one is lost; this version was exhibited at the important Armory Show in New York in 1913.
Oil on canvas - Philadelphia Museum of Art
1915
Très rare tableau sur la terre (Very Rare Picture on the Earth)
After World War I broke out, Picabia became fascinated with the idea of industrial objects as a pictorial source. He once wrote that "the machine has become more than a mere adjunct of life. It is really a part of human life...perhaps the very soul...I have enlisted the machinery of the modern world, and introduced it into my studio." His goal, he said, was to invent a "mechanical symbolism," and this piece is one of his most important examples, since critics have read it as an image of a sexual act rendered in mechanical terms. Although, at first glance, it might be hard to read so, Picabia may well have been inspired by his friend Marcel Duchamp to bury sexual references in images of machines. This work is also significant in that it is Picabia's first known collage (hence, as the title suggests, "very rare") since it contains two mounted wooden forms, and the frame is integral to the piece.

It stands to remember that Picabia loved machines, an in particular cars. He is said to have had a collection of over 100 automobiles. So here he is depicting the insides of his passion. Although he may be making fun of mankind, he may also, in true modernist fashion, be connecting technology and progress to human lives.
Oil and metallic paint on board, and silver and gold leaf on wood, including artist's painted frame - Peggy Guggenheim Collection, Venice
1915
Ici, C'est Stieglitz (Here, This is Stieglitz)
At first Picabia worked closely with Alfred Stieglitz, who gave him his first one-man show in New York City. But later he criticized Stieglitz, as is evident in this "portrait" of the gallerist as a bellows camera, an automobile gear shift, a brake lever, and the word "IDEAL" above the camera in Gothic lettering. The fact that the camera is broken and the gear shift is in neutral has been thought to symbolize Stieglitz as worn out, while the contrasting decorative Gothic wording refers to the outdated art of the past. The drawing is one of a series of mechanistic portraits and imagery created by Picabia that, ironically, do not celebrate modernity or progress, but, like similar mechanistic works by Duchamp, show that such subject matter could provide an alternative to traditional artistic symbolism. In 1918, Picabia would make a portrait of his friend, the poet Guillaume Apollinaire. These kind of objectified portraits would be utilized by artists for years to come, one example out of the many that exist is the American modernist Arthur Dove and his Portrait of Ralph Dusenberry (1924).
Ink, graphite, and cut-and-pasted painted and printed papers on paperboard - Alfred Stieglitz Collection
1917
Parade Amoureuse (Love Parade)
Picabia's mechanomorphic pictures suggest analogies between machines and the human form. To contemporary viewers they were scandalous in their rejection of the idea of the human soul and their emphasis instead on instincts and compulsions - both often erotic. In this work, Picabia blended male and female; the upper part in red might be considered female and the lower part in blue, male. The viewer can imagine the sound of hammering and the idea of a "sonorous sculpture," or a musical instrument. Of course, the most famous example of the male and female mechanized forms going through their motions and yet forever separated is Marcel Duchamp's The Bride Stripped Bare by Her Bachelors, Even (The Large Glass) (1915-1923) - on of the most important artworks in all of modern art.
Oil on canvas - Private Collection
1930-31
Adam et Eve (Adam and Eve)
This enigmatic painting is part of Picabia's Transparency series, whose dream-like quality derives from layers of imagery that faintly suggest strange narratives. Though the title of this painting is Adam and Eve, it was inspired by Orestes and Electra, a classical Greek sculpture in the Museum of Naples, which portrays Electra and her brother considering revenge on their mother and stepfather for the murder of their father, Agamemnon. Classical subjects such as this were popular in the interwar period, yet most artists attempted to give new life to Classicism by adapting it to modern times. Picabia refuses this temptation, instead leaving the statue enigmatically layered with a smiling face and leaving us with a mystery. This clash of imagery from apparently different sources would be a major inspiration for later artists such as Sigmar Polke.
Oil on canvas - Private Collection
1941-42
Deux femmes nues au bulldog (Women and Bulldog)
Picabia always had a fascination with popular imagery, often employing it as a means to undermine the grave seriousness and formal concerns of modern art. In this painting, part of a notorious series of realistic and erotic nudes that he painted in the early 1940s, he used pin-ups from 1930s "nudie" magazines. Though many believe they were painted for money (they were sold through an agent in Algiers), his close friends have maintained that Picabia always painted what he wanted and that they cannot be dismissed as anomalies in his career. Curators after the war often did put them aside in favor of celebrating Picabia's Dada years, yet since the 1980s these pictures have been an important influence on artists ranging from David Salle to John Currin, who have been fascinated by their early embrace of kitsch.
Oil on cardboard - Collection Centre Pompidou
Similar Art
Related Artists
Related Movements & Topics