Biography of David Hockney
Childhood
One of five children, David Hockney was born into a working-class family in Yorkshire, northern England, in the industrial city of Bradford. His father, a conscientious objector during the Second World War, "had a kind heart" remembers Hockney. "He thought there should be justice in the world". He also romanticized the ideals of the Communist party in Russia. While adopting his father's anti-war stance, Hockney remained resistant to ideologies and hierarchies. As a schoolboy, Hockney says of himself, "I was always quite serious, but cheeky." Art was something he knew he wanted to do very early in life. At his school academically promising boys were forced to drop art as a subject and so he deliberately failed his exams.
Early Training
At 16, Hockney was admitted to the acclaimed Bradford School of Art, where he studied traditional painting and life drawing alongside Norman Stevens, David Oxtoby, and John Loker. Unlike most of his peers Hockney was working class, and he worked tirelessly, especially in his life drawing classes, recalling: "I was there from nine in the morning till nine at night."
In 1957 he was called up for National Service, but as a conscientious objector he served out his time as a hospital orderly. It was around this time that Hockney encountered the work of Russian ballet impresario Sergei Diaghilev, whose openness about his sexual identity gave Hockney the courage to reveal his own.
In 1959, Hockney went on to study at the Royal College of Art in London and was taught by several well-known artists, including Roger de Grey and Ceri Richards. His friends included R.B. Kitaj, Allen Jones, and Peter Blake. At the time, the college asked students to submit an essay along with their final work. Hockney refused, wanting to be judged solely on the basis of his art. Remarkably, the RCA, a bastion of tradition, changed its rules to allow him to graduate.
Mature Period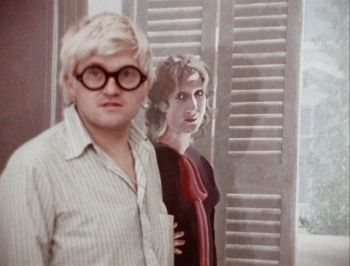 Hockney's first solo show, held in 1963 at John Kasmin's gallery, proved very successful. The following year he traveled to Los Angeles for the first time, where he met leading intellectual and artistic figures including Christopher Isherwood, and designer Ossie Clarke, with whom he struck up a close friendship and later traveled to the Grand Canyon. He would later be best man at Clarke's wedding to Celia Birtwell, of whom he would paint and draw many portraits. Over the following few years, he resided almost permanently in California, teaching at various universities including Berkeley and UCLA, but also traveling extensively around the US and Europe. During this period he painted some of his best-known works, including A Bigger Splash (1967). He also began to design productions for the ballet, opera, and theater.
In California during the 'swinging 60s', Hockney embraced the mood of experimentation, exploration, and iconoclasm. At a time when homosexuality was still illegal in the U.S. and Britain, Hockney's open love affairs and unapologetic attitude attracted the attention of newspapers and magazines. He met and started a long-term relationship with Peter Schlesinger, who also frequently acted as his model, a relationship that lasted from 1966 to 1971. Of his unconventional lifestyle and experimentation with drugs during this period, Hockney has commented: "you can't have a smoke-free bohemia. You can't have a drug-free bohemia. You can't have a drink-free bohemia." In 1973, Hockney moved to Paris, where he lived until 1975. By the mid-1970s, he was famous. 1974 saw a large traveling retrospective of his work, and a film about him directed by Jack Hazan. In 1976 Hockney published his autobiography and in 1978, he settled in Los Angeles, which became his permanent home.
The AIDS crisis of the 1980s changed the art world forever, and had a particularly profound impact on Hockney who recalls "the first person to die of AIDS that I knew was in 1983, and then for ten years it was lots of people. If all those people were still here, I think it would be a different place." A retrospective of Hockney's work was due to take place at London's Tate gallery in 1988. He threatened to cancel it in protest of anti-homosexual legislation being proposed in Britain at the time.
Late Period
The 1990s constituted a very productive period for Hockney, with a huge number of retrospectives and exhibitions around the world. In 1991, he began a relationship with John Fitzherbert, a former chef, which lasted for the next 25 years. One of his most important large-scale works, A Closer Grand Canyon, was completed in 1998. From 2000-01 he researched and wrote a book about the Old Masters, developing a theory that these artists made use of the camera far earlier than previously thought. For his research, Hockney assembled photocopies of Old Master paintings, from Byzantine Art to Van Gogh, on a huge wall in his LA studio. While Hockney's theory met with significant resistance, it has gained widespread support from the art history community. In 2002, Hockney moved to the Yorkshire seaside town of Bridlington. In the same year, he sat for 120 hours for a portrait painted by Lucian Freud. In return, Freud sat for four hours for him.
Hockney had a stroke in 2012, which for a while impaired his speech. Much to his relief, "the stroke didn't affect my drawing, and that's the most important thing." Only a few months later, one of his assistants, Dominic Elliot, died in Hockney's home. He had taken cocaine and ecstasy and drank a bottle of drain cleaner. Elliot had been in a relationship with Hockney's former partner John Fitzherbert, who was still living with him. At the high-profile inquest, Hockney was required to give evidence that the death was not a murder.
The Legacy of David Hockney
In 2011 a poll of British art students rated Hockney as the most influential artist of all time. His work has played a crucial role in reviving the practice of figurative painting. Chuck Close, Cecily Brown, and film director Martin Scorsese (especially the aesthetics of Taxi Driver (1976)) are among the artists inspired by Hockney. Hockney, still prolific, continues to reinvent himself, embracing contemporary technology. His most recent series of works was produced on an iPad. Despite his widespread fame, he remains an iconoclast, steadfastly refusing to accept institutional authority, even some of the highest honors, turning down an invitation to paint a portrait of the Queen (Hockney was "very busy" and couldn't make it), and the Order of Merit, (a knighthood.) "I don't have strong feelings about the honours system" Hockney has remarked, "I don't value prizes of any sort. I value my friends."
Content compiled and written by Anne Souter
Edited and revised, with Summary and Accomplishments added by Ruth Epstein
"David Hockney Artist Overview and Analysis". [Internet]. .
TheArtStory.org
Content compiled and written by Anne Souter
Edited and revised, with Summary and Accomplishments added by Ruth Epstein
Available from:
First published on 18 Feb 2016. Updated and modified regularly
[Accessed ]