Progression of Art
1961
We Two Boys Together Clinging
This early work by Hockney shows no sign of the slick landscapes or carefully observed characters that he would later develop. It is one of the first, however, to address homoeroticism, an important theme in his work. In a composition that resembles a child's drawing, two figures kiss and embrace. Stylized, blocky forms and scrawled words offer symbols as opposed to descriptions of the encounter. Small horizontal lines of pigment run from one figure to the other, representing the erotic charge between them. A sketchy swathe of blue hints at a sense of place.

Hockney's semi-abstracted figures and muted color palette recall those of Jean Dubuffet, a stylistic preference indicative of the challenge of finding a way to represent forbidden feelings. At a time when homosexual activity was still illegal in both the U.S. and in Britain, the representation of an erotic act between two men was unusual and potentially risky. The title is a direct quote from Walt Whitman, master of homoerotic poetry, and the image was inspired by a report of a climbing accident in a newspaper that read "Two Boys Cling to Cliff All Night." This unintended double meaning delighted Hockney, who had a crush on the British pop singer, Cliff Richard. These sources in popular culture and classic poetry offered the artist a way to address same-sex relationships in a way that didn't resort to caricature.
Oil on board - Southbank Centre, London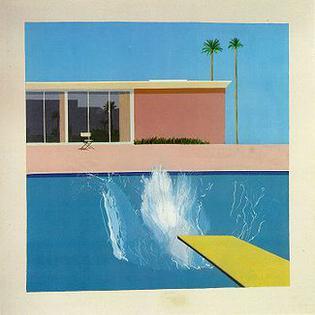 1967
A Bigger Splash
Hockney painted this seminal work while at the University of California in Berkeley. A Bigger Splash was created as the final result of two smaller paintings in which he developed his ideas, A Little Splash (1966) and The Splash (1966). A Bigger Splash is a considerably larger work, measuring approximately 94 x 94 inches. Hockney was one of the first artists to make extensive use of acrylic paint, which was then a relatively new artistic medium. He felt that as a fast-drying substance it was more suited to depicting the hot, dry landscapes of California than traditional oil paints. He painted this work by stapling the canvas to his studio wall.

In A Bigger Splash, Hockney explores how to represent the constantly moving surface of the water. The splash was based on a photograph of a swimming pool Hockney had seen in a pool manual. He was intrigued by the idea that a photograph could capture the event of a split second, and sought to recreate this in painting. The buildings are taken from a previous drawing Hockney had done of a Californian home. The dynamism of the splash contrasts strongly with the static and rigid geometry of the house, the pool edge, the palm trees, and the striking yellow diving board, which are all carefully arranged in a grid containing the splash. This gives the painting a disjointed effect that is absolutely intentional, and in fact one of the hallmarks of Hockney's style. The effect is one of stylization and artificiality, drawing on the aesthetic vocabulary of Pop art and fusing it with Cubism.

He said in his autobiography, "I love the idea first of all of painting like Leonardo, all his studies of water, swirling things. And I loved the idea of painting this thing that lasts for two seconds: it takes me two weeks to paint this event that lasts for two seconds."
Acrylic on canvas - Tate Gallery, London
1968
American Collectors (Fred and Marcia Weisman)
While Hockney paints a broad range of subjects, some of his most masterful compositions are his portraits of the late 1960s. These offer unrivaled, almost cinematic, insights into the mood and culture of this transitional decade in American history. Here are Fred and Marcia Weisman, art collectors and friends of Hockney, who appear outside their residence as if stepping outside to greet a neighbor. Hockney's blinding, saturated palette mimics the light of Southern California. The Weismans are surrounded by their prized art possessions, among them an imposing modernist sculpture in a niche, and a totem pole that looks like it could be a third member of the family.

Dry humor pervades all elements of the composition. The viewer half expects to see the vertical elements - the stiff couple and their belongings - blast off like space ships into the blue sky. The threat of the surreal lurking in this picture underscores the consistent relationship between Pop art and older movements. Also noteworthy is the manner in which the poses transgress traditional gender norms. Marcia, a full-figured matron in a robe held closed with one arm, bares her teeth, and strikes a sensual pose that is both gracious and confrontational. Fred, the man of the house, stands stiffly with his fists clenched, and is literally marginalized as he is pushed to the left-hand side.
Acrylic on Canvas - Art Institute of Chicago
1984
A Visit with Christopher and Don, Santa Monica Canyon
For this view of the "Santa Monica Canyon", Hockney draws on the language of Cubism, a strong influence on his artistic style throughout his life due to his deep admiration for the work of Picasso. For this work, he extends the Cubist visual vocabulary through his use of a rich color palette borrowed from the Pop art movement.

The composition measures 6 x 20 feet, a scale normally reserved for grand subjects from history or the bible. It consists of two canvases side-by-side. And yet it is a subject normally reserved for smaller canvases, a household interior, in which Hockney combines representations of the California home with seaside views and portraits of himself at work to the left and right. There are no conventional architectural or painterly boundaries between the different elements of the composition. Hockney uses flat areas of color and texture to create distinct spaces.

This work makes use of a multi-point "reverse" perspective, meaning that it contains several vanishing points that extend out towards the viewer rather than converging on a distant horizon. In the spirit of Cubism, Hockney offers more than one viewpoint, and extends the perspective outwards, drawing the viewer into the scene that is so big, one feels one might step right into it.
Oil on two canvases
1998
A Bigger Grand Canyon
Hockney began photographing the Grand Canyon in 1982, aiming "to photograph the unphotographable. Which is to say, space. [T]here is no question that the thrill of standing on that rim of the Grand Canyon is spatial. It is the biggest space you can look out over that has an edge." Not many artists attempt to paint The Grand Canyon. One reason is that it is so large, no indicator of depth, distance, or scale can convey it. The other is that the 19th-century painter Thomas Moran produced what is considered by many to be the definitive version: a spectacular, monumental canvas so detailed, so complete, and so naturalistic that it set an unsurpassable standard. Unfazed by this precedent and directly inspired by Moran's famous view, ("intrigued to see how another artist grappled with representing the same vast, heroic space" according to the National Museum of American Art) Hockney produced A Bigger Grand Canyon - which is even larger than Moran's canvas. Sixty small canvases join together to create one large view representing just a portion of the canyon. Hockney is poking gentle fun at tourists with cameras, artists with easels, and the absurdity of attempting to map a three-dimensional experience onto a two-dimensional plane.
Oil on canvas
2009
Winter Timber
While many of Hockney's best-known works were inspired by photographs, this work was painted in front of the motif, at the corner of an old Roman road in Yorkshire, near his birthplace. The purple palette renders the landscape contemporary and eternal, like a computer-generated fairytale. It is one of the largest in a series of timber and "totems", as Hockney calls the lone tree stumps depicted in these representations. Throughout his career, Hockney has been interested in returning to tradition in order to examine it, but with an almost scientific detachment that places the viewer off-center. This view, presented across fifteen canvases, has two paths of perspective leading down the two roads through the woods. This means that the visual plane contains two vanishing points, rebuking the one-point perspective that has characterized Western art since the Renaissance. It also transgresses the single perspective of the camera lens, the point of view that has come to define how we see the world in photographs. The painting's two vanishing points lead outward toward us, creating a kind of double vision that heightens the kaleidoscopic, hallucinatory effect of the piece.
Oil on 15 canvases - Guggenheim, Bilbao
2010
A Bigger Message
Created relatively late in Hockney's career, A Bigger Message is a culmination of a series of works by Hockney inspired by The Sermon on the Mount, Claude Lorrain's 1656 painting. Lorrain was one of Hockney's heroes- a French Baroque landscape painter (in English, simply "Claude"), known for revolutionizing the genre and basing his work on observation, Claude has had a strong effect on Hockney's landscapes. In order to create the painting, Hockney spent three weeks digitally cleaning the painting by Claude on his computer. Through this process, Hockney got to know the composition better, and created a thoroughly contemporary way of painting; rather than working from life, or even from the original work, his inspiration came from a mediated, doctored version of the Old Master's work.

Hockney is fully aware that many art enthusiasts would frown on this process, and fully intends to tweak the nose of tradition. He is also, however, following in the footsteps of another renegade, Picasso, who painted Cubist versions of Velazquez's Las Meninas based in part on reproductions from newspapers and magazines. Distance from the original allows the artist to create his own spin on the scene. Hockney takes his palette not from Claude but from Pop art, and from his own earlier depictions of the Californian and Yorkshire landscapes. He draws more attention to the human figures in the foreground of the image, and represents the mountain as an oversized red rock, imbuing the scene with a distinct sense of drama absent from the original.
Oil on 30 canvases
Similar Art
Related Artists
Related Movements & Topics