Artists
Perle Fine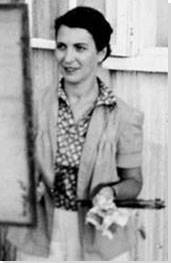 Born: 1905 - Boston Massachusetts
Died: 1988 - East Hampton, New York

"My paintings speak in the only language I know - color. Its fascination makes me stubborn about expressing myself through the plastic play of these pure means. I like to light up a canvas with colour; I like to make it shout or whisper; I like to make it spin...or make forms melt softly over the whole picture."
Summary of Perle Fine
Successful and well-regarded in the late-1940s and early-1950s, Perle Fine embodied the tenets of Abstract Expressionism. Steeped in the discoveries of modern European masters, Fine found her own visual language to explore the depths of human emotion and vitality. Insistent on the dynamism of color and line, Fine's abstract paintings and collages evoke a sense of music, dance, and landscape, all comingling to remind the viewer of the interconnectedness of humans with nature and with each other.

Despite her contributions to the visual idiom of Abstract Expressionism and being integral to the downtown social scene in New York City, Fine largely disappeared from the annals of Abstract Expressionism. Unlike many of her male counterparts who settled on a singular, signature style, Fine explored various styles of painting, from gestural Action Painting to more structured, cooler Minimalist works, and perhaps because of this ceaseless exploration Fine, like her adventurous colleague Hedda Sterne, failed to fit into the narrative of Abstract Expressionism constructed by later critics and historians. Recent scholarship, though, has again attempted to shine a light on the contributions made to Abstract Expressionism by female artists.
Key Ideas
Though trained in illustration and traditional drawing, Fine worked her way through
Picasso
,
Matisse
,
Kandinsky
, and others. One of the abiding influences for Fine was the modernist master
Piet Mondrian
. The structure and dynamism of his
Neo-Plastic
paintings often informed Fine's explorations, even when the results were visually distinct.
Fine's experiments with collage, at various times using paper, foil, and even wood, were as rigorous as her investigations in painting. Playing with line, texture, shadow, and light, Fine's collages were a fresh take on the largely moribund tradition in the middle of the 20th century.
Over the years, Fine pursued various styles, never settling on one. Her tireless explorations were always an attempt to push color and line to their most expressive. After departing the frenetic art scene of downtown New York, Fine felt more liberated to experiment and try new styles on her own terms, without the pressures and demands of the art world.
Like other female artists, such as
Lee Krasner
,
Elaine de Kooning
, and
Hedda Sterne
, Perle Fine was sidelined in discussions of Abstract Expressionism. While respected by her male colleagues and many critics at the time, many gallerists in the later half of the 1950s insisted that women artists were not marketable, and in many ways they were subsequently erased from the histories.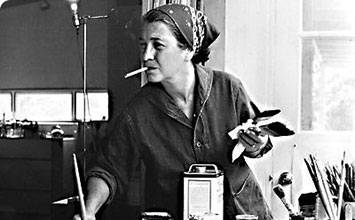 One of six children, Perle Fine was born near Boston in 1905, shortly after her parents emigrated from Russia. Her father was a dairy farmer, and while not in school, she helped out doing chores around the farm and house. She remembered, "We had a marvellous childhood. We always had lots to eat, lots of fresh good milk, cream, cheese, butter, everything. I never knew how poor we were." Fine's interest in art started at an early age, making posters and winning small prizes through her time in grammar school. When she graduated from high school, she was set on having a career as an artist. None of her other siblings were artists, but her sister was a pianist and encouraged her creativity.
Important Art by Perle Fine

The below artworks are the most important by Perle Fine - that both overview the major creative periods, and highlight the greatest achievements by the artist.


Artwork Images

Cubist Abstraction (1936)

Artwork description & Analysis: In the early work Cubist Abstraction, Fine used the gestures and techniques of Cubist painting to create an interior scene. A large, sweeping curve in blue and beige fills the center of the ovoid composition, and various blocks of brown and black fill the rest of the space, while mall patches of green and red suggest foliage. As with many Cubist scenes, it is as if the viewer is seeing multiple perspectives of the space at the same time. The juxtaposition of suggested objects, flat areas of color, and collaged newspaper create a disorienting effect.

Fine would spend hours in New York's museums, copying works by modern masters, including Picasso, and then return to her studio to create her own versions of the paintings. Eventually, through her study of Cubism and abstraction, Fine learned that "for a thing to be abstract meant to me that you had to feel strongly enough about it to turn your back on realism and do everything necessary in an abstract way to put across a feeling which meant being totally abstract or non-objective." In this work, Fine was not only expanding her academic painting skills but was also developing her own attitude toward abstraction and geometry that would lead her into more radical directions.

Oil and collage on canvas - Private Collection


Artwork Images

Polyphonic (1945)

Artwork description & Analysis: In 1943, writing about a group show at the Museum of Non-Objective Painting, art critic Edward Alden Jewell described Fine's work "as more original than other artists influenced by Wassily Kandinsky." While Polyphonic was not included in the exhibition, it is clearly indebted to the lyrical works of Kandinsky and the abstract Surrealist Joan Miró, although Fine was unhappy with such comparisons, especially to the Surrealists. Here, shapes in primary colors and white float on a black background and are tenuously connected by thin lines, creating playful juxtapositions and relationships. The title refers to the simultaneity of sounds, and in fact, many of her paintings from the mid-1940s were influenced by music and dance, as well as forms found in outer space and nature.

While not so blatantly grid-like, one can also sense her friend Mondrian's influence as well; Fine uses line and color to represent the tempo and movement of music. One critic reviewed her first solo exhibition by describing Polyphonic as an "immobilized" Alexander Calder, and in fact the bulbous, organic forms connected by thin, wiry lines do recall Calder's famous mobiles. With all of these invocations of modern masters, here we see Fine developing her own geometric style that evoked feelings and moods rather Surrealistic fantasies.

Oil on canvas - Solomon R. Guggenheim Museum, New York


Artwork Images

Wide to the Wind (1952)

Artwork description & Analysis: During the early 1950s, when she was socializing with and exhibiting along side other prominent Abstract Expressionists, Fine created a series of abstract collages that would serve as inspiration for a later series of prints. In Wide to the Wind, a dark mass moves left to right across the center of the composition and recalls her previous works' play with movement, space, and nature. The earth colors combined with reds, roses, yellows, and white are evocative of a landscape but do not coalesce into recognizable forms, perhaps suggesting the invisible forces of the wind alluded to in the title. Many of these collages took on darker tones, and over time grew larger in scale, incorporating a more gestural application of paint and other materials including scraps of paper, gold leaf, and foils,.

While Abstract Expressionism is dominated by painting, artists including Robert Motherwell, Lee Krasner, Anne Ryan, and Esteban Vicente along with Perle Fine explored the aesthetic possibilities of collage, a medium that had largely languished in the United States in the middle of the 20th century. Eschewing the more overt appropriations of mass culture imagery as practiced by earlier Dadaists and more contemporary artists like Robert Rauschenberg, Fine recycled bits of paper to emphasize the materiality and tactility of her surfaces. Her early studies of Cubist collage and Mondrian's working process of using bits of colored tape surely allowed her the freedom to pursue collage in its own right and not just as a peripheral undertaking, secondary to her painting.

Gouache and collage on paper - Collection of Thomas and Darlene Furst
More Perle Fine Artwork and Analysis:
Influences and Connections
Influences on Artist
Artists, Friends, Movements
Influenced by Artist
Artists, Friends, Movements

Interactive chart with Perle Fine's main influences, and the people and ideas that the artist influenced in turn.
View Influences Chart

| | | | | |
| --- | --- | --- | --- | --- |
| Artists | | Personal Contacts | | Movements |

Influences on Artist

Perle Fine
Years Worked: 1920 - 1980
Influenced by Artist

If you see an error or typo, please:
tell us
Cite this page

Content compiled and written by Marley Treloar
Edited and published by The Art Story Contributors
" Artist Overview and Analysis". [Internet]. . TheArtStory.org
Content compiled and written by Marley Treloar
Edited and published by The Art Story Contributors
Available from:
First published on 26 Apr 2019. Updated and modified regularly.


[Accessed ]