Artists
Salvador Dalí
For Educators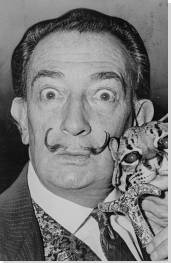 Salvador Dalí
Spanish Painter, Sculptor, Filmmaker, Printmaker, and Performance Artist
Movement: Surrealism
Born: May 11, 1904 - Figueras, Catalonia, Spain
Died: January 23, 1989 - Figueras, Catalonia, Spain

"The fact that I myself, at the moment of painting, do not understand my own pictures, does not mean that these pictures have no meaning; on the contrary, their meaning is so profound, complex, coherent, and involuntary that it escapes the most simple analysis of logical intuition."

Synopsis
Salvador Dalí is among the most versatile and prolific artists of the 20th century and the most famous Surrealist. Though chiefly remembered for his painterly output, in the course of his long career he successfully turned to sculpture, printmaking, fashion, advertising, writing, and, perhaps most famously, filmmaking in his collaborations with Luis Buñuel and Alfred Hitchcock. Dalí was renowned for his flamboyant personality and role of mischievous provocateur as much as for his undeniable technical virtuosity. In his early use of organic morphology, his work bears the stamp of fellow Spaniards Pablo Picasso and Joan Miró. His paintings also evince a fascination for Classical and Renaissance art, clearly visible through his hyper-realistic style and religious symbolism of his later work.
Key Ideas
Freudian theory underpins Dalí's attempts at forging a visual language capable of rendering his dreams and hallucinations. These account for some of the iconic and now ubiquitous images through which Dalí achieved tremendous fame during his lifetime and beyond.
Obsessive themes of eroticism, death, and decay permeate Dalí's work, reflecting his familiarity with and synthesis of the psychoanalytical theories of his time. Drawing on blatantly autobiographical material and childhood memories, Dalí's work is rife with often ready-interpreted symbolism, ranging from fetishes and animal imagery to religious symbols.
Dalí subscribed to Surrealist
André Breton's
theory of automatism, but ultimately opted for his own self-created system of tapping the unconscious termed "paranoiac critical," a state in which one could simulate delusion while maintaining one's sanity. Paradoxically defined by Dalí himself as a form of "irrational knowledge," this method was applied by his contemporaries, mostly Surrealists, to varied media, ranging from cinema to poetry to fashion.
Biography
Childhood
Dalí was born in Figueres, a small town outside Barcelona, to a prosperous middle-class family. The family suffered greatly before the artist's birth, because their first son (also named Salvador) died quickly. The young artist was often told that he is the reincarnation of his dead brother - an idea that surely planted various ideas in the impressionable child. His larger-than-life persona blossomed early alongside his interest in art. He is claimed to have manifested random, hysterical, rage-filled outbursts toward his family and playmates.
- - - - - - - - - - - - - - - - - - - - - - - - - - - - - - - - - - - - - - - - - - - - - - - -
Salvador Dalí Biography Continues

Important Art by Salvador Dalí

The below artworks are the most important by Salvador Dalí - that both overview the major creative periods, and highlight the greatest achievements by the artist.


Artwork Images

Un Chien Andalou (1927)

Artwork description & Analysis: By the age of 24 Dalí had acquired an art education, been inspired by Picasso to practice his own interpretation of Cubism, and was beginning to utilize Surrealist concepts in his paintings. It was at this point that he joined film director Luis Buñuel to create something truly new - a film that radically veered from narrative tradition with its dream logic, non-sequential scenes, lack of plot and nod to Freudian free association.

Un Chien Andalou recreates an ethereal setting in which images are presented in montaged clips in order to jostle reality and tap the unconscious, shocking the viewer awake. For example, in this clip we find a glaring cow's eye in a woman's eye socket soliciting feelings of discomfort. In the scene that follows, a razor blade slashes said eye in extreme close-up.

The film turned out to be a sensation and gained Dalí entrance to the most creative group of Parisian artists at the time, The Surrealists. In fact, it's become known as the first Surrealist film yet remains paramount in the canon of experimental film to this day.

35mm Film - Museum of Modern Art, New York


Artwork Images

Great Masturbator (1929)

Artwork description & Analysis: Central to the piece is a large distorted human face looking down upon a landscape, a familiar rocky shoreline scene reminiscent of Dalí's home in Catalonia. A nude female figure representing Dalí's new-at-the-time muse Gala rises from the head, symbolic of the type of fantasy a man would conjure while engaged in the practice suggested by the title. Her mouth near a male's crotch suggests impending fellatio while he seems to be literally "cut" at the knees from which he bleeds, a sign of a stifled sexuality. Other motifs in the painting include a grasshopper - a consistent beacon for sexual anxiety in Dalí's work, ants - elusion to decay and death, and an egg - representing fertility.

The painting may represent Dalí's severely conflicted attitudes towards sexual intercourse and his lifelong phobia of female genitalia right at the cross section of meeting and falling in love with Gala. When he was a young boy, Dalí's father exposed him to a book of explicit photos demonstrating the horrific effects of venereal disease, perpetuating traumatic associations of sex with morbidity and rot in his mind. It is said that Dalí was a virgin when he met Gala and that he later encouraged his wife to have affairs to satisfy her sexual desires. Later in life when his paintings turned to religious and philosophical themes, Dalí would tout chastity as a door to spirituality. This piece has been compared to Bosch's The Garden of Earthly Delights.

Oil on canvas - Museo Nacional Centro de Arte Reina Sofía, Madrid


Artwork Images

The Persistence of Memory (1931)

Artwork description & Analysis: This iconic and much-reproduced painting depicts the fluidity of time as a series of melting watches, their forms described by Dalí as inspired by a surrealist perception of Camembert cheese melting in the sun. The distinction between hard and soft objects highlights Dalí's desire to flip reality lending to his subjects characteristics opposite their usually inherent properties, an un-reality often found in our dreamscapes. They are surrounded by a swarm of ants hungry for the organic processes of putrefaction and decay of which Dalí held unshakable fascination. Because the melting flesh at the painting's center resembles Dalí, we might see this piece as a reflection on the artist's immortality amongst the rocky cliffs of his Catalonian home.

Oil on canvas - Museum of Modern Art, New York
More Salvador Dalí Artwork and Analysis:
Influences and Connections
Influences on Artist
Artists, Friends, Movements
Influenced by Artist
Artists, Friends, Movements

Interactive chart with Salvador Dalí's main influences, and the people and ideas that the artist influenced in turn.
View Influences Chart

Artists

| | |
| --- | --- |
| | Pablo Picasso |
| | Joan Miró |
| | Max Ernst |
| | Yves Tanguy |
| | Giorgio de Chirico |

Personal Contacts

| | |
| --- | --- |
| | Tristan Tzara |
| | André Breton |
| | Luis Bunuel |

Movements

| | |
| --- | --- |
| | Impressionism |
| | Pointillism |
| | Cubism |
| | Futurism |
| | Dada |

Influences on Artist

Salvador Dalí
Years Worked: 1917 - 1989
Influenced by Artist

Artists

| | |
| --- | --- |
| | Max Ernst |
| | Jackson Pollock |
| | Mark Rothko |

Personal Contacts

| | |
| --- | --- |
| | Man Ray |
| | André Breton |
| | Andy Warhol |

Movements

| | |
| --- | --- |
| | Surrealism |
| | Abstract Expressionism |
| | Pop Art |
| | Performance Art |
| | Conceptual Art |
Useful Resources on Salvador Dalí
Videos
Special Features
Popular Culture
Books
Websites
More
More Interesting Videos with Salvador Dalí

TV Commercials:
More Interesting Resources about Salvador Dalí

The books and articles below constitute a bibliography of the sources used in the writing of this page. These also suggest some accessible resources for further research, especially ones that can be found and purchased via the internet.
biography
More Interesting Books about Salvador Dalí

If you see an error or typo, please:
tell us
Cite this page

Content compiled and written by The Art Story Contributors
Edited and published by The Art Story Contributors
" Artist Overview and Analysis". [Internet]. . TheArtStory.org
Content compiled and written by The Art Story Contributors
Edited and published by The Art Story Contributors
Available from:
[Accessed ]