Albert C. Barnes and Important Artists and Artworks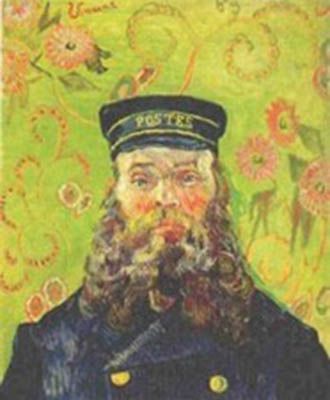 The Postman (Joseph-Étienne Roulin) (1889)
The sitter for this portrait is Vincent van Gogh's friend, a stoic mail carrier named Joseph-Étienne Roulin who the artist met while living in the French town of Arles. This, one of six portraits van Gogh made of Roulin, features the subject staring directly out at the viewer with his long curly brown beard cascading over the front of his gold buttoned jacket. He stands in sharp contrast to the green wallpaper with large pink flowers that form the backdrop. According to art historian Martha Lucy, Roulin's uniform, complete with cap, describes "not only a sitter's occupation but also perhaps his political leanings; as an ardent socialist, he would have worn his worker identity proudly. Moreover, the uniform announces that portraiture is no longer reserved for the upper classes". This work is an important example of the value the artist placed on his friends by including them often in his paintings. As the Barnes Foundation website states, "the two [men] shared similar left-leaning political views and became close friends; in fact it was Roulin who cared for Van Gogh during his hospital stay in nearby Saint-Rémy".

As a strong admirer of Post-Impressionism, van Gogh was highly revered by Barnes. This painting is one of the thirty-three paintings which made up his first collection. They were purchased by artists Alfred Henry Maurer and William Glackens at the behest of Barnes during a European buying trip in February 1910. Thereafter, Barnes made all his own future purchases, but he was grateful to his buyers, and especially, Glackens for his astute selections. Indeed, these pieces would lay the foundations for what was destined to become America's finest collections of late-eighteenth and early twentieth century European modernism.
Oil on canvas - Collection of Barnes Foundation, Philadelphia, Pennsylvania
Young Woman Holding a Cigarette (1901)
In this portrait, Picasso has depicted a young woman seated in a chair. Looking out at the viewer with an absent gaze, she cradles her left arm at the elbow while holding a cigarette between two long fingers. Compositionally balanced, her dark blue blouse matches the blue picture on the wall diagonally across from her; while the orange of her skirt matches her hair which she has swept up in a large bun. An important work in Picasso's career, it marked his transition to his Blue Period. According to art historian Judith Dolkart, Picasso was newly inspired after his first trip to Paris in 1900 where, having "heartily plunged into the city's renowned and debauched nightlife [he] immediately began to paint colorful images of dance halls and demimondaines. She adds that Picasso now "began to make such subjects distinctively his own as he incorporated the cerulean tonalities and melancholy mood of his ascendant Blue Period".

This work was the first Picasso Barnes owned. Purchased on his behalf by his friends Maurer and Glackens on a European buying trip in 1910, it became, according to Dolkart, "a foundational object in the collection". For his part, Barnes traveled to Paris for the first time in 1912. He met fellow American collectors Gertrude and Leo Stein and through them he was introduced to Picasso and the dealer, Paul Guillaume (who would become Barnes's main European supplier after World War I). He also purchased seven works by Picasso from the dealer Daniel-Henry Kahnweiler, including Picasso's Head of a Man and Head of a Woman (both 1907). But while Barnes would purchase many more Picassos in his lifetime, the majority were drawn from his early years since Barnes was not fond of the Cubist movement. Indeed he wrote an article in 1916, titled "Cubism: Requiescat in Pace" in which he stated that Cubism was "academic, repetitive, and dead" and dismissed it as "a typical commercial venture". As author Howard Greenfeld put it, "Cubism did not meet the aesthetic principles [Barnes] had formulated, and he was unable to understand it". Barnes he did, however, judge works on their individual merits and acquired selective Cubist pieces including Jacques Lipchitz's, sculpture, Bather (1917).
Oil on canvas - Collection of Barnes Foundation, Philadelphia, Pennsylvania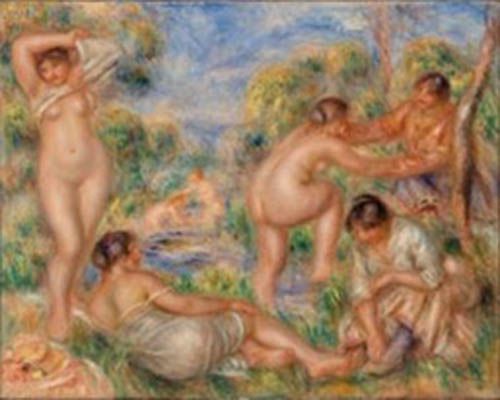 Bathing Group (Les Baigneuses) (1916)
Renoir's painting features a group of women, in various stages of undress, relaxing and frolicking around a patch of blue water. Like the figures themselves, the cloud-filled sky and green-leafed trees are painted in the loose brushstrokes and a vibrant color palette that was characteristic of the artist's work. This work is an important piece in Renoir's oeuvre. Painted late in his career, Bathing Group shows the maturity of Renoir's approach to painting female nudes in motion. As art historian Martha Lucy explains, "what Barnes and other critics admired about Renoir's late production was the premium placed on design. A work such as Bathing Group was sensual but not lacking in control: compositionally, all parts added up to a unified whole".

Renoir was one of Barnes's favorite artists and over his many decades of collecting he purchased nearly two hundred works by the artist. He once stated, "I am convinced I cannot get too many Renoirs". According to Lucy, "when asked in a 1924 letter to name his favorite work by Renoir [...] Barnes landed firmly on this painting. 'My large canvas, 'Es Baigneuses' [Bathing Group] represents the summation of [Renoir's] powers,' he wrote. Unlike other collectors of the time, who generally favored Renoir's impressionist pictures, Barnes considered the artist's later work the pinnacle of his career".
Oil on canvas - Collection of Barnes Foundation, Philadelphia, Pennsylvania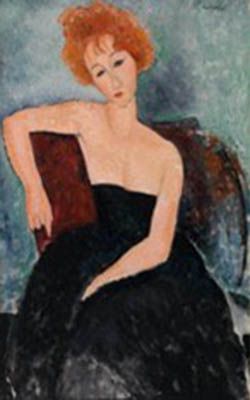 Redheaded Girl in Evening Dress (1918)
This painting is a fine example of the portraits for which Modigliani became best known. The woman who dominates the canvas possesses all the elan associated with the typical "Modigliani figure" including an elongated neck, oval shaped face, and eyes and head cocked provocatively to one side. The Barnes Foundation homepage says of this piece, "[Modigliani's] portrait of an unidentified sitter, with her vivid hair and strapless dress, suggests how women's lives had changed by the early 20th century. Draping her shoulder over the chair, she addresses the viewer with an unapologetic gaze. Her revealing dress shows how bold new fashions could represent a form of freedom".

Barnes added several Modigliani portraits to his collection and was attracted to the Italian artist circuitously through his passion for early African sculpture. Speaking of the connection between the two, Barnes stated, "if the long, attenuated necks of Modigliani figures seem absurd or grotesque, go to the University Museum and look at the even longer necks on the pieces of ancient African sculpture, so rich in art values. Then you will see that Modigliani's inspiration came from his devotion to the spirit of negro art and that experience did something to him and he did something to it by his imagination and reason".
Oil on canvas - Collection of Barnes Foundation, Philadelphia, Pennsylvania
Woman in Blue (1919)
This painting is a fine example of the troubling way in which Soutine saw the sitters he depicted with something the Barnes Foundation website describes as "a searing psychological intensity". Characteristic of his artistic style, here his figure is an unsettling one, shadowed in darkness, and rendered with rough, gestural brushstrokes. In describing this painting, art historian Judith Dolkart states, "although Chaim Soutine did not identify his sitter, he endowed her with an unforgettable, even terrifying, specificity in his rendering of her hunched posture, enormous misshapen hands, and lopsided staring eyes. Soutine suggested the back of a chair behind the uneven shoulders of the model, but the blues of her dress and the upholstery merge, further heightening the sense of deformity and contortion".

Barnes played an important role in the career of Soutine. The pair were introduced by dealer Paul Guillaume who, according to author Howard Greenfeld, "led the collector to the discovery of a totally unknown [...] Soutine - a discovery that would make the painter famous and add immeasurably to [Barnes's] reputation". His first experience with the paintings was a profitable one for both the collector and the artist and, as Greenfeld explains, "Guillaume led him to the home of Zborowski, to whom Soutine had consigned most of his completed paintings. Barnes was overwhelmed by what he saw: the distorted figures, chaotic landscapes, and tormented flowers so moved him that he immediately offered to buy everything in sight. Estimates of the number of canvases vary from fifty to a hundred; what is certain is that Barnes paid 60,000 francs ($3,000) for his acquisitions". Later, Barnes would say of Soutine, "he ranks with Matisse and Picasso as one of the painters whose experiments and ideas have had the most profound influence upon contemporary painting".
Oil on canvas - Collection of Barnes Foundation, Philadelphia, Pennsylvania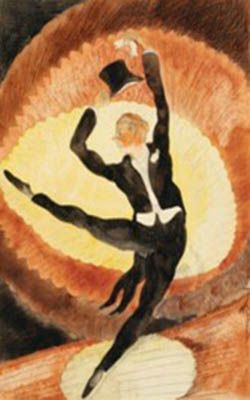 In Vaudeville: Acrobatic Male Dance with Top Hat (1920)
Vaudeville and cabaret performance was a recurrent theme in Demuth's oeuvre. According to Lucy, such subject matter, fill "his watercolors from around 1915 to 1920. Here, a silhouetted vaudeville performer kicks one leg out to the side, his rippling contours cutting a sharp image against the bright lights behind him. The figure's movements are graceful, balletic, as he balances skillfully on one toe [...] Though small, the watercolor is bursting with energy". This work shows the modern approach to performers that Demuth has captured on paper resulting in expressive treatments of his subjects. Lucy adds that, "Stage lights are represented by concentric rings of red and yellow - thin washes of color through which parallel pencil lines appear that reiterate the sense of outward movement. The light also seems to represent the energy emanating from the performer himself".

While Barnes had the greater interest in European art, he was also drawn to some early modern American artists, thanks in no small part to his high school friend, the artist Glackens, who introduced him to some of his colleagues, including Demuth. As was often the case, the artists Barnes collected also became his friends. As Lucy explains, "long before Barnes established the Foundation, Demuth, who lived for a time in Philadelphia, would visit the collector at his home, where they discussed modern art. Barnes greatly respected the opinion of his friend 'Deem' and bought many watercolors directly from the artist". Still, Barnes was a notoriously opinionated man, and as Greenfeld explains, "the two men had their disagreements - especially over the merits of Demuth's mentor and friend, John Marin, whose work Barnes refused to buy in spite of Demuth's efforts - but their friendship survived these disagreements".
Watercolor, graphite, and charcoal on wove paper - Collection of Barnes Foundation, Philadelphia, Pennsylvania
Dr. Albert C. Barnes (1926)
The main portion of this portrait is dominated by the subject, Albert Barnes. He is depicted wearing a gray suit, seated at a desk, and looking out towards the right side of the frame with his head resting on his hand. He is lost in thought. It is the background, however, with its incomplete architectural structures, an open archway, and a faceless mannequin figure, which makes it unmistakably a painting by de Chirico.

The French art dealer Paul Guillaume was responsible for introducing Barnes to de Chirico. Barnes was so impressed by the Italian he would eventually purchase twenty-five of his paintings. According to Greenfeld, their relationship, "was a formal one, based largely on intellectual affinity and mutual convenience. They were not close companions, but Barnes's admiration for the artist's work was such that he agreed, in 1926, to write the foreword to a catalogue of an important exhibition held in Guillaume's gallery. In it he praised the artist's ideas as those of a sage and a scholar, characterizing him as a mystic, a poet, and an independent man. De Chirico returned the compliment. That same year, he executed two portraits of Barnes".
Oil on canvas - Collection of Barnes Foundation, Philadelphia, Pennsylvania
The Dance (1932-33)
Barnes and Matisse met in 1930 after the Frenchman had been invited to judge the Carnegie Medal in New York. Art Historian Philip McCouat writes that at that time "Matisse had just turned 60, and was at somewhat of a crossroads. Artistically, he had lost some of his inspiration for painting. He had recently returned from a trip to Tahiti, which had been intended to recharge his batteries, but from which he derived few short-term results. [...] He had also been subject to devastating criticism from some critics that he had been coasting, particularly during his so-called Nice period, and that his best days were long behind him. Financially, too, there were problems. He was badly affected by the fall in art prices resulting from the Crash. Coupled with his dwindling stocks of painting, this meant some financial pain for Matisse".

Barnes invited Matisse to decorate a 50 square meters area of the two-storey main gallery. The pair negotiated a fee of $30,000 (paid in three instalments) for a project that was estimated to last 12 months. As McCouat states, "This was a welcome break for Matisse, and he saw it as a chance to raise his profile and reach out to a new public in America. For an artist who had largely been involved with small, private art, he was excited at this new challenge of producing public, monumental art". The sheer scale of the project meant that Matisse would have to return to Nice. Once in Southern France, he rented a large garage space where he hung the massive canvases and, using charcoal and a long bamboo stick, drafted his figures. As he proceeded, Matisse realized he would need to significantly modify his original design and, effectively restarting from scratch, he abandoned his freehand technique in favor of paper cut-outs. He was a good year into the project when he realized a further error, this time to do with width of the piece which he had miscalculated.

The mural was finally completed in March 1933 but, as McCouat remarked, "By this stage [Matisse] was so stressed that he abandoned plans to exhibit the work in Paris before transporting it to America". Matisse travelled to Philadelphia to oversee, the installation of the work but more despair was to follow. Firstly, Barnes turned down Matisse's request to have two paintings situated below the mural removed, and secondly, Barnes refused to remove the ornamental frieze situated at the mural's base. McCouat states that the "tension became so great that, during the installation, Matisse suffered a seizure". But he adds that "the final bombshell was still to come" when Barnes, who was perfectly happy with the finished work, "shocked Matisse by telling him that he had no intention of letting the public see it. Matisse was naturally devastated, describing Barnes privately as a "monster of egotism" who was concerned only with the mixed reception that had greeted his recently-released The Art of Henri-Matisse [a book written by Barnes] The upsetting result was that, once Matisse left Merion, he never saw the painting again. Very few others did either, until well after Barnes' death. Even colour reproductions of the painting, like other works at Merion, were strictly forbidden".
Oil on canvas - Collection of Barnes Foundation, Philadelphia, Pennsylvania
Supper Time (1940)
In this domestic scene, painted on a burnt wood panel, Pippin has depicted a family in their sparsely furnished home. A father is seated at a table along with her daughter whose back is to the viewer. The mother, who illuminates the picture frame with her bright blue dress, white apron and white headscarf, serves the family meal. Behind them, white laundry items dry on a line. The material on which the painting is rendered plays a key role in the overall effect of the work. As Lucy says, "in this small work painted on wood [...] Pippin leaves much of the panel exposed so that it becomes an active part of the composition. Unpainted wood establishes the table and the view through the window; it also forms the skin of all three figures". Lucy adds that "Pippin, who was self-taught, "developed a technique of 'carving' into his panels with a hot poker. Here, burnt-wood lines (incised over pencil) construct the chair, windowpanes, door panels, and contours of the figures".

Barnes had long had an interest in African American culture and was already a collector of African art before he learned of Pippin and decided to help further his career. As Lucy explains, "Pippin had his first solo exhibition in 1940 at the Robert Carlen Galleries in Philadelphia, where several of these burnt-wood panels were displayed. Albert Barnes, who was increasingly interested in the work of self-taught artists, bought several paintings from the exhibition and invited Pippin to visit the Foundation. Pippin even enrolled briefly as a student. A great champion of the artist's work, Barnes wrote an essay for Pippin's second exhibition at Carlen Galleries in 1941".
Oil on burnt-wood panel - Collection of Barnes Foundation, Philadelphia, Pennsylvania