Ideas
Art for Art's Sake
Art for Art's Sake
Synopsis
The phrase 'art for art's sake' condenses the notion that art has its own value and should be judged apart from any themes which it might touch on, such as morality, religion, history, or politics. It teaches that judgements of aesthetic value should not be confused with those proper to other spheres of life. The idea has ancient roots, but the phrase first emerged as a rallying cry in 19th-century France, and subsequently became central to the British Aesthetic movement. Although the phrase has been little used since, its legacy has been at the heart of 20th century ideas about the autonomy of art, and thus crucial to such different bodies of thought as those of formalism, modernism, and the avant-garde. Today, deployed more loosely and casually, it is sometimes put to very different ends, to defend the right of free expression, or to appeal for art to uphold tradition and avoid causing offense.
Detailed View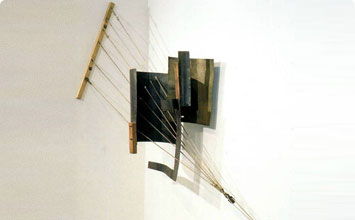 Romanticism and the 19th Century
The phrase 'art for art's sake', or l'art pour l'art, first surfaced in French literary circles in the early-19th century. In part it was a reflex of the Romantic movement's desire to detach art from the period's increasing stress on rationalism. These forces, it was believed, threatened to make art subject to demands for its utility - for usefulness of one kind or another. The phrase was taken up by writer Theophile Gautier and subsequently attracted the support of figures such as Gustave Flaubert, Stéphane Mallarmé and Charles Baudelaire. When the phrase reached Britain it became popular in the Aesthetic Movement, which encompassed painters such as James McNeill Whistler and Lord Leighton, and writers such as Walter Pater and Oscar Wilde.
- - - - - - - - - - - - - - - - - - - - - - - - - - - - - - - - - - - - - - - - - - - - - - - -
Art for Art's Sake Overview Continues

If you see an error or typo, please:
tell us
Cite this page

Content compiled and written by The Art Story Contributors
Edited and published by The Art Story Contributors
" Definition Overview and Analysis". [Internet]. . TheArtStory.org
Content compiled and written by The Art Story Contributors
Edited and published by The Art Story Contributors
Available from:
[Accessed ]