The Modern Crowd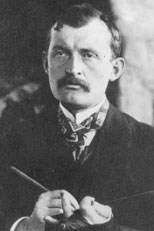 Edvard Munch
Edvard Munch (1863 –1944) was the Norwegian painter who is best remembered for creating The Scream (1893), a picture which has become an icon of modern anxiety and alienation.
Read More About Edvard Munch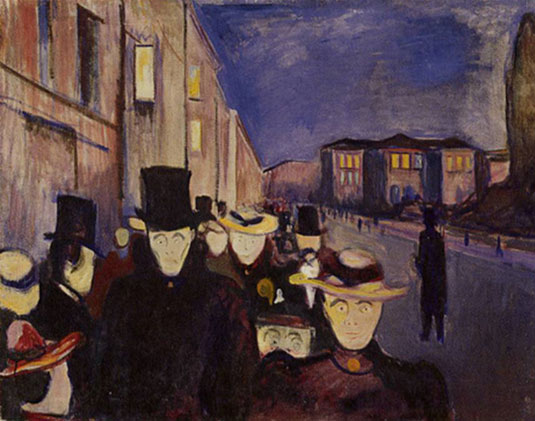 Edvard Munch, Evening on Karl Johan Street, 1892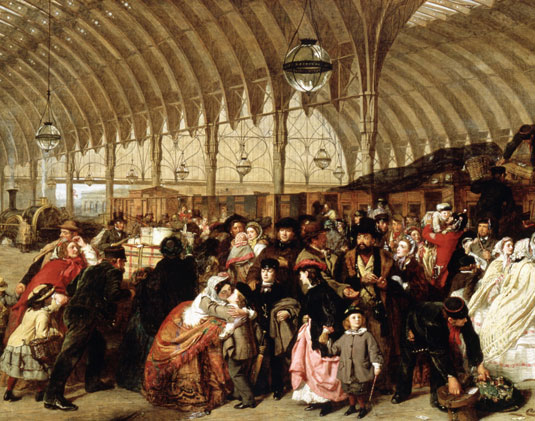 William Powell Frith, The Railway Station, 1862
William Frith's The Railway Station is one of the most famous and popular modern crowd scenes in 19th century painting. It was painted just thirty years before Munch's Evening on Karl Johan Street, and yet it seems a world away in style and mood. Victorians were very curious about the great industrial cities that were springing up around them, and they could view them with a mixture of emotions, ranging from enthusiastic delight in the bustle of the streets, to fear of the dangerous unknown, the poor and desperate. Frith's academic masterpiece removes all the fear of the modern crowd, showing how a gathering of nearly a hundred people can be clearly read, each of its figures having a distinct personality and particular role to play in the drama.

A man sees to his dogs, three Victorian women in white enjoy a conversation, a mother kisses her son goodbye and – should we be fearful of crime – we can even see two officers arresting a thief. The city was a place to see life's theatre, Frith insists, a place to delight, not to alarm.

For Edvard Munch, by contrast, the city epitomizes the horrors of modern life – the faceless, malevolent crowd, our feelings of loneliness and fear. Rather than pick out personalities in the crowd and show them from a comfortable distance, Munch's Evening on Karl Johan Street depicts an anonymous mass with vacuous stares and grim expressions, figures who push toward us as if to attack. Munch once said that there were times, walking on the street, that he felt like turning around and going home, overcome with the feeling that he might meet someone he would dislike. Thus the gloomy crowd is a reflection of his own inner turmoil – a turmoil only made more acute by the indifferent crowd. He communicates his anxiety not only through the faceless figures, but also through his highly personal style. Putting aside the high finish and detail of Frith's academic style, he adopts a loose and open brushwork that adds distortion and points to his own emotions. The one reprieve from the claustrophobic press of figures is a thrust upward to the sky – perhaps the only route to an escape.
Inner Anxiety Made Visible
Back to Munch Comparison Page
The Image Comparison Learning Tool was developed for The Art Story Foundation by
Stephen Knudsen
and
Morgan Falconer
. Please visit
www.SteveKnudsen.com
for full information on this methodology and for further information on The Beardsley ICU System.