Contemplating the Void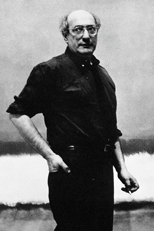 Mark Rothko
A legendary Abstract Expressionists, Mark Rothko was insistent that his art was filled with content, and brimming with his ideas.
Read More About Mark Rothko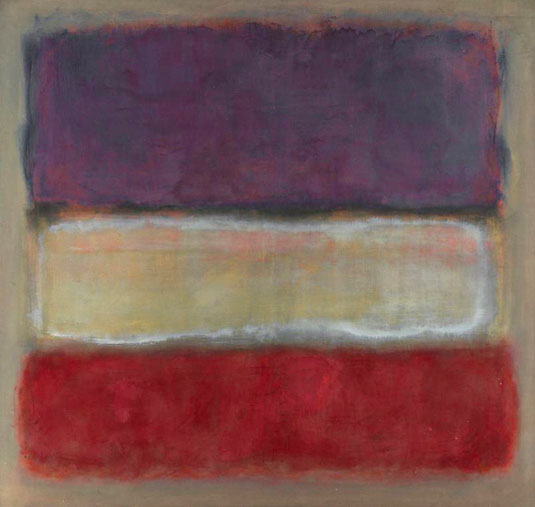 Mark Rothko's Untitled (Purple, White and Red), 1953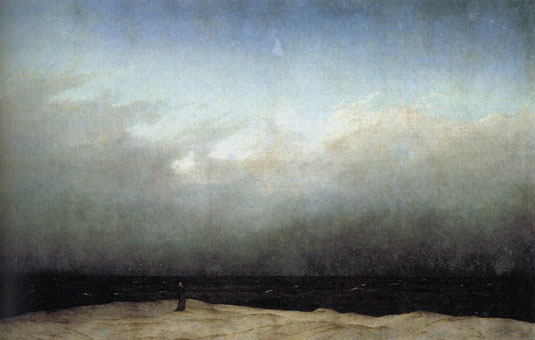 Casper David Friedrich's Monk by a Sea, 1809
Friedrich initially dotted the horizon of Monk by a Sea with boats, but by the time the picture was completed he had painted them out, leaving the scene empty, and the lack of imagery confused many viewers. Dutch maritime painting of the 16th century could have supplied a model for Friedrich's seascape, yet those scenes are invariably full of anecdote that distract both the eye and the mind. Friedrich's picture avoids anecdote in order to suggest a mysterious void. It is no accident that the title of the picture specifies that it is a monk contemplating the scene: a man familiar with deep thought, and thought of God, faces the sea and finds in the open expanse some suggestion of those mysteries. Rothko's picture also turns our minds toward mystery. Untitled (Purple, White and Red) could also be said to echo the compositional structure of Friedrich's painting, its oblongs of color chiming with the relationship of land, sea and sky in Monk by a Sea. Rothko once said that he enjoyed "pictures of a single human figure - alone in a moment of utter immobility," and perhaps he knew and admired Friedrich's work. But Rothko always rejected comparisons between his work and landscape. It is also true that his approach owes far more to traditions of abstract painting than to figurative. However, its conjuring of a void, and its invitation to contemplate mystery, puts Rothko's picture in the same tradition as Friedrich's. We might say that Rothko places us in the position of the monk, and gives us only the luminous void that the man sees. Realizing, perhaps, that we can no longer so easily find experiences of the divine in the landscape (whether because the earth seems spoiled or degraded, or because we have become too skeptical), Rothko suggests that we might find them instead in art, or in ourselves.
NOTE: Although Rothko's pictures are usually interpreted in the context of Abstract Expressionism, the art historian Robert Rosenblum has argued that they can be understood within a long tradition of Northern Romantic painting, stretching back to Casper David Friedrich. The comparisons explored here are drawn from his book Modern Painting and the Northern Romantic Tradition, 1975.
Back to Rothko Comparison Page
Abstraction and Spirituality
The Image Comparison Learning Tool was developed for The Art Story Foundation by
Stephen Knudsen
and
Morgan Falconer
. Please visit
www.SteveKnudsen.com
for full information on this methodology and for further information on The Beardsley ICU System.