Image Comparisons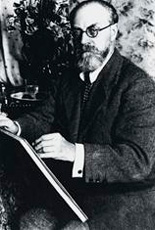 Henri Matisse
Henri Matisse is widely regarded as the greatest colorist of the 20th century. He sought to use color as the foundation for expressive, decorative, and often monumental paintings. As he once controversially wrote, he sought to create an art that would be "a soothing, calming influence on the mind, rather like a good armchair." To that end, he often embraced life-affirming content, and made innovative use of color, line, and form to accentuate surface pattern and to produce loose evocations of light and space.
Henri Matisse Artist Page
---
Comparison #1
Henri Matisse and Jean-Auguste-Dominique Ingres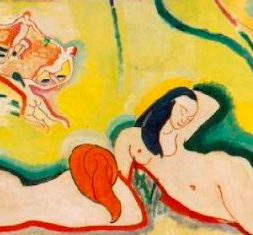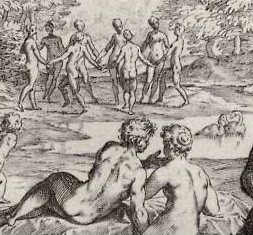 Henri Matisse
Le Bonheur de Vivre (1905-6)
Jean-Auguste-Dominique Ingres
The Golden Age (1862)
Matisse's Le Bonheur de Vivre ("The Joy of Life") (1905-6) situates itself within the classical tradition of the pastoral, typically an idyllic scene of contented nudes in a landscape. At its inception the picture was the most modern and radical challenge to the classical perfection and polished pastorals epitomized by Ingres's, The Golden Age (1862).
Detailed view
---
Comparison #2
Henri Matisse and Agostino Carracci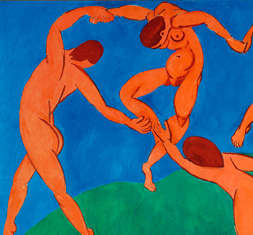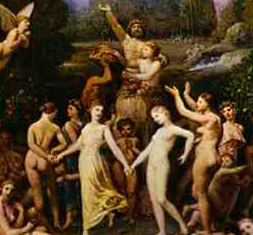 Henri Matisse
The Dance II (1910)
Agostino Carracci
Reciprico Amore (1589-1595)
Among Matisse's early concerns was to develop a new kind of decorative art. One of his most striking achievements in this vein was Dance II (1910), which again draws on the tradition of the classical pastoral. Among the images that influenced it, is Reciprico Amore (1589-1595), an engraving by the Italian Baroque artist Agostino Carracci.
Detailed view
---
The Image Comparison Learning Tool was developed for The Art Story Foundation by
Stephen Knudsen
and
Morgan Falconer
. Please visit
www.SteveKnudsen.com
for full information on this methodology and for further information on The Beardsley ICU System.